In the midst of all the bailouts you might have missed that last month, in perma-bubble Southern California the median price of the entire regional market fell by $17,500.  This was the first regional price drop since April of 2009.  Now one month doesn't make a trend of course but if you only listen to the real estate industry and banking cabal you would think that all of a sudden we are circa 2003 real estate.  There is this pervasive speculative attitude once again in the air even in the face of a 12.4 percent unemployment rate.  The unemployment situation was revised last month nationwide and the BLS upped the number of jobs lost in this recession from the "low" 7 million to 8.4 million.  So basically we were underestimating how "good" things were for an entire year (the BLS has suspect numbers because of their methodology). Yet this is part of the new economic psychology where real data is ignored in exchange for bread and circus statistics and political theatre.  The reality is we are not going to see any sort of housing boom for the next decade.  In fact, housing will be weak for the next ten years (at least) regardless of what the government and Wall Street attempts to do.
Factor #1– Negative Equity
The first thing to grasp is the biggest line item for Americans on their net worth chart is housing.  Or more importantly, home equity: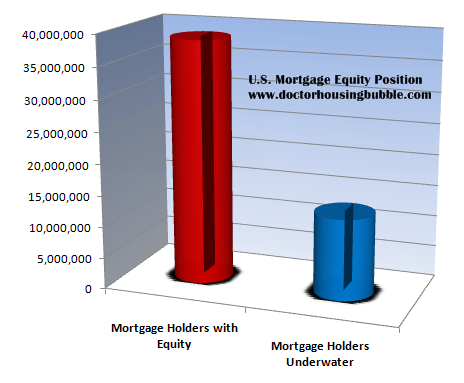 Even with the massive stock market rally, home prices are still lingering near their trough.  Employment hasn't picked up as well so unless you depend on seeing your banking stocks going up for your livelihood this rally is simply a reflection of how disconnected Wall Street is from the actual real economy.  The above chart should tell you where things are in terms of housing.  With most conservative estimates, 25 percent of current mortgage holders are underwater.  That is, they owe more on their home than it is worth.  As we know, housing is the number one line item for homeowners so with this kind of figure most Americans are still viewing a gaping hole in their balance sheet.  In states like California with Alt-A and option ARM issues, the underwater level is closer to 35 percent.   Much of this has kept the foreclosure rate elevated.
Negative equity is the number one reason in predicting foreclosures.  Now this is a rather obvious statement because if you did have equity and had problems on your balance sheet all you would do is sell your home.  Without this option, you can let your home go into foreclosure or try to have your lender to agree to a short sale.  And you have to think about what would fix this problem.  The only solution is hyper-inflating home prices to bubble levels.  That doesn't seem likely so negative equity is going to be with us for years to come because home prices reached absurd levels in this bubble.  Even with a big run up in prices, it is highly unlikely we will reach peak levels.
Factor #2– Income to Housing Price Ratios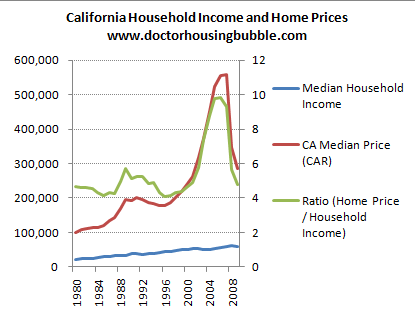 Home prices are still in bubbles in many California counties like Los Angeles and Orange County.  Prices are completely disconnected from local area incomes.  I remember early in the bubble that the argument revolved around the monthly payment and completely ignored actual household fundamentals.  The mortgage industry thrived on this because it removed impediments from making mortgages with high kickbacks to anyone with a pulse.  Most of the mortgage brokers who say they were doing a good job "helping people" are only justifying their cause in this bubble and trying to assuage their conscience.  Show us a mortgage broker that did well during this bubble pushing low rate 30 year fixed rate mortgages with solid documentation.  The high income broker crowd relied on crap mortgages like option ARMs and other junk to get their nice little commission checks.
Yet now with the government being the lender of first and only resort, people have to actually look at incomes even at a cursory level.  And as you can see from the chart above, prices are still very high in bubble places like California in relation to income.  Plus, the chart data I gathered only goes back to 1980.  The bubble in California started back in the 1970s: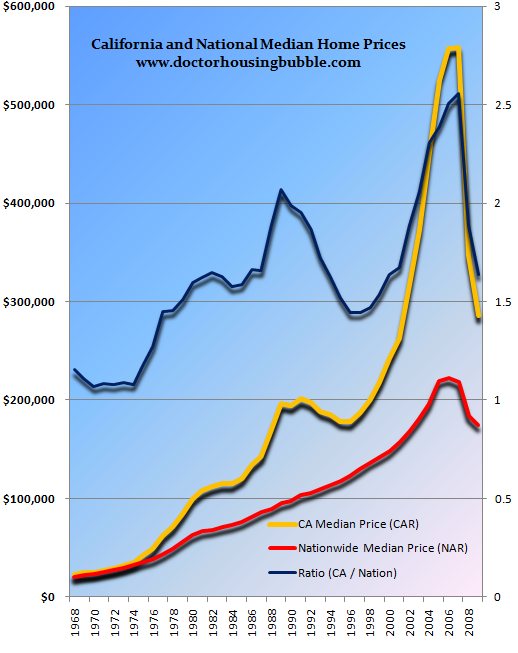 Even if we apply a ratio between California home prices and nationwide prices current levels are still too high even after this correction.  In other words, the bubble is still here.
Factor #3– Shadow Inventory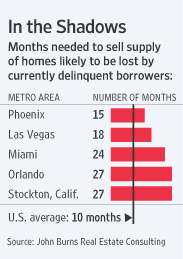 Source:  Wall Street Journal
"The John Burns study estimates that five million houses and condominiums on which mortgages are now delinquent will go through foreclosure or related procedures that put them on the market over the next few years. That would represent the bulk of the estimated 7.7 million households behind on their mortgage payments.
This "shadow inventory" of homes expected to hit the market is enough to last about 10 months, based on the average sales rate over the past decade, the Irvine, Calif., firm says.
The problem is largely concentrated in Arizona, California, Florida and Nevada. The shadow inventory is equivalent to 27 months of sales in Orlando, 24 months in Miami and 18 months in Las Vegas, the study estimates."
It would appear that the shadow inventory that we've been reporting on for over a year has now gone mainstream.  I'm not surprised that it took this long to go into the mainstream media just like I'm not surprised the BLS had to revise their unemployment figures by 1.2 million.  Yet the reality is there is a tremendous amount of shadow inventory throughout the United States.  California is plagued with shadow inventory.   This is not a sign of a healthy housing market.  This is more "pretending things are okay" type of thinking.  The real estate industry thinks that this is some kind of panacea and we all need to start using The Secret to will our way to higher home prices.  Yet all this will do is create an environment similar to Japan where the banking industry is going to suck the life blood out of the real economy for decades to come.  Is this really what we want?
What if this inventory was released?  Prices would drop and come in line with more historical measures but more importantly, will finally flush out this giant financial sector that has grown too big.  Will many banks fail?  Absolutely as they should.  Yet the media is reflecting their bias to Wall Street because as we know, millions of Americans are still without work.  Shadow inventory is basically banks inability to move properties in a timely fashion.  They are now speculating that prices will go higher on the taxpayer's bill.  Wall Street has failed the American public.  We are back stopping the system with $13 trillion in bailouts and back stops and this is the end result?  The only big winner right now is the stock market and big banks.  Everyone else is still battling the Great Recession out.
Factor #4– Weak Equity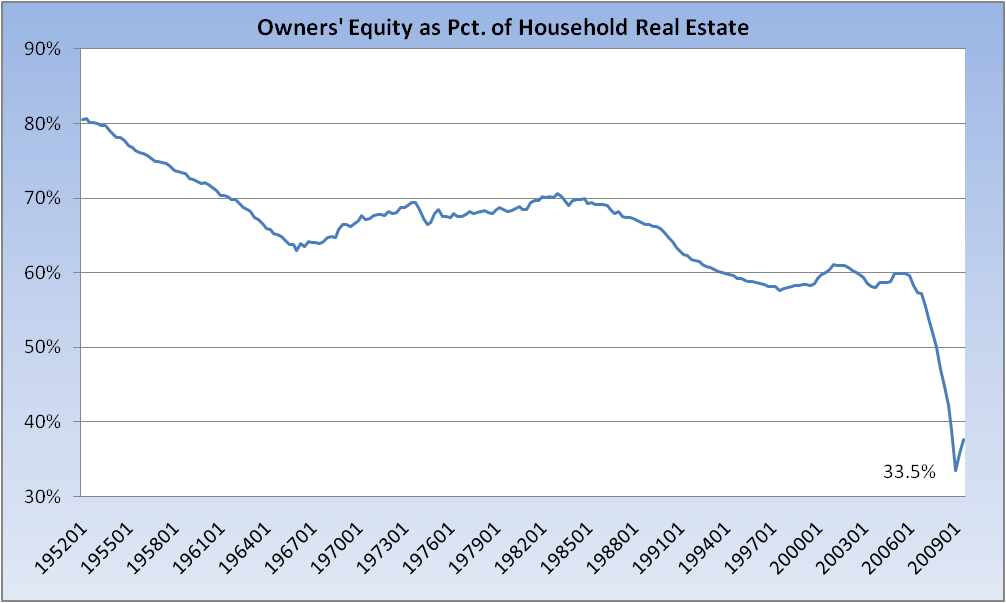 Source:  The Big Picture
Home equity used to be a source of pride for many Americans.  In fact, many Americans enjoyed mortgage burning parties.  Now, those parties have been replaced by home equity lines of credit and sucking every ounce of home equity out as a perpetual ATM for consumption spending and trips to Las Vegas.  The chart above is a deeply troubling chart.  The amount of equity has fallen to historical lows.  The minor jump is a reflection of absurd amounts of government bailouts in the housing industry.  Yet equity in housing is still pathetically low.  At the same time, home prices are still in bubbles in many areas.  So what gives?  When you are required to have such a small down payment, you lose this built in equity component of the market.  The above chart reflects years of 20 percent down payments and that has slowly faded away.  Today, with FHA insured loans the only equity you are going to get is based on housing inflation or additional bubbles.  Building equity takes time and many people are now in this ladder mentality buying world where your first home is always a "starter" as if you need a starter home.
The weak amount of equity is surpassed by the enormous amounts of mortgage debt outstanding.  This debt spiral is getting bigger and bigger and we see our government leading the way.  Does anyone really see us ever paying off our various kinds of debts?  We'll never pay it off!  I remember on a peer to peer lending site Propser, where you became the lender to various sorts of borrowers including subprime borrowers and the initial rates seemed fantastic.  The rates seemed too good to be true.  15 to 25 percent returns.  I put a bit of money into play and things were looking fairly good initially like things did with subprime.  A chicken in every pot!  But when the defaults started rolling in, that 25 percent yield quickly became 20, 15, 10, and finally I was lucky to break even on the portfolio of loans.  Welcome to the new debt world.  Somewhere along the line the idea of paying a 30 year mortgage off became lost in this bubble.  It was all about servicing the debt opposed to paying it off.  Now we are entering a new world and many mortgages like Alt-A and option ARMs are highly toxic and will never be paid off.  Even servicing the loan has collapsed.
Factor #5– Demographics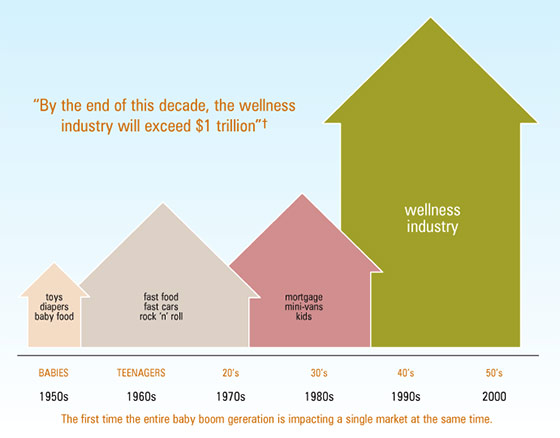 Source:  Bio Spa
Baby boomers to a large extent drove this housing bubble.  Many had purchased in the 1990s so were able to ride the mega bubble or trade up in housing.  Many also sucked the equity out of their homes to fill every nook and cranny with new stainless steel fridges and flat screen televisions.  As the housing bubble ramped up they saw their housing porn shows telling them to purchase granite countertops because no home is complete without putting shiny rocks in your kitchen.  But as the bubble of a decade recedes, people are left with artifacts of consumption and no real wealth.  It isn't like a cow that you can live off but these items are sitting there reflecting years of consumption.  Massive gas sucking SUVs sit parked in the driveway ready to suck your wallet dry at the next trip to the gas station.  The above chart highlights many trends over the years with the big baby boom wave: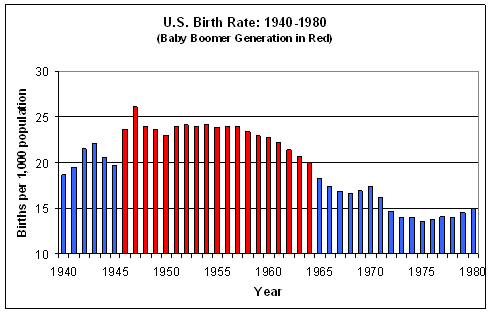 Source:  Rich Price
But as more Americans wait to have families and more baby boomers start using up healthcare resources, the priorities will change.  Many young couples are waiting longer to start families so the need for enormous McMansions is waning.  Many suburbs relied on cheap fuel and it is hard to imagine oil going back down to $20 a barrel.  So demographically things are changing.  Plus, as many baby boomers downgrade, you will see a steady stream of housing hitting the market for new families.  We have an excessive amount of housing inventory.  This will keep pressure on housing prices for the foreseeable future.
There is this argument made about immigrants plugging the gap.  This is not true.  A large part of the immigrant contingent cannot afford the high priced housing.  Show me data on immigrants buying up all this excess property.  I've seen a few examples of rich immigrants buying prime property in a desirable location but show me a steady group of these people buying homes in more middle class areas.  So the trend is clear.  Baby boomers are also going to start pulling on Medicare and Social Security in the upcoming decade putting additional strains on the system.  In other words, more money is going to go away from housing.  There was an article I read recently about many college grads moving back home because they have no job.  Forget about buying, these recent grads can't even afford a rental.  So the vacancy rate in rentals and housing units is at record levels.  We have years of inventory to work through thanks to this historic bubble.
The decade ahead does not look good for housing.  Beside the above factors, what if mortgage rates go up?  It is only a matter of time given the policies of the U.S. Treasury and Federal Reserve.  And are we going to see tax credits forever?  Is the Fed going to buy more mortgage backed securities?  We are reaching a tipping point of another crisis because so much focus has veered away from the real economy and has obsessed on housing and finance as a panacea for our economic ills.  Welcome to your second lost decade and thanks to Japan, we have failed to learn what history has taught us only years ago.
Did You Enjoy The Post? Subscribe to Dr. Housing Bubble's Blog to get updated housing commentary, analysis, and information.