People focusing on the Multiple Listing Service (MLS) data for an accurate picture of the current housing market are missing the bigger picture.  This is like looking at Mercury and thinking you have a full picture of our Solar System.  This is the data that most in the public will be able to see without digging deeper into foreclosure and pre-foreclosure data and this is what is now widely known as the shadow inventory.  It is already clear that banks are holding off inventory because all we need to do is look at how many people are now in a delinquent position on their mortgage.  Yet somehow, the MLS data has steadily fallen for nearly two years.  Of course in states like California, shadow inventory is enormous and defaults internally are booming for banks with Alt-A and option ARMs going bad at an alarming rate.
In today's article I decided to get an accurate picture of shadow inventory for Southern California, a region where over half the state lives.  But first, let us look at the MLS data going back to September of 2007 when I started tracking this information: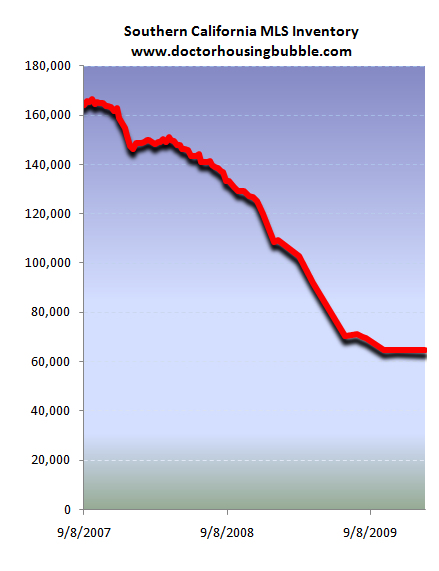 In September of 2007 over 160,000 homes were listed on the MLS.  The above chart shows a clear trend of decreasing home inventories at least from this set of data.  Yet this is deceptive because it doesn't highlight the surge in banks holding off inventory from the market through various moratoriums like HAMP or other state specific programs that were run in California similar to HAMP (big failures as we all know).  As of today, the MLS has roughly 64,000 homes listed for Southern California.  In fact, listing services are talking about this declining inventory:
"NEW YORK, Jan 13 (Reuters) – The number of U.S. homes listed for sale dropped nearly 5 percent in December compared with November, according to data released on Wednesday by real estate brokerage ZipRealty.
The December decline in listings by the Multiple Listing Service was the 18th consecutive monthly drop, according to Emeryville, California-based ZipRealty.
…
"Seasonality and the heavy activity by first-time home buyers in October and November, who were rushing to take advantage of the tax credit, impacted housing inventory in December," Patrick Lashinsky, ZipRealty president and CEO, said in a statement."
Now cause and effect is hard to sort out with some data and indeed MLS data has fallen as the chart above demonstrates.  But has inventory really decreased because of improvements in the market?  Certainly the tax credit and lower prices have spurred new home buyers but to say the low inventory is because of a good market is a misconception.  This doesn't account for the massive increase in shadow inventory for many regions including Southern California.  In fact, if we look at shadow inventory for Southern California we will find over 160,000 properties!  These are homes that either have a notice of default filed (missed at least 3 mortgage payments), are scheduled for auction (the next step from NOD), and are bank owned.  If these homes are not part of current inventory they will be down the line.  Short of the homeowner catching up (which isn't happening through HAMP) what other options do people have?  Say someone in California has an option ARM, are you going to be happy just converting the loan to say an interest only loan but at the bubble valuation price?  What incentive do you have if the value of the home is now down say 40 or even 50 percent?  Most people still wouldn't be able to afford the payment which is even a bigger issue in a weak economy.
And the "great" year for Southern California real estate doesn't look like that if we put the decade into context: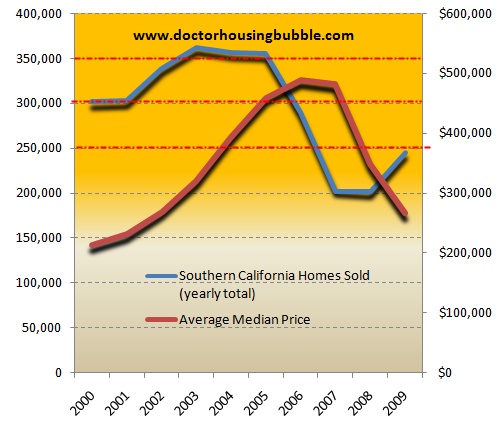 At the peak of the bubble, we were selling over 350,000 homes a year in Southern California.  Last year, a supposedly banner year where over 40 percent of home sales were foreclosure re-sales we sold under 250,000.  This is a drop of nearly 30 percent from the peak sale year.  I've also included the average "median" monthly price per year as a reference point as well.  This is simply for a reference point in comparing each year in the decade.  Even with lower prices, we are nowhere close to peak home sales of the bubble years and prices for the region are down over 40 percent.  This in conjunction with many of the Alt-A and option ARMs still lingering in the system.
But let us be more exact with the MLS data:
Non-distress listings:                     45,000+
Distress listings:                               19,200+
For distress listings, we are including short sales and foreclosures (the bulk is short sales).  About 30 percent of all homes listed on the MLS in Southern California fall in the above categories.  For example, 5,200+ homes are listed as foreclosures.  Yet bank owned homes are at 28,000!  That is only one part of what isn't showing up.  Scheduled auctions?  Over 84,000 homes in Southern California are scheduled for auction.  More homes are scheduled for auction than the entire MLS data.  How many homes have a notice of default filed and are still not to the auction stage?  Over 50,000.  The bottom line is the market is saturated with distressed homes but just because it doesn't appear in the MLS doesn't mean it is doing well.
Some have questioned the double counting of the data.  Well, if we remove the 19,200 homes on the MLS listed as distressed, that still leaves us with over 140,000 homes in the shadow inventory data.  Plus, how many other homes have people that have stopped paying and have no notice of default filed?  I've received many e-mails and comments from folks living three, six, and even twelve months with no payment and no notice of default.
Part of the problem is the belief that home prices were going to rise to the moon: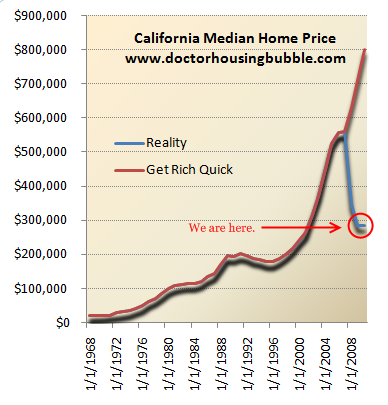 Many people now assume that we are back on track to ever increasing prices.  Look at the chart above.  The red line charts the delusional bubble average if it only continued.  The median California home price would now be over $800,000 if we kept on the previous path!  Now, the median price is down to $264,000 for the state.  The median for Southern California is $289,000.  Definitely not close to those previous projections.  And keep in mind that the boost in current sales came at the expense of every possible gimmick.  The Federal Reserve has artificially kept interest rates low.  Only one place to go when you hit the zero bound.  We have implemented every moratorium imaginable in California.  We invented the idea of HAMP early in the bust.  Of course those programs failed.  Banks are hoarding inventory at the expense of taxpayer bailouts.  What good has that brought to our economy except keeping the bankers and Wall Street rich?  Tax credits?  Front loaded sales but we saw a similar drop last month with a cash for clunkers effect.  The only next step is to give everyone a free home.
Both the national median home price and state median price have come down to more realistic levels: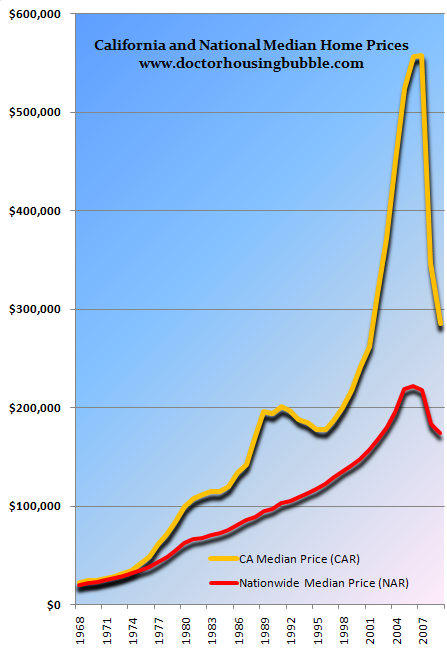 When I say realistic, I mean being able to buy a home without a toxic mortgage.  Yet many areas in Southern California are still overpriced.  Areas like Culver City and Pasadena come to mind.  It isn't limited to these areas.  We have many cities where you have working professionals making good money but not enough to buy $500,000 or $600,000 homes (even though they think they can buy a home).  These people think low six-figures is enough to buy a home but fail to follow the rule of three.  That is, don't get a mortgage that is three times your gross household income.  If you make $100,000 you shouldn't buy a home that costs more than $300,000.  Of course I hear from many in this range yet they want a $1 million home for $300,000 while making $100,000 a year.  Or they have their eyes set on some niche and trendy market.  Following trends via the herd is expensive as we all know.
Southern California has an enormous amount of distressed real estate.  Our economy is in tough shape.  64,000 homes on the MLS versus 160,000+ homes in the shadow inventory.  Over 90 percent of these distressed homes do not cure so that means these will be additional inventory at a certain point in time.  Unless incomes double over night, we can expect housing to be in for a long year.
Did You Enjoy The Post? Subscribe to Dr. Housing Bubble's Blog to get updated housing commentary, analysis, and information.