The housing market is sick.  At least that is what is being said by David Stevens who is the FHA agency head.  FHA insured loans have been an enormous problem and it is simply another wreck coming down the highway.  The reason FHA loans are problematic is that they rely on an absurdly low down payment.  Most can get by with 3.5% down payment and contrary to housing cheerleaders, most people purchase with as little as possible if they go with FHA insured loans.  After all, if you had 20 percent down why would you want to take on a loan that had added monthly costs including PMI?  But this is where the housing market is today.  In fact, probably for the first time in history FHA insured loans were a bigger part of the market than dubious Fannie Mae and Freddie Mac:
*Billions of dollars

For the first quarter of 2010, FHA insured loans backed $52.5 billion in home mortgages while Fannie Mae and Freddie Mac combined backed $46 billion.  This made up 95% of the entire mortgage market.  So much for banks lending out their "own" money (which is our bailout money) and having faith in the American consumer:
"(Business Insider) This is a market purely on life support, sustained by the federal government," he said at the Mortgage Bankers Association conference. "Having FHA do this much volume is a sign of a very sick system."
The FHA, which backs loans with down payments as low as 3.5 percent, insured $52.5 billion of home-purchase mortgages in the first quarter, compared with $46 billion of purchases of the debt by Fannie Mae and Freddie Mac, according to data compiled by Washington-based Potomac Partners."
So it shouldn't be a surprise to anyone that default rates are soaring for FHA insured loans: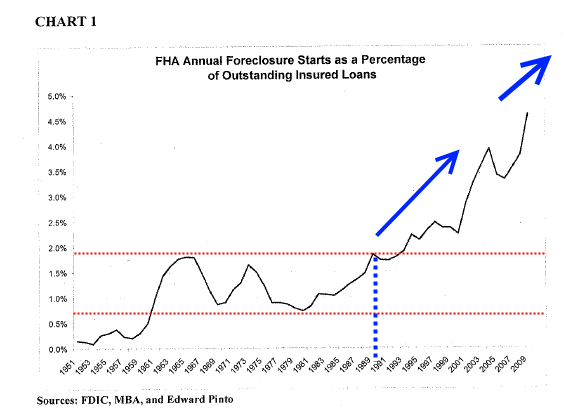 Most recent data shows the "serious default" rate up to 9 percent.  This is extraordinarily high.  This is a market that averaged between 0.5 percent and 2 percent for nearly 50 years and we are still near peak levels of distress.  Yet what do we do with this information?  Instead of addressing the obvious problems, we step on the gas and decide to rely on these government backed agencies to do the dirty work of the banking industry.  It is the perfect silo structure.
How do the FHA and Fannie Mae and Freddie Mac play into the banking industry silo?  In a way it is the perfect crime.  Banks are essentially borrowing for free from the Federal Reserve and as the recent volatility on the stock market shows, gambling and making big bets.  If you look at the Q1 reports and the massive profits for banks, most of this came from their investment bank units (i.e., their high roller tables).  These banks have been losing money on their lending to the public divisions on mortgage loans and credit card loans for example.  So right now, banks are essentially pushing off mortgage debt that is basically guaranteed by the government (95% of the market).  They are unwilling to lend their own money when they can gamble with taxpayer money on the stock market and make more this way.  So the only home loans they will make are those they can push off to the government.
This again puts us in a precarious position of having another bailout in the short-term.  Yet the remedies are so obvious.  If the government is the mortgage market, they should be able to put in rules since they are the only lender out there.  What have we learned from the years of this housing mess?
-No or low down payments are a bad idea
-Cheap interest rates don't solve all problems
-De-centralized lending is an absolute mess
So these three issues can be addressed by the following:
*Increase down payment requirements to at least 10 percent
*Hike up interest rates to encourage savings which is healthy for a country with such a low savings rate
*Create a hybrid lending system where local banks have a piece of the mortgage action in their market.  Why is this good?  If a certain area implodes, those local banks fail and keep the problems clustered where they should be.  Right now you have California and Florida loans for example dragging down many economies nationwide since all these loans flow to the same pool of risk.  Local banks that made these loans have no skin in the game after the loan is made.  A split incentive system makes complete sense.
Yet the Federal Reserve is comfortable keeping the current system going because they protect their banking masters.  The FHA was never intended to pump out this much volume.  But why is it doing so much work today?  Because of the low down payment!  People are still unable to save enough for even a measly 10 percent down: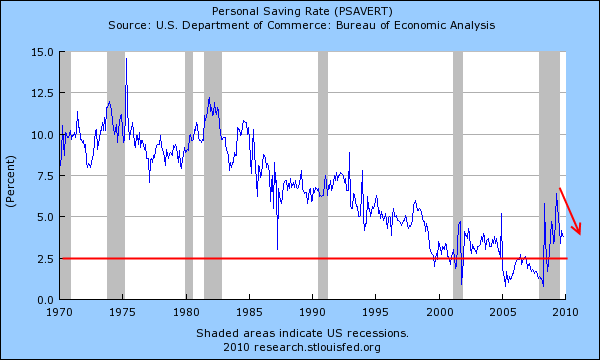 The savings rate is actually trending lower again.  So the recent boost in Q1 activity was largely based on spending more money than people actually had.  So the FHA volume is merely the symptom of the larger problem of massive consumption based on easy debt.  To fill the gaping void left from option ARMs, Alt-As, no-doc, interest only, and other junk loans people moved to the path of least resistance.  As it turns out, it was the FHA.  With a 3.5% down payment and with the combined tax credit that just expired, we got close to going zero down again.  Sure, we had to verify income but is that our sense of due diligence now?  We have become so accustomed to nonsense bankers that basically checking income is somehow the golden seal of approval for solid lending.
Gear up for another bailout folks.  The FHA is coming to a wallet near you.

Did You Enjoy The Post? Subscribe to Dr. Housing Bubble's Blog to get updated housing commentary, analysis, and information.