The paradox of thrift isn't a new idea although many are floating it out in the economic community as if it was some new mighty revelation.  The paradox of thrift (or saving) is an idea discussed by John Maynard Keynes that in recessions, if everyone decides to save this will help contract aggregate demand thus hurting the overall economic growth of a country.  However, in recent times most of our GDP growth has been contingent on consumption particularly in housing, cars, vacations, and foreign goods all being financed by debt.  In fact, our society saved nothing and spent everything!  Talk about the paradox of thrift dilemma taken to the extreme.
First, let us look at the share consumption takes up in calculating GDP for the past 60 years: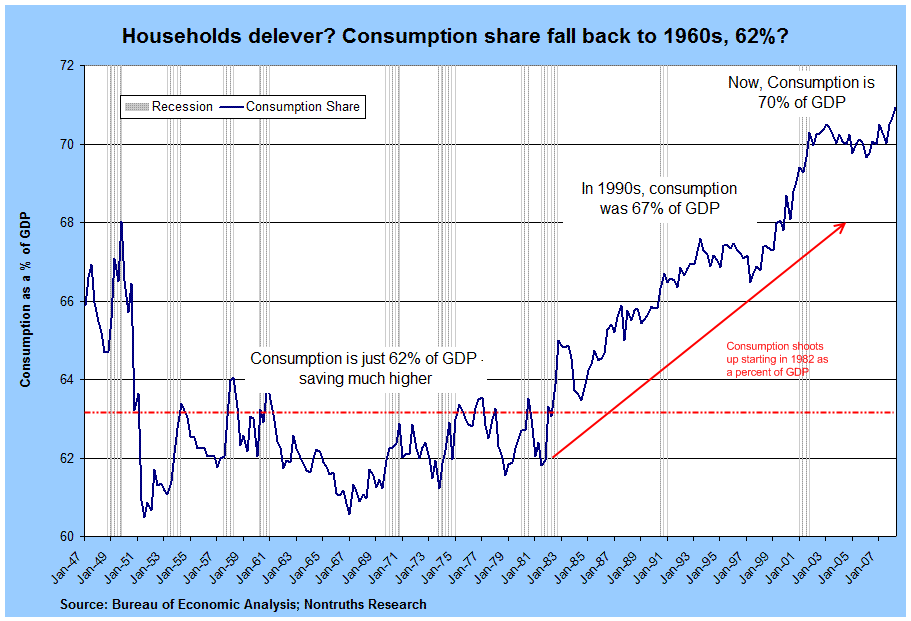 *Click for a sharper image, it won't cost you a penny
Let us first start off that we have always been large consumers.  That goes without saying for a capitalistic and marketing driven economy.  Yet if you look at the chart above, for many decades consumption made up about 62% of our GDP.  Recently, consumption shot upwards to 73% of GDP!  Here is the brief formula of GDP for those of you unfamiliar with it:
GDP = Consumption + gross investment + government spending + (exports – imports)
So let us walk through this formula.  First, 73% is made up of consumption so only 27% is left to the other 3 categories.  Gross investment given the current market place is probably contracting or remaining stagnant.  Government spending is clearly going to be making up a larger portion of our GDP in the coming years and taking away from the private sector consumption side of the equation.  That is why even looking at Great Depression data, we are really in uncharted territory here.  The final portion of the equation is negative since we import more "stuff" than we export and this is largely expressed by looking at our trade deficits: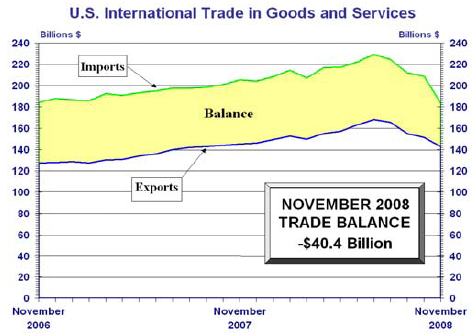 This has been going on since the early 1990s but this chart brings to the point that as a nation, we were consuming much more than we were producing.  The notion that we were going to become a 100 percent service oriented economy is flat out preposterous.  People in the California housing bubble cult got into this absurd belief that flipping homes to one another perpetually was somehow the sign of a healthy economy.  That notion is now seen for what it is, a complete nonsensical way of viewing the world and misplacing the value on basically putting on a suit and tie and acting as if you knew what the hell you were talking about.  The market is giving its final verdict on what it thinks about that.
Yet an interesting thing about the consumption chart above is that the trend broke in 1982 to the upside massively. We hovered around 62% since 1950 and all of a sudden, 30 years later this equation got slammed.  What happened?  The mythical belief that deficits don't matter and the supply-side economics delusion that has come to a head 30 years later and is now exploding in a recession unlike anything we have seen since World War II.
To highlight this, let us look at the savings rate and also, household debt and you'll notice that this pattern actually has its roots in the early 1980s: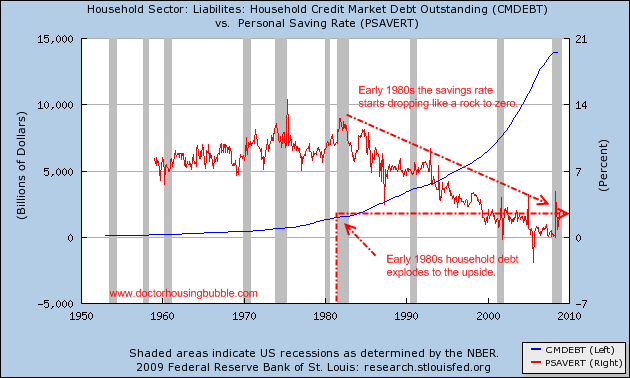 I'm not sure how much clearer things can be.  If you look at the chart, two things happen in the early 1980s.  First, the savings rate precipitously falls but also, household debt starts making its unstoppable trek upward.  This has to do with easy access to credit but also the government at the time setting a horrible tone that deficits don't matter.  We've done this for many years but never to that extreme.  First, tax cuts decreased revenues to the government yet we were spending wildly on government line items.  Then the notion of supply side economics came about which has been spectacularly proven to be a disaster.  It simply took 30 years to put that theory to rest.
Yet if you want to get an idea how much we spend, just run the numbers for consumption:
U.S. GDP approximately $14 trillion:  73% of that is $10.22 trillion
We consume way too much.  And the amount of money flowing to the financial sector is insane and in no time in our history has so much money gone to the crooks and swindlers on Wall Street: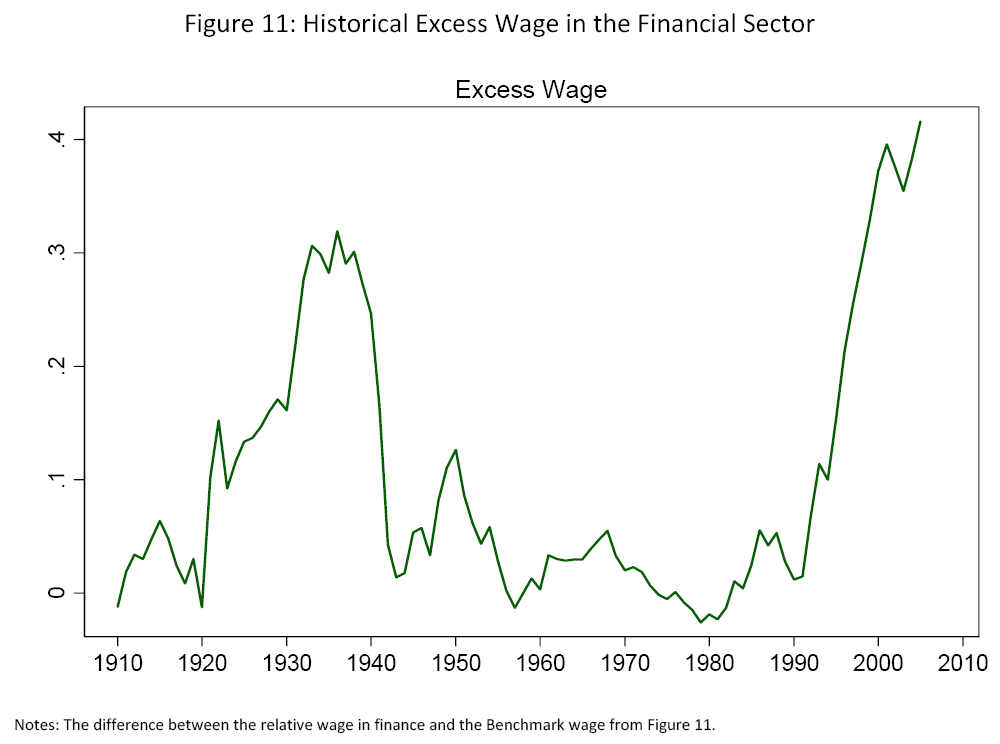 Source: Wages and Human Capital in the U.S. Financial Industry: 1909-2006. Thomas Philippon† Ariell Reshef
So how do you put all of this together?  Well, what we had is a society that rewarded those in finance and real estate the most and these folks went out and bought luxury cars, goods, and homes.  Thus it was an incestuous cycle.  So now, the insanity of it all is that with our negative savings rate, the only way we have to go is back up.  Yet you can see the Catch-22 in that we need people consuming to keep demand up.  Now let us assume we go back to the historical 62% GDP being consumption.  This will suck out of the economy:
$14 trillion x 62% = $8.68 trillion
$10.22 trillion – $8.68 trillion = $1.54 trillion
This is what is meant by the paradox of thrift.  If Americans simply revert back to historical savings rates, we are going to eliminate $1.54 trillion from our GDP!  That is, GDP will fall by 11%!  Most consider depression level stats to be double-digit unemployment and GDP falling by 10 %.  Now, we need to remember that government spending will increase so this may be a mitigating factor but we need to keep our eye on that GDP consumption number and we'll get some data on this Friday.
We really stand at a crossroads here.  There is without a doubt too much debt in our economy.  The only way to get rid of debt is to pay it off or charge it off.  That is why recent talks with cram downs are fantastic.  However, this is much too little much too late.  This is actually one of the few things that actually makes sense.  Basically through Chapter 13 with a repayment restructuring a bankruptcy judge can bring the loan amount down to current market rates.  This was initially in the $700 billion TARP plan but the crony capitalist bankers lobbied Congress and got this removed.  In the end, we gave the banking industry a free $350 billion. Cram down legislation already passed the House and is moving forward.  Don't you think this would have made more sense before we handed out the insane amount of $350 billion?
The one thing that is very troubling is the bad bank idea that is now floating out there in dark and gloomy space.  Of course, this is a wet dream for the CNBC crowd but is quite possibly the dumbest idea in the world!  Nouriel Roubini and others are calling for a nationalization of banks and as much as it pains me to say, I agree.  We either have the choice of being Sweden or having our lost two decades like Japan.  If we go with the bad bank model, you can rest assured we are going to have zombie institutions probably until 2020 since there is so much crap on the balance sheet of banks.  Take a look at some Real Homes of Genius and see if you are comfortable taking these mortgages onto your balance sheet.  The reason the market has been rallying recently is because of this absurd notion.  It isn't because jobs are growing.  They are accelerating on the downside.  It isn't because of earnings.  Companies are missing left and right.  This rally again ignores the silent depression of the vast majority of Americans while catering to the small crony capitalist group who argued for supply side economics and thinks this is a great idea.  It isn't, at least not for 95% of the population.
Now why is nationalization a better use of money?  Well first, we are much too far down the road to discuss hands off policies (even though I advocated for this long ago because I knew things like TARP and Ben Bernanke's nutty work were simply money being flushed down the toilet).  First, with nationalization we own the banks flat out.  We can then do the following:
-Shareholders get eliminated
-Bondholders get eliminated
-Management gets the boot
-Then and only then, do we separate out the good and bad assets.  The good assets we try to sell them off to the market.  The bad assets, we assess and slowly process a pricing model and get rid of them.  Yet we know since the ownership is now ours that we'll try to mitigate the loss for taxpayers.  Right now with TARP and possibly the bad bank, banks are trying to off load as much of the crap at the highest cost to taxpayers while keeping the caviar assets all for themselves.
-This will get credit moving again because now instead of absurd capital injections, banks will now need to lend money because guess what, we freakin own them and we can decide whether we loan or not!
There is nothing more preposterous than a bad bank.  It falls under the SIIV mentality that each progressive bail out gets dumber and dumber.  In fact, this notion was what made the TARP fail during its first round. The idea that banks were going to dump the most toxic assets on the backs of taxpayers.  Here we are, discussing that damn idea again.
Let us nationalize it and be done with it.  Will the market feel pain?  Yes!  But those who face the most pain will be the banks and Wall Street who deserve it anyway.  Wall Street is so disconnected from Main Street that they don't realize that half our country is already struggling with hard economic times, even before the bust.  We already know that they are not looking out for you and if you spend 2 seconds to think about what I just discussed, you'll understand how horrible a bad bank would be.  It is a one-way ticket to a Japan like recession and why are we to expect a different result?  Keep in mind that in Japan they had a much higher savings rate which is buffer we do not have.  If you think Japan is a picnic think again:
"Over the last few years, temporary employees have gone from being a rarity in Japan to accounting for one-third of the workforce of 67 million. They enjoy far fewer protections than full-time workers — placing their necks squarely on the layoff chopping block."
We are already seeing the part-time number of workers jump into the stratosphere.  Interestingly enough, Japan's lost decade came after a real estate and stock market bubble.  Sound familiar?
So going back to how this interconnects with the paradox of thrift, we are now spending taxpayer money through our government.  Not all of it is bad but certainly the TARP and bad bank are horrific ideas.  The money we are spending is on the backs of future generations.  So much damage has been caused over the last 30 years with acceleration this past decade that we will have years to get this thing back on track.  Americans are only now starting to save more (a little) because their credit has been shut off.  That is it.  That was the end game.  Anyone thinking we'll be back to the old spending ways when you can get access to your HELOC with one phone call or simply buy a new car every two years is smoking purified financial crack.  Those days are gone.  The days of zero down NINJA turtle loans on homes are gone.  I say good riddance.  They have led us to this cliff and have rewarded corruption, greed, and the destruction of our country's financial stability.  I think it is apt to remember what Thomas Jefferson once said:
"If the American people ever allow private banks to control the issue of their currency, first by inflation then by deflation, the banks and the corporations will grow up around them, will deprive the people of all property until their children wake up homeless on the continent their fathers conquered. The issuing power should be taken from the banks and restored to the people, to whom it properly belongs."
The paradox of thrift will hurt us in the short term.  Keynes argued that in these times, the government should step in to blunt the impact.  I would argue that the government should step in for the bare essentials but it should focus on correcting the systemic issues created over this 30 year period like what occurred during the Great Depression.  If you care about the future generations it is your duty to think longer term rather than worrying that you won't be able to get that flat screen and charge it on your credit card.
Saving is important.  For both the government and consumers.  Yet as we discussed, government spending is a tiny fraction to the consumption side of the GDP equation.  The fact that new home sales came out with a record low, this data goes back to 1963, tells us that the most expensive items are collapsing.  Auto sales are falling off a cliff too.  What occurred in a nutshell is that we have gorged on homes and cars for a decade in advance.  I'm assuming most readers to this site are already savers (otherwise you are a glutton for pain reading these articles).  If you don't save however, you need to start readjusting your mentality and getting used to buying things with saved money because we are heading down that path.  And there is no paradox in that statement.
Did You Enjoy The Post? Subscribe to Dr. Housing Bubble's Blog to get updated housing commentary, analysis, and information.