There is a heavy demand from abroad for US real estate.  China as you know is now solidly the second largest economy in the world and with it is wielding heavy economic power.  Wealthy families are growing and with it, the ability to purchase investments and assets all around the world.  In California target locations like Los Angeles and San Francisco bring in dramatic levels of dollars from abroad.  The California housing market has been on a massive run-up in the last couple of years.  As we've discussed, a large part of this has been driven by domestic investors but how much of this is being driven from those abroad?  In particular how much money is flowing in from China into US real estate?  It is interesting to note that Chinese property investors are targeting select coastal regions whereas some domestic hedge funds have gone after properties in Arizona and Nevada.  It is hard to ignore the money flowing in from abroad.
Real estate investing from China
The property sector has seen a large amount of money come in from China: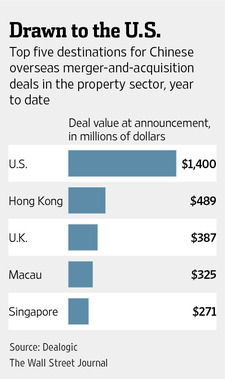 It is clear where the money is flowing.  You also need to realize that this money is targeted to certain regions so the impact is magnified where the money is flowing.  California of course is a prime location:
"(Forbes) For instance, Chinese commercial real estate purchases in the U.S. totaled over $3 billion in 2012, much of it in California.  The state is expected to see record investments by the Chinese in 2013, the Asia Society said.  Two sizable deals took place this year already.

China Vanke and Tishman Speyer signed a deal for a $620 million luxury condo project in San Francisco this winter. In April, another deal for a cool $1.5 billion was inked in Oakland between Zarsion and Signature Development Group."
These are massive deals in Northern California.  Even here in Southern California there are real estate agents that specifically cater to this market niche.  The California housing market has been driven largely by investors in the last couple of years.  Investors fall into a few categories:
-1.  Big banks/funds:  buying for rental or hold-and-flip
-2.  Flippers
-3.  Foreign buyers
When over 30 percent of the market in California is being driven by investor money you have to wonder how long this trend can go on.  California isn't the only market being targeted here:
"(NPR) The GM building is considered one of the most valuable office towers in the U.S. In May, a large piece of it was purchased by a Chinese real estate developer.

That same developer, Xin Zhang, the chief executive officer of Soho China, already owns a significant stake in the Park Avenue Plaza, and other Chinese firms and investors are buying up notable properties across New York.

The buying, however, isn't limited to just New York or Chinese investors. Investors from across Asia are buying up premier commercial real estate, says Christopher Ludeman, who heads up Global Capital Markets at CBRE Group, which handled the GM building sale."
This is very similar to when Japan had its boom and ended up purchasing trophy properties in California and Hawaii however China is a much larger economy and as you know, has a dramatically bigger population.  China now has over 1 million US dollar millionaire households (only behind Japan and the US).
Why the flow of funds from China into US real estate?
What is interesting is that in relative terms, US real estate even in Los Angeles and New York is "cheap" compared to properties in some areas in Asia: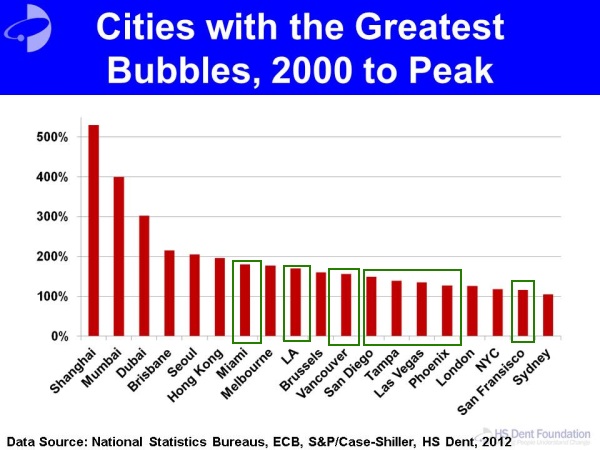 It is a fascinating trend and US dollars are rushing back into our economy.  This is part of the global landscape.  Goods and services move back and forth seamlessly and so does cash.  Wealthy investors from China are definitely interested in US real estate and are diving into markets with large amounts of cash.  This combined with big Wall Street buyers has somewhat papered over the largely disappearing middle class in many of these areas.  In large part this is how real estate values have continually moved up while household incomes have gone stagnant.

Did You Enjoy The Post? Subscribe to Dr. Housing Bubble's Blog to get updated housing commentary, analysis, and information.