Foreign money has been a key ingredient in propping up home values in many cities across the United States. There is no doubt about this.  If you look at places like Irvine, many new home communities are being sold largely to investors from China.  This also applies to house mania happy San Francisco.  Yet even if you question your own sanity regarding California crap shack prices, things may look affordable to certain people abroad.  The amount of investment flowing in from China into the United States is amazing.  A large part flows into real estate.  This is how you get lower homeownership rates and also a drop in mortgage application volume yet somehow, you see home prices surging on low inventory.  In a global market money can flow in and out of systems easily.
The Chinese Connection
There is a global compression of the middle class and this is impacting people in all corners of the market.  While San Francisco and Los Angeles home prices seem wild, just look at prices of real estate in some cities in China: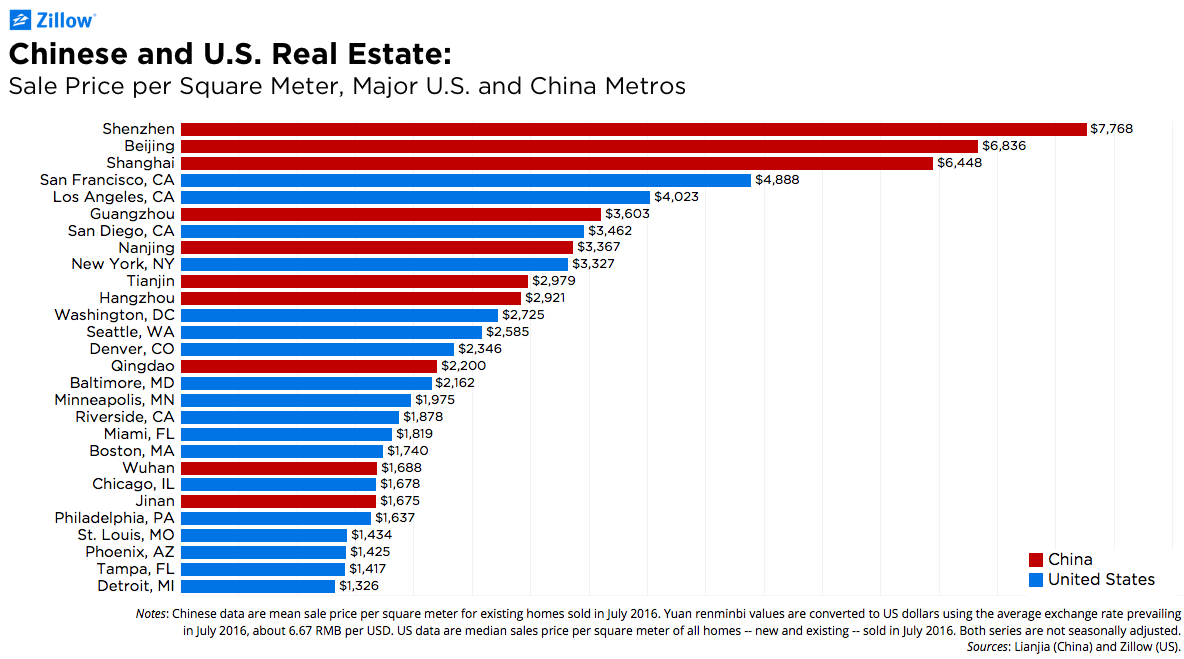 The market is going bonkers and as we all know, things are relative.  This is how you get people suddenly thinking a 1.5 or 2 hour commute is normal just to live in a crap shack.  This is how people justify certain prices on poorly built junk and ultimately reconcile their own cognitive dissonance on being mortgaged for life.  There is also the pressure that comes from starting a family but many largely don't factor in the unforeseen expenses that are associated with this.  But house horny buyers are simply fodder in this game.
What many don't see is that real estate markets are now global and will boom and bust with some level of connection.  The house humping brigade is now a worldwide phenomenon.  "They aren't making any more Earth!"  And right now for California, the biggest source of foreign money is China:
This shouldn't come as a surprise.  Some markets like San Francisco, Palo Alto, Arcadia, San Marino, and Irvine to name a few have massive amounts of money flowing in from China into local real estate.  Many professional families let alone middle class families in these markets don't stand a chance in buying a home short of them buying a crap shack and committing to an insane down payment and a massive mortgage for 30 years.  30 years in this fast changing world where technology is disrupting markets and employment sectors so quickly is telling. Yet somehow you want to chain yourself to a crap shack for 30 years.
And most Americans are too broke to afford these homes.  Just look at mortgage volume from the largest mortgage dealer, Wells Fargo: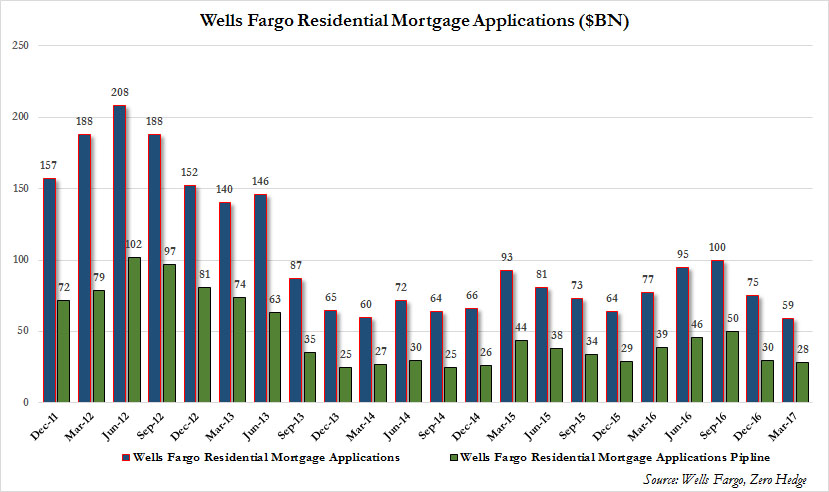 That sure doesn't look like Americans are going bananas for buying homes. But you have low inventory and global capital flowing out of markets in massive ways.  Who needs a mortgage when you have a suitcase of cash?
Zillow summed up the numbers for the average chump:

Not exactly the best way to go about living your life being chained to a crap shack.  But real estate chumps live in various countries.  And then you have places like Vancouver that have enacted taxes on foreign buyers:
"(Zillow) In August 2016, the government of British Columbia, Canada, enacted a 15 percent tax on foreigners buying homes in the rapidly growing city of Vancouver. Most now agree that the Vancouver housing market has slowed substantially since last summer, but the data remain inconclusive as to any specific effects on international buyers of Vancouver homes. And there is less agreement on whether the tax has pushed would-be buyers of Canadian homes to instead consider U.S. homes south of the 49th parallel, especially in nearby Seattle."
Capital is going to flow where it wants to flow.  The middle class of California is already priced out and many are leaving to places like Texas.  That is why California is now a renter's paradise.

Did You Enjoy The Post? Subscribe to Dr. Housing Bubble's Blog to get updated housing commentary, analysis, and information.