There has been little discussion in 2016 regarding the volume of all cash buyers.  We have grown accustomed to anomalies in the housing market.  Rapid dips and jumps in prices are now assumed to be a part of the system.  Massive numbers of investors buying single family homes are now assumed to be status quo.  And the number of all cash transactions is seen as normal when in fact, all cash buyers were usually a small part of the market.  All of this is abnormal in the housing market pre-2000s but we are now living in a very different world.  Yet people still have a hard time understanding the volume of all cash buyers in certain markets.  Clearly most of these buyers are investors.  Even a home costing $200,000 is out of reach for the regular family living paycheck to paycheck without a mortgage.  And mortgage rates just increased at their fasted clip in many years thus making it more expensive to buy a home.  In some markets, cash buyers dominate sales volume.
The all cash buyer is still out in force
All cash buyers represent a clear sign that investors are still buying.  However, it should be noted that volume in many markets is low.  All cash buyers are out in full force in Florida and the Midwest.  These investors are largely buying up single family homes and looking to capitalize on two trends:
-1.  The rental Armageddon trend

-2.  Trying to buy and sell into this wild uptrend in the market
Real estate values have soared in many markets across the US.  So investors are trying to maximize their return and are jumping into markets where home values are more affordable: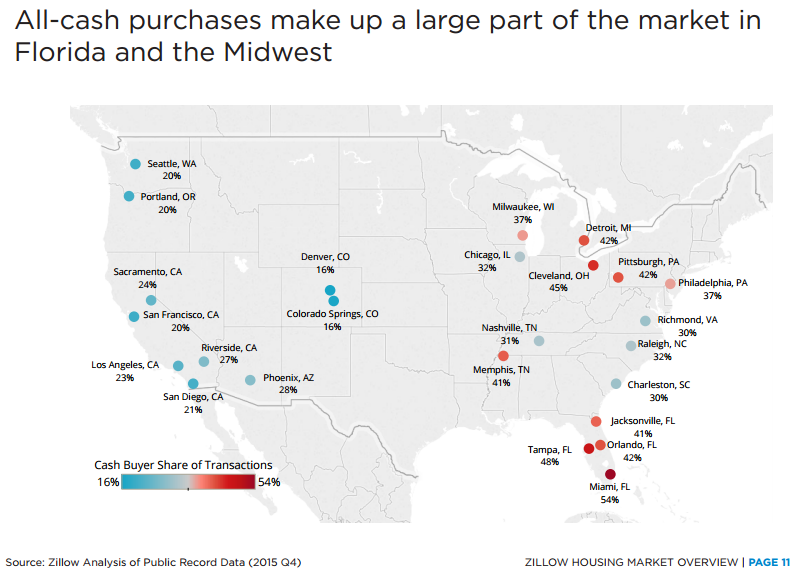 This is an interesting chart because it shows that most of the all cash buying action is taking place in the East Coast.  In Miami, 54% of all sales are going to cash buyers.  In Tampa, Orlando, and Jacksonville the rate is in the 40% range.  Cash buyers rule the market in these locations.
You see all cash buying also making up a big part of the market in the following locations:
-Memphis (41%)

-Cleveland (45%)

-Detroit (42%)

-Pittsburg (42%)
The West is already hyper inflated so all cash buying has subsided.  In a place like California, pre-2000s all cash buyers made up about 10 to 15 percent of all purchases.  Things are still somewhat higher but with prices being so high at this point, investors are chasing value in other markets.
For most people, buying a home with all cash seems like a dream.  But there are markets for example in San Francisco and Irvine where money from abroad, in particular China is flooding the real estate industry.  In Florida I would imagine money is flowing in from Latin America and Canada too.
The bottom line is that the homeownership rate has continued to bounce off a multi-generational low: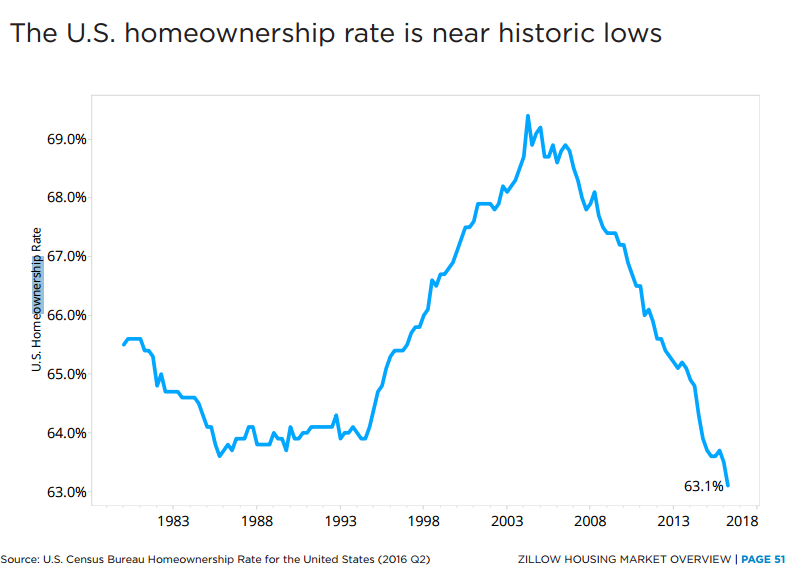 This drives home the point; if home prices are soaring and fewer Americans as a percentage are owning homes, who is benefitting here?  Rents are definitely up and home prices are up but the number of Americans owning homes is definitely down.  A few reasons for this:
–Millennials are largely broke and don't view home buying as urgent as their Taco Tuesday Jimmy Buffet loving Baby Boomer parents.

-Long-term employment is rarer today.

-Who wants a McMansion when you are going to have a small family (or no kids at all?).  This goes against the house horny buyers of a previous generation.

-Lower incomes and higher student debt.  Student debt outstanding is now $1.4 trillion.  Many already carry tiny mortgages.

-Many young adults continue to live at home, unable to afford high rents let alone high home prices.
The all cash buying trend continues to signify that investors are a big part of the market.  But all of this is contingent on the massive Bull Run we have had since 2009.  Of course, some now believe this is a "new normal" and we have reached permanently new plateaus.  Many said rates wouldn't go up and just look what happened – rates went up and the Fed increased rates.

Did You Enjoy The Post? Subscribe to Dr. Housing Bubble's Blog to get updated housing commentary, analysis, and information.