There is now new 2009 evidence and data points showing that the housing situation is quickly deteriorating in California even more than one would have expected.  It is one thing to say that the market is flooded with foreclosures as if the Red Sea was parting but it is another to blur the facts and revise history to cover up the finance, Wall Street, and real estate industry dirt.  I'm starting to hear a rather ubiquitous meme going around regarding the causes of this economic mess.  The argument goes something like this; the government wanted to push homeownership so lenders (because of the government) went out and made loans to subprime borrowers in the inner city and that is the main culprit that set off financial Armageddon, which now looks like we are teetering on a the verge of a financial Great Depression.  This argument has an additional component which is fixated to the point of calling in Sigmund Freud on the Lehman Brothers collapse and blaming the government for letting them go under.  The underlying implication is that if we had only saved this investment bank, we'd all be rolling around in the yellow fields of daisies.
I find the cognitive dissonance of these people amazing.  I say "these people" because there is some uniform thought pattern here and I have heard this set of arguments enough where I realize that this is a packaged mentality.  These are usually the same people that cry from the hilltops that the government should stay out of business yet when it comes to letting famed crony capitalism go marching forward, they are all for it with a bottle of champagne ready for a celebration.  By the way, wouldn't bailing out Lehman Brothers actually come from the same government they want to stay out of their business?  These people are selective about what they choose to believe and will usually throw out middle school intellect arguments and red herrings such as "freedom" or "liberty" since they know most people don't have the spine to question these catchphrases once these words are invoked.
There is a song called Born Again American which has a message that I think will resonate with many of you.  I think many of the battles we will face will require sacrifice from all of us at a certain level.  It is just a matter of how much will those in the castles sacrifice?
In fact, letting Lehman Brothers implode was probably one of the few things the government did right last year.  Why?  I bring you to exhibit A of crony capitalism with Bank of America.  On Thursday we find out the "shocking" news that Bank of America required $20 billion additional funds from the government to cover the "unexpected" $15.31 billion loss at Merrill Lynch during the fourth quarter.  It is only unexpected to the delusional dingbats smoking the crony capitalistic peyote.  So if you haven't figured it out, we are now on the hook for this crap.  That is why letting Lehman Brothers go under was a quick way of letting the market figure out the price of what was on their books.  As it turned out, it wasn't worth much and you might as well try to sell their assets at the local flea market.  Now with Bank of America, CEO Ken Lewis is going to get another rude wakeup call when toxic mortgage factory Countrywide starts sucking on Bank of America capital yet we know deep down in our gut that BofA now serves as a conduit for free taxpayer money because they are now "too big to fail."  Yet as we all know, now even those pristine Alt-A and option ARM loans are going to pop like zits in 2009.
I put this out there because of what I have been hearing from more bottom callers and ideologues.  First, most of these bottom callers are people that were wrong in the past so their credibility is shot to begin with.  Next, they are misguided by their own belief system and really operate under a crony system of business, not any true form of capitalism.  Before I dive into the California housing details, let us look at some new guess work made from these "experts":
"(LA Times) California home builders are among those pushing for a federal tax credit to spur home purchases. Statewide, the California Building Industry Assn. estimates that fewer than 64,000 new homes were built in 2008, the lowest total since 1954.
The December sales total for new homes in Southern California was 79% below the peak sales month of December 2005, when 8,723 new homes were sold.
Although there remains an oversupply of homes, Leamer said new-home construction would soon be necessary to prevent "another mania" in housing.
"We overbuilt from 2004 to 2006, but now we're underbuilding," he said. "In four or five years, when the economy is strong again and people come back to the housing market, there may not be enough units."
This guy has been wrong so many times, I'm surprised people still quote him.  First, Mr. Leamer is wrong about under-building.  The problem we have in California is a low supply of affordable housing.  Incredibly the housing collapse is pushing prices lower which believe it or not, has increased sales in areas like the Inland Empire and has also made homes more affordable to many.  What a stunner right?  If he worries another mania is going to happen it'll be because of weak lending standards and not because of the supply of housing.  That notion is simply unfounded.  The reason California saw prices skyrocket is because people drank the housing Kool-Aid and relied on economist like Leamer who couldn't see a recession if they were even standing in it.  Oh, if you think that is hyperbole take a look at this memorable quote:
"(International Herald Tribune)  Despite plunging housing values, rising oil prices and credit problems that continue to plague Wall Street, the U.S. job market is unlikely to suffer the kind of steep losses that would tip the economy into recession, according to the quarterly Anderson Forecast by the University of California, Los Angeles.
"We still think an official recession is not in the immediate future," concluded Edward Leamer, director and co-author of the forecast set for official release Thursday."
You know the date of the article?  December 5, 2007.  Bwahahahaha!  We were standing knee deep at the start of the recession and he didn't even know what he was swimming in!  Earlier this week Ben Stein was on the KNX Business Hour, a local radio show and he was one of the above people who thought Lehman Brothers changed the entire landscape of the universe and altered his earlier predictions.  He is another one that missed the entire housing bubble bursting and recession.  You have to be economically blind or suck at your job if you couldn't see this coming.  By the way, the market was already getting hammered before Lehman imploded.  The S & P 500 on September 15, 2008 was already off by 23% from its peak and this was the day the infamous investment bank went under.  But why let facts get in the way?
The reason I bring this up is because this cadre of pseudo financial wizards are now proposing notions and predictions that make no sense.  We should be listening to those who have gotten it right from the beginning.  I was happy to see that Nouriel Roubini, the New York professor was getting some airtime on Bloomberg and even made it on CBS MarketPlace.  He didn't simply predict what was going to happen, he nailed it with almost prescient precision.  For those of you who have doubts, you should download his testimony to the House of Representative made on February 26, 2008.  Here is a quote from the testimony:
"At this point the debate in the U.S. is no longer about soft landing versus hard landing (recession); it is rather on how hard the hard landing will be. An analysis of the macro data published in recent weeks suggests that the economy has already entered into a recession in December 2007. So the question now is whether this recession is going to be relatively short and shallow (lasting two quarters in Q1 and Q2 of 2008 as several analysts suggest) or much longer, deeper and more protracted (four to six quarters)."
He pegged the recession months before many did.  Read the entire thing, it adds to his credibility.  I want to bring this up because there is a lot of misinformation flying out there and for some reason those that were utterly wrong still have access to the airwaves and TV.  Let us now dig into the California housing situation.
California Market Advice:  Don't Buy in 2009
I was wondering why in recent days I have gotten many e-mails from readers asking if now is a good time to buy.  Seeing the bottom callers emerge from their educational timeout for being so wrong, they think that they'll get it right this time but this is also the reason why many out there are still sitting on the fence.  In regards to buying a home in California for 2009, you should not buy a home.  I'll give you five major reasons why buying right now makes absolutely no sense:
Reason #1 – Prices are Still Dropping    
Why would anyone be buying when the trend on housing prices is clearly pushing prices lower?  Let us take a look at Southern California since over half the state's population lives here: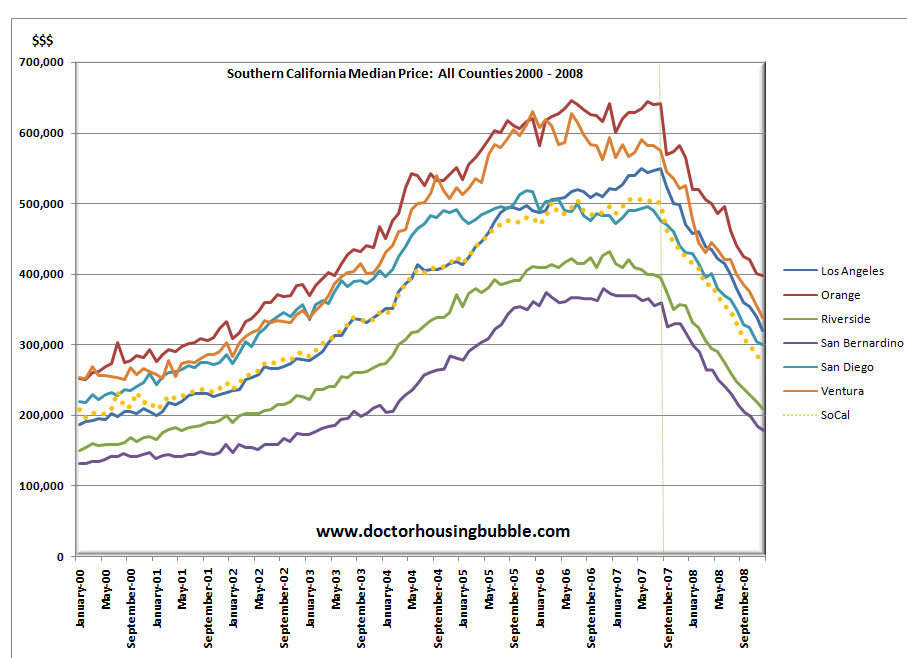 *Click for sharper image
A couple of big trends are emerging.  First, Orange County broke the $400,000 median home price mark in December.  One county is solidly under $200,000 which is San Bernardino with Riverside inching closer to this level.  Like I mentioned before, these areas have a major case of the option ARM psychology going on and this is only going to get worse in 2009.
The fascinating thing is the most expensive county which is Orange, has a median home price of $397,000.  I have heard a few (not many) misinformed folks in the lending industry still living in their reinforced anti-reality bunker thinking that not lifting loan caps is the reason we are having all these problems.  If they would only look at the median price for all areas, why would we need a lifting of the cap from the Federal government?  In fact, the nationwide economy is reeling so they have bigger fish to fry and I assure you since I travel the country often that few people in other states are going to have sympathy from someone trying to buy a home that is priced over $417,000 in California given the current depression like climate.
The Southern California aggregate median price is now $278,000.  This is a 44% drop from the peak reached on July of 2007.  That is why when I made the prediction that housing will not bottom until 2011, I was looking at multiple data points and also, consumer psychology.  If you listened to the delusional pundit crew, it is your duty to write into networks that harbor them and ask for more balanced (and accurate) prognosticators.  Otherwise, networks will still feed you the same crap over and over.
You know the last time prices were this cheap?  Try August of 2002 when the median SoCal price was $278,000.  By the time this is said and done California will have a lost decade similar to Japan in real estate.  Think about it.  If we bottom out in 2011 and prices are still going lower in the short-term (which they will), we will have a decade of lost real estate appreciation.
Northern California is now in the same boat.  In fact, they are worse off since that region is now off by 50.4% riding a median of $320,500 off from the $665,000 peak in July of 2007.  The 50% mark has been breached.  I just recall a few folks on the Craigslist housing forum back in 2005 that couldn't even envision Bay Area prices dropping 10 percent.
Reason #2 – Sales are Still Low
Sales are all over the map and I've seen a few headlines jumping up and down because sales are flourishing.  In the Bay Area 50% of homes sold last month were foreclosures and in Southern California it was 55.7%.  Foreclosures are the market.  Let us see how this looks on a chart: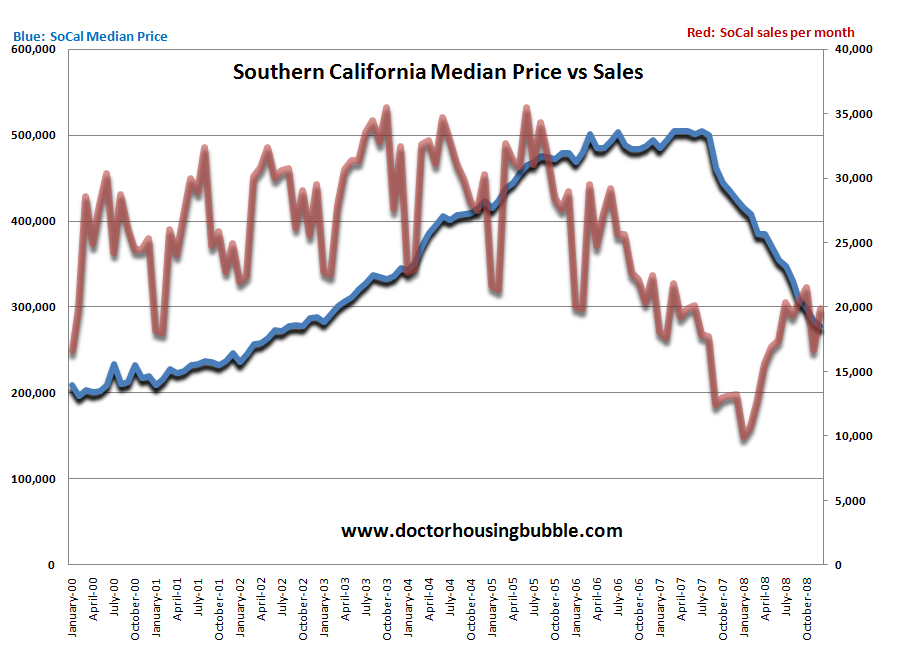 You'll notice that yes, we are off the lows of late 2007 or early 2008 but this is simply because of the massive amount of foreclosure sales.  This is also a reason why the median price is getting hammered.  Sales are still not up to their average levels for the decade.  Yet keep in mind that appraisals look at recent sales so comps are getting slammed.  It is naïve to look at the median price by itself when the bubble was booming and it is equally deceiving to look at the median price now that the bubble is bursting.  Yet we now need to look at the following; local area incomes, home condition, area amenities, area rent prices, and economic prospects.  Looking at these traditional measures home prices are still overpriced!  Don't be fooled.  2009 is going to slam California real estate.
Reason #3 – The Economy Stupid
What many bottom callers forget is that our economy largely revolved around the housing and finance sector.  Those jobs are gone.  The state budget is in an absolute mess and now we are days away from thousands of state workers who will be furloughed and will effectively have a 10 percent wage cut.  That is less consumption by the way.
California also has the third highest unemployment rate in the country: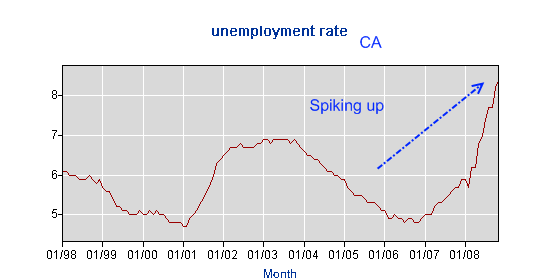 As it stands, the current state unemployment rate is 8.4% which will spike when state data is released next week.  How do we know?  Just look at the unemployment claims data.  If it stays steady or declines, we know why and fortunately many mainstream media outlets are now covering the sham on how the unemployment numbers are calculated. That is, things are so bad even fudging the numbers can't cover this up.
So if this is our climate, those in the real estate industry forget that people don't want to buy big ticket items when the economy is in the gutter!  Why do you think auto sales have fallen?  Circuit City anyone?  The only way people bought this over priced crap for so long was because of easy credit and saving absolutely nothing.  This will make this downturn the worst since World War II but hopefully not as deep as the Great Depression.
Reason #4 – Expert Creditability Shot
As I have mentioned above, people simply do not believe the same tired old mantras:
(a)  Real estate never goes down.
(b)  If I dollar cost average, I'll be okay.
(c)  If you call yourself a "realtor, broker, economist, banker, etc" then you must know about money.
(d)  If I work hard and play by the rules, I can live comfortably in the middle class.
All these rules are now shattered.  Why?  The crony capitalist with their de-regulating tools in Washington sold you out over many decades and it is all exploding like a debt filled piñata.  Now we are left with one big mess to clean up.  We are left with some circus where all these worthless institutions want to shift the losses onto the public without owning up to their mistakes.  Look at the $700 billion useless TARP.  That first $350 billion only bailed out the bankers and Wall Street.  Not you.  Foreclosures are still soaring.  Unemployment is raging high.  The experts are delusional and justify their blurry economic philosophy and think they are capitalist but in reality, they are nothing more than a criminal justifying his deeds to let him sleep at night.
That is why when I hear them blaming subprime borrowers (aka, poor inner city families) or the government for this mess, they forget that the size of the pie falls more in their area of crony capitalist greed.  They are nothing more than self-serving plutocrats.  We need to distinguish between ambition (good) and uncontrollable greed especially if it falls on the laps of taxpayers who didn't even share in the upside but are eating up all the downside.
Look at it this way.  The Wilshire 5000, the broadest measure of U.S. stocks is now off by approximately 50 percent.  At its low it hit below 7,500 which represented a $10 trillion market cap loss.  We are now at 8,484 which is near those lows reached on November 20, 2008.
Now let us look at the subprime loans made throughout the decade: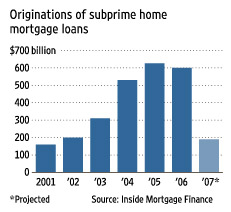 Keep in mind that the market virtually disappeared in 2008.  So adding up every subprime loan made since 2001 will yield us approximately $2.5 trillion total originated.  So even if banks lost 100 percent of the loan amount which they can't since the house is still worth something, we realize that the equity markets were a bigger sham by far.  Let us assume that the loans were only worth 30 cents on the dollar.  That means, that total losses are around $1.75 trillion and that is assuming the worst case scenario for subprime loans.  So let us run the numbers:
U.S. Equity evaporation:      -$10 trillion
Real Estate value decline (peak of $24 trillion residential):      -$5.6 trillion
*Using current Case-Shiller decline of 23.4%
Not including global equities, global real estate, commercial U.S. real estate, commodities, etc.
Keep in mind that subprime loans got recycled by greater fools.  Meaning, someone that bought in 2002 and then sold in 2004 shows up in both counts even though the 2002 loan gets paid off in escrow.  So in fact, the actual subprime market at implosion time may only be at approximately $1 trillion.  Who really knows the exact number but we are close.  So above, just in the U.S. alone we can already account for $15.6 trillion in wealth that is gone and you're telling me that $1 trillion in subprime loans caused this?  You really have to be smoking some good stuff to believe that.
Reason #5 – Option ARMs
And finally if that still doesn't convince you, California is loaded to gills with option ARMs which I will steal a phrase from Warren Buffet, are weapons of financial mass destruction.  There is more of this crap out there than subprime loans and this will take a bigger hit on the psyche of many.  It may be the final nail.
The importance of this comes more from consumer behavior theory.  First, subprime borrowers are highly unlikely to be invested in large amounts with 401ks or IRAs or went crony shopping with Bernard Madoff.  No, these people lost their home and that is pretty much it.
Yet many option ARM borrowers and those in the Alt-A category do have good credit and investments in other vehicles that just witnessed a shellacking in 2008.  Now, many have to decide whether they will stay in their massively underwater home while they watch their investments crater.  Many people doubled down by massively having their portfolios in real estate and finance yet also owned a highly leveraged home.  Both are now deep in the red.  So do you really think these people, who now have a damaged brand view of housing are going to be ready to leap back in the flame?  The only way that is possible is if we bring back more option ARMs or more absurd financing like when Japan started offering multi-generation loans which hasn't done a thing since housing has been in the dumps since 1990, nearly 20 years ago.
A good fighter for the housing truth and colleague, Mr. Mortgage showed a recent WaMu modification loan that transformed a $1 million loan into an $878 monthly payment!  Bwahaha!  However, this is only for 2 years then on your 3rd year, the payment goes to $2,633, in the 4th year hits $4,389, and finally in the fifth year you'll need to cover the loan. In 5 years California real estate will still not be near peak prices!  I can assure you that.  Unless incomes double in that time, you can rest assured prices will remain low.  Kick that shiny glimmering can down the road.
The more time that goes on, the more I am convinced that we are going to have our lost decade like Japan.  We've already had a lost decade in stagnant wages.  California is now back to 2002 price levels.  Don't let the ill informed pundits try to suck you into their Alice in Wonderland world.  The only thing consistent about them is they have been wrong for years and continue to be wrong in 2009.  At least some things don't change.
Did You Enjoy The Post? Subscribe to Dr. Housing Bubble's Blog to get updated housing commentary, analysis, and information.