For the first time in nearly two years the California housing market showed some brief signs of cooling.  The median price dipped and sales slowed down.  The mortgage rate turbulence of the summer is likely to show up in late fall since the process of buying a home with escrow takes a bit of time to register in the current data.  Although this is a current trend in terms of sales and prices we've also discussed why it is unlikely that California baby boomers will suddenly unload properties in mass.  These owners may have equity trapped in their home but the only way to unlock it is via selling the place or going with a reverse mortgage which is like raiding the bank before handing something over to your heirs.  California real estate has been in a perpetual cycle of booms and busts for nearly 30 years.  That is why it is interesting to see the 2014 forecast put out by the California Association of Realtors (C.A.R.).  The forecast is modest yet past history tells us a different story.
California housing forecast – 2014
The C.A.R. released their forecast this month.  Let us take a look at it: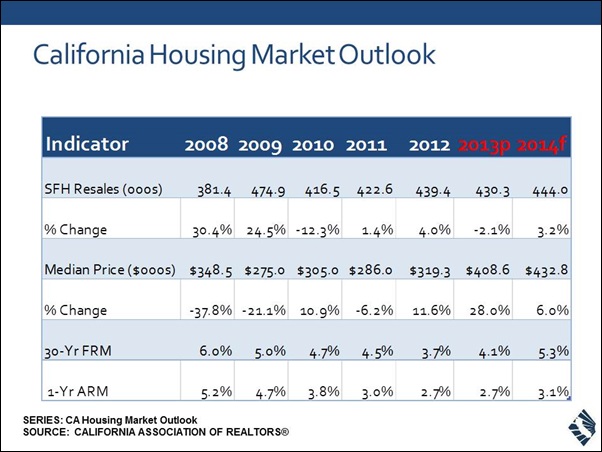 This is an interesting forecast.  The median price went up 28 percent in 2013 (the current median price is at $428,000 according to C.A.R. data so does this mean they are forecasting a dip by the end of the year before heading back up in 2014?).  This forecast was only released this month.  What should stick out to you is how erratic prices go up and down in California.  Let us sum it up:
Annual price change (median price California):
2008:     -37.8%
2009:     -21.1%
2010:     10.9%
2011:     -6.2%
2012:     11.6%
2013:     28% (IP)
2014:     6% (estimate)
What is telling with the C.A.R. forecast is that they are only estimating a modest price increase in 2014 even though sales are estimated to be at the highest level since 2009.  Another thing that also stands out is the forecasted mortgage rate of 5.3 percent.  This is nearly 100 basis points higher than where we stand today.  Surely that would have some impact on price.
Given these kinds of cyclical behaviors in California real estate, it is unlikely that we will have a calm year coming off of what happened this year.  The nature of California real estate seems to be euphoria, mania, and panic.  Modest and calm are absent.  The investor market is showing some serious signs of froth and if this group pulls back, the flow of the market can change dramatically.
Booms and busts for 30 years
It is interesting to see speculation that somehow California real estate will suddenly become a calm market.  When was it calm in the last 30 years?  Just look at the LA/OC Case Shiller data: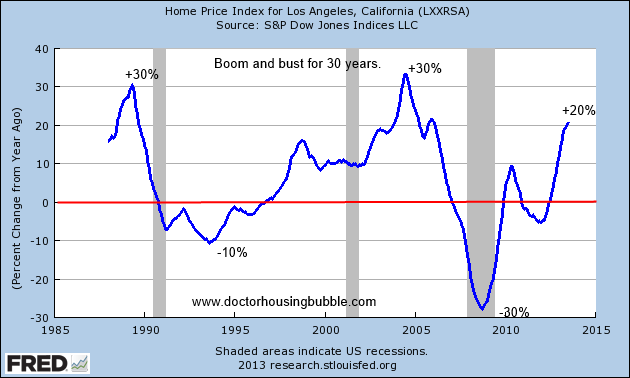 Does the above look like a calm market?  The chart above is looking at annual changes to the Case Shiller Index for Los Angeles and Orange counties.  To the contrary, since 2000 the peaks and valleys have become more extreme.  Clearly we are in the uptrend here but the rate is unsustainable.  The C.A.R. has a forecast of lower prices by the end of this year yet rising throughout 2014.  If rates go to 5.3 percent it is likely that prices will move lower, not higher given how much leverage is being utilized in the current market.  You don't think rates impact the market?
Mortgage applications and refinance activity falls hard
The higher rates in 2013 did impact the market.  Take a look at refinance activity and purchase activity:

The refinance index is down a whopping 64 percent from last year.  The purchase index is down 10 percent showing some softening in the overall mortgage market.  Higher rates and higher prices are unlikely to be the case.  This is probably why the median price actually dropped last month.  We've been on a good run for a couple of years.  If history is any guide, we'll bounce around at the top a bit before correcting.  By how much is the question.  Of course never have we had roughly 30 percent of all California home purchases going to investors so this is a different beast.  The lack of inventory and investor market is still the driving force here.  Will this trend continue into 2014?
I think it is telling that the C.A.R. is actually being conservative in their 2014 forecast for California real estate.  One thing is certain and that is California real estate is never a dull experience when it comes to price action.  Now looking at the C.A.R. forecast, what are your thoughts on California real estate for 2014?

Did You Enjoy The Post? Subscribe to Dr. Housing Bubble's Blog to get updated housing commentary, analysis, and information.