Many look to California for guidance on where the future is heading.  In this current economy, it would seem that some are looking for other economic leaders.  A $26 billion budget deficit, a housing market that is still wobbling around, and employment that seems to continue to get worse.  The current California economy, unlike many states in the nation, still seems solidly in a recession.  Yet on a nationwide level, there does seem to be faint hopes that things are getting worse at a slightly slower clip.  Unemployment isn't flying off a cliff but jobs are still being lost.  The housing market on a nationwide basis seems to have hit a sales bottom (although prices still seem to be heading lower).  Yet California has unique struggles that will make it a late bloomer in coming out of the recession.
If you haven't already noticed, part of the budget balancing act contained earlier withholdings.  California Realtors are gearing up to fight this because many are independent contractors and get a 1099 tax form instead of the more typical W-2.  Most who get paid via the W-2 pay taxes on a rolling monthly basis.  Yet many that operate under the 1099 pay quarterly estimates of their taxes.  In many cases, this creates massive fluctuations with revenues.  But you have to love the argument coming out from Realtors:
"(OC Register) The Vote May be TODAY! Please call your Assembly member NOW!" an association "Red Alert" to members said after the measure emerged from conference committee in June. "C.A.R. OPPOSES (this) proposal to force independent contractors to make interest-free loans to the state!"
Unlike wage earners, who get taxes deducted from their paychecks, independent contractors aren't subject to any withholdings. But contractors, who get a 1099 tax form instead of a W-2, are required to make estimated tax payments every three months.
Some state officials proposed that those paying independent contractors be required to withhold 3% of their income and send it to the state. The plan would accelerate tax payments and generate more cash for California's coffers, they maintain."
You have got to love this one.  Where were Realtors when brokers were giving out no money down loans and Alt-A junk to the public?  Where were Realtors when the $700 billion taxpayer bailout rescued banks?  I didn't hear much opposition about that tax credit for home buyers which amounts to a free taxpayer subsidy to those who buy homes.  Now they are opposed to paying taxes earlier?  This isn't even a tax hike.  This is a typical case of cognitive dissonance in action.
Some seem to think that we are already out of the woods with the July budget: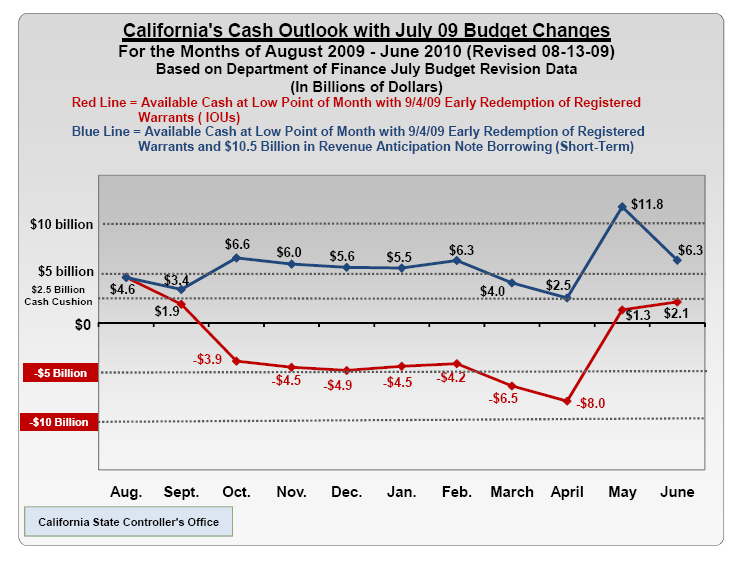 For what it is worth, the state is still issuing IOUs.  They are however ahead of schedule and are planning to phase out the program come September 4.  Even with all the massive cuts in programs and no new revenue streams the state is going to need to borrow some $10.5 billion for the fiscal year.  The chart above depicts that situation.  Without the borrowing, we would be in the red in a couple of days.  And much of the expectation is things will stay at this level: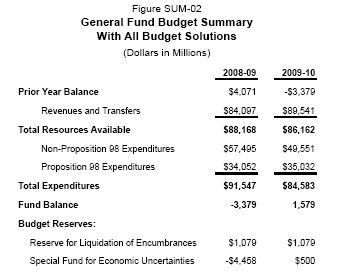 Keep in mind that the above cuts of approximately $15 billion and the $10.5 billion in borrowing balance the budget for part of the last fiscal year and the 2009-10 year.  But the underlying basis is the worst has already occurred.  Given the current cuts, it is assured that the economy will face additional pain at least into the next fiscal year.  Many have only recently started furloughs which means less disposable income for the economy.
The current unemployment rate of 11.9 percent underscores the actual underemployment rate of 22 percent: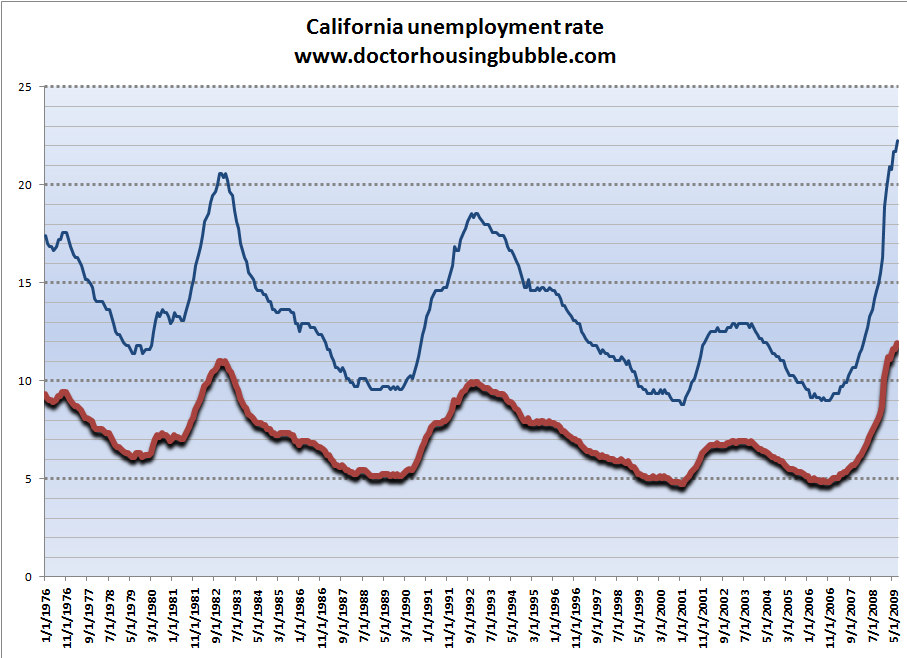 And people are doing what they can.  The economy has actually pushed many unemployed to seek a new avenue of income.  Game shows:
"(USA Today) Before the economy soured, Pomerantz says, few prospective contestants skewed older, college-educated and unemployed. Now its 10%, she says.
Catch 21 players can win a maximum of $50,000 – apparently enough of a draw these days to lure auditioners atypical of the "average Joes" who usually want on. Casting for a third season run of about 200 shows, "it's absolutely clear we are seeing a lot of professionals who have lost their jobs or are looking for a way to supplement income," says producer Scott Sternberg."
People are simply trying to make ends meet.  And with 812,000 Californians receiving unemployment insurance, there are many simply trying to figure out how to handle the current downturn in the economy.  The unemployment insurance fund has been in the red since the start of the year: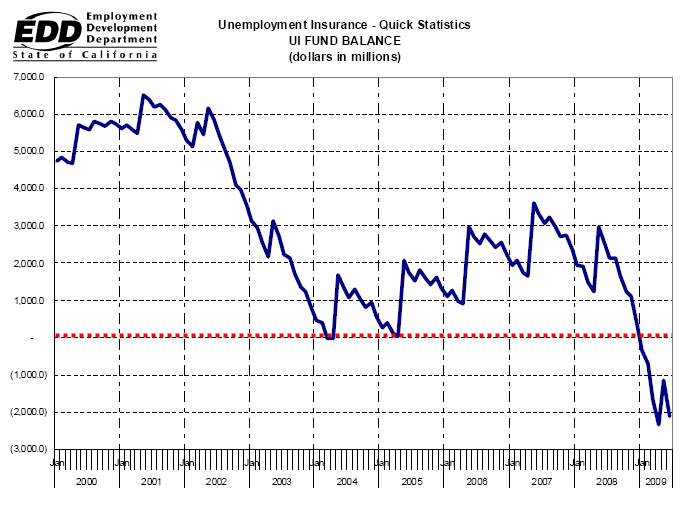 And the loss of jobs has occurred in practically every industry: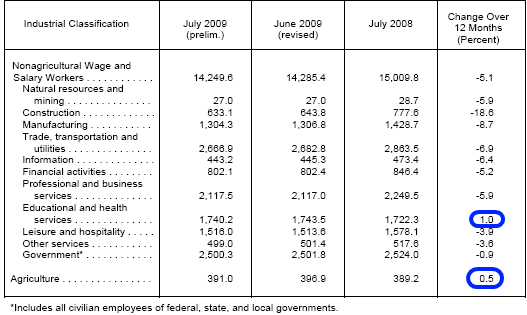 The only two sectors that are slightly positive on a 12 month basis are education, health services and agriculture.  But even healthcare, the last place to cut is having to scale back:
"(LA Times) One of the state's largest employers, healthcare giant Kaiser Permanente, said it would eliminate more than 1,800 positions as it struggles with drooping membership, uncertain healthcare reform and shriveling Medicare reimbursement rates.
Job reductions will occur within the next few months, the Oakland-based nonprofit said Tuesday. Many of the purged positions — just under 2% of Kaiser employees — are temporary, on-call or short-hour. Most Kaiser medical centers in California will be affected."
The real question many should ask is what industry is going to bring us out of this recession?  Also, we are assured additional financial losses with the Alt-A and option ARM products.  There is now speculation that banks will be doing lease-back options to current owners.  That is, renting the home back to the distressed borrower at market level rents with a future purchase option.  But how many people will jump on to this program?  Are banks capable of being landlords?  I hold my own reservations here.  Remember Hope Now?  This was going to supposedly help tens of thousands and helped out a handful of people.  With about 1,000 properties going back to banks each day, they will have to decide quickly what they plan on doing.
California relied much too heavily on real estate and is now paying the price.  To assume real estate will lead us out again ignores the amount of distress property still coming down the pipeline.  2010 should offer us a better glimpse of where we are heading.  And now, we are only starting to see the impacts of the major budget cuts.  Many are just starting school.  Bigger class sizes and a public college system unable to meet the demand of the recently unemployed.  And those that can go to college, are now facing higher fees (10 percent at CSU and 9.4 percent at the UC).  Even community colleges hiked up their fees from $20 to $26.  Less money for consumption.  Cash for clunkers ends today.  At a certain point, the gimmicks start running out.
Did You Enjoy The Post? Subscribe to Dr. Housing Bubble's Blog to get updated housing commentary, analysis, and information.