We've all heard about the broke Millennials living at home with mom and dad unable to move out into a very expensive rental.  For years, we've been told that somehow this young group of people would represent some pent up demand to buy homes.  This demand never materialized.  Instead, you have tight inventory in certain markets being fought over by investors and those willing to pay current prices while stretching their budgets.  Yet volume remains incredibly pathetic.  The homeownership rate has fallen dramatically and some point the blame to the Millennials.  But as it turns out, the big drop has come from those 35 to 44.  Generation X overall has been a massive drag on the housing market.  The young are simply not buying homes like they once did and many are opting into the rental market.  So how big of a drag is Generation X on the housing market?
Generation X and housing
Since the housing market imploded, the homeownership rate in this country has been on a steady decline.  Even with the blockbuster year in 2013 in terms of prices, the homeownership rate continues to remain weak.  It is probably worth noting that some groups pulled back harder than others.  Let us look at those 35 to 44: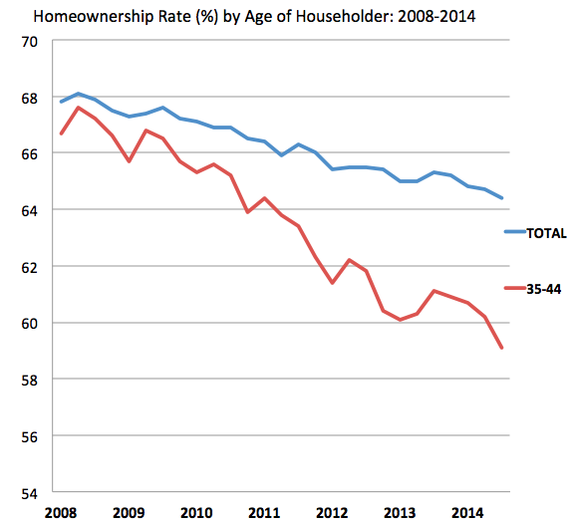 Source:  Census, The Atlantic
While the homeownership rate since 2008 has fallen overall, for the 35 to 44 age group range it has fallen at a rate twice the speed of the entire market.  This group is pulling back on owning homes in a big way.
Take a look at various age ranges and homeownership over the last 20 years: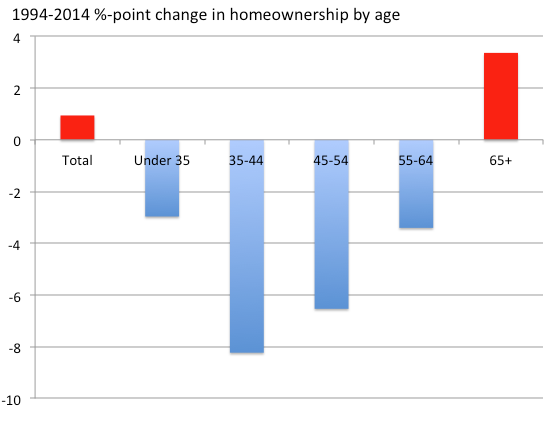 In the last 20 years, the only group that has seen their homeownership rate go up is the 65 and older crowd.  For younger age groups, homeownership has been a less likely avenue over the last two decades.  But what is most surprising is that those 35 to 44 have seen the biggest decline over this period.
Why did this happen? Part of this has to do with cohort size and a trough in births in the 1970s.  You simply have fewer fortysomethings out there in the workforce or looking to buy.  The 55 plus crowd is enormous and has also had time to build up equity in properties.  The younger folks are left competing with higher home values or going head to head with investors.
I find this trend analysis fascinating because in the face of what would seem to be a great housing market if we look at prices, people are simply not buying in large numbers.  Regular families are largely going for rentals while investors made up a large number of purchases of homes between 2008 and 2014.
People still don't realize how big of a hit we took with sales: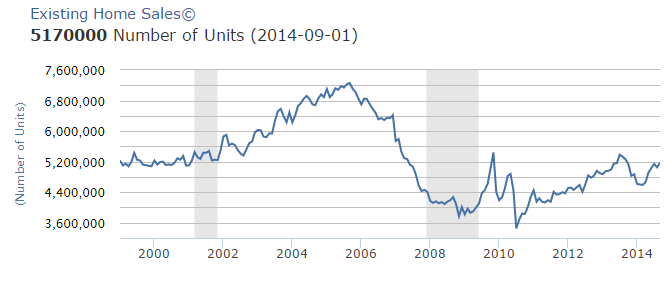 At the peak in 2005 we were seeing 7.2 million home sales per year of existing homes plus all of the new home sales.  Today we have a rate of 5.1 million existing home sales per year (2.1 million less).  Volume is still very low.  And it is worse when you look at new home sales since many investors opted to go after deals in the existing home sale market which is the largest pool of transactions.
Will this trend change?  Hard to tell.  Right now we do have a clear trend to adding rental households.  It does seem that Generation X is largely the hungriest to buy and is trying to dive in but given current prices, many are simply unable to compete because their incomes are lacking.  We still have inventory out there but many are balking at current prices for the pride of owning a $700,000 crap shack.  While there has been much to say about Millennials not buying homes, it looks like Generation X is not exactly chasing the American dream with both hands wide open.

Did You Enjoy The Post? Subscribe to Dr. Housing Bubble's Blog to get updated housing commentary, analysis, and information.