You know it was only a matter of time that the Bay Area real estate madness was going to be captured in a new documentary.  The documentary seeks to highlight the plight the middle class in California is having in affording housing.  Forget about buying a home, many are struggling to pay the sky-high rents that plaster the Bay Area market.  The tech sector is making the epic gentrification accelerate and with 24/7 media coverage, we are seeing it happen in real-time.  The Bay Area is home to the $1.2 million crap shack that is basically the standard piece of junk property.  It is interesting to see this story being told through documentary format and it is a counter to all the house-humping TV shows that are out there plastering cable.  What is interesting is the documentary looks at how the middle class is getting squeezed right out of the market.
The Bay Area real estate mania
The documentary is aptly called Million Dollar Shack – probably a nicer sounding title than Million Dollar Piece of Crap:
"(SF Gate) Million Dollar Shack aims to share the plight of the Bay Area's middle class who are slowly being squeezed out by the high-priced cost of living. "The bigger the tech industry gets, the less room there is for families like us," Michelle says at start of the film.

The message is communicated through a collection of personal anecdotes from Bay Area locals. There's the story of Deb Follingstad whose San Francisco landlord raised the rent on her home in San Francisco's Bernal Heights over 300 percent. And there's the tale of Maryann Creasy Rieger who was forced to commute some 180 miles a day between her home in Fairfield and her job at Yahoo on the Peninsula when CEO Marissa Mayer put an end to telecommuting. Maryann couldn't afford to move closer to her job."
The Bay Area now has a medium home price of $1.2 million and this is for your standard crap shack.  San Francisco has an even crazier rental market than that of New York: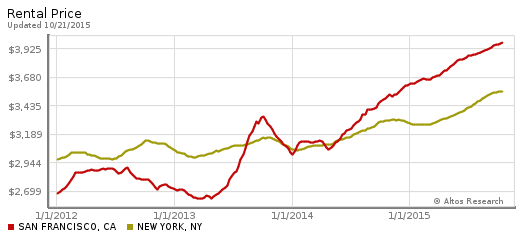 This is the Bay Area for you.  But the documentary is interesting in highlighting a variety of stories.  One of the stories includes a person seeing their rent going up by 300 percent.  I bet their income didn't go up by that much.  Then you have the story of a woman now having to commute 180 miles each day since Yahoo changed her work schedule from telecommuting.  This is similar to the deal people make by moving to the Inland Empire and then making the ridiculous soul sucking commute into LA or OC.
The story shows your standard crap shack housing: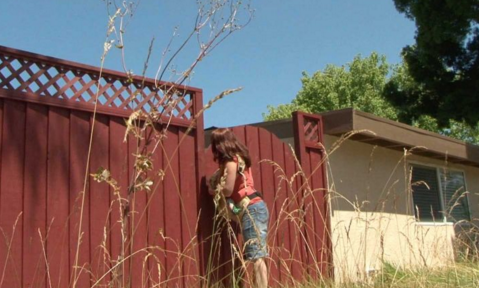 "Inspecting the crap shack.  Yup.  Crap shack confirmed."

Junk that is ridiculously overpriced.  And the core of the issue is all too familiar:
"This is all bad news for middle-class families. A household earning the region's median income — $86,944 annually — can afford only 12 percent of the homes for sale in San Francisco, Marin and San Mateo counties, as of Sept. 2015, according to real estate website Trulia."
Household income for locals is not keeping up.  But who cares about locals when hot money from abroad is rushing in like a tidal wave?  The Bay Area actually makes the LA/OC market look tame.  Ironically the LA/OC market is the most overpriced to rent in based on the actual income-to-rent price ratio – even at insane price levels Bay Area households make more than the very low household income rate for those in SoCal.
There is some deep irony in that the Bay Area, a market that was party central for hippies and counter-cultural artists with little to no money is now becoming yuppie central to the new tech and foreign overlords.  These new inhabitants enjoy the Bay Area vibe and culture brought on by these "lower income" folks yet they are gentrifying them out at an alarming pace.
Welcome to the tech revolution.  Some people think it is doom and gloom to point out that it is crazy to buy a $1.2 million piece of junk.  Be our guest and knock yourself out with that Million Dollar Shack.  The state of California will thank you for that nice property tax check you'll send in each year.

Did You Enjoy The Post? Subscribe to Dr. Housing Bubble's Blog to get updated housing commentary, analysis, and information.