I was amazed at how many people got all worked up when the idea of nationalizing the banks came up.  These people fail to pay attention to the fact that we've already nationalized Fannie Mae and Freddie Mac and these two giants essentially hold up the entire edifice of the secondary mortgage market.  But no one in their right mind is buying those risky mortgage backed securities anymore right?  Well we have a program for that too with the Federal Reserve nearing its stated buying cap of $1.25 trillion in mortgage backed securities.  In other words, we've already nationalized the mortgage market except unlike nationalization, we get the worst junk pushed to taxpayers while the banks enjoy record profits and nothing really fundamentally changes.
The SIGTARP report, an insightful and disturbing 224 page read put out early on Saturday by Special Inspector General Neil Barofsky shows us the wicked web of bailouts we have undertaken.  For the record, I think Mr. Barofsky is one of the good guys and has done a superb job just like Elizabeth Warren for fighting for sensible protections in our Wild West financial system.  They've laid out the path but those at the helm seem happy to ignore the recommendations.  I will go through some of the important items in the report but one key finding is that we are going into housing bubble 2.0 and we need to gear up for a second leg down if something should give way (like the economy not adding any jobs for example).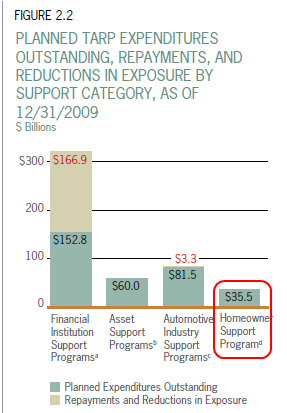 The first chart shows how little money was actually allocated to supporting homeowners.  Remember way back in the panic sky is falling moments of the bailout?  The banks essentially held our economy hostage and stated that if we didn't give them $700 billion that the entire financial system would implode.  Well thankfully the banks are a-okay now, but since that time we've seen over 5 million foreclosure filings and now have an underemployment rate of over 17 percent but hey, banks are back to record profits and the chart above shows you why.  The bulk of TARP 1.0 went to financial institutions.  The repayments are a joke since banks are trying to get out from the thumb of the government and are back to their speculative ways on Wall Street.  The amount set aside for homeowners was a pittance of the entire funding yet this was the hook to sell the American people.  Sorry, it was a clandestine nationalization of the banks except the only difference here is the banks maintained full control and all their profits while shifting the bad stuff to the taxpayer.
I think few understand the size and scope of our banking system and how little actually supports it: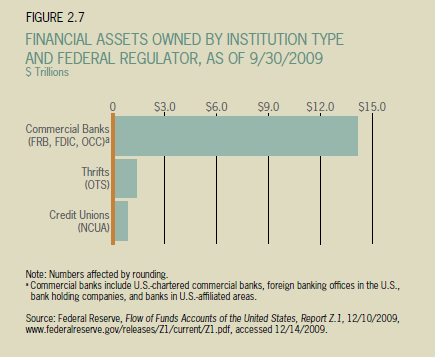 Commercial banks hold approximately $14 trillion in assets yet we have the FDIC that is basically insolvent backing up this entire industry.  On top of that, we now insure accounts up to $250,000 each but if the system is insolvent, where is the money coming from?  Bailout-ville, that is where.  The Federal Reserve in fighting the massive amounts of debt in the banking system needed a dumping ground.  As it turns out, mortgages were only one piece of the massive debt salami.  The Fed needed other ways to shift toxic loans onto the taxpayer since the system was clogged with poor performing loans from the heyday of the bubble:

Just look at the chart above.  TALF was setup to essentially create "liquidity" in other debt markets.  Auto loans, credit card debt, and pretty much anything that is considered debt had found a new place to land.  And you wonder why banks are back to record breaking profits.
But you would imagine that with taxpayer money, that at least there is some vetting going around right?  Not exactly.  As we have gone into painful detail, Alt-A and option ARMs are absolute toxic financial instruments and really serve no purpose in a market backed by taxpayer money.  If you want to put your own money at risk go for it.  But even this junk has made its way into taxpayer connected bailouts: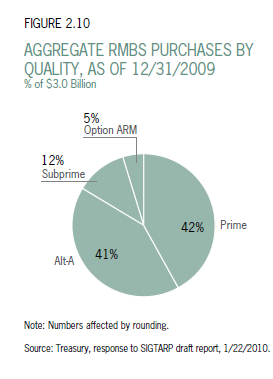 In other words, we are looking at a nationalization of the system by crony Wall Street yet no power has shifted as would be typical in a nationalization process.  People are so afraid of the word nationalization that they would prefer a worse option in what we currently have.  In this toxic soup, this is where programs like HAMP have made their way: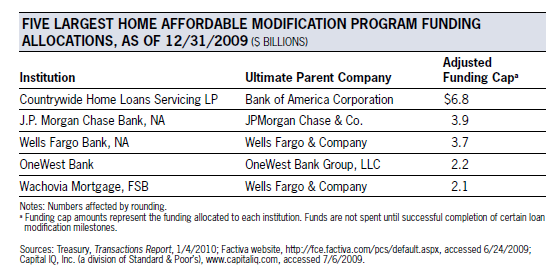 "Of that $15.4 million, approximately $12.1 million represents incentive payments to servicers and $3.2 million represents payments to investors.  Borrower incentive payments begin only after one year of participation in the program."
Why is HAMP a failure?  Because it was developed by the bankers to pay them out first before actually thinking about whether the program would actually succeed.  Already $15.4 million has gone to banks for a failure of a program.  And here are the sad stats: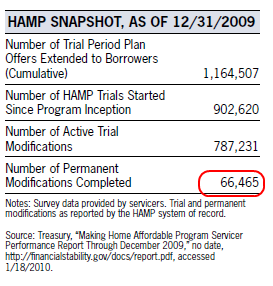 "To date, the largest allocation of incentive payments went to Countrywide Home Loans Servicing LP, now owned by Bank of America, which is eligible to receive up to $6.8 billion in TARP funds."
Good times.  So not only do banks have all the taxpayer support in the world, they now get incentives to push a program that is largely a failure.  I wonder what Mr. Barofsky thought when he put this thing together.  Unfortunately the previous and current administrations seem to be in cahoots with Wall Street.  Here we have a report clearly showing the mess we are in yet what action will come from this?  Even Mr. Barofsky mentions we are at risk for bubble 2.0!  Doesn't matter, after nearly a year of HAMP we have 66,465 permanent loan modifications.  Last year we had 4,000,000 foreclosure filings.  That is like spitting into the ocean.  As you would expect, most of the trial modifications come from California: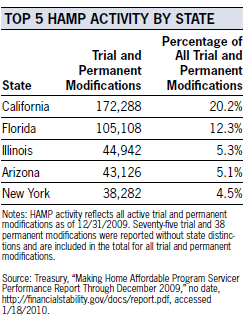 Yet there is another program with more incentives to banks called the Home Affordable Foreclosure Alternative (HAFA) program.  Ironically, both HAMP and HAFA are against affordable housing since they artificially keep prices high by keeping inventory off the market through kicking down the road measures.  What is HAFA?
"On November 30, 2009, Treasury released guidance regarding the Home Affordable Foreclosure Alternatives ("HAFA") program (previously referred to as the SS/DIL program). Where a mortgage modification is not practical, HAFA creates financial incentives for borrowers, servicers, and investors to avoid a foreclosure by utilizing a short sale or a deed-in-lieu of foreclosure. According to Treasury, these options generally provide borrowers, investors, and communities with a better outcome than a typical foreclosure sale."
Now here are the basic elements of the program:
• Borrower Relocation Assistance — A $1,500 incentive payment to the borrower.
• Servicer Incentive — A $1,000 incentive payment for the servicer.
• Investor Reimbursement for Subordinate Lien Releases — For every $3 an investor pays to secure release of a subordinate lien, such as a second mortgage or a home equity line of credit, the investor is reimbursed $1, up to a reimbursement limit of $1,000 per transaction.
More money to banks!  Keep in mind that when banks dealt with foreclosures in the past or short sales, the incentive was for them to go ahead and do these things simply because they make economic sense.  But now, they need a $1,000 incentive to do anything since in crony Wall Street handouts are simply another line item on the balance sheet.  The Federal Reserve is loving this massive give away because they assume the public is buying this free market enterprise nonsense.
Yet now that banks are in better shape and making record profits, surely they are lending out money to fund home purchases right?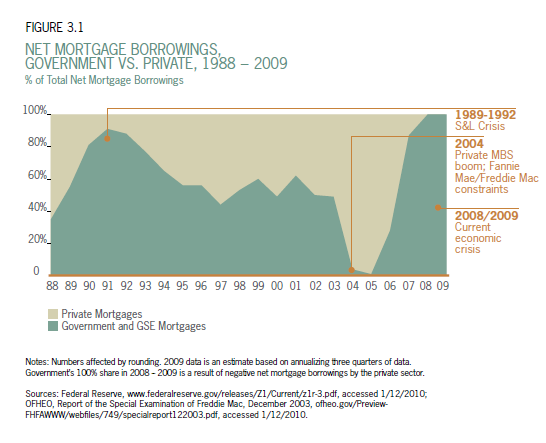 The above chart should have the title "How we Nationalized the Housing Market Without Telling You."  As you can see, virtually 100 percent of the mortgage market is now backed by the government.  But I keep hearing about banks making loans and home sales rebounding?  Of course you are.  They're not lending their money silly, they're lending out YOUR money and going back to the other people's money (OPM) world that actually created this mess in the first place.  A mortgage pusher at a big bank will try to squeeze you into a government backed mortgage like trying to put an elephant in a two piece bikini.  What do they care?  What does the bank care?  It is the taxpayer's money anyway.
If we break down the actual secondary market, you can see how subtle this nationalization really played out: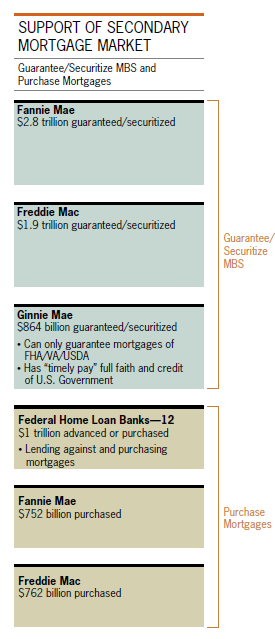 Fannie Mae and Freddie Mac guarantee and securitize $4.7 trillion in mortgages through mortgage backed securities.  FHA insured loans, the current day superstar are now being funneled through Ginnie Mae and they are now securitizing roughly $864 billion in mortgages.  Yet that is only one piece of the puzzle.  These MBS are then sold to investors.  Who in their right mind is buying this in today's highly risky market?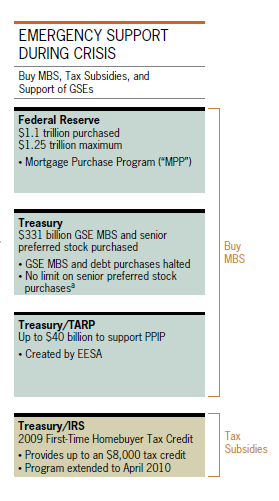 Just envision a snake eating its own tail.  Walk through this for a second.  A person purchases a home with a FHA insured loan at a too big to fail bank.  That loan is then bundled with other FHA loans and securitized by Ginnie Mae.  Most rational investors knowing the current market is weak like a stool with two legs isn't touching the loan.  Step in the Federal Reserve to buy those mortgage bundles.  In fact, the Fed has now purchased over 95 percent of their stated $1.25 trillion in MBS.  In other words, we are selling, bundling, and buying our own mortgages.  We are essentially creating bubble 2.0 since the actual market is looking for rates to go up and prices to go down.  Just look at the chart above.  If the Fed stopped buying, interest rates will go up (we'll soon find out).  Next, we are giving a tax credit to buyers who are already getting a big break by subsidized taxpayer backed loans.  Now instead of all these gimmicks and funky mechanisms of funneling money to Wall Street, can you imagine if the same amount of time and conniving was spent on figuring out how to get Americans back to work?
And for those that think FHA isn't the new game in town, look at the below: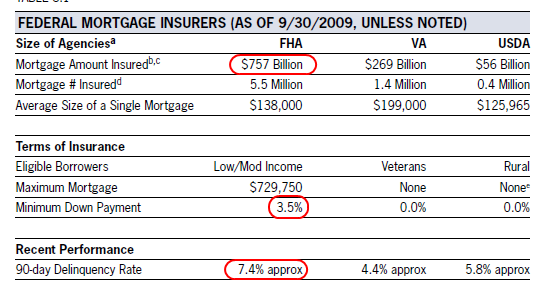 FHA was never intended to be a primary mortgage insurer.  Last year, they basically became the market.  In Southern California 4 out of 10 loans were FHA insured. Banks are back to loving this easy money gravy train since they can go back to their commission and fee loving ways but look at that 90-day delinquency rate.  7.4 percent of the entire pool is 90 days or more late (it has gotten worse).  In fact, we are going to have an FHA bailout either in 2010 or 2011.  But at this point, calling it a bailout is a joke since the entire mortgage system (refer to above chart) is now nationalized so either way, we are paying one way or another.  Yet banks are still making ill-gotten profits and no real regulation enforcement has occurred.
But Fannie Mae and Freddie Mac must have better performance than the FHA right?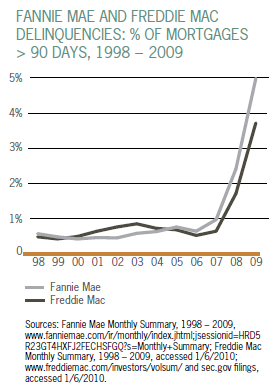 The above chart is absolutely troubling.  Keep in mind that Fannie Mae and Freddie Mac are behemoths.  So a 5 percent delinquency rate is unheard of.  And that chart is going exponential because of course all the bailout funding has gone to crony Wall Street while Americans keep losing their jobs and consequently are unable to pay their mortgage thus pushing Wall Street to go for more taxpayer bailouts.
The Federal Reserve has become the dumping ground for many toxic loans.  That is why calls for an audit have been fought tooth and nail from Wall Street and Ben Bernanke.  If there is nothing to hide, why not let the public take a look since it is their taxpayer dollars propping up this zombie financial system.  Their balance sheet has exploded since the crisis hit: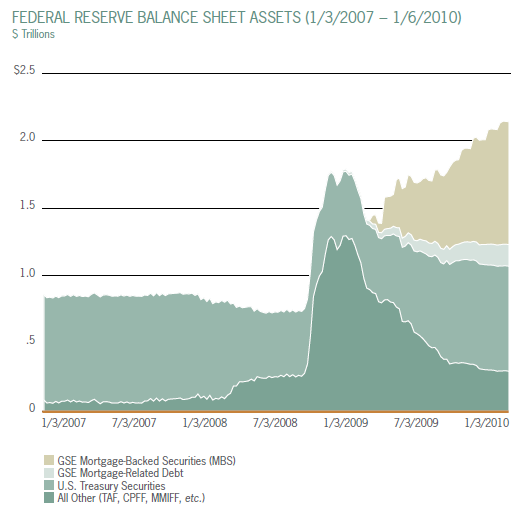 And just look at how much is made up of GSE mortgage debt.  Notice how it explodes with the nationalization of Fannie Mae and Freddie Mac.  What does this all mean?  The entire financial and housing system is nationalized and banks like JP Morgan, Bank of American, and Wells Fargo might as well include their employee count under the federal government.  The only difference however is that the government has zero control here and Wall Street is basically writing policy going forward.  Don't be naïve to think they are looking out for you.  Look at the current housing market.  Look at our current employment issues.  What significant change has come from the bailouts?  Aside from keeping banks intact so they can dish out record bonuses, nothing.
The report shows essentially what we've been talking about how all these bailouts are keeping home prices inflated even though the market is trying to lower prices: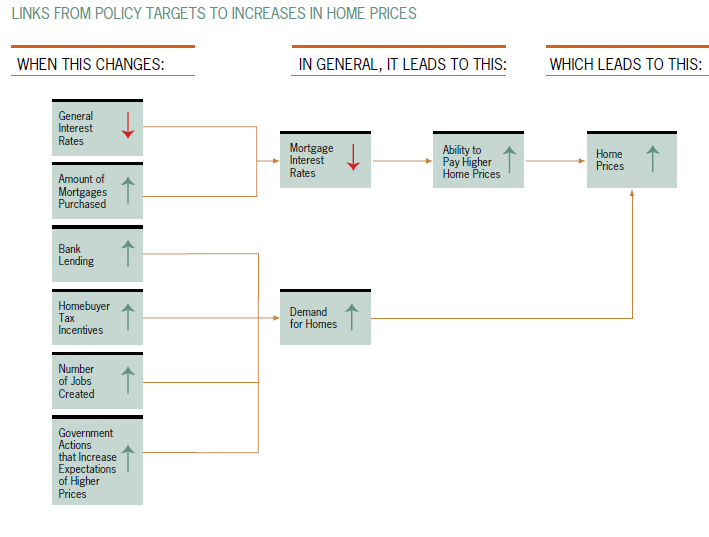 The above chart is a perfect example of why it is total mistake to buy a home in many overpriced cities.  The Fed is nearing the end of the MBS buyback program and interest rates will go up after that.  The tax credit?  Are we going to make this permanent?  If not, then prices will come down even further.  What about FHA and their problems?  Well it looks like premiums will go up and possibly, the down payment.  If not now, surely after we bail them out since clearly they are unable to provide adequate underwriting.  And banks aren't lending a penny of their own money since they know the real deal.  They are simply a conduit to funnel government backed money to consumers while collecting their high cost middleman fee.  If the Fed is at a zero bound, why don't we just directly borrow from the U.S. Treasury for our mortgages?  What is the difference since every mortgage is basically backed by the government.  Heck, we can link up to the IRS and fill out an online mortgage application that automatically checks two years of W2s.  That one step is more underwriting than the industry has done in the last decade.
So what does SIGTARP tell us?  The entire banking and housing market is nationalized except where a nationalized system would bring on real changes and reform, we are basically going about banking in the same old way while the American public finances the joyride of Wall Street.  And what does this mean for home prices?  Very little of course.  Think about it.  Remove yourself from the nonsense echo chamber of the housing industry.  Prices are depressed because the economy is depressed.  People pay for their mortgages by working.  Without work or weak wages, there is only so much home you can afford.  So either home prices go down to reflect the current wage structure of a local economy or wages increase to reflect bubble like prices.  Dean Baker from the Center for Economic and Policy Research in Washington who called the housing bubble early on, is discussing that home prices after adjusting for inflation are still overpriced by 15 to 20 percent.  Welcome to bubble 2.0 folks.
Did You Enjoy The Post? Subscribe to Dr. Housing Bubble's Blog to get updated housing commentary, analysis, and information.