The prospects of a housing recovery in 2012 seem unlikely as continued weak momentum carries over from the second half of 2011.  Globally, housing bubbles are entering into peak mania phases as hot money seeks a safe harbor for the short-term.  Back here in the United States, we can look at the cold hard reality that 2011 saw a record low number of single family completions.  The positive news is that this aids in lowering the overall housing stock and provides a stronger buffer for shadow inventory that will leak out into the market over the next few years.  A strong variable that is hard to factor in is this; we have 10,000 or so baby boomers that retire per day for the next 19 years and many will look to downsize.  It should come as no surprise that the Case-Shiller prices are now at post-bubble lows.  What does 2012 have in store for the housing market?
Record low number of housing completions
Home builders are first in line to register any demand for new homes.  This demand was not to be found in 2011.  First, new homes are more expensive and second, you have an enormous amount of shadow inventory that needs to filter through the system.  So with these forces at work we saw that single family starts were at a record lows coupled with a record low in single family completions: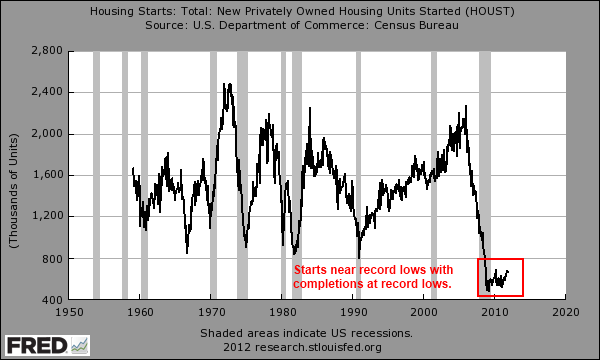 Now why is this trend continuing five years into the housing crisis?  One of the main factors is the lack of household wage growth.  The media seems to think (or push) a notion that the problems in housing are based on purely supply related issues.  The reality however is much more troubling in that the deeper issues in housing stem from major weaknesses with income and good employment growth.  Because of this we have seen a strong demand for lower priced homes and these are coming from the distressed pipeline: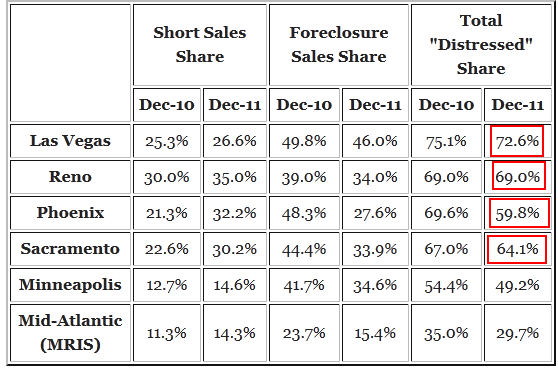 Source:  Calculated Risk
This is fascinating data.  What we are finding is a strong demand for distressed housing in many markets.  In markets that had the biggest bubbles surges like those in Nevada, Arizona, Florida, and California you see distressed sales making up over 50 percent of all sales.  In Las Vegas a stunning 72 percent of all sales in 2011 came from the distressed pipeline.  The good news is that there is demand for housing at lower price ranges.  The bad news is that prices continue to fall to find a closer baseline with household incomes.
What impact will baby boomers have on housing?
10,000 baby boomers each day turn 65 and enter the age-range of retirement.  We should get used to this trend because it will be with us for the next 19 years.  A large portion of homeownership comes from this group.  How many have plans of downsizing?  Keep in mind that many in this group own homes without a mortgage and bought prior to the housing bubble.  We also know that 4 million homes are seriously delinquent and part of the shadow inventory.  Of course not all baby boomers will downsize but with 10,000 a day retiring and such a large amount of shadow inventory, you have two more factors adding pressure on the supply side.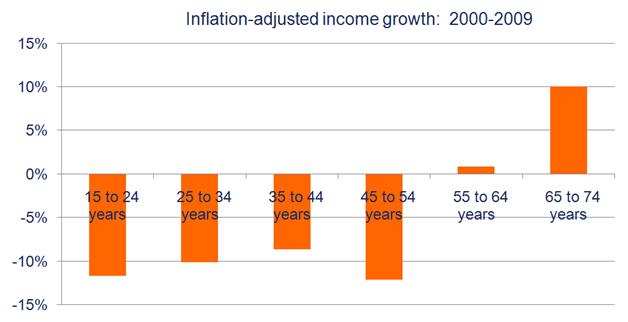 Source:  Reach Advisors, Census data
Virtually every age group under 54 suffered an inflation-adjusted loss to their income.  First-time buyers largely come from the 25 to 34 group and the 35 to 44 group.  Both of these groups nearly saw a real inflation loss to income of 10 percent over the past decade.  It should then come as no surprise that the Case-Shiller price levels are now back to inflation adjusted levels last seen in 2000.  Keep in mind this is for nationwide trends and many regional markets are still largely in bubbles that are in the process of correcting.
So what do we have in store for 2012?  There are a few trends that will likely dominate the current year:
-Low housing starts supporting a process of lowering overall inventory

–Shadow inventory coming online as the process is streamlined

-Continued price correction in higher price metro areas

-Stabilization in multi-family housing

-Federal Reserve continuation of devaluing currency and purchasing mortgages
The impact of baby boomers retiring and downsizing is yet to be seen but we still need to contend with the monstrous size of the shadow inventory.  Doesn't it seem obvious that with 10,000 people hitting 65 each day for the next two decades coupled with our massive debt, unchecked banks, and gigantic shadow inventory that somehow housing will remain in a precarious limbo deep into 2012?

Did You Enjoy The Post? Subscribe to Dr. Housing Bubble's Blog to get updated housing commentary, analysis, and information.