Four states have felt the joy of housing appreciation and the agony of the housing bust in a very deep and extreme way.  Without a doubt, this economic crisis is touching every corner of the global economy but four states have seen the multifaceted punishment of this housing and credit bust.  Those states are California, Florida, Nevada, and Arizona and these past days I was able to see first hand three of the states.  Spending time in these few states and contributing my own economic stimulus to these economies, I realize that the housing downturn still has further to go.  These states are ground zero for the coming Alt-A and pay Option ARM wave that will be crashing down on us later in the year.
Driving through these states and the vast subdivisions hugging the desert you can quickly put a face to the economic devastation.  How many of these homes sit empty?  Will these homes ever have occupants?  How much money has been lost in this pursuit of endless housing wealth?  You also witness the countless commercial real estate developments that encircle these areas with your typical chain fast food restaurants and your mega shopping center.  Some don't realize that these commercial real estate developments are usually brought out 12 to 18 months after the construction of the new subdivisions.  That is, the commercial real estate bust is the next big thing to watch since these stores were developed to service a population that isn't moving in.
Let us first take a quick look at the numbers: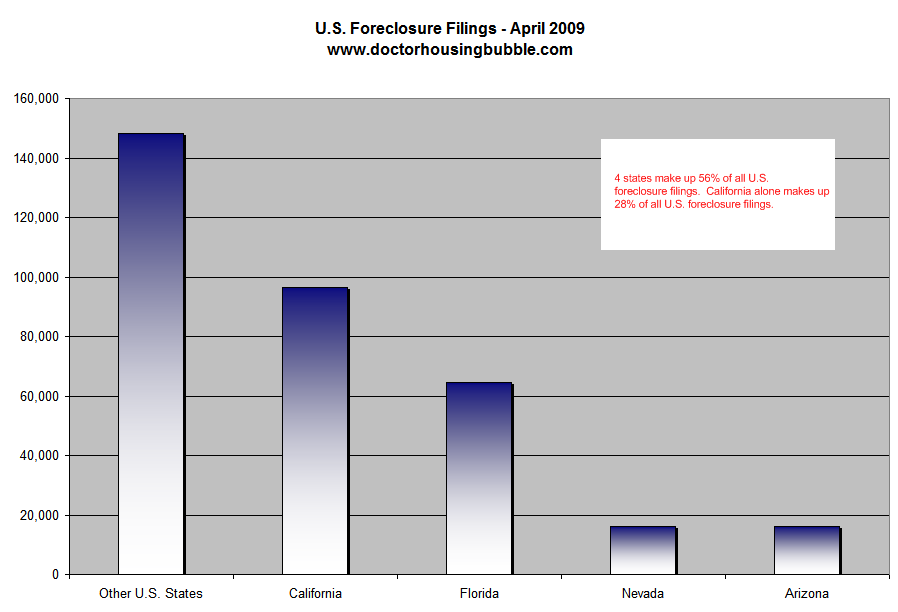 These four states make up 56% of all U.S. foreclosure filings.  And this trend does not show any signs of abating given that these states also hold a disproportionate amount of Alt-A loans which are tied to some of the more toxic recast type mortgages that I have discussed.  So how many Alt-A loans reside in these states?  Let us break down those numbers further: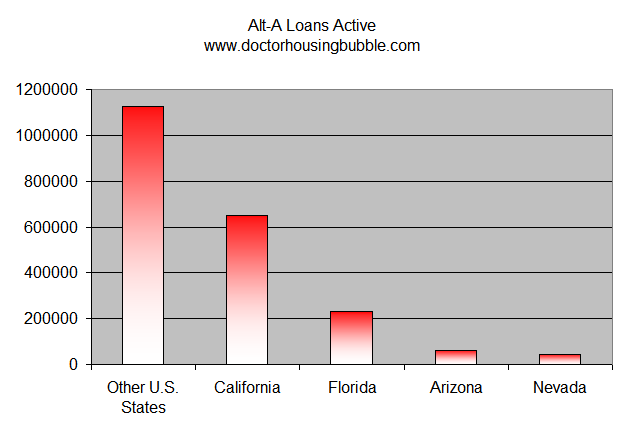 Again, what you will find is that these four states hold a disproportionately high amount of Alt-A loans.  To be precise, these four states hold 46 percent of all active Alt-A mortgages.  Now why would this be so problematic?  A large portion of these loans have yet to face a serious recast.  Forget about the resets that are tied to LIBOR for example, with rates at historically low levels.  This isn't the issue.  The problem with the recast is the massive jump in payments that can easily double the monthly payment as I have discussed in detail in a previous article.  The major concern is these four states have seen there large metropolitan areas face some of the deepest year over year price drops in history.  Take a look at the Case-Shiller price drops for the largest MSA data series for each state: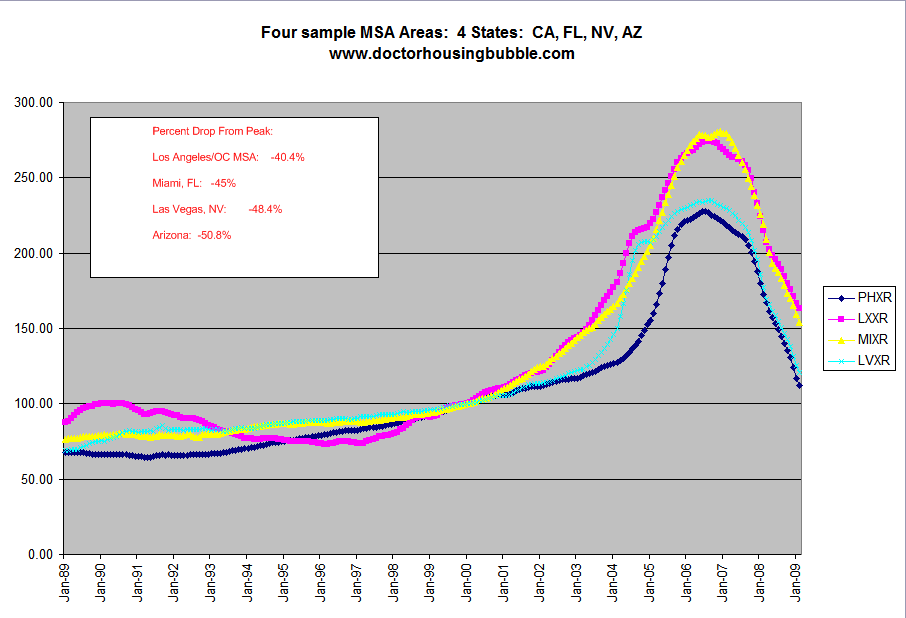 Florida and California have multiple MSA data points in the Case-Shiller monthly reports but I used Miami and Los Angeles as samples for the two states.  For Nevada and Arizona I used the Las Vegas and Phoenix MSA data which is the largest for each state.  And herein lies the coming tsunami.  The L.A. MSA is doing the best out of the four and that is now down 40.4% from the peak reached in September of 2006.  Arizona with Phoenix is being slammed with a 50.8% drop in housing prices.  In fact, the 111 mark assigned to this MSA now puts us back in 2001 price territory.  These markets are flooded with inventory.  So when the recasts hit with those Alt-A mortgages they will be hitting a market that is extremely depressed.  Keep in mind that many of these Alt-A products have negative amortization which allowed the principal balance to actually increase.  This has created a time bomb with these mortgages.  They will be going off in the most depressed markets possible.  The endgame is a flood of foreclosures in markets that already have a flood of foreclosures.
Someone sent me over this must watch video called Lost Vegas from Vanguard: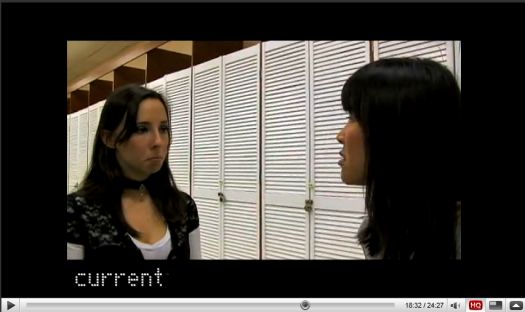 The video highlights the troubles faced by Las Vegas.  In the episode, you will see a story that is all too common where a would-be investor bought a property and "forgot" to tell the renters that he was being foreclosed on.  You will also see projects stalled since growth has halted given the current economy.  We also see a former mortgage company worker who is now an exotic dancer and calls it a "big step up" from her previous job.  It is definitely worth watching.
These states are facing the double whammy of the debt bubble.  A fall from grace is always painful.  States that did not see major housing bubbles are still having difficulties but these four states went from perma-growth and never ending housing appreciation to an absolute bust.
It would appear that financial prudence is now going mainstream and I saw this funny clip from a show being aired on ABC this Friday called Un-Broke.  In this one clip, Seth Green highlights a Real Home of Genius here in California: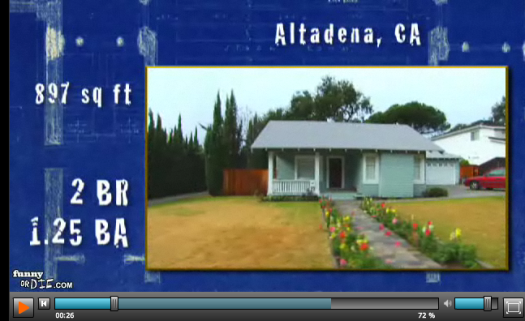 You have to watch the clip, it is hilarious.  But aside from the humor, I couldn't believe that I was getting better financial advice in two minutes from Seth Green rather than on CNBC, a supposedly self labeled financial network.  In this little clip, we are told about living within your means, driving a paid off car, and not buying a McMansion.  Living prudently has now gone mainstream in a big way.
Yet going back to our four states, living within your means is something that has been foreign for over a decade.  The massive McMansions that I saw in three states is a sad reminder to the perma-debt growth model.  In this model, you couldn't have enough fast food chains or auto dealers and forget about the mega department stores.  If we were to study this as an ecological environment, you would think that humans as a species only had one purpose in life.  That purpose was to eat junk food, buy gigantic cars, and upgrade every countertop in the globe to granite.
Yet there is a finite number of what we can consume and we hit it.  The empty subdivisions are a testament to this over building and over consuming era.  And that is a large reason I do not see a second half recovery.  Because to recover, we have to assume we are going back to the ways of old.  Do you see that happening?  Do you see us once again going back to buying massive gas guzzling highway tanks and buying 3,000 square foot McManions again in a mega way?  I don't and that was a large contributor to our growth.  Let us not even talk about the ancillary crony banking system and lenders that fed on this bubble for their life.  The two biggest purchase items for Americans are homes and cars.  How are those two industries doing?
So looking at these four states, I'm not sure I see a second half recovery.  We are still heading directly into the Alt-A and pay Option ARM tsunami and these four states are hurting in a big way.  Need we examine the California budget boondoggle?  If these four states are any indication, we won't be out of this mess in 6 months.  The clock starts next week.
Did You Enjoy The Post? Subscribe to Dr. Housing Bubble's Blog to get updated housing commentary, analysis, and information.