The Alt-A and Option ARM tsunami still looms large casting a dark shadow over the state of California housing.  This is on top of the reality that we are now talking about issuing IOUs for only the second time since the Great Depression.  I'm not sure if this is what many had in mind when Bernanke started talking about his imaginary friend Mr. Green Shoot.  There is definitely no green shoots in California.  I've gotten many e-mails asking for clarification regarding the California Foreclosure Prevention Act (CFPA) and, the recently released figures of loan workouts and modifications.  I'll go into those precious details in this article but to sum it up, it is a joke and a pure theatre worthy of its own Comedy Central show.  The CFPA applies more can-kicking down the road logic while the loan modifications and workouts are like giving a drunk another shot of tequila to get over a hangover.
First, before we go forward let us take a look at where we are at in this process (updated chart with gorgeous blue arrow):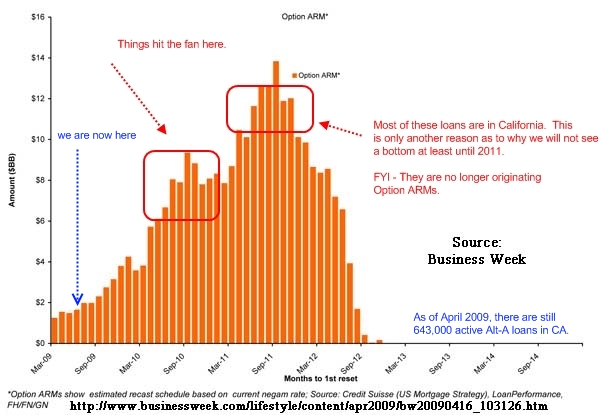 As you can tell, much of what is occurring is status quo.  It will remain that way until the end of the year, when we shift from less than $2 billion in option ARM recasts per month to close to $4 billion at the end of Q4 of 2009.  Most of these loans are in California.  Of the over 2 million in Alt-A loans 643,000 are in California.  If you think we are doing much to address this look at these facts:
March 2009 Active Alt-A loans
CA:         651,000+
April 2009 Active Alt-A loans:
CA:         643,000+
If you think this adjustment is occurring because of fabulous workouts and loan modifications, think again.  Much of the losses are occurring because these loans are defaulting left and right and we have yet to hit the major recast wave as the above chart shows.  Alt-A and option ARMs are toxic waste and will be hitting California at a time where the state is financially vulnerable.  That is why when people ask me, "should I buy now in a semi-prime location?" I can only shake my head.  Why buy now?  The largest X-factor is looming less than a year away and you want to jump in to swim with the sharks?  What I have realized is psychologically, many people still believe in the bubble.  When I created the title of this blog, Dr. Housing Bubble – How I Learned to Love SoCal and Forget the Housing Bubble I was word playing with an old Stanley Kubrick film.  In Dr. Strangelove a delusional Brigadier General Jack D. Ripper sets off a chain reaction which leads into a nuclear nightmare because of one bad step after another built on a totally false premise (that the Soviet Union is looking to sap precious bodily fluids of Americans) but with real world consequences.  The housing bubble is this.  Initially, we started with easier lending standards, followed by dropping rates, then subprime, then we entered the Alt-A and option ARM world where we flat out gave fiscal time bombs to borrowers and now the global economy is facing the deepest recession since the depression.
Much was being made about a report released last week from the California Department of Corporations.  The report touts that loan modifications have jumped to a whopping "20,000" a month.  The report is pertinent because it surveys servicers that work with 3.3 million of the state's active loans, approximately half the total loans.  But all you need to do is read the report behind the headline to realize what a supreme comedy it is:

Click for sharper image

Now you know the rest of the story as Paul Harvey would say.  Here is the meat and potatoes of the issue.  First, let me clarify the top 3 rows.  This is for January, February, and March 2009 data.  So in March for example 111,000 loan workouts were initiated.  This of course may look good but means nothing since this is only the first step and doesn't mean anything has happened aside from someone starting the ball rolling.  If we look at how many workouts actually closed, we see the real story.  Only 34,000 of the 111,000 initial workouts were complete.  Not bad you say.  Well if we dig deeper, only 3,430 Alt-A loans were worked out in March which at this rate will take us 15 years to modify all the loans!  Bwahahaha!  A load of crap-o-la being spun as some sort of good news.  Keep in mind, many servicers are now getting $1,000 for kicking the can down the road.  Oh, but it gets better:

This is where you grab your monitor and let out a savage scream and say, "what kind of load-of-crap is this!?"  So now let us breakdown those 34,000 workouts in March.  What is their idea of a workout?  Well for 22 percent of the loans, they basically froze the interest teaser rate for less than five years.  The next option which was used on 16 percent of the loans was lowering the interest rate to another teaser level.  So already, nearly 40 percent of the "workouts" are being dealt with artificially low rates!  This is the damn reason the Alt-A and option ARM loans are so toxic in the first place, they had freaking teaser rates to begin with.  And this is the most popular method of fixing these loans?  Come on now.  11 percent where kicked out the door through short-sales which really isn't a workout and 5 percent were paid off.  These are probably those folks buying in semi-prime and prime areas jumping in while they miss the next housing bubble.  But you know what I love?  Only 36 loans actually had their principal balance reduced!  Bwahahahaha!  Give me one second.  Bwahahahaha!  Their idea of a workout is basically turning underwater homeowners into indentured servants who have fewer options than renters.  The only way these people will ever sell their home without coming to the table with money is if we have another housing bubble.  This leads us to the ridiculous CFPA.
The CFPA FAQ gives us their idea of fixing the mortgage problem:
"While a sustainable loan modification may be different for different borrowers, the potential ways a loan may be modified include any of the following:
–An interest rate reduction, as needed, for a fixed term of at least 5 years.
-An extension of amortization period for the loan term, for up to 40 years from the original date of the loan.
-Deferral of some portion of the principal amount of the unpaid principal balance until maturity of the loan.
–Reduction of principal."
The government is basically advocating that these loans all become option ARMs.  40 year mortgages?  Deferral of principal amount?  What is this?  Did the government hire New Century Financial as consultants to devise this program?  Even those prime workouts are being pushed into this crap.  As we have seen from the actual data the reduction of principal is such a joke (see why the banking industry didn't want cram-downs?).  36 loans out of the entire pool had their principal reduced in March of 2009 for the state of California.  So all this is doing is buying more time for the inevitable.  We all know that notice of defaults are skyrocketing even after the 2008 moratorium: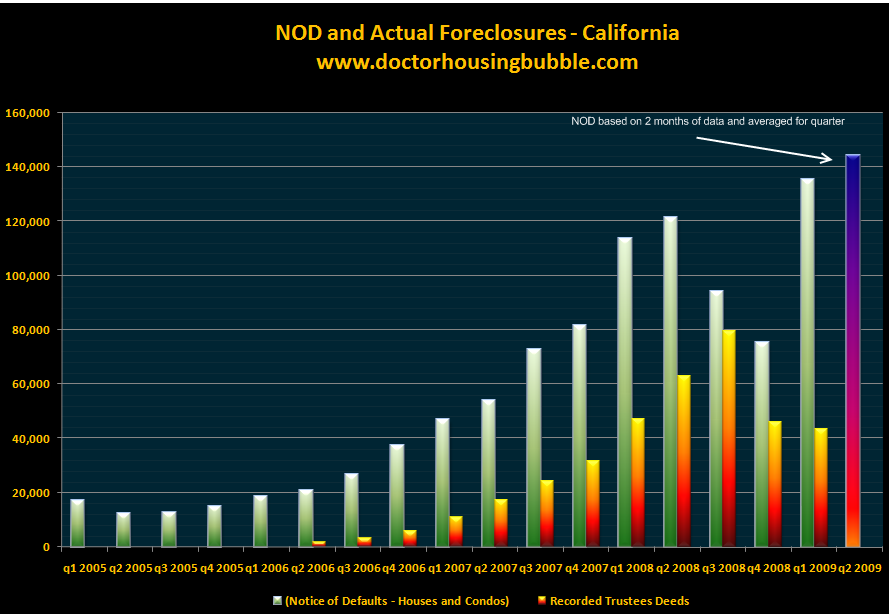 So these programs are really a joke and basically waste more money but that seems to be the way we operate.  Now keep in mind that we have seen very little plans that actually address the major issue.  JOBS! JOBS!  JOBS! Have people forgotten how you pay a mortgage?  You pay it with a thing called wages which you earn from working.  More and more Californians are losing those wages since we now have an 11.5 percent unemployment rate so how are they going to pay those 40-year mortgage payments?  Maybe on future loan modifications we'll allow people to use unemployment insurance as their primary source of income.
As you can see, the Alt-A and option ARM tsunami is still heading this way.  Many of these programs being devised are betting (not explicitly) that another housing rebound is just minutes away.  This is utter nonsense.  Say you bought a $500,000 home that is now worth $250,000.  Does a 40-year mortgage and a lower interest rate sound appealing to you?  You are simply a renter.  By definition you won't be building up any equity given that one of the options in the CFPA is negative amortization.  And do you really think that home will go up again?  If you wanted to sell you would find yourself in the same position as today.  Either a generous short-sale is approved or you walk away.  And for those that think real estate can't stay down for a long time I offer you Japan: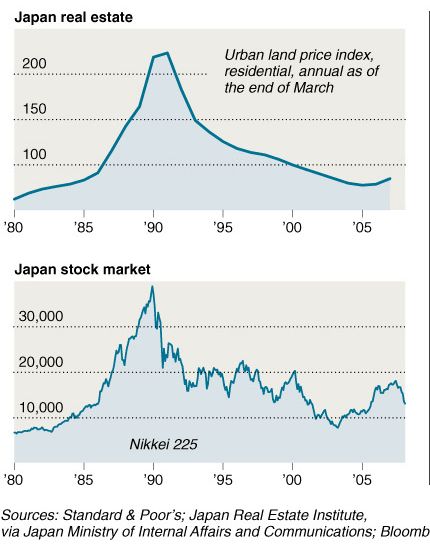 Japan has seen stagnant housing prices for nearly two decades.  So by 2029 with a 5% 40 year mortgage, you will finally be at $250,000.  Congratulations!  You can now sell your home and get a whopping zero at closing (assuming you pay nothing on a sales commission).  Isn't that basically renting?  The bottom line is many borrowers are going to look at these terms and if they have any sense, will simply stop making their payments and walk away.  Yet some banks are now using a strategy of not letting you foreclose!
"(WaPo) And even though a delayed foreclosure can be a blessing for some troubled homeowners, for others, it simply prolongs the financial distress, leaving them on the hook for the condition of the property. Even if they move out, they cannot move on.
"I have even begged them for a foreclosure," delinquent mortgage-holder Charlotte Jensen said. When she realized she couldn't save her Glen Allen home last year, she filed for bankruptcy, packed up her family and moved out. Nearly a year later, Bank of America has yet to take back the home."
And since banks like pinching pennies from customers while bleeding taxpayers dry, they would rather a hot body stay in the place and maintain it instead of squatters or teenagers looking to practice their break dancing moves in the home.
The latest data still shows 2 million Alt-A loans floating in the United States.  California's solution to the Alt-A and Option ARM problem? The solution is to turn more loans into Alt-A and option ARMs.  This is great thinking that we have come to expect from Sacramento.  The easy solution is this; those that over leveraged themselves should lose their home through foreclosure and find a rental.  Nothing to be ashamed about.  Lenders will need to eat their losses.  However, I get the deep feeling that the public-private investment program that starts next month is going to eat a lot of this crap up.  My sense is lenders are merely kicking the can down the road until they can kick the can to you.
Did You Enjoy The Post? Subscribe to Dr. Housing Bubble's Blog to get updated housing commentary, analysis, and information.