The argument that high home prices crush the middle class seems to be gaining solid traction.  Something that would appear to be self-evident is actually an under explored topic in academia.  A few articles now focus on what we've been talking about for many years.  Household incomes do not justify home prices in many California cities and the only reason prices were driven so high, was because of speculative investments and high leverage mortgages.  A few other fascinating articles even discuss the drain from the tech boom in California because people started shifting resources and attention to speculating on trading homes instead of innovation.  They took their eye off the ball.  The data does show that the group hardest hit by high home prices are those that fall in the middle class.  California actually may be doable with rentals or apartments but once home ownership is thrown into the equation, the numbers get flipped upside down.
Is the high cost of housing driving people out?
Over the years I have heard and read countless e-mails of people leaving coastal regions in California and New York to other areas in the Sunbelt: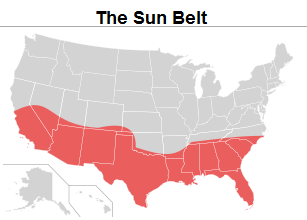 It is hard to quantify this data although we know it is occurring.  Those that do choose to leave high cost bubble markets like California presumably have the funds and transferable work skills to pick up and go elsewhere in the country.  I came across an interesting article regarding this issue:
"(Pedestrian Observations) The story I started this investigation with is that New York and California predominantly turn away the middle class, which would be seen in middle-class emigration and low-income immigration; my recollection, coming from merely eyeballing the data, had been that immigrants were much poorer. This should be consistent with the breakdown of the cost of living in dense city regions: housing is unaffordable if your ideal of how to live is having a car and a single-family detached house that's less than an hour away from work; if you're flexible about car ownership and don't mind small apartments, then New York and California are quite affordable."
This is a very big dilemma for many Californians and probably a large number of readers.  Presumably your income is solid enough that you are able to consider buying a house with some kind of stable cash flow.  That is a prerequisite.  The distinction of "high cost" is also important because I know many people that live near L.A. and OC downtowns and are able to rent rather affordable townhomes or apartments.  The issue of course comes to owning a single family home near these locations:
"But what we actually see is that both immigration and emigration between those states and the rest of the world is middle-class. The people moving to the Sunbelt really are being priced out. It's hard to distinguish pricing out from cashing in on high housing prices, but the lower-income characteristic of this emigration suggests the former. The upshot is that policies reducing the cost of housing could stem this tide while at the same time having no effect on poverty and the need for social services. While it's heinous to try to price out the poor, as the richer parts of the Bay Area and many other regions do, this is not what is being done here."
To sum up the argument, it isn't the poor or the really rich being priced out but those in the working professional class.  Since the notion of owning a home is so powerful many with the job training and skill set to move may actually do so simply to own a home.  The horrible economy in California might have also propelled many to take this leap quicker: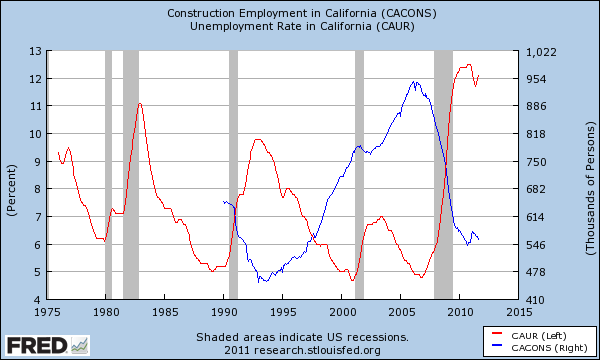 California's unemployment rate has been in the double-digits since February of 2009.  The chart above shows this trend but also highlights the lack of construction going on in a state with supposedly an insatiable demand for housing.  Tough zoning regulations and banks hoarding shadow inventory create this odd market disequilibrium.  Prices are coming down because that is what occurs when bubbles burst and the slow leaking of REOs in mid-tier markets: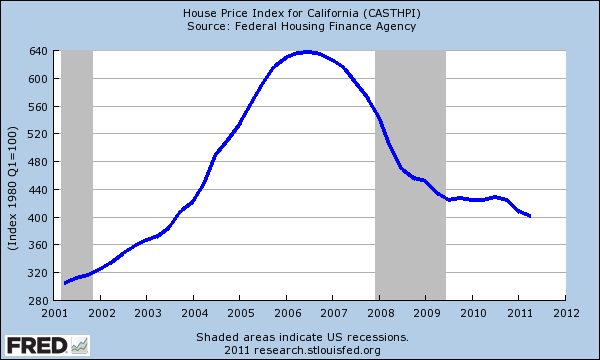 Yet prices may not be going down fast enough for families looking to buy in certain targeted areas.  The earlier article which looks at Census and tax data reflects emigration to other states from the middle class.  The wealthy stay since housing is a tiny part of their portfolio and their industry may only exist in California (i.e., entertainment, sports, tech, aerospace etc).  The poor are restricted by economic constraints just like any other state.  Yet it is the middle class that is caught in the middle here.  And not everyone leaves of course.  I would venture to say that most will lease or end up committing to brutal commutes because they bought into the "drive until you afford" mentality that is pushed by the California housing industry.
Ultimately prices will come back in line to local area incomes and have some semblance of sanity.  But this might be three, five, or even ten years out.  Can some people hold out this long?  Some obviously can't and are leaving.  Some get frustrated and simply buy and become another California debt slave.  Some rent but are itching to buy the instant prices fall to meet their mark.  And finally, you have those that rent and simply acknowledge that a market this out of whack may have years to go before any sanity is restored because of; the Federal Reserve, bank shadow inventory, strict housing regulations, and delusional sellers.  You can enjoy California and not own although this may be blasphemy to many.
Every time an article like this is posted I get very typical responses:
"But we're planning on having a baby!"

"We've waited too long and are simply jumping in!"

"No one can predict the market and hey, mortgage rates are low."

"We want to own near a good school district."
And guess what?  You have many people like this willing to jump in and chase the market all the way down.  You can go through the archives and see people diving in during 2006, 2007, 2008, 2009, 2010, and even 2011.  However keep your common sense grounded.  The experts have been wrong over and over.  Let us look at what was being said in 2007 by a leading economist here in SoCal:
Dr. Edward Leamer, Director UCLA Anderson Forecast, had this to say in The Economists' Voice back in 2007:
"My view, announced in December 2005, is that this time will be different. This time the problems in housing will stay in housing. So far, I am feeling very smug. But this keeps me up at night. In this column, first the models, and then the mind. The models say that a recession is coming soon. The mind says otherwise."
So this was being said right as we were entering the biggest economic implosion since the Great Depression.  He went on to double down with his forecast:
"The models that rely on history suggest that the extreme problems in housing currently being corrected will almost surely infect the rest of the economy, but that history does not take into account two important facts:

-Manufacturing is not poised to contribute much to job loss.

-Real interest rates are very low and there is no evident credit crunch, now or on the horizon.

These facts make the problem in housing less severe than it would be otherwise, and help to confine the pathology to the directly affected real estate sectors: builders, real estate brokers and real estate bankers.

…

The models say "recession;" the mind says "no way." I'm going with the mind. This time the problems in housing will stay in housing. If you are a builder or a broker, it will feel like a deep depression. The rest of us will hardly notice."
What is amazing is that he got the real interest rate part right aside from missing the biggest credit crunch ever.  And by the way, credit is abundant if you have the income to back it up!  But that is now the problem.  People are used to low-down payment mortgages so anything requiring 10 percent down or more seems like a "credit crunch" to them.  Plus the verifying income part is difficult when 23 percent of the state is underemployed or without a job.
I'm not picking on one forecast since there were many that came out with even bolder predictions about the grandiose future of housing.  Yet this is to reinforce the idea that many times the experts have it utterly wrong.  After all, history did give us lessons on what would occur once the bubble burst.  Some simply ignored the details and went with the "this time is different" approach.  DOW 30,000 anyone?
Unfortunately the data that we do see trickling out is negative for the professional class of California and this can't be useful for the future of the state.  This is similar to a mini brain drain.  Those that also champion Prop 13 for example fail to realize the drain this places on future new home owners.  You have so many issues at hand and few actually are positive for home price growth in the state.  Instead, you have archaic laws that benefit older generations and subsidize them with younger workers, yet many of these younger professionals based on the data are moving out.  The rich will buy in their tiny enclaves so who will these people in mid-tier markets sell their homes to?  Apparently the rush to buy isn't there anymore as we have seen in the sales data: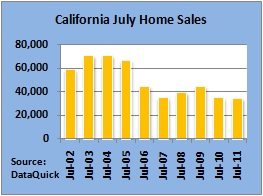 Even with historically low mortgage rates and the seasonal sunshine bounce from summer, the California housing market is finding no resurgence this time.  I wonder why.

Did You Enjoy The Post? Subscribe to Dr. Housing Bubble's Blog to get updated housing commentary, analysis, and information.