You know you do it. Deep down you know you feel a bit sneaky when you do it like going on a clandestine secret mission. I would venture to guess that you have Zillowed yourself or homes in your neighborhood. Welcome to the major equalizing force in the housing game, information. In 2006 when I started this blog I had a couple of frequent readers that were adamant that incomes in California justified the sky high prices.
Every time housing prices would break a new record, I would carefully point out that local area incomes simply did not merit the increase. They would argue back that incomes in fact did not matter and that current prices were justified. It got to the point where I had to say, "it's the income, stupid!" How can one argue that local area incomes do not matter?
Either way, there are now new forces at work that were never accessible in the past. See, even only a few years ago if you wanted to know what your neighbor paid for their home you would need to make a trip to the clerk's office and dig up the tax records. Not only was this a hassle, it was usually a waste of time.
If you liked a home as a buyer, you simply made an offer and put down some earnest money, and let the process go into escrow. You really didn't have a simple and quick way to see what the person paid for the home unless you dug an extra step. I would venture to say that not many people bothered with this because why would you want to know if you've already signed the final closing documents? Now we are in a vastly different world.
#1 Factor – Zillow and Access to Information
With many counties now having access to the assessor's office online and easily searchable, it isn't a massive out of the way journey to figure out what homes have sold for in your local area. In fact, excellent sites such as Zillow now make it fool proof for would be buyers to take a quick look at the price of a home they are interested with simply by opening up their browser and putting in an address. The power of this information is amazing and is another reason why this housing market is bound to keep going down. Why? Let us assume you are going to buy a home. The first step you want to take is to first assess how much "home" you can comfortably afford.
Typically this means not going over one-third of your gross monthly income to housing payments. This step isn't a novel one and has been here for many decades. Yet sites like Zillow have now revolutionized the way you will purchase a home. Instead of walking into your agent's office, giving him your budget and preferences like area, schools, and other key factors you can now access this information easily.
School ratings are easily accessible online with API scores and other important factors. You can even view whether you are near a park or freeway simply by using Google Maps without taking a needless trip. Yet the most equalizing factor is viewing the previous sales history. See, during the boom the perspective of many buyers was something along this line:
"Take a look at what they paid for that home in 2001 and what it sold for in 2003! I'm going to buy this place and sell it for even more!"
The psychology was one in which the idea of dropping home prices was simply nonexistent. In fact, agents and appraisers at a basal level looked at recent sales prices to ascertain the current market value of the home. Normally they would look at 3 homes of similar characteristics in the area and derive a per square foot price and applied this formula to the current home. Of course I'm simplifying the process here since the appraiser would also need to look at condition, upgrades, or other amenities but the gist is the same. The current market price was based on recent sales. This is similar to going into a mental institution, asking 3 patients if your shirt is worth a $1,000 and selling it to a 4th patient and assuming this is normal.
Interestingly enough these same buyers are now looking at Zillow and the psychology is as follows:
"They paid $200,000 in 2000 and they are asking for $500,000? No way. Not in this market. I see a home next to this person that sold for $400,000. I think I'll wait since it seems prices are still going lower."
Now the same tool is making buyers hesitate and actually prolonging the downturn. After all, this is a buyer's market and why buy when you know you can get the home for cheaper next year? If we are to revert to economic fundamentals of income to price ratios we are still very far from a bottom. And now all the information is easily accessible so when an agent says, "it is time to buy" you can bet a prospective buyer is going online and typing in the address to see the previous sales price. And you wonder why this downturn will last longer than people ever imagined.
I've noticed a few people echoing that we are hitting bottom because inventory is declining here in Southern California. Which leads us to our next reason why housing prices are declining, inventory.
#2 – An Inventory Bottom Does not Mean a Price Bottom!
People need to think for a few seconds before they start trying to peg a bottom. Even some mainstream articles have it so wrong in terms of declining inventory. First, you need to remember that inventory only matters as much as the amount of sales. For example, say we have 10 homes for the month and 5 sales. At the end of the month, we can look at our data and see that we have 2 months worth of inventory. But what if we have 5 homes a year later? Is this better? The media pundits are quick to jump on this and say yes! But what if we have only 1 sale this month? Then we have 5 months of inventory which is worse than 2 months. You get my point but let us use some actual data to demonstrate this: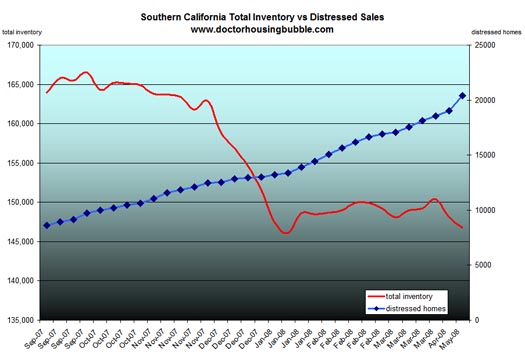 You can clearly see from the graph above that overall inventory in Southern California peaked in September and October of 2007. You will also notice that distressed sales (i.e., short sales, foreclosures, etc) have been rising dramatically. In fact, in September of 2007 distressed properties made up 5% of the total outstanding inventory while today, it makes up 13.8% of all current inventory. And again, just to use these few months of metrics, let us show how this dropping inventory idea is deceiving:
Sales in September of 2007 for SoCal: 12,455
Total Inventory: 166,514
Months of Inventory: 13.3 months
Sales in March of 2008 for SoCal: 12,808
Total Inventory: 146,785
Months of Inventory: 11.4 months
So this is good right? The months of inventory is decreasing. This is the argument the media is telling you. The only problem is the properties that are selling are distressed properties which are growing!
"Foreclosure resales – houses sold after being foreclosed on continue to dominate many inland neighborhoods. More than one out of three Southland homes that resold last month, nearly 38 percent, had been foreclosed on at some point in the prior year. This time last year such sales were only 8 percent of the market. At the county level, foreclosure resales ranged from 28.8 percent in Los Angeles County to 56.4 percent in Riverside County."
So where is this disappearing inventory going? It is easy to speculate and rightfully so that what we have is a group of delusional homeowners thinking that they'll simply wait until summer and get peak prices again. How can we arrive at this conclusion? Well first, 38 percent of sales had been foreclosed in the previous year. The median price in the state is tanking putting us at a whopping loss of 30 percent on a year over year basis. What we are seeing is distressed homes that have lower prices selling but also sellers that have lowered their price. Why else would home prices be falling so drastically? The assumption is most likely homeowners that can wait are simply pulling their homes off the market given the horrific market psychology. Yet those that mentally think that this drop is somehow a sign of health are flat out deluding themselves.
So if this is all too much for your mental health what about having the ability to stop paying your mortgage and living in your home for free?
#3 – Lenders are Backlogged and May be Letting Homeowners Live for Free
Now I know many of you are going to say, "how is that possible?" Given the massive amount of foreclosures in the pipeline and NODs that will become foreclosures, it may be cheaper for a lender to delay taking your home for a few months: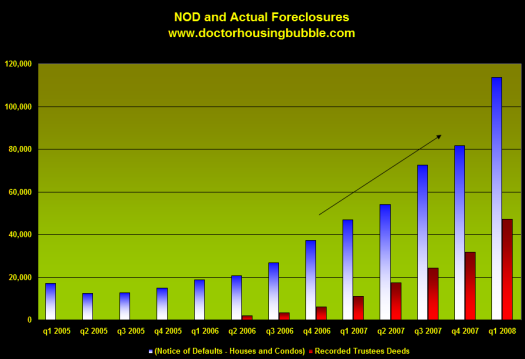 Fellow blogger Mish made an interesting observation in a post looking at a toxic WaMu mortgage portfolio lovingly named, WMALT 2007-0C1: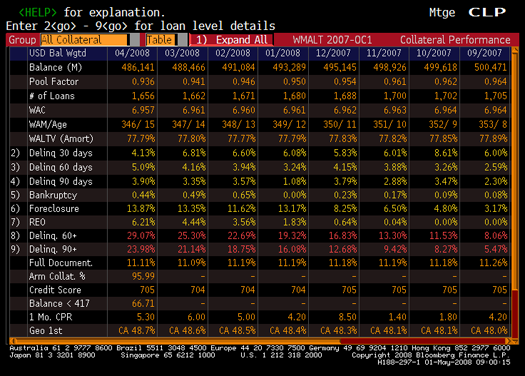 "The above image is particularly interesting. Are banks so loaded to the gills in REOs they are reluctant to start more foreclosures? If so, people are now living in their homes for free. There have been various media reports of this happening.
As bad as that sounds, from a bank perspective that is better than having a house sit there to become infested by vermin, rats, bees, mold etc. I spoke on the phone with Mike Morgan this morning and he tells me the latter is happening right now in Florida. Some homes are so infested with mold they are a health hazard and have to be bulldozed down. Total loss to the lender is 100%, perhaps greater if they have to pay to clean up the mess!"
As absurd as this may sound, lending institutions may have more than they can handle with distressed properties. In fact, it may be more cost effective to have a warm body in a home then letting the place go down the drain, or have a mosquito infested pool, or even theft of ever increasing metals:
"Metal theft has been a significant problem in our County and vacant, foreclosed homes are providing new targets for metal thieves," said Supervisor Hansberger, who represents the County's Third District. The supervisors are considering a county ordinance similar to Assembly Bill 844 proposed by State Assemblyman Tom Berryhill."
Psychologically this housing downturn is producing numerous unintended consequences. From technologies allowing potential buyers to carve into the anatomy of a home's sales history, to spinning the inventory numbers, to lenders reaching an unmanageable amount of distressed properties. A few of these things will prove to make this housing downturn unlike any in our nation's history.
Did You Enjoy The Post? Subscribe to Dr. Housing Bubble's Blog to get updated housing commentary, analysis, and information