In general, Americans are very poor when it comes to saving money.  One of the stunning revelations that came out of the financial crisis was that the median household net worth fell from $126,400 in 2007 to $77,300 in 2010.  What was even more interesting in the report put out by the Fed Consumer Survey was that median home equity fell from $110,000 to $75,000.  Think about this for a second.  Most of what Americans have in what we would consider as wealth is locked up in housing.  In fact, non-housing equity wealth was $16,400 in 2007 and fell to a paltry $2,300 in 2010.  Is it any wonder why so many Americans depend on Social Security deep into retirement as their main source of income?  While the stock market has rallied dramatically from the lows reached in early 2009 the housing market is still far away from the peak.  What is interesting is the lack of move up buyers in the current market.  With such little inventory I've been seeing the first-time home buyers diving in simply with maximum leverage.  Americans if given the chance would borrow a million dollars at zero percent (the big banks are doing this).  What does the future hold for the next wave of young home buyers?
The current state of housing
Home values fell by 33 percent from peak to trough.  Since that point, they are up 6 percent: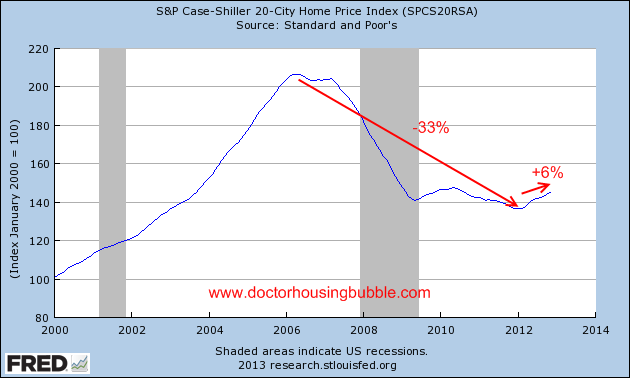 Since we know that the bulk of wealth for Americans is stored in housing, the net worth figures haven't changed much since most families have a miniscule amount invested outside of real estate.  The numbers are even more difficult to digest for younger Americans that are saddled with incredible levels of debt.  The current crisis has taken a bigger toll on younger Americans.  For example, the median net worth of householders under 35 was $5,402 in 2010.  That doesn't even cover the closing costs for most homes in the US forget about incredibly expensive metro areas.  Take a look at changes in net worth during the crisis: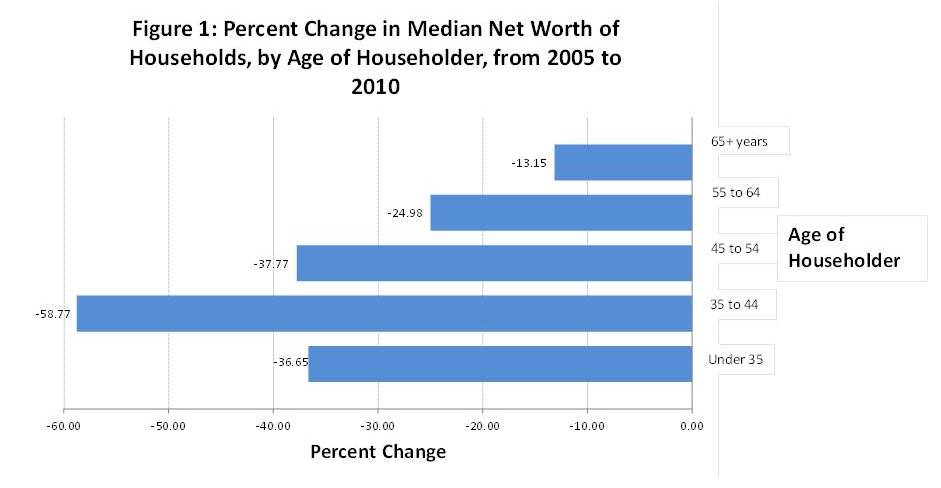 Source:  Census
The two main groups of first time home buyers and move up buyers, those 35 and younger and those 35 to 44 were financially crushed during this recession.  From looking at Census data measured with the Fed Consumer Survey, we know that Americans are storing a large portion of their wealth in real estate.  It also helps to put into perspective why the government is eating billion dollar losses with the FHA since this is the only way many younger households can even contemplate owning a home.
The trend with homeownership
This also helps to explain why homeownership has fallen for younger Americans while it has grown for older Americans.  Take a look at this chart: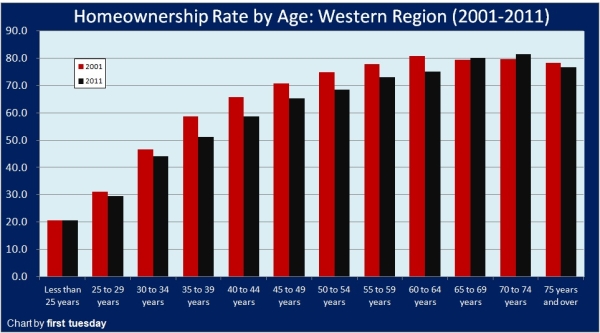 What this tells us is that we have an aging population that is long real estate.  But given that so much money is locked up in real estate, many are going to depend simply on Social Security to get by in their later years.  This is also a reason we see the retirement age being pushed up and many working into older years.  But what does this say about housing for future generations?
The young are less affluent and have even less financial security when it comes to retirement.  Even optimistic estimates project that Social Security payments will be cut significantly in the decades to come.  Some seem to think that simply owning a home is the answer to your financial security.  In fact, this seems to have been the status quo investment option for most Americans.  Buy a home, and ride it out until you have equity like a forced savings account.
What is interesting is the shift in psychology with housing.  You will always pay for shelter.  That is a given whether you rent or own.  This isn't some kind of new variable.  The assumption also, is that many people are not investing in other vehicles.  Clearly as a nation we are incredibly heavy on real estate as a part of our overall wealth portfolio (for those that have any wealth).  It also highlights how poor we are when it comes to saving but also how quickly people are to go into massive debt.  I'm seeing flippers unloading properties to younger buyers that are going deep into debt with FHA insured loans.
Over the very long-run, real estate is basically a hedge on inflation.  Not exactly the stellar investment some make it out to be.  I've seen some investors buying places for $400,000 with all cash and getting $2,000 a month in rent.  Run the numbers here:
$24,000 / $400,000 =   6% return on gross rents
As we discussed in a previous article, about 40 to 50 percent of your gross rents are going to get eaten up by taxes, insurance, vacancies, repairs, and other items outside of the principal and interest.  And there is work to being a landlord yet Wall Street is diving in head over fist for essentially a 3 percent yield on some properties.
Young Americans are competing with these larger forces if they want to buy.  Many markets in the US are actually very favorable to young buyers.  Large parts of California are not.  I'm seeing folks making barely $100,000 talking about buying $600,000 or $700,000 homes.  Younger dual-income families see this as the way things have always been but this is a recent phenomenon.  The current market is being driven by all-cash buyers, investors, and over leveraged buyers.
Homeownership in California
It is no surprise then, that the homeownership rate in California is expected to fall probably into 2016: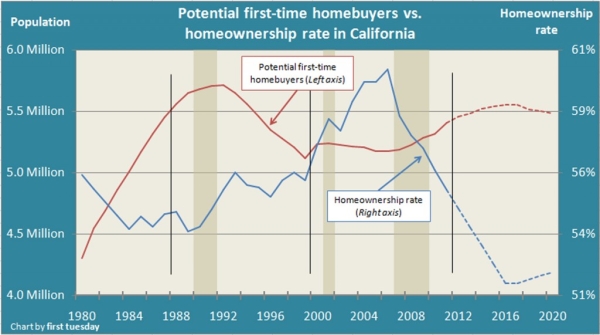 The biggest issues I see with younger buyers is:
-Lack of savings

-Big debt from education

-Tighter incomes

-Less of a desire for McMansions
I think the last point is critical.  Even with the jump in current housing starts, a good portion of the starts are for multi-unit developments.  In other words, rentals or condos but mostly rentals.  Cheaper alternatives to single family homes.  These are people building homes for the future.  It'll be interesting to see what happens once the investor hot money begins to recede from this current market.

Did You Enjoy The Post? Subscribe to Dr. Housing Bubble's Blog to get updated housing commentary, analysis, and information.