California has been fortunate to have favorable demographics for many decades.  The country in general has been supported from the baby boomer generation and their spending and willingness to go into debt for consumption prowess.  Yet demographic changes may create an environment that will make it harder for the California housing market to recover.  "Recover" is such a vague term.  Housing affordability in many parts of the country is actually helping households with lower incomes purchase homes without over burdening their balance sheet with debt.  The property ladder mentality worked well in California as the massive affluent baby boomer cohort bought and sold their way to their ideal home as long as home prices moved up by 7 to 10 percent each year.  Yet with a younger and less affluent generation coming up behind them, can the young save the California housing market?
Fastest growing segment of population those 65 and older
The fastest growing age segment in California is the 65 and older crowd.  It is important to understand these demographic changes moving forward: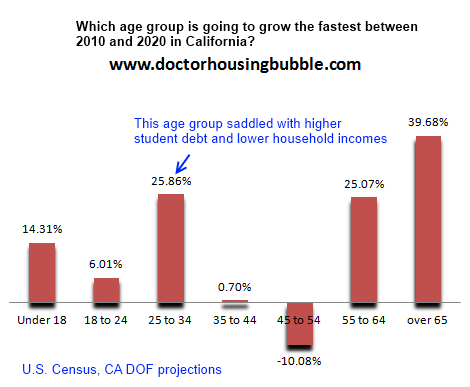 Why is this important?  If we look at the above chart we see the compression in the middle between the 35 and 54 crowd.  The 55 and older population is going to boom in California, in particular the 65 and over segment: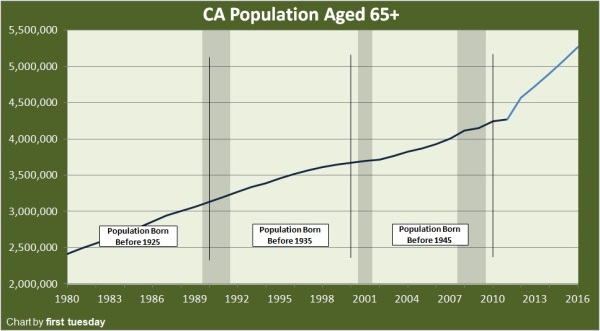 Source:  First Tuesday
The charts above are critical in understanding the future of the California housing market because a big amount of pressure will sit on the 25 to 34 year old crowd this decade.  This age group as we have noted, is saddled with enormous levels of student debt and many are finding employment opportunities with less pay.  Now this might be one of the explanations as to why even after home prices have collapsed and interest rates are at record low levels that home sales are still weak in the state.  The 65 and older crowd is also more likely to sell based on lifestyle pressures.  Contrast this to many in recent years that have opted out of the market as distressed sales dominate and they nostalgically look at 2005 and 2006 as their optimal sales point.
Low home ownership rates with younger Californians and potential growth rests heavily with this group
The majority of those 40 and younger are renters and the rate of home ownership in California is well below that of the nation: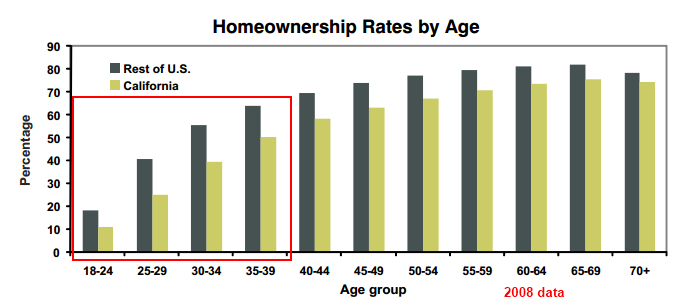 A big part of the issue is affordability.  Low interest rates and lower home prices mean little if household income cannot catch up.  This is why California has continued to make post-bubble lows in home prices.  In areas like the Inland Empire or the Central Valley rental parity is largely achievable.  However in many mid-tier markets home prices still remain inflated.  Take for example the short sale condo market in Orange County.  On the surface rental parity seems feasible but those who actually spend the time to examine the true costs including insurance, taxes, Mello-Roos, HOAs, and mortgage insurance suddenly realize a payment can jump by 50 to 60 percent.
The fact that distressed sales still dominate the California housing market should tell you something.  Or look at the rate of home sales.
California home sales nearly half the rate of 2005 despite low mortgage rates and lower prices
Home sales are still rather low even with incredibly low mortgage rates and lower prices: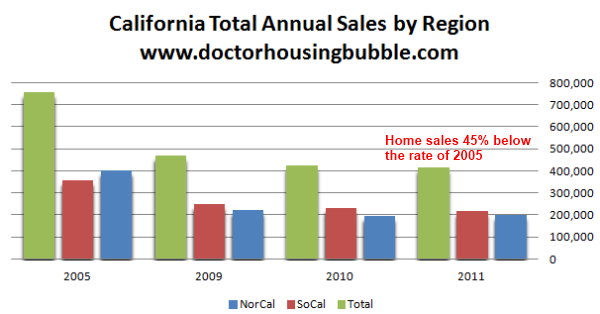 California home sales are down roughly 45 percent from the 2005 booming pace.  You would think with home prices in many areas down by 40 to 50 percent from the peak that sales would be picking up.  That might be the case if your vision was simply narrowly focused on home prices and not household incomes.  The argument that incomes do not matter was an argument used during the peak days of the housing bubble as well.  Income absolutely matters.  The reason baby boomers had a stable housing market is that home prices went up in tandem with actual incomes (let us set aside for the moment the nonsense of the no-doc-no-income-no-job-no-verification loans fostered in California).  The income growth has not happened in the last decade as real household incomes have gone stagnant for well over a decade.  Focusing even more closely at younger Californians things have gotten much tighter.
Californians spend a large amount of income on housing
Even those that currently own in California, many are stretching their budgets to own that home.  Contrary to the myth that every California home owners is flush with cash and transforms into Donald Trump once a mortgage is in their name, the vast majority of Californians spend over 35% of their household income on housing costs: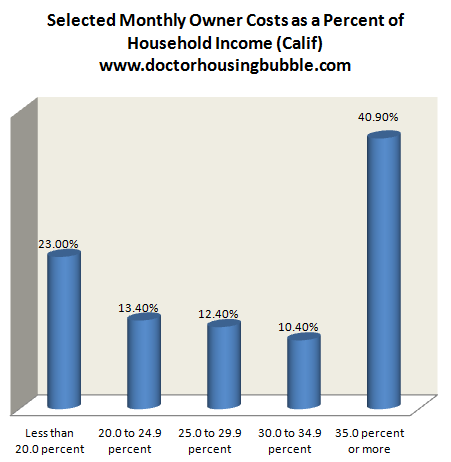 Source:  Census
Even most government figures consider this excessive:
"(Census) In Census 2000 the selected monthly owner costs are calculated from the sum of payment for mortgages, real estate taxes, various insurances, utilities, fuels, mobile home costs, and condominium fees. Listing the items separately improves accuracy and provides additional detail. When combined with income, a new item is created – Selected Monthly Owner Costs as a Percentage of Household Income. This item is used to measure housing affordability and excessive shelter costs. For example, many government agencies define excessive as costs that exceed 30 percent of household income."
According to the above definition, over 50 percent of Californians that own their home with a mortgage (roughly 75% of home owners) are in the excessive category.  Since many in this category by definition are older, it becomes more understandable why the non-distressed market in California is virtually non-existent.  Distressed properties are still making up nearly 50 percent of all sales and it is starting to become more apparent why.  Many simply cannot sell because they are deeply underwater.
30 percent of California homeowners with a mortgage are underwater
This probably shows the biggest issue at hand.  Of those that own a home in California with a mortgage, largely older Californians, over 30 percent are underwater on their mortgage: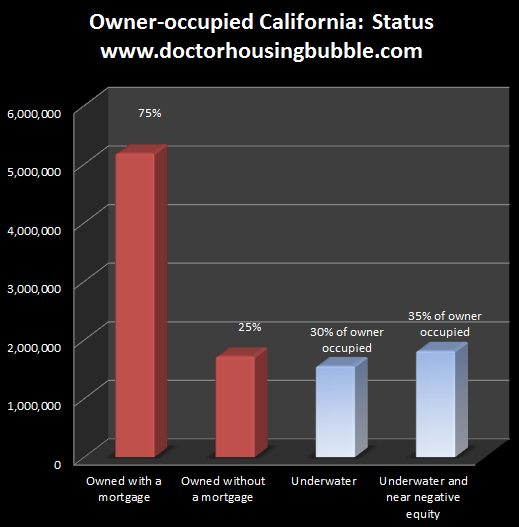 Throw in those that are near negative equity (those with 5% of equity or less) and the number balloons to 35 percent.  You begin to understand why there are so few current non-distressed sellers on the market selling their homes for reasonable prices.  35 percent cannot by definition without becoming a short sale (and obviously with markets in SoCal the vast majority of current MLS sales are now listed as short sales as people realize the bubble is now long gone in the rear view mirror).
A big wildcard will be the retiring home owners of California.  Will many sell to leave the state?  Hard to say but California has a solid climate but the cost of living is high.  Now with home prices in places like Arizona and Florida dirt cheap and the cost of living much lower, some might opt to sell a place, buy a home, and sock away $100,000 to $200,000 in the bank.  Some may pass their home to their heirs but that does little to create a liquid market.  Ultimately we are left with forced sales from the distressed pipeline being the bulk of California home sales because younger buyers simply do not have the income to purchase more expensive homes.  That is why FHA insured loans now make up over 30 percent of all home purchases (with an average 4% down payment).
Can the young save the California housing market?  Take a look at the above data and arrive at your own conclusion.

Did You Enjoy The Post? Subscribe to Dr. Housing Bubble's Blog to get updated housing commentary, analysis, and information.