It is hard to wrap your mind around the size of the American housing market. Today's Case-Shiller Index reported a further deterioration in the housing market. The difficulty in determining what real estate was valued at the absolute peak is somewhat hard to determine since many regions hit peaks at various different times. The one major thing that we can do however is take a look at the composite of the 20 cities used in the Case-Shiller Index and see when the peak was reached. Why use the Case-Shiller Index? It is generally seen as the most reliable source of price changes since it uses a repeat sales pricing technique. What we can then do to get a general estimate of the total housing value is use the Federal Flow of Funds Account and take a look at the value of homeowner equity near the peak, followed by looking at mortgage debt to get a general idea of the size of the United State residential real estate market. First let us look at the Case-Shiller chart: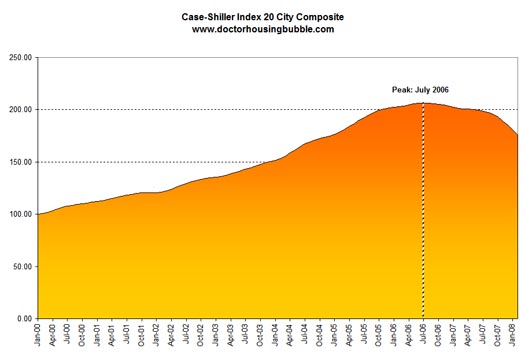 As you can see from the chart, the peak was reached in July of 2006 for the 20 composite index. The next step we'll look at is from the Federal Flow of Funds Account which looks to show real estate peaking at least in value in the third quarter of 2007:

The next step of course will be to look at total mortgage debt during this time to see how much equity was flying around out there: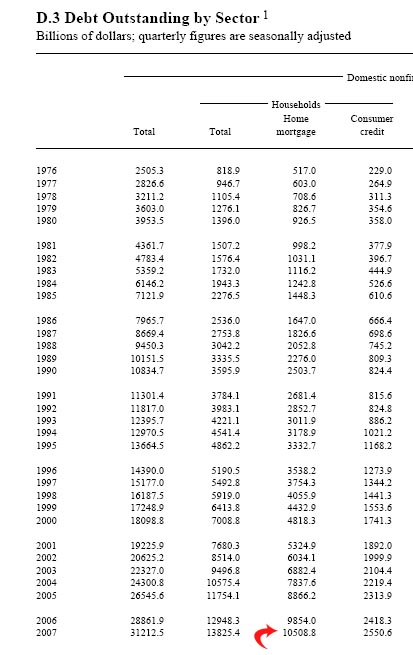 So let us use the $22.2 trillion of real estate wealth that was achieved in the first quarter of 2007. Next, we will subtract the total mortgage debt of $9.854 trillion that was reached by the end of 2006.
$22.2 trillion – $9.854 trillion = $12.346 trillion in equity (55 percent equity)
Of course we can trust these numbers only so far as we believe the Fed didn't see a housing bubble but what else do we have to work off of? So let us now fast forward and use the same data but for the current environment:
$22.48 trillion – $10.5 trillion = $11.98 trillion in equity (53 percent equity)
Well of course, this is a load of crap assuming that only $366 billion was lost as of the end of the forth quarter in 2007. I rather we use our own measurement and apply the current Case-Shiller Index drop to the $22.4 trillion total real estate wealth which seems to be as accurate as we are ever going to get in trying to assess a bubble. The recent report with 20 cities has a 12.7 percent drop. Let us run this more realistic scenario:
$22.4 trillion x 12.7% = $2.84 trillion in equity gone
Of course, this should be the bigger story as opposed to folks going insane and begging for an 18-cent tax moratorium on gas. I'm starting to realize that a vast amount of people are financially penny wise and pound foolish. Let us run a quick calculation why the so-called gas tax moratorium is a bunch of crap. We'll even assume you drive a massive gas guzzling H2 Hummer for the sake of argument:
"Forbes notes "H2 gets a paltry 13 mpg on the highway and 10 mpg in the city" Motortrend observed 12 mpg. Car and Driver observed 10 mpg. A reviewer at about.com got 8.6 mpg. Edmunds got 9.2 mpg. Four Wheeler magazine observed 10.8 mpg in their final long term report of an H2 SUT. Their worst tank was 7.2 mpg and best tank was 15.3 mpg, pretty high for an enormous SUV."
Okay, we'll say that the Hummer gets 11 mpg just to be generous here. So what is the grand plan?
"NEW YORK (CNNMoney.com) — Amid record gas prices and a faltering economy, Sen. John McCain called for suspending the federal gas tax Tuesday – a call that was met with skepticism from many experts.
In a wide ranging economic speech at Carnegie Mellon University in Pittsburgh, the presumptive Republican presidential nominee called for a hiatus in the 18.4 cent-a-gallon federal gas tax from Memorial Day until Labor Day – the period when vacationing Americans spend the most time on the road.
"The effect will be an immediate economic stimulus – taking a few dollars off the price of a tank of gas every time a family, a farmer, or trucker stops to fill up," said McCain."
"Most of the money is used to fund highway projects. Suspending the gas tax during the summer would leave a funding gap of about $10 billion."
More deficits! Are these people really serious? Okay, from Memorial Day until Labor Day, we have roughly 4 months of driving. Let us assume you are typical and drive around 15,000 miles per year, which works out to be 1,250 miles per month. So over a 4 month period we'll be driving our H2 for 5,000 miles. At 11 mpg let us run the numbers to see how much we'll save:
6,000 miles / 11 mpg = 545 gallons needed
545 x 18.4 cents = $100.28 grand total saved!
Bwahahaha! Holy crap we are so screwed. All this insanity over a freaking $100 bucks? And guess how much money the average American just lost in home equity? Let us take a look at the median new home price for the United States and the median price for a home in Los Angeles: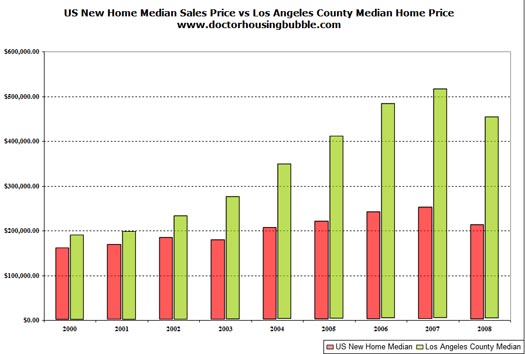 And the trend is heading lower. Instead of focusing on how in one year we have lost nearly $3 trillion in real estate equity (which of course it really wasn't lost since it was all a mega bubble mirage) we are fighting over chump change with gas at the pump. I do believe that higher fuel costs do make their way into higher consumer inflation on goods and services but to argue about a moratorium on the tax and putting us into a further hole is flat out disturbing. But clearly math isn't the forte of our California government either:
"April 29 (Bloomberg) — California's deficit could reach as high as $20 billion, nearly one-fifth of the state's budget, by July because of a slumping economy and required spending, Governor Arnold Schwarzenegger's office said.
Schwarzenegger's spokesman Aaron McLear says the gap could grow by $10 billion on top of $7.4 billion already expected for the fiscal year that begins July 1. The creation of a rainy day fund Schwarzenegger proposed in January would add another $2.8 billion to the gap.
The ballooning deficit comes amid release today of the S&P/Case-Shiller composite home-price index for January, covering 10 cities nationwide, which fell the most in its 21- year history and left California among the hardest-hit states. Schwarzenegger, a 60-year-old Republican, has touted the budget crisis in a push to get lawmakers to consider a constitutional amendment limiting future spending."
Early in the year, it was $14.5 billion. Then it jumped to $16 billion. Now we're at $20 billion? Talk about having no idea where money is going.
"Schwarzenegger in January proposed a budget with a 10 percent, across-the-board spending cut. McLear said the amount may grow. Schwarzenegger in February ordered state agencies to stop hiring and scrap new equipment purchases as part of a plan to save $100 million this year.
The Legislature on Feb. 15 passed a series of bills to eliminate $3.3 billion from the budget gap for the current fiscal year by cutting spending and deferring payments until next year. Also in February, the state sold $3 billion in deficit bonds to help close the gap this year."
Now tell me, what other industries are going to start hiring to boost the so-called phantom housing bottom especially here in California? Never mind the astounding fact that according to the California Association of Realtors the median price statewide is now off by a stunning 30 percent.
It only logically follows that real estate declining will hurt a state that is utterly dependent and obsessed with all things real estate. My calculations above may be off by a few billion since the data itself is based on bubble prices and assessments but hey, I'm in good company with our Governator.  As long as we come in near $3 trillion we're doing okay based on government math.
Did You Enjoy The Post? Subscribe to Dr. Housing Bubble's Blog to get updated housing commentary, analysis, and information