It might be hard for people to believe that large parts of California are still in major housing bubbles.  The truth is many California cities are still dwelling in the shadow of the bubble era prices pretending as if they really have corrected.  Yet much of this is lost in aggregate data that looks at statewide data or county level prices.  Why?  The flood of toxic mortgages and lower priced homes in areas like the Inland Empire has caused home sales to go up but at the lower end of the market.  What this did was lower the median statewide home price by nearly 50 percent (we're still swimming at the bottom of the barrel) while many cities still remain in large bubbles like Culver City, Pasadena, and Cerritos.  It isn't enough to show a few basic examples but we will try today to pull inflation, housing, and sales data specific to California and Los Angeles to drill down into the actual trend.  What we will find is that many areas are very much elevated to bubble level prices.
What we will be looking at is data from January of 2001 to December of 2009.  I was fortunate enough to dig up median zip code data for 263 zip codes in Los Angeles County from January of 2001.  I then compared these zip codes to their latest median price data in December of 2009.  This will provide us a better analysis of what is happening in the market over the bubble decade at a very micro level.  Keep in mind from 2000 to the summer of 2007 virtually every area in California went up to bubble levels: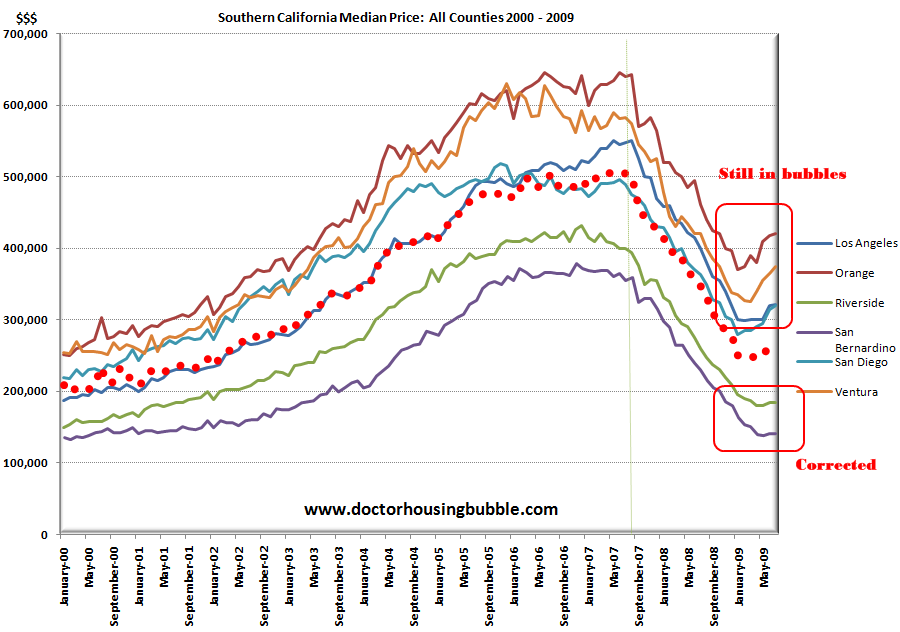 What has occurred is the lower end of the market has corrected and as we will see, has now come close to being in line with inflation adjusted levels while certain counties like Los Angeles and Orange remain in elevated levels that have no economic justification aside from being in a bubble.  These are the areas with a  large amount of shadow inventory but also Alt-A and option ARM products.  Round two of the California housing correction will hit these areas next.  In fact, many of the cities in these zip codes have not fully corrected and the overall median price has fallen because of their lower priced zip codes.
First let us look at some economic measures over this time frame:

The Bureau of Labor and Statistics (BLS) largely missed the entire housing bubble both in California and nationwide because they focus on a dubious form of home price indicators named owners' equivalent of rent (OER).  As we demonstrated in the Cerritos example, if you focus on the rental value of a home only you will miss the fact that in some markets people will bid homes up to bubble levels.  So for the entire decade the measure looked at what you would likely get for renting your own home but this completely missed the decade of housing inflation.  As the chart above shows, rents went up by 32 percent and homeowners' equivalent of rent went up by 26 percent for California.  This of course is technically right since mortgages like option ARMs allowed you to pay out a tiny amount per month while allowing people to overpay for the actual home.  I remember folks telling me about paying $1,500 per month on a $500,000 pay option ARM teaser mortgage.  These homes would have rented for $1,750 to $2,000 in many cases so guess what?  The OER missed all of this of course because a 30 year mortgage would yield a housing payment of $3,000 or higher depending on the down payment.  But what we can gather from the above is that rents went up by 32 percent.
That is one piece of the puzzle so far.  Also keep in mind that in many areas including Los Angeles rents have fallen in the last year because of the massive amounts of inventory but also (more importantly) the troubled economy.  But over this time period, how much did the income of families go up?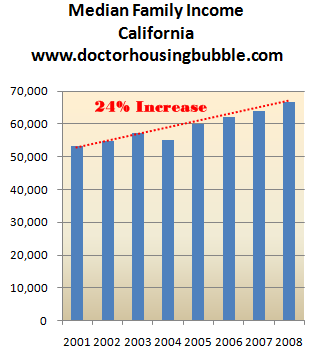 Source:  Census, Current Population Survey
Over this period the median family income in California went up by 24 percent.  We don't have data on 2009 but given California's underemployment rate hit over 20 percent last year, we can actually assume that income went down last year.  So we're starting to see at least a trend for incomes and rents over this period.  The increase of general prices seems to fall between 24 and 32 percent.  Let us look at the overall CPI for the U.S., California, and Los Angeles (we'll be focusing on L.A. primarily in this article):

One thing that is part of the smoke and mirrors of the real estate industry is the argument that home prices and everything else for that matter is always more expensive in California.  For the last few decades maybe so, but a flat screen here will probably cost the same as it does in Texas.  If it doesn't you can order it online.  What is also not factored into these equations is Californian's will usually pay less on heating and electricity bills due to the weather.  So in a few areas we do pay less.  But the one thing the real estate industry harps on is housing prices.  The above data is the CPI for all items, housing included.  What you'll see is that even though California prices and L.A. prices went up higher than the nationwide data, it isn't that big of a difference.  Certainly not enough to justify housing values going from $200,000 to $505,000 in Southern California for example from 2000 to 2007.  As is the case much of this rise in prices was spurred by toxic mortgages like Alt-A and option ARMs but also the subprime mess.  But what you will see is that over this period of time the CPI, family incomes, rents, and OER all went up between 24 and 32 percent with the overall measure for Los Angeles going up 28 percent.
Now this is important because it gives you a sense of where prices should go thanks to the fiat money joy machine of the Federal Reserve.  Multiple studies including those from Robert Shiller have shown that over time real estate tracks inflation.  So if the general price level went up by 28 percent in Los Angeles you would imagine that home prices would track closely to this trend.  They have not:

Now the above is essentially the story of California and the burst of the bubble in some areas.  The lower priced areas like Riverside and San Bernardino even though they went up in values exponentially during the bubble as well have now largely corrected to come in line with the general inflation levels of the state.  In other words, if you are looking at data from January of 2001 to December of 2009 these areas are actually under the statewide inflation rate.  Yet that doesn't necessarily mean it is a good time to buy since the economy of these areas is mired in unemployment.  And these areas have seen the largest volume of home sales (a large bulk of investors).  But look at Los Angeles and Orange counties.  These areas are still in big bubbles.  We have shown the shadow inventory of Los Angeles and Orange in great detail.  If these areas are up not because of incomes and certainly not because of the inflation rate then why are they still elevated?  Why?  They are still showing bubble like metrics because the middle of the market is still harboring mania like behaviors.
The numbers above show that Los Angeles is by far the most over priced county with Orange County right on its back.  But this in itself doesn't tell the entire story.  If it did, then the above data on San Diego would seem to be in line with inflation data since San Diego over this period of time went up by 35 percent.  But keep in mind where the bulk of the sales are occurring and you start seeing a very familiar pattern.  Also, San Diego inflated earlier on so the correction hit first as well.  The lower end is skewing the data while the mid to upper tier of the market remains with bubble like valuations.
As many long time readers may know, I enjoy digging through the data.  I have little room for the "touchy feely" reasons realtors give for why prices are high in some areas.  These are the same people that thought putting home buyers into homes with Alt-A and option ARMs was a smart idea.  They clearly are the last people you want to go for regarding advice on bigger economic trends.  So I managed to dig up data on 263 zip codes in Los Angeles from January of 2001.  I decided to line these up with their current valuations as of December of 2009.  This is important because it cuts to the core of what is happening in the current market but also exposes which cities are in bubbles.  First, let us look at the most over priced zip codes in Los Angeles: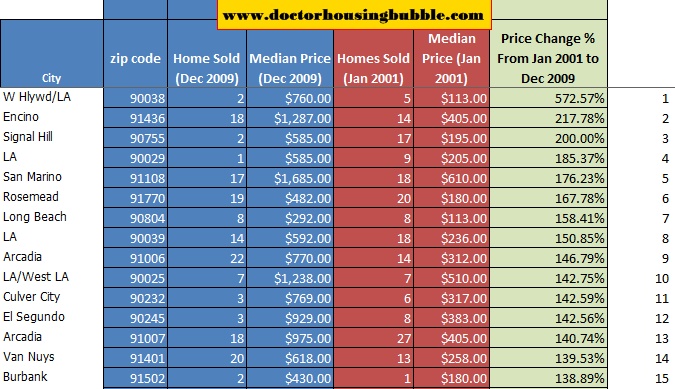 Now what you'll find are a few usual Real Home of Genius suspects here.  We see a handful of Westside zip codes but also areas like Culver City.  Now look at those median price changes from January of 2001 to December of 2009 and remember the charts above showing the actual inflation for the area and also income gains.  All these zip codes are in bubbles, plain and simple.  The 90232 zip code in Culver City went up from $317,000 in 2001 to the current $769,000 mark.  This is unsupportable by any metric.  Take a look at another area like Arcadia.  It went from $312,000 to $770,000 or a price increase of 149 percent.  Nothing can justify this price increase.  And as we know with areas that have corrected, when there is no economic reason for a price support level values will come down.  This bubble ran from 1997 to 2007 in California!   So those thinking a two or three year correction will fix everything have another thing coming their way.  The first zip code above in West Hollywood is hard to use since it is only based on 2 home sales for December of 2009.  But look at Encino.  From $405,000 to $1,287,000 in this time.  And December even saw more home sales!  All of the above areas are perfect examples of areas that will see prices come down.
Yet in the midst of things, there are also a handful of zip codes in Los Angeles that are actually cheaper both nominally and inflation adjusted from January of 2001: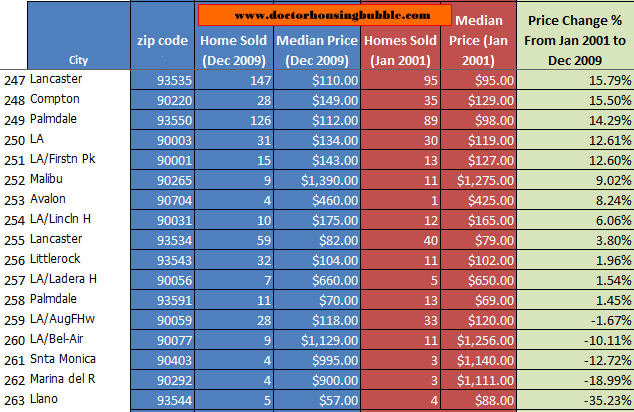 Now this is an interesting mix of data here.  First, take a look at Lancaster and Palmdale.  Of the top 15 most over priced areas 156 homes sold in December of 2009.  One zip code in Lancaster (93535) almost matched that number by itself (147 homes sold).  Palmdale had 126 homes sold.  But look at the prices.  Now you wouldn't expect to see Malibu and Bel-Air in the same chart as Lancaster and Palmdale but there it is above.  And for an area like Malibu with such few home sales, it is hard to say what is really going on because a few $10 million home sales can suddenly push data into another level.  But the pattern is unmistakable.  Some areas have fallen and fallen hard.  But the majority of areas in Los Angeles have not.
I ran further analysis on the 263 zip codes.  The overall Los Angeles inflation increase from January of 2001 to December of 2009 was 28 percent.  Now out of 263 zip codes analyzed how many had increases of less than 28 percent?  Only 29 fit these criteria.  In fact, we have 206 zip codes that are still registering increases of 50 percent or more!  Los Angeles is still largely over priced aside from a few exceptions.
And all this data blends in with the trend in million dollar homes sales: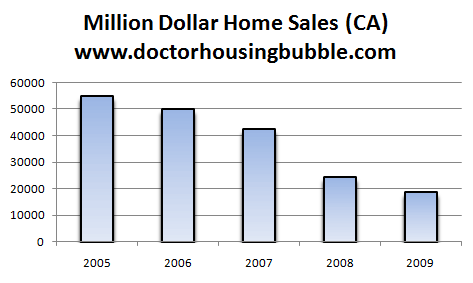 Now why is this occurring?  Because the FHA insured loan market is backing 4 out of 10 mortgages in Southern California and only requires a 3.5% down payment.  Is it any wonder the FHA is registering record defaults?  The limit is $729,750 for FHA insured loans.  So these million dollar home sales are dwindling because the Alt-A market and jumbo loan market is done and many were bought with these absurd loans during the heyday of the bubble.  The lower end was saturated with subprime loans.  Now the lower end is being dominated by first time buyers and investors.  As we have shown, some areas are actually under cutting the inflation rate for the region.  But what about the bulk of the mid tier market?  This market is now full of delusional folks going after bubble 2.0 with government backed loans.  The high-high end of the market is hurting because you need to go the conventional route.  But that middle of the road market is still being sustained with government backed loans and folks paying bubble level prices.  But just because it is being propped up right now doesn't mean it will remain that way.  The above data clearly shows that the bubble is alive in well in many areas in California especially in Los Angeles County.  All bubbles over time will pop and this is no exception.
Did You Enjoy The Post? Subscribe to Dr. Housing Bubble's Blog to get updated housing commentary, analysis, and information.