I want to focus our attention on housing valuation.  For those calling a bottom, it is also implied that they believe that incomes have stabilized and that prices rightfully reflect the economic situation of the potential buyers.  Why else would you call it a bottom?  Yet very little analysis is done regarding housing valuation.  There is much yelling and punditry about a bottom but little long-term analysis is given to support this argument.   Given the amount of Alt-A and option ARM products in California, we have unique exogenous factors that will play a role in housing prices for years to come.  We also need to examine the state budget deficit and the state unemployment rate that is now at 11.9 percent but most likely is over 12 percent and if we look at the more encompassing figure of U-6, the state is well over 20 percent.
First some very important historical data.  Did you know in 1970 the median price of a California home was no different than a median price home nationwide?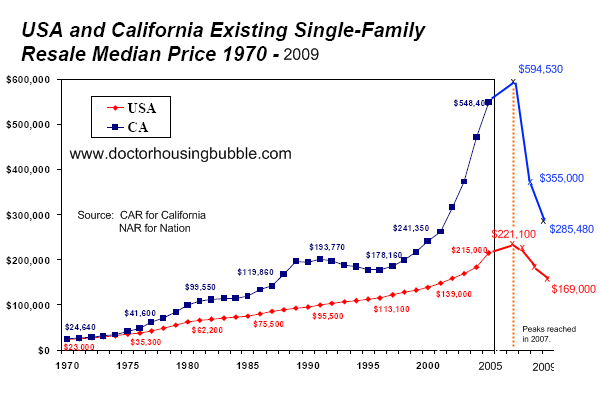 I've reconstructed the graph above.  The graph had data up until 2005 but I added the key points from 2006-09.  During the height of the bubble in 2007, a California home cost nearly three times as much as the median nationwide home price.  Looking at historical data it wasn't always more expensive to live in California.  And this isn't a new phenomenon either.  Florida had an enormous housing bubble in the 1920s that burst in epic proportions.  The real disconnect in prices started in the 1980s if we look at the chart above.  California in the late 1980s had another bubble.  At this peak, the price of a median California home cost twice that of a nationwide home.  When things settled down, a California home cost 57 percent more than the nationwide home price.  That was at the trough.  Assuming a similar trough this time, if the median nationwide home price were to stay at $169,000 then a California median home price would go for $268,000.  Yet there are things that are different this time.
This time, California is not a booming economy.  In fact, it is currently adding downward pressure.  California heavily relied on real estate for the boom.  So in the 1990s we had the technology boom and during the 2000s we had the real estate boom.  Those are no longer able to support massive premiums on California housing.  And one thing that didn't occur was strong wage gains even during this decade:
What you'll notice in the chart above is during the 1970s, Californians saw strong per capita income growth.  A large part of this was due to inflation.  Home prices went up but so did incomes.  In our current bubble, home prices shot up while per capita income was stagnant.  Much of the growth was completely dependent on housing alchemy including Alt-A and option ARM toxic waste financing the housing mania in the state.  As the chart above clearly highlights, once the elixir was removed so was the artificial price gains.
That is the question that very few seem willing to explore.  Without these toxic products, the buying power of Californians is largely diminished.  For the entire decade, easy credit loans allowed the bubble to take on a wild uncharted path of growth.  Yet as we deflate, what should a California home sell for?  Let us run some current numbers.
Later this month, the Census will have more accurate figures for 2008 and these will undoubtedly be lower but for the moment, we will go with the latest data available:
California Median Household Income:   $60,000
California Median Home Price:             $285,480
Let us assume the median California family was looking to buy a median California home.  As we know, FHA loans are now very popular and only require 3.5 percent down.  Let us run the numbers:
Down payment:            $9,991
Mortgage:                     $275,488
PITI:                            $1,904 (30 year fixed at 5.75 percent)
This is well and good but what can this household really afford?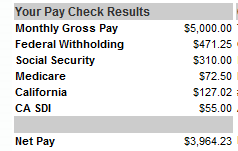 At this ratio, this household is unable to afford the home:
$1,904 / $3,964 = 48 percent on the front end ratio
As we discussed before realistically you need to fall within the 30 to 39 percent range to be safe.  And that is with the back end ratio.  We still haven't factored in credit card payments, auto loans, student debt, and other monthly charges that will only make the ratio look worse.  So two things happen at this point.  Either incomes increase to make the ratio more appealing and stable or home prices continue to drop.  Given our high unemployment rate in the state, it is rather clear that home price will continue to fall.
Keep in mind in the scenario above we did not factor in health insurance costs or contributions to a retirement plan and that would only make the ratio go higher and thus make housing less affordable.  And if you were tired of bailouts, we might be dealing with another one regarding FHA loans:
"(WSJ) In the past two years, the number of loans insured by the FHA has soared and its market share reached 23% in the second quarter, up from 2.7% in 2006, according to Inside Mortgage Finance. FHA-backed loans outstanding totaled $429 billion in fiscal 2008, a number projected to hit $627 billion this year.
Rising defaults have eaten through the FHA's cushion. Some 7.8% of FHA loans at the end of the second quarter were 90 days late or more, or in foreclosure, according to the Mortgage Bankers Association, a figure roughly equal to the national average for all loans. That is up from 5.4% a year ago.
Resulting FHA losses are offset by premiums paid by borrowers. Federal law says the FHA must maintain, after expected losses, reserves equal to at least 2% of the loans insured by the agency. The ratio last year was around 3%, down from 6.4% in 2007."
It should be rather apparent why these loans are defaulting.  A 3.5 percent down payment is too low.  I would argue that at a minimum, if the government is to back a loan we should use a 10 percent down payment floor with strict debt to income ratios.  Yet this is what happens when the government and bankers try to push housing regardless of what the valuations are telling us.  And what they are saying is this – home prices are still too expensive.
It was interesting that a long time reader sent me a graph that I put together last year looking at the Case-Shiller data and a funny thing shows up: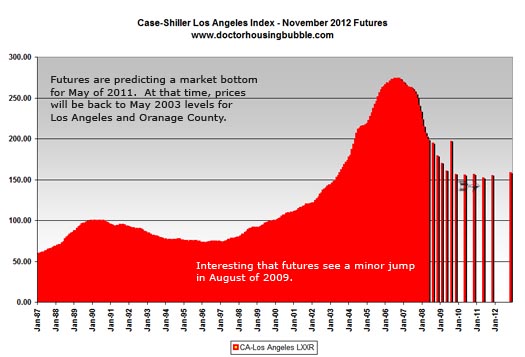 Source:  Doctor Housing Bubble
I put this chart together in August of 2008.  The bars reflected futures prices for L.A./O.C. based on the Case-Shiller data.  But I notice that for whatever reason, the futures were pricing in a slight jump in August of 2009.  Well guess what, we got that.  Now how did someone see this one year down the road?  I have no idea.  But if someone had a clue regarding the tax credit timeline or moratoriums hitting at this time in the state, then they knew it would go up.
Futures contracts for the L.A./O.C. area point to slightly lower prices hitting some time in 2010 and 2011.  This however does not reflect that many areas like Culver City, Pasadena, Palms, or other so-called prime locations will start seeing more declines as the Alt-A and option ARM products hit in full force in 2010.
Ultimately prices need to reflect what the local population can afford.  We are still in some areas pricing homes via the "I'll stay here for 3 to 5 years and then sell with big appreciation" model of valuation.  That is simply a wrong way to look at real estate.  It won't work.  Take a look at the increasing defaults with prime mortgages.  The issue at hand is without a stable and healthy employment climate, home prices will begin declining reflecting weaker consumer demand.
Let us run one example.  Look at the 91505 zip code of Burbank:
Current median price:                $491,000
Median household income:        $67,000
3.5 percent down payment:       $17,185
Mortgage amount:                     $473,815
PITI:                            $3,276 (30 year fixed at 5.75 percent)
Therein lies the problem.  74 percent of the household income is going to go to the home payment.  First, FHA would never finance this loan but you can see how some areas are still over priced.  The median price is $390 per square foot.  So let us look at some rental data.  I pulled up this rental in the same zip code:
This home according to the $390/per square foot price would sell for $404,820.  There is a big difference between $3,276 a month and $2,150 a month.  And that is the disconnect.  Until these markets reach more realistic valuations, the bubble will continue.  Yes, owning a home will always be more expensive than renting but by how much?
Another method of valuation is the income method.  I use this method on investment properties.  First, what you need to do is take a look at the cash flow situation:
(Property gross income) – (All expenses excluding the loan payment) = NOI
So let us use that rental that we found.  Most real estate investors will tell you that expenses will cost anywhere from 40 to 50 percent.  Yes, they do run that high.  Let us use 45 percent for expsenses:
($25,800) – ($11,610) = $14,190 NOI
Now what do you do with this number?  Depending on local area "capitalization rates" you can find a price that an investor would pay.  Let us assume a cap rate of 6 percent which by the way is in line with national rates:
$14,190 divided by .06 = $236,500
That is a long way from the $491,000.  Now why is that?  Well you have to refer to the initial chart in this article.  There is still this implicit belief that California will once again out pace national appreciation rates well into the future.  So not only are you paying for the income of the property, but you are speculating on the appreciation of the home.  The Alt-A and option ARMs played into this speculation perfectly.  These loans were never designed for the long-term and were developed for short-term usage (as in flipping a home).  With no appreciation or stagnant prices, why would the premium still exist?  That is the question for the next few years.
Either way, it is important to understand real estate valuation because ultimately, you can run these numbers yourself to see if a home is valued at the right level.  Someone screaming that this is the bottom with no evidence is no better than the person saying the bubble prices were justified.  In fact, it may be the same person.
Did You Enjoy The Post? Subscribe to Dr. Housing Bubble's Blog to get updated housing commentary, analysis, and information.