Getting lost in the numbers is an easy thing especially with the magnitude of numbers being tossed out by Wall Street and our government.  I think many in the country have just become apathetic to "billions" or "trillions" of dollars being thrown around as if this was a common part of daily dialogue.  When California had its first budget fiasco with the housing market imploding a few years back a few billion dollars captivated the attention of the state for months on end.  Today, even the prospect of a $28 billion deficit hardly seems to garner any attention.  At a certain point people want more bread and circuses even if nothing has really changed in the underlying fundamentals of the economy.  1 out of 5 mortgages in the US is either underwater, in foreclosure, or modified but not making any payments.  In fact, today we have the largest number of distressed properties on the books.  The only reason the numbers have fallen is because of the "dirty current" mortgages that are modified and are now temporarily in the performing bucket.  Yet these default at 50 percent or higher rates so it is more can-kicking behavior.  If we even do a cursory look of MLS foreclosures on a US map we realize that housing problems are still largely present.
Here is a map courtesy of Google showing active foreclosures: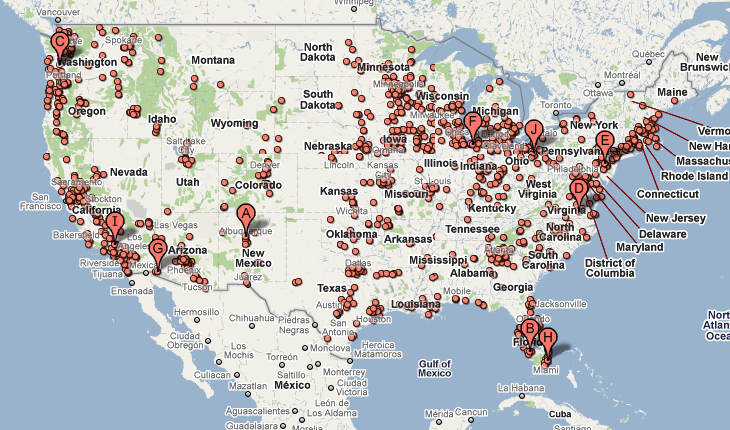 Google now offers this great feature that can overlay onto Google Maps and allows for the mapping of MLS active foreclosures.  What are you looking at above?  What you are seeing above is 5.2 million Americans living in homes that are now 60, 90+ delinquent, or bank owned.   The above is the equivalent  of a MRI scan on the housing market.  Nationwide things are as bad as they have ever been.  So you have to ask where all those trillions of dollars that were supposed to help the housing market go?
But I wanted to focus our attention on California and the current state of the foreclosure market.  As of today, California has 372,486 homes in the foreclosure process:

What is interesting is the MLS lists:
For sale by agent:                            201,000

For sale by owner:                           477

New construction:                           3,360

Foreclosures:                                     99,000
So 273,486 homes are in the foreclosure process but flat out don't appear on the MLS.  Now some don't appear for obvious reasons because they might be in the notice of default stage or are scheduled for auction.  But we know that banks are merely dragging their feet and these will hit the market at some point.  What you are feeling right now is the transformation of our banking system into Japan.  The attack of the zombie banks.  It was one thing for academics to look at Japan and their lost decade(s) and think they would be able to avert something similar here in the US.  Instead, it looks like we have now turned our banking system into a mirror image of Japan.  Heck, we're even doing Quantitative Easing and they pioneered this practice!  Banks are allowed to pretend that homes are still worth their peak prices while a slow intravenous transfusion of taxpayer dollars is pumped out from most Americans.
One thing I find amazing is how some economists in the US claim "well look at Japan, they were able to hold unemployment down to below 5 percent for all this time so it wasn't that bad."  That is absolute distortion.  First, Japan has nearly 1 out of 3 workers employed in what can be considered a part-time or contractual basis.  In other words, they are similar to our "part-time workers" that are seeking full employment but can't because there are no jobs.  That is why we now have 9 million Americans working on this status versus 15 million officially unemployed.  And many that are being hired in these last few months for retail season will be let go in early 2011 as is the case every year.  Yet when the tide recedes will there be real jobs there?  In fact many are going after same day loans simply to tide them over.
I bring this up because it is important to realize the economy is not recovering at least not in the sense of what many would expect.  A good jobs boom is nowhere to be found and in past recessions this was usually the case when we emerged into recovery.  Right now you are seeing banking and corporate profits skyrocket because employers can hold wages lower or simply sell to now booming economies like Brazil overseas.  You should always remember this when you think of where the bailout money went that was supposed to help the typical American and support the domestic economy.  Money knows no nationality yet banks played on the "if we get no bailout the American economy is doomed!" mantra and managed to rob the public blind.  Just look at the foreclosure chart above!  Can it be more obvious where the money went (or didn't go for that matter)?  Do people even care?
It is amazing how quite the "real estate is recovering" crowd got after the gimmicks and tax credits ran out for housing.  Of course here in California home sales have collapsed in similar fashion to what we saw in the early months of the housing implosion.  Home prices are going to fall.  That is all but certain.  The question that remains is by how much?  I get into this debate with a few colleagues that think that in high priced markets everything is okay because people are still cruising around in leased BMW M3s or Mercedes AMGs.  We have shown time and time again that foreclosures are now popping up like pimples on a teenagers face in these markets.  If you want a visual, the fantastic Google Map foreclosure options now allows you to see foreclosures for a certain price range.  Let us only look at foreclosures above the $500,000 price point in SoCal: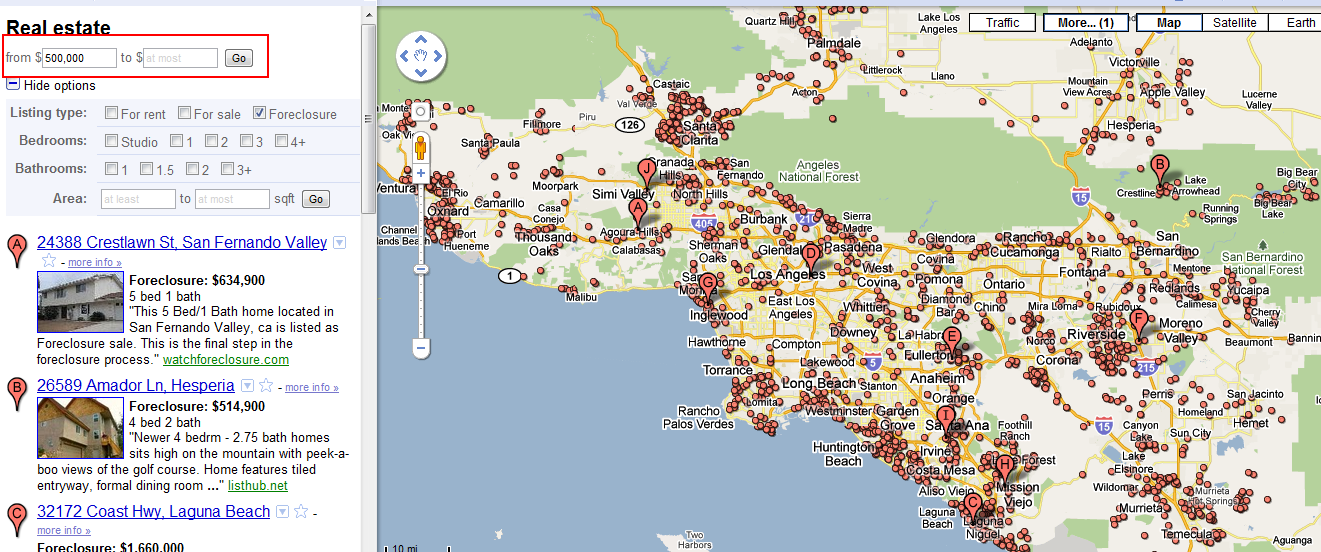 And this is only for MLS listed properties!  Hell, your neighbor might be one of those dots.  The odds are 20 percent nationwide and in California, it is closer to 3 out of 10 mortgage holders.  You know why there is little good news on the housing front?  Just look above and take a wild guess.  And if you think a bunch of people working retail or part-time jobs are going to soak up that $500,000+ inventory then the above maps and data are probably meaningless to begin with.

Did You Enjoy The Post? Subscribe to Dr. Housing Bubble's Blog to get updated housing commentary, analysis, and information.