The flood of investors into the real estate market is no tiny trend.  This has been a big force in the market for a few years now.  Someone in the real estate industry commented in an e-mail that FHA buyers are viewed as the new subprime when it comes to the hierarchy of buying a new home.  They didn't mean this in a derogatory sense but meant that if they have an all cash offer with a quick close versus a loan with high leverage, chances are the all cash offer will win out.  This is simply the case in this low supply market where the last thing people in the industry want to do is extend the process trying to close on a property only to see it fall out of escrow.  With an all cash close, you can get the deal done rather quickly.  We've never seen this level of institutional buying in the housing market for this prolonged of a period.  What are the implications of Wall Street's current fascination with rentals?
Locking up supply for years to come
There was an interesting piece discussing this trend with JPMorgan diving into the rental party:
"(Bloomberg) New York-based JPMorgan, whose private bank oversees $877 billion, started pooling investments from its clients in mid- 2012 into a partnership to purchase distressed properties, betting that prices will rise over the next several years and provide investors with income from renters along the way, said Lyon. The firm uses a third-party manager to find homes, buy and manage them, he said, declining to name the firm.

The goal is to sell the houses within three to four years in one of three ways: through an initial public offering of a real estate investment trust, a sale to an existing REIT or to an institutional buyer such as a pension fund, Lyon, who's based in San Francisco, said. Clients will receive a share of any price appreciation depending on the size of their investment."
I find this interesting.  First, we know that banks have prolonged the foreclosure process although it has somewhat improved in the last year as banks are selling into the current momentum.  In California the average time to foreclose is 277 days (once the NOD is filed which is dragged out to begin with):

Then you have the current strategy of some of these big banks.  JPMorgan for example plans on selling these properties to other big investors in three or four years.  In other words, this is housing stock that is being taken off the market to retail buyers for a solid three to four years and then what?  If other big money purchases the portfolio these properties are taken out of the supply chain for well over half a decade.  We also realize that many buyers with FHA insured loans are being pushed aside for the investor buying crowd.
All cash buying is a big part of the market: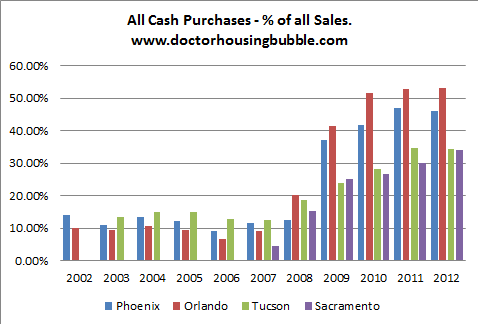 It is rather apparent what is going on and what we have been saying for a very long time is being seen by many:
"(DQ News) This fledgling housing recovery has momentum. Already, price hikes have caused some to question whether it's sustainable, whether it's a 'bubble.' Let's not forget, though, that we're still climbing out of a deep hole from the housing downturn. Regional home sales remain sub-par and prices in many areas are at least 30 to 40 percent below their peaks. That's not to say we don't see risks. Sharp price gains can attract speculation, which could lead to unsustainable, short-term gains in certain submarkets. A lot of today's housing demand is fueled not by spectacular job growth and soaring consumer confidence, but by super-low mortgage rates and unusually high levels of investor and cash purchases. Take away any one of those elements and it will matter," said John Walsh, DataQuick president."
Keep in mind this is being said in a release where the SoCal median home price is up a whopping 23.5 percent on a year over year basis and home sales are up over 10 percent.  Another aspect of the investor pool yanking supply from the market includes unique loans to high net worth clients:
"While buying single-family homes to rent is among "the smarter ways to invest going forward," Pastolove advises wealthy clients to buy the properties to rent themselves if they are able. Morgan Stanley isn't purchasing homes or managing them; instead it's making loans to high-net-worth customers at rates lower than a typical mortgage, and using their investment portfolios as collateral. That provides people the capital to purchase investment properties, he said."
In other words, wealthy investors are using their investments as collateral for cheap loans to go out in the market and scoop up homes with what appears to be an all cash purchase.  In reality, they are leveraging their investments to purchase real estate.  Others are using funds to buy and flip.
Total housing inventory is very low.  However, we have noticed some month-to-month increase nationwide but this is minimal.  Year-over-year inventory is down well over 23 percent.  As was stated above, much of the current push is coming from big money investors and people leveraging up with low interest rates.  It would be great if household incomes justified this kind of increase in values instead of massive rate manipulation and hungry yield chasing funds.  There is a mania going on because we are seeing multiple offer situations, contingencies removed, presentations to win over sellers, big bids over asking price, and the sense of "if I don't buy today, I'll be priced out tomorrow."
So if you are out in this market, make sure to bring a briefcase full of cash.  Sounds like a rational housing market, right?

Did You Enjoy The Post? Subscribe to Dr. Housing Bubble's Blog to get updated housing commentary, analysis, and information.