One of the consequences of rising home values is that housing affordability has once again fallen dramatically.  This might not dampen the unrelenting pace of investor buying but it will certainly impact the typical American family looking to purchase a home.  While typical households are feeling the impacts of higher rates and spiking prices through lower housing affordability, investors continue to buy up properties.  The impact is dramatically seen in the drop of refinances and also, purchase mortgage applications.  Keep in mind that each increase in home values not accompanied by a rise in household income means affordability falls for most Americans.  The mainstream press simply assumes that everyone is participating in this housing rally.  In reality, most have underestimated how much investor buying has occurred over the last few years.  The housing market is actually hitting a few constraints as prices rise in the current.
Housing affordability plunges
Housing affordability peaked in 2012 and has now been falling dramatically as home prices surge upwards: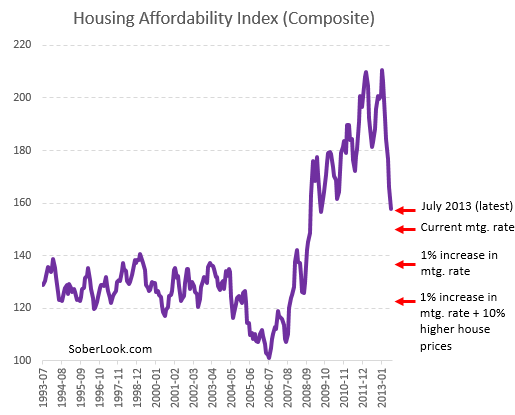 This is an interesting chart if you consider the moves in the mortgage market.  The housing market is heavily conditioned on low interest rates.  Small increases of even one percent are enough to pummel housing affordability even lower.  Since it is becoming apparent that wage growth is difficult to come by, the Fed has tried to juice up demand via low rates.  It has inspired investors, there is little doubt about that, but what about the benefits for regular households?  The above chart seems to suggest that housing affordability is simply falling as home prices surge courtesy of investor buying.
One obvious consequence of this constraint is seen though the massive drop in the homeownership rate: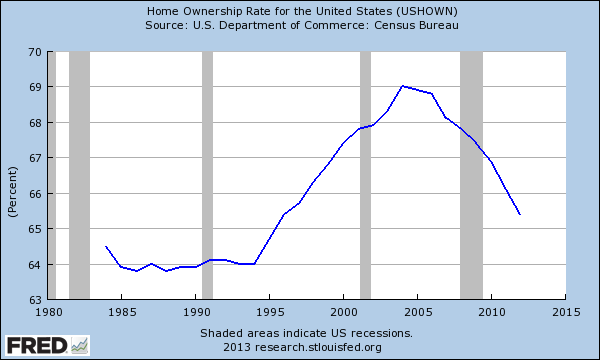 The homeownership rate is now back to where it was in the mid-1990s.  If we considered those in a negative equity position as well, the homeownership rate would be inching closer to generational lows.  Does it matter that housing affordability is falling so quickly as home prices rise by the double-digits while income growth is nowhere to be found?
We are starting to see a slowing down in price increases as we reach the upper-bound of these constraints: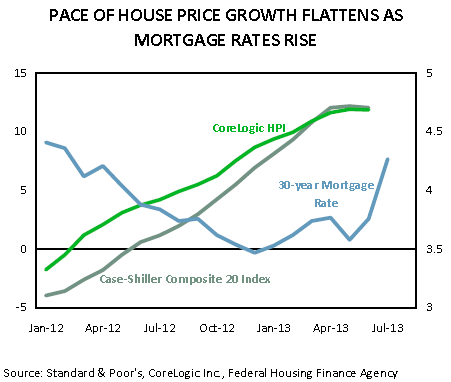 Since sales data usually lags 45 to 90 days as home sales close escrow, we are likely to see the impact of higher rates hit in the middle to late fall.  Keep in mind with higher rates as well, many investors may be tempted to purchase safer bonds instead of trying to chase 3 to 4 percent yields in some real estate investment markets.  Some investors are already showing signs that their investment may not be as lucrative as they once thought.
All of this adds evidence that the Fed is essentially rearranging the furniture in the same house.  Most Americans are not benefitting from this real estate appreciation because most of the buying has gone to real estate investors.  As incomes go stagnant in a globally hyper-competitive market place, rising prices in home values brought on by investors isn't necessarily a good thing for most Americans.  You want to see slowly rising home values accompanied by solid economic growth and wage growth.  That has not happened.  Artificially lowering interest rates via QE by ballooning the Fed balance sheet to over $3.5 trillion has been a big windfall to investors and is not exactly what you would call a "free market" system.  It isn't entirely clear that this has helped Americans and dropping housing affordability is not a positive.  So the ultimate goal of artificially low rates was to transfer real estate assets from regular families to banks and hedge funds?
The affordability index takes a look at median home prices, median income, and current home rates.  There are other factors to look at but it gives us a bottom line on how the housing market is playing out for most Americans.  From the looks of it, it is an odd thing to say that rising values are not exactly a positive in how things are panning out.

Did You Enjoy The Post? Subscribe to Dr. Housing Bubble's Blog to get updated housing commentary, analysis, and information.