Younger Americans, especially recent graduates are starting to question the limits of debt.  Many are paying incredibly high prices for a college education and are living through a decade where most of the financial pain around the world was brought on by misuse of debt.  Some of these younger Americans have seen their family's household wealth plummet as they witnessed housing values crater while the debt secured to the following asset remained the same.  The challenge being faced by many younger professionals is that there is very little in between in America in terms of good paying jobs.  You either have a solid professional skill, this usually requires a college education, or will be left searching for low paying work in service sector jobs.  First things first, many younger Americans are simply going to college and taking on incredible levels of debt.  In California tuition prices are rising even though incomes have remained stagnant.
The price of a UC education in California
California has one of the biggest public university systems in the world.  Many of these schools are well known and respected around the globe.  Demand for these institutions are at all time highs even though costs have tripled in the last decade: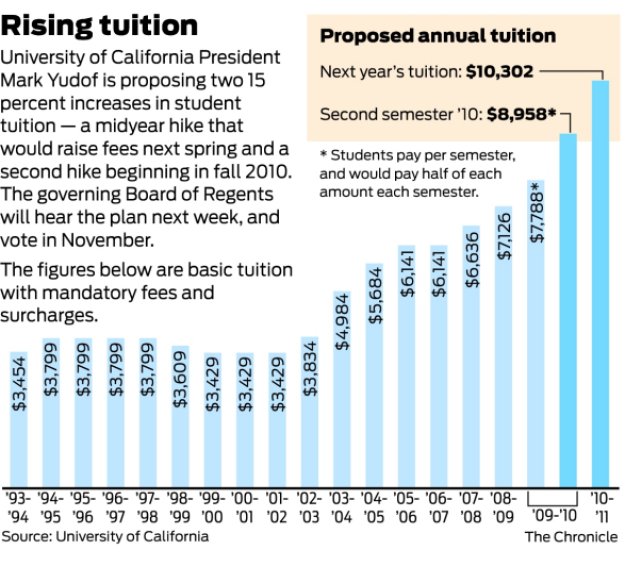 Source:  The Chronicle
Now there are a few options when it comes to paying for college.  You have grants, scholarships, money from mom/dad, and finally loans.  Loans are now becoming a larger part of the equation.  In 2012 we are set to break a troubling record in that student loan debt will grow beyond the $1 trillion mark.  With this large amount of debt many recent college graduates are going to have a harder time stretching their wallet to purchase a home.  Since household income has gone stagnant for a decade, many households are unable to pay for college without going into additional debt.
The debt load piles on and many recent graduates are entering a very tough employment market.  For each good paying professional job that is out there (i.e., engineering, healthcare, etc) you have multiple jobs in the service sector and these rarely pay enough to purchase a home even a lower priced one.
I recently put together data on the employment status of Americans under the age of 25 with a college degree: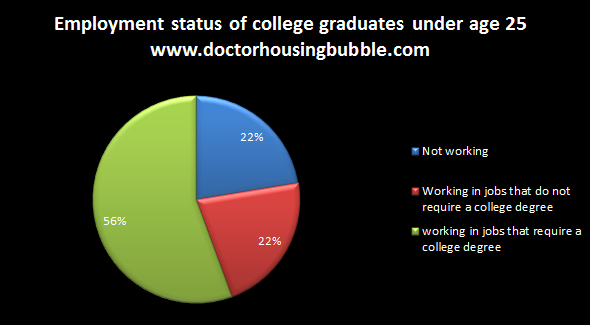 You have 22 percent that are still not working and another 22 percent that are working in jobs that do not require a college degree.  Yet the student debt still needs to be paid off so it is highly unlikely that this group will be purchasing a home anytime soon.  You see public universities like the UC starting to hike tuition yet you have private institutions that charge upwards of $50,000 a year.  Some of the horror stories coming out from the college debt world are truly astonishing.
California becomes an older state:  A U.S. trend
California is becoming an older state.  Many students that go to institutions like the UC are likely going to stay in California.  Demographic trends will create an environment where older Americans will be handing/selling off real estate to younger Americans: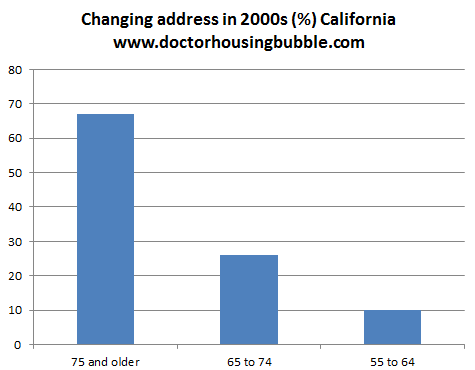 As the chart above highlights, many older Americans do become active in real estate at a later stage in life for a variety of reasons.  The next big group to transition is the baby boomer group.  The big challenge I see is that you have a more affluent baby boomer group that purchased homes at more affordable levels selling to a less affluent young American group that is dealing with still high prices of housing and more levels of debt.  Take a look at home prices versus the cost of a UC education to compare: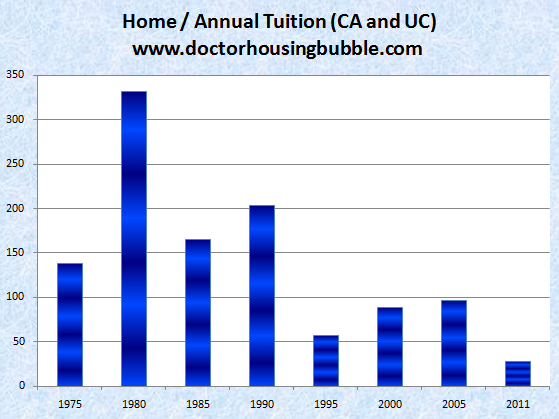 In 1980 a California home would buy over 330 years of UC education.  In 2011 it bought approximately 30 years.  Both college tuition and housing has far outpaced earnings hence the usage of massive amounts of debt.  Yet at some point, you reach too much debt just like we did with housing.  We are quickly approaching that level with college.

Did You Enjoy The Post? Subscribe to Dr. Housing Bubble's Blog to get updated housing commentary, analysis, and information.