You wouldn't know it by listening to current headlines but the economy in March was inching closer and closer to its own zero bound.  Since that time the market has put together one of the fiercest rallies in U.S. history.  We would have to go back to the Great Depression to find a similar rally.  There are wildcard factors at play right now.  The U.S. dollar is inching closer to the lows of 2008.  The stock market is getting closer to the pre-Lehman Brothers days.  The U.S. Treasury and Federal Reserve have put together a ragtag package of bailouts that have no historical precedent.  We should expect the unexpected in the path ahead.
One issue rarely talked about is how the weak dollar is going to impact foreigners buying real estate.  For the most part, I'm not sure how much of an impact this will have on residential real estate.  With commercial real estate we may see a good amount of buying if the dollar continues to get pounded.  Yet it is important to look at what currencies make up the U.S. dollar index: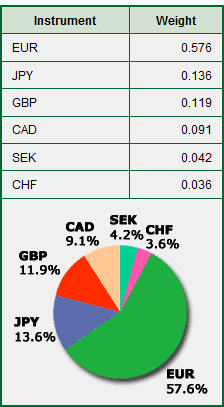 Source:  Akmos
By far the largest weighted currency is the Euro.  Yet many of the countries within the basket that make up the U.S. dollar index are facing their own demons.  That is why I am hesitant to think the dollar will simply fly off a cliff while every other currency goes up and foreigners suddenly get an urge to buy up every Real Home of Genius on every corner of America.
What is fascinating is how connected the U.S. dollar and stock market have become.  I was unable to find charts that overlay the S&P 500 and the U.S. dollar index so I matched them up to give you a clear perspective of what is occurring: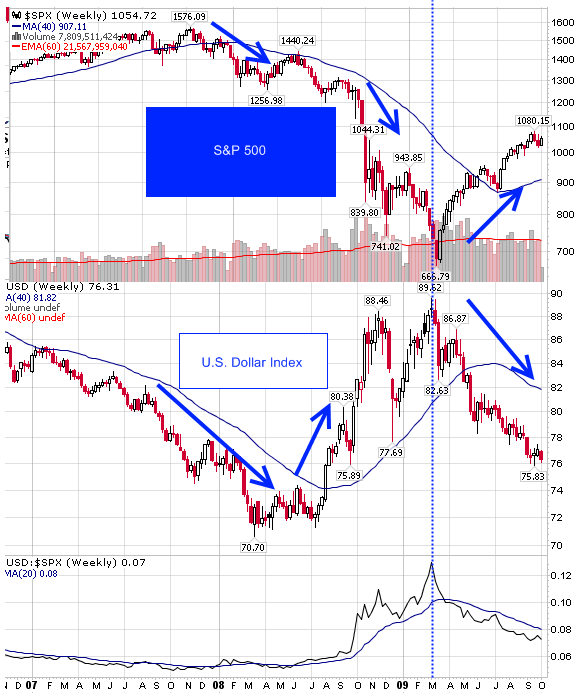 As the chart above highlights, the dollar had been falling hard for all of 2007.  When the market peaked late in 2007, both the dollar and stock market fell in the U.S.  This was the brief period of decoupling or belief in this misguided notion.  This lasted until the dollar bottomed out at 70 in early 2008.  But after that, the world re-coupled and the U.S. dollar soared up until the March 2009 stock market low.  For this period, the stock market was tanking but the U.S dollar was going up.  To twist your mind further, since the March low the stock market has moved lockstep in opposite directions from the dollar.  It is a near perfect match!
Unfortunately the U.S. Treasury and Federal Reserve are doing everything they can to damage the dollar.  In fact, the only reason real estate isn't correcting faster is because of the artificial money being pumped into the system.  Forget about jobs (26 million Americans are unemployed or underemployed).  Ignore manufacturing: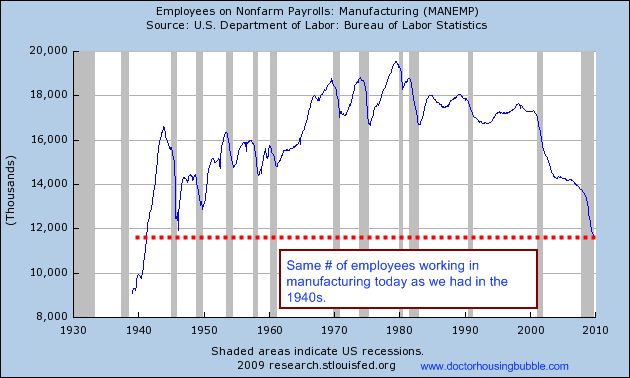 Right now the market is one giant easy money casino.  In fact, saving money is now on par to stuffing it into your mattress.  For example, let me tell you about U.S. Saving I-Bonds.  I've bought a few of these in the past as additional diversification to my investment portfolio.  The idea with I-bonds is they will keep up with inflation and pay a fixed rate.  Well over time, that fixed rate has slowly disappeared: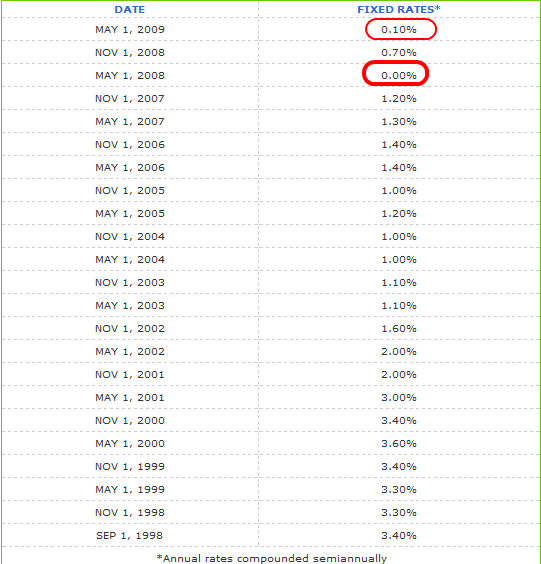 Okay, well at least we have the compounded inflation rate right?

That's right!  The CPI had deflation.  So for the first time ever the I-bonds are now paying the awesome rate of 0.00%.  Bwahahaha!  The U.S. Treasury issues these products.  If they really wanted Americans to save they could up the fixed rate.  Instead, they cut the amount of these you can buy to $5,000 a year from the previous $30,000 a year and then make the rate so unattractive that putting money in your shoes seems like a wise investment move.  Get the hint?  They don't want you to save.  They want you to blow every penny you have on cars, homes, and every other consumer hamster gimmick you can think of.  Only problem, the consumer hamster is reaching retirement and is loaded up with Prozac and Red Bull and is about to collapse.
I would show you the big bank savings rate but suffice it to say they are offering basically 0 percent.  However, banks are now making good dough on the difference between what they borrow and what they lend even with historically low mortgage rates: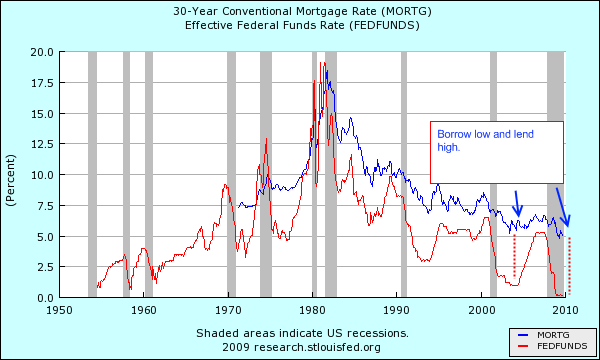 Thanks to the trillions in taxpayer subsidies, banks are able to borrow for virtually zero and lend out at much higher rates.  So any rate above zero is a gain.  And since banks can now be picky regarding customers, they are experiencing some crazy yields.  If you want an idea why banks made enormous profits this decade just look at the Fed funds rate.  Yet this is now all coming at a cost.  The U.S. dollar has lost over 40 percent of its value since 2002.  How this will play out in housing will be interesting to see.
The U.S. Treasury and Federal Reserve seem to want an outcome that does the following:
a.  Slowly devalues the dollar
b.  Encourages home buying and selling putting a floor on prices
c.  Reviving the financial and real estate industries
d.  Back to happy days
I doubt that is going to happen.  So much focus has been devoted for 21 months since the recession started on the banking industry bailouts that I think the Fed and U.S. government have forgotten that you need good paying jobs to make a sustainable economy.  It is interesting to follow the rhetoric of Fed officials about pulling stimulus out of the market.  They claim success but for who?  Sure banks and their profits are back up but has the economy fundamentally corrected?  It just shows you how out of touch they are with those on the ground.
With commercial real estate and Alt-A and option ARMs coming on stage in 2010 in a big way, I still think we haven't seen the end of this recession.  Technically we may be out of it already but that is because of the massive stimulus juice.  We are assured a double-dip with the trillions in bad debt still on the books.  If you travel the country you will find some strip malls that are simply empty.  Some newly build CRE has never been occupied.  Will it ever?  Those loses are still coming forward.
One of the many unintended consequences of the U.S. Treasury and Federal Reserve is falling rents created by the $8,000 tax credit, rising unemployment, and problems with CRE.  For example, many failed condo conversion projects are simply going back to being apartments thus adding inventory to the already saturated market.  Also, many people are consolidating households to make ends meet.  Given that owner's equivalent of rent is the biggest component in the CPI, we may see additional pressure on the downside here.  In other words, the needed inflation won't show up in the data.  Let us watch this closely because the reporting agencies might try to play fast and loose with the data here.
With lower rents there is less incentive to buy in today's market.  You need to remember that over 40 years of data shows us an average 30 year mortgage rate of 9 percent or nearly twice as high as the current rate.  You might be able to buy that home at the low rate with massive tax credits but what happens when you sell in 3, 5, or 7 years?  You think the Fed can keep rates this low with the coming baby boomers drawing like crazy on Social Security, Medicare, and other entitlements?  Just saying, but zero percent seems awfully low for all that risk.
Did You Enjoy The Post? Subscribe to Dr. Housing Bubble's Blog to get updated housing commentary, analysis, and information.