So much for the 420-point rally. The euphoria only lasted one day and volatility is going haywire in every market including a massive sell off in commodities. So much for juicing the credit markets with another rate cut. I've been seeing an argument being thrown around that having two 400+ point days in two consecutive weeks is good. Unfortunately, we are still hovering near yearly lows and we are nowhere close to the peak of 14,198. Volatility as we are seeing in the current market is significant in telling us that the market is not doing well. Aside from perma-bull thinking that we are hitting support levels, we need only look at yes, the Great Depression to show us that in the worst economic markets we see the fiercest single up and down days. Take a look at the most significant one day gains and losses as a percentage of the total market for the DOW: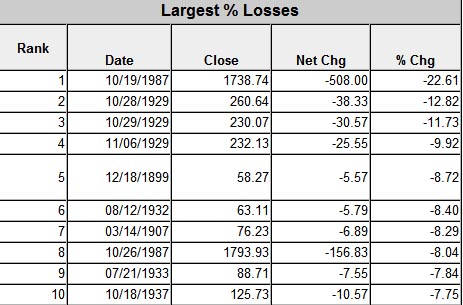 If we are simply to look at the data, we realize that six of the top ten single down days for the DOW occurred during the Great Depression. We also have the panic of 1907 and of course the largest one day drop in 1987. There is a reason that they say the bigger they are, the harder they fall. Let us now look at the largest single day gains: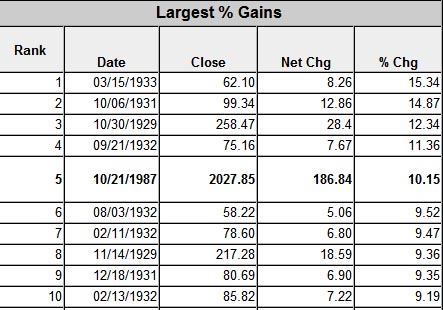 Amazingly, the most positive single day DOW gains occurred during the Great Depression. In fact, nine out of the top ten single day gains occurred during this era. Obviously having major up and down days is not exactly a sign of confidence or a rosy red economy. In fact, it only tells us that the market is still unsure of itself like a self-conscious teenager. You'll also notice that the Great Depression didn't happen overnight but slowly unfolded over four painful market years. Many are now whispering that we may have our own lost decade like Japan. After all, we are looking more and more like we are approaching a zero interest rate policy. The incredible irony of this is that as the Fed has chopped rates to the ground, mortgage rates are barely moving. Take a look at the following graph that has the 3o-year mortgage rate plotted in relation to the Federal Funds Rates: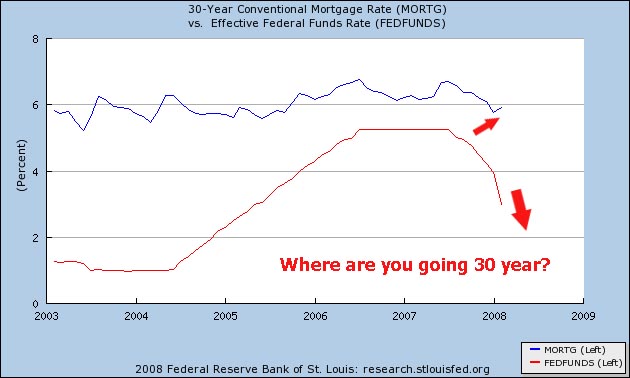 You'll also notice on the converse that rates barely moved as the Fed raised rates. Why is this? Well for one, you need to remember that the massive excess that occurred in the market during this decade was not necessarily in conventional mortgages but sub-prime, jumbos, and adjustable rate mortgages that did not track or did not have any impact from the Fed funds rate. Now, there has never been a direct linkage between these two items but historically a correlation has existed between these two items, that is until this housing bubble: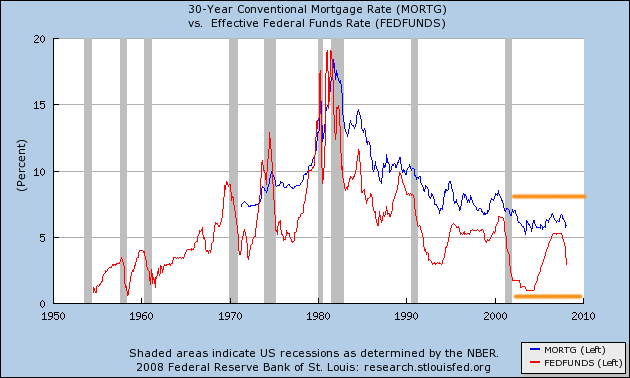 You'll notice this pattern rather clearly above except for the start of this decade. During this time, the 30-year rate has been stable while the Fed funds rate looks like a Magic Mountain rollercoaster. And in reality, this matters very little since many people were using unconventional financing to prime this housing market. There came a point in August of 2005 where 70+ percent of all homes in California were financed with adjustable rate mortgages. So why care about this rate now? It seems from multiple sources that the next push will be to look at Fannie Mae and Freddie Mac to pick up the slack in the housing market. Today, the capital reserve requirements were dropped on both of the GSEs and should allow them to pick up the slack on $200 billion worth of mortgages. Yet if you read between the lines, what they are also saying is that the Fed has proven completely impotent in helping this market. In fact, all they have done is put the seeds for future inflation into the ground and also, have kicked the dollar in the gonads and for what?
Paul Volcker and Charlie Rose Saving The Economy and his Mac
Things are getting downright dirty in the economy. On Monday, Charlie Rose interviewed former Fed Chairman Paul Volcker. The interview is online at the Wall Street Journal Economics Blog: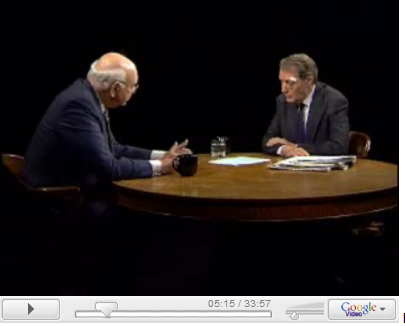 *Click to watch full interview
Here is an exchange from the interview:
"Volcker: We've seen the Federal Reserve take more extreme measures in some respects than any that have been taken in the past to deal with a financial crisis, which raises some real questions about not only for the Federal Reserve and its authorities, but for the structure of the financial system… The Federal Reserve is designed to lend to banks. And the banks were considered to be at the center of the financial system, and lend liquidity, provide cash in return for good assets, when a bank got in trouble. Now they found in this case, where some of the investment houses were in trouble, and prototypically Bear Stearns … it's lightly regulated by the SEC or some other, but not for the same reasons. They haven't got the concern over the stability of those things….We're going to lend to them and protect them, shouldn't they be regulated?
Rose: Is it a wise precedent?
Volcker: Whether it's wise or not depended upon how severe this crisis was and their judgment about the threat of demise of Bear Stearns. That's a judgment they had to make and an understandable judgment. There is no question about it."
In the interview, Mr. Volcker goes on to say that Fannie Mae and Freddie Mac need to step up to the plate. Keep in mind that this is no bubble blowing Greenspan or Bernanke; Paul Volcker jacked up rates to the moon to fight inflation and has been generally credited for reigning in inflation that was in the double-digits. In fact, many when recalling Volcker also remember restaurant menus with white stickers that were placed over old prices on a nearly monthly basis to adjust for prices. The interview is well worth your time and generally speaking, Mr. Volcker is optimistic about our economy but does see a soft patch hitting us. I think we have much more than a soft patch but I guess one doesn't talk ill of their previous post especially when so much criticism has been leveled against the Fed, both rightfully and sometimes unjustly.  Bernanke is no Volcker.
But did you notice something more ominous in the image above? Take a look at this;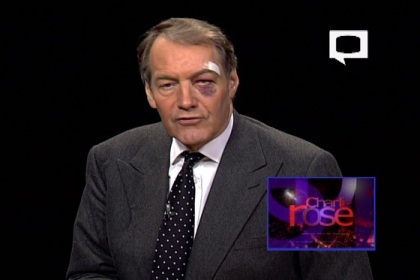 Did Mr. Rose throw down with Mr. Paul Volcker after discussing the need for more aggressive rate cuts? Nope. It turns out that in a time of protecting assets, Mr. Rose did what any person would do. He sacrificed a little pain to save his MacBook Air:
"The host, whom Arrington says is a gadget-hound, was carrying his new MacBook Air, and thus he had a big decision to make: Protect his face, or the beautiful machine? In the split-second before he kissed the pavement, Rose chose to save the computer.
"In doing so, he pretty much hit the pavement face first, unfortunately," producers told Arrington.
Producers say the MacBook Air was undamaged, save for the blood stains."
Glad Charlie is all right since I really enjoy his show. For a moment there, I thought Paul and Charlie decided to take it to the street, the Wall Street.
Did You Enjoy The Post? Subscribe to Dr. Housing Bubble's Blog to get updated housing commentary, analysis, and information