When investors look at markets they factor in a multitude of variables.  Large investors were looking at capitalization rates and also local economies when buying rental property.  For the first time in US history did we have a nationwide effort by large investors to buy up single family homes.  This of course has caused a big dip in overall available inventory but has also pushed many home builders to focus on what the market was demanding which turned out to be more rental housing.  The Los Angeles metro area (which includes the OC) has some of the weakest value for rental investors.  This for a region where the majority of households rent.  For example, the entire LA metro area has 19.7k homes for sale with a population of 13 million.  Compare this to the D.C. metro with 19.2k homes for sale but with a population of 5.6 million.  This is why you see some zany behavior when it comes to buying.  But how do things look for the largest metro areas in the rest of the US?
Top metro area housing metrics:  Case Study for investors
I've had contact and worked with many real estate investors that have bought homes to rent out.  To a lesser degree I've also chatted with rehabbers and flippers.  One thing both groups have in common is they both want to make money.
A common rule of thumb investors will use in valuing property is taking the purchase price of the home and multiplying 1% or 0.9% and trying to use that figure with expected monthly rental rates.  For example, here is a hypothetical case for a property valued at $200,000:
$200,000 property x 1% = $2,000

$200,000 property x 0.9% = $1,800
Assuming you could get rents between $1,800 and $2,000 a month, this would likely turnout to be a decent rental.  Of course there are many other considerations including local economy, growth, taxes, insurance, and maintenance but many investors use this similar to a P/E for valuing stocks.  This approach certainly has a better approach than using absurd mega down payment scenarios.  Let us demonstrate with a case.  For example, take a $1 million crap shack in San Francisco.  Say you bought last year with a $200,000 down payment: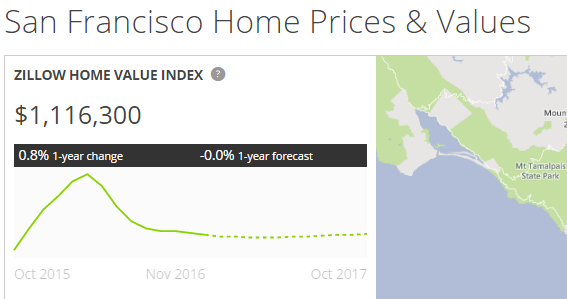 The market definitely looks like it is peaking.  So equity gains for this year are neutral.  But you could have stuffed that $200,000 down payment in an index fund tracking the S&P 500 starting in January and you would be up $40,000: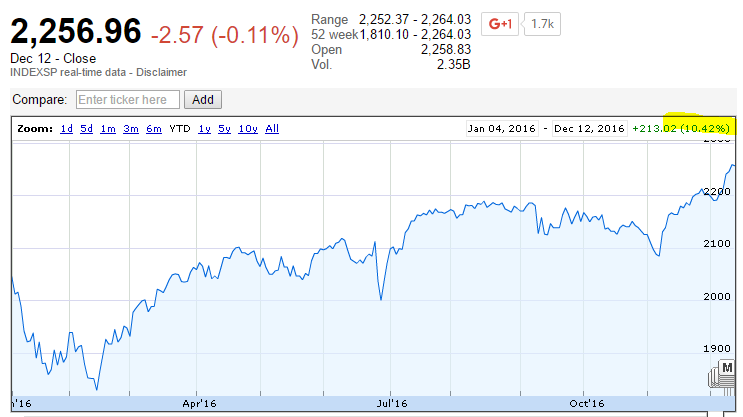 Of course house humpers and gut busting Taco Tuesday baby boomers fail to mention alternative scenarios or use convenient starting points – they also fail to mention that 7,000,000 people lost their homes to foreclosure since the crisis hit, including 1,000,000 alone in California (goes against the simple real estate mantras).  A large part of gains in places like California are largely built on perpetual appreciation.  Of course much of this appreciation has come from house horny buyers.  Investors largely pulled out of the California market in late 2014 and 2015.  What we have left is the manic buyer.  Take a look at the data for other parts of the US: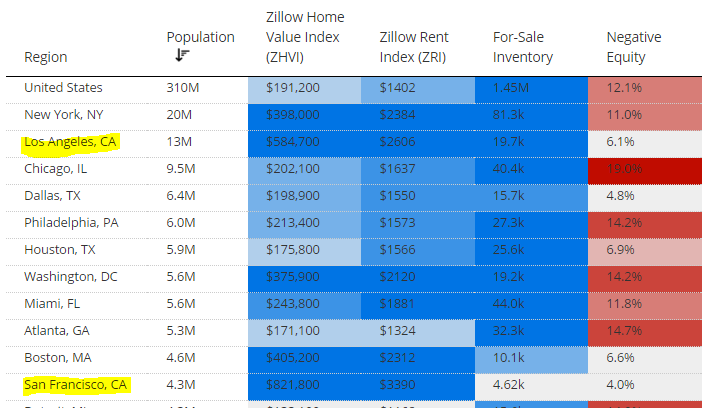 If you run the rule of thumb numbers for many of these areas like Chicago, Dallas, Houston, Atlanta, and Philadelphia you get pretty close to the 1% figure – although even here you can see things are getting frothy.  But look at freaking Los Angeles:
$584,700 Zillow Home Price Index with a Zillow Rent Index of $2,606 (this is a 0.45% ratio here!)
And keep in mind low interest rates apply for the entire country.  So an investor looking to leverage their value is going to look elsewhere.  That is why some of the hottest markets are in places like Texas: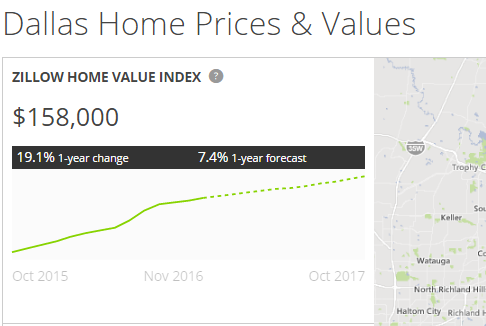 So while San Francisco has been neutral for the year, the Dallas market is up 19.1% for the year.  So do the math here instead of the "well I can paint my wall and water my lawn" emotional ploy here.  If you were an investor today, would you buy one $1 million San Francisco crap shack that would rent for $3,500 or $4,000 or five Dallas homes at $200,000 each that would rent for $1,800 to $2,000 each?
Here are a few scenarios over the last year:
San Francisco – your $200,000 down payment would have a neutral return and your gains would largely be from the principal pay down.  $1 million crap shack still worth $1 million.

S&P 500 – by doing nothing aside from eating Tacos and watching I Love Lucy, you made $40,000 without needing to unclog any toilets at midnight.  $200,000 now $240,000

Dallas – your $1 million in real estate is now up 19% plus principal pay down.  Your real estate is now worth $1.19 million for a gain of $190,000.
This is the math investors do.  For California, what you have is constrained inventory but also, households that are cash strapped on rents.  Foreign investors are still buying in niche areas but even in San Francisco, it has obviously slowed down.  In California, the market is predicated on perpetual appreciation.  When that slows so does the manic behavior.
For the most part, investors look to make money.  Just because you didn't buy the overpriced crap shack doesn't mean you are not looking at other avenues, including other real estate in other area or other investments.  In the last year the house humping cheerleaders seem to have ramped up their rhetoric.  Maybe living in a termite infested depression era built HGTV inspired nightmare with a gigantic 30 year mortgage isn't the dream especially when those gains begin to stall out.

Did You Enjoy The Post? Subscribe to Dr. Housing Bubble's Blog to get updated housing commentary, analysis, and information.