There is a subtle change happening in the housing market and I believe this is par for the course on how the second correction will transpire.  Take for example data on Southern California and the mix of foreclosures.  Back in November of 2008 the median sales price was $285,000 for the region and foreclosure re-sales made up 54 percent of all sales.  Fast forward to last month and you find a psychological shift occurring.  The median price for June 2011 was $285,000, the same as it was back in November of 2008, but foreclosure re-sales made up 33 percent of all sales.  What does this mean?  It means sellers are slowly adjusting to reality that lower prices are the name of the game.  The drop in foreclosure re-sales is a good sign but what it also means is that delusional home owners looking for bubble prices are quickly getting a wakeup call.  I think psychologically it is hard to go from feast to famine rather than the other way around.  As a bear investor I'm wired to prepare for tougher seasons while many bulls are looking for any sign that another housing bubble is around the corner.  I'm not sure if real estate especially in states with bubbles still going on will be a good investment in the current decade simply because I have found very little evidence of household incomes increasing.  Don't hold your breath that the media will do any thorough coverage on the stagnant household income trend over the last decade.
Nationwide foreclosures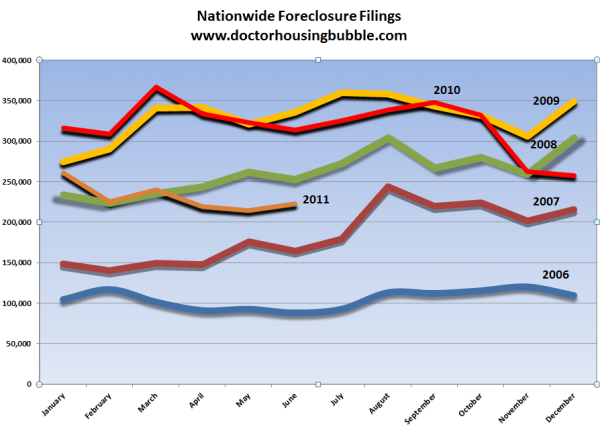 Without a doubt the number of new foreclosure filings has fallen for a variety of reasons.  First, we have the turtle like movement and stalling behavior of banks and the shadow inventory. This is largely the biggest reason.  However, this also ties in with the fact that we have been in this mess for well over four years (real estate prices peaked 5 years ago).  So banks are slowly leaking out inventory and given half a decade, of course the pipeline will slowly deflate.  You also have very little "new" inventory coming online over that time: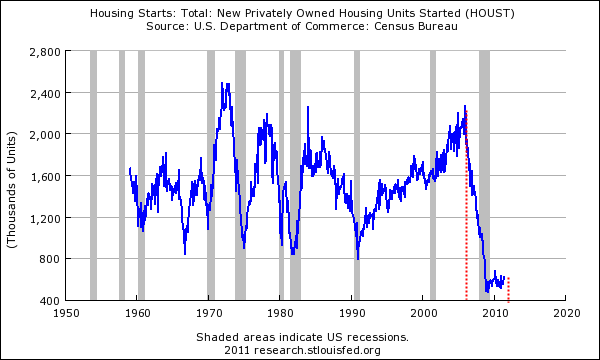 So the situation is such where lower home prices are the name of the game and banks are slowly trying to leak inventory out without the market really noticing anything significant.  So far real estate is following a very similar pattern to what happened in Japan.  This is not to say we are replaying the exact unfolding of events but the similarities come from the same types of behaviors; central bank easing, zombie banks, stagnant incomes, etc.  So even by looking at the charts above you have foreclosures trending lower while housing starts remained at historically low levels.  The Federal Reserve is hoping inflation fixes this over the longer run but that we shall see.  A comment was made on this balancing act:
Jason Emery

"Either by accident or design, the Fed is pulling off a remarkable balancing act. On the deflation side of the see saw you have falling housing prices, and other money/equity destroying enterprises like foreclosures, bankruptcies, etc.

On the inflation side you have ferocious money printing by the Fed, and monster sized budget deficits by the Congress.

Congress says they want a balanced budget, which would mean cutting federal spending by $1.5 trillion over the next 12 months, which would be a 10% decline in our GDP (from $15 trillion down to $13.5 trillion). Obviously, this is just posturing, since a cut of one third that size would push this recession were in into a deflationary crash, like 1929.

None of them have the slightest clue what to do, other than to keep playing this balancing act. Got gold and silver, lol?"
I'm appreciative of the smart conversation and commenters on this blog.  I think Jason has a good assessment on this situation.  The Fed is trying to inflate our way out of the debt and so far most of the money destruction has occurred on household balance sheets while preferential treatment has been given to the banks.  The inflation is coming from Manhattan but it is hard to see household inflation getting out of control in the sense of housing prices because mortgage payments have to be paid from some sort of income source that in theory is perpetual for 30 years.
If you want to see an area that has seen income destruction connected to housing values look at Detroit: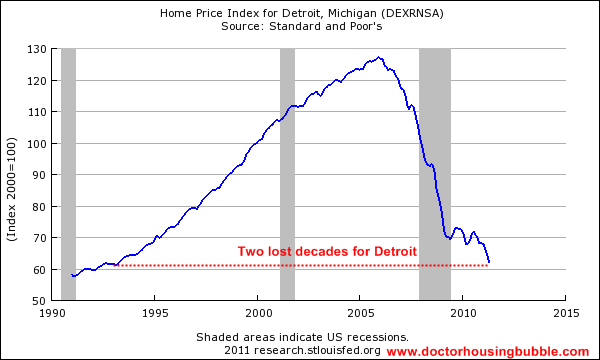 Detroit home values are heading back to levels last seen in 1990!  I'm sure you will find homes that go even beyond that.  Why is that?  First, you have a shrinking employment base (i.e., less income) so it shouldn't be a surprise that home prices have tanked.  Now every area has its own story.  Los Angeles as measured by the Case-Shiller Index also includes Orange County.  Overall the trend is still lower for this region as well: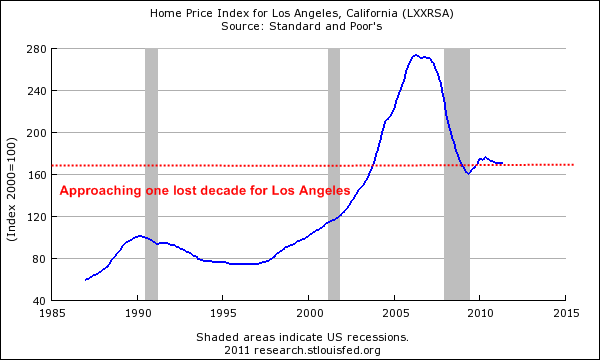 Home prices are now back to the early 2000s.  I think that certain markets in California still have a way to go before hitting a nominal bottom.  Some harder hit areas like the Inland Empire may be closer to bottoms based on income to price ratios but many areas eerily resemble micro-bubbles.  A lot of this drive is psychological in nature but psychology is not going to make your paycheck increase.  The Secret is not going to magically wash away our government debt.  It might make you feel better, which is good, but math has little sympathy for reckless spending.  Many people understand this regional difference well: 
EnZo MiMo

"Actually, peeps in So-Cal (and Manhattan, NYC) have been very, very sad, for a long, long time, BUT… they're trapped in the "hype-the-lemon-matrix", and thus have to PRETEND they're happy. i.e. they've sacrificed so much $$ to be in what they were told/sold as being the "Center of Chic/Center of Duh Universe", that even when reality prybars their backdoor and steals their Sharper Image shyt, they can't admit they "bought a lemon". Similar to Jaguar owners during the decades when that marque was stylish-looking caca."
This comment reminds me of the person I saw hauling out numerous dirty Hefty bags of aluminum and plastic right out of their Lexus SUV.  This wasn't just someone being conscientious about the environment but someone needing a few extra bucks.  Instead of selling the car, they rather hoard cans and plastic just to make the gas guzzler monthly payment.  Seriously, if you are that serious about the environment you might want to ease off on the 10 mile per gallon SUV.  On an evolutionary perspective this is similar to crossing the desert in layers of custom animal skins instead of dropping them because you think you look cool.  Many people in California would rather eat cat food than give up their mega-debt-stucco-box-zip-code-happy property or send in the keys to their luxury vehicle with satellite radio.  You might have a negative net worth but those 300 radio stations sure make up for it.
Even though foreclosure activity has fallen in California it is interesting to see that the bulk of foreclosures are still coming from the bubble heyday:

This is a very telling chart that is accurate to this week.  Just look at the activity over the $400,000 loan balance figure.  You have a large number of people unable to carry those intricate looking animal skins.  At a certain point it does become about financial survival and that is why I attribute the median price staying low while foreclosure activity decreases.  Many people in California are slowly waking up to the fact that we do in fact live in an economic desert.  A commenter summed up the pricing situation nicely:
dangermike

"Pricing is justified by carrying capacity which is in turn limited by wages.

If this fact were recognized, we would be in an entirely different economic landscape right now. Only by throwing caution to the wind and ignoring the tenets of proper risk management did prices grow so completely out of control.

The corollary is that the pricing correction should necessarily reflect wages. The problem is, middle class wages have been stagnant for 20-30 years. Realistically, they have been outpaced by inflation. So where my parents' generation was looking at house purchases of $25,000-75,000 on $20,000-40,000 of wages, my generation is currently looking at $350,000-500,000 on $50,000-100,000.

At the height of the bubble, here in OC, the median wages were around $62,000 per year while the median house price reached $640,000. The salary necessary to purchase the median house according to the aggressive side of traditional guidelines (20% down, no more than 1/3 gross income for payments) was achieved by approximately 1.5% of the population.

Even now, with the "fire sale" prices on housing, historical indices such as Case Shiller show us that prices are still 5-7x annual household wages. Historically speaking, this is pretty close to the ceiling against which prices would peak. So while the numbers might be working out to accommodate sales, there is nowhere to go but down."
This brings up many key points.  Many baby boomers now looking to sell out have to realize they are selling to a "poorer" generation.  Many are coming out with student loan debt levels that already rival that of a mortgage.  Given that many of the older generation run the money fountains (i.e., bank CEOs, politicians, the Ben Bernank) the focus is on protecting the problems of their generation.  Yet this narrow focus has only provided basically low mortgage rates and a false mantra that "real estate always goes up" but we now have many people waking up to this nonsense.  We no longer live in a cheap fuel world.  Younger generations may prefer mobility instead of the white picket fence dream which is rare to begin with in landlocked Southern California.  Since we have shrunken the blue collar middle class the only way to a life beyond subsistence is to go to college; and left with the option of a heavy mortgage or student loans I believe many will elect to go to school first (even as inflated as that bubble is right now in higher education).
No one ever said solving this problem would be easy.  Yet the reality that home prices are not going up in spite of lower foreclosures tells us that many sellers are simply waking up to the fact that indeed things are different this time.

Did You Enjoy The Post? Subscribe to Dr. Housing Bubble's Blog to get updated housing commentary, analysis, and information.