It is fascinating to witness policies enacted that punish the prudent and those who have been financially responsible.  I have been a fan of I Savings Bonds from the U.S. Treasury since they came out in 1998.  For those of you who do not know what an I Savings Bond is, it is a saving vehicle composed of a fixed rate and a rate that is indexed to the CPI.  They are marketed as low-risk and liquid savings products.  The lowest return you will ever receive on I Savings Bonds is 0 percent.  This would only occur if the CPI rate turned negative.  For the first time in 11 years, the I Savings Bond rate is 0 percent.
I want to focus on the I Bond because this product highlights many problems that we are currently experiencing in our economy.  First, let us look at the fixed rate component of the product: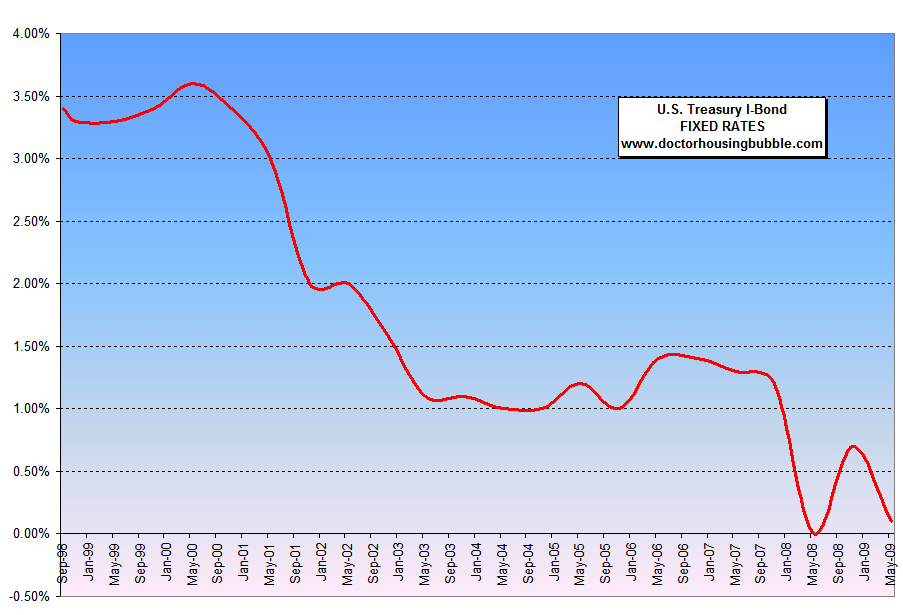 The only time the fixed rate part of this product has trended upward was in the late part of the 1990s when the technology bubble was raging.  But after 2000, the fixed rate component of this product has followed a strong trend to zero.  The rate did hit zero in May of 2008.  Currently the fixed rate stands at 0.10%.
If the zero percent fixed rate isn't enough to keep you away, the limit on how much of this product you can buy in a calendar year was also dropped in May of 2008 (it used to be $30,000):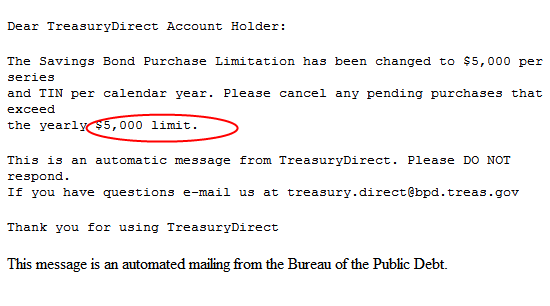 Now this should all be further evidence that the U.S. Treasury and Federal Reserve want to punish savers and force Americans back onto the consumption machine.  An unintended consequence of financial crashes like this one is people start finding a desire to save.  Many don't follow things this closely but the U.S. Treasury and Federal Reserve knew people were going to start gravitating to more secure and low-risk saving vehicles.  So to create very little options for Americans, they have pushed interest rates to absolutely pathetic levels while many Americans search for secure investments away from the Wall Street casino: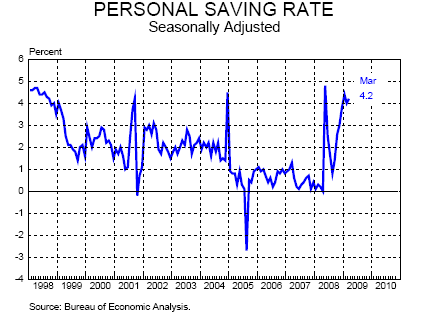 So with this new found desire to save, what rate would you get with I Savings Bonds?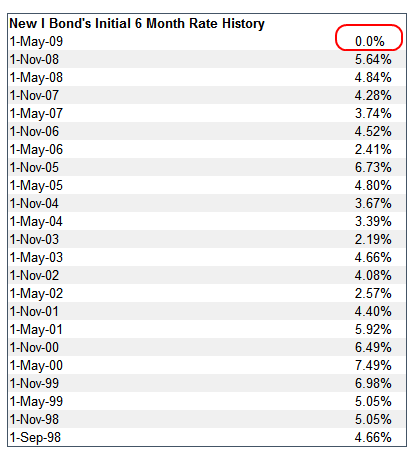 Bwahahaha!  You might as well stuff your money into your mattress.  The government is now offering you 0 percent for purchasing I Savings Bonds.  Now of course, this is largely due to the negative CPI rate but you would get a lot of buyers if you offered a more lucrative fixed rate that would adjust in the next semi-annual rate adjustment.  Yet this would encourage saving money, which if you have read any over the counter finance book, is actually good for you!  But the Wall Street crony machine only wants you to pump money into stocks via your 401k to fund the global debt casino.  That is why when we look at actual indicators on Main Street we realize the recent 31% rally is nothing more than a reflection of pit bosses on Wall Street trading with one another.  Insiders are selling a lot more than buying.
So now, if you simply want a safe and secure investment like an I Savings Bond you are going to get zero percent for locking up your money for six months.  This is the biggest "do not save, and go out and spend" sign you can ever create.
This is a philosophical problem with our current economy.  The current economy is so driven by consumption that even prudent measures of savings will punish the system.  No government official would ever come out and admit this but for the most part, these actions and what has been occurring over the past decade show contempt to the American public.  Not one of my successful friends or colleagues (Republican or Democrat) has ever become financially independent by spending more than they earn.  You would think something as painfully obvious as spending within your means would resonate with many but it has not.  That is why the credit crunch is hitting Main Street so hard.
You want to see how ridiculous this has become?  Take a look at this: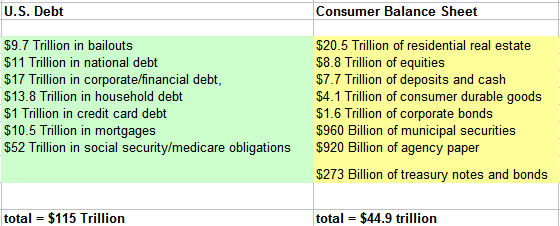 Source:  Zero Hedge
I've put together the above chart in a clean format to show the insane amounts of debt floating in the system.  If you look at the U.S. debt side, you will see that we have some $115 trillion in debt/obligations through various bailouts, national, corporate, and consumer debt.  On the consumer balance sheet, you still see that residential real estate by far is still the biggest asset of most Americans.  Another 10 percent decline in real estate which is very likely would wipe out another $2 trillion in wealth.
The above chart is a site to behold.  It is also apparent that we will never ever pay off that debt.
Even in previous wars, we would encourage the population to buy bonds to support the cause: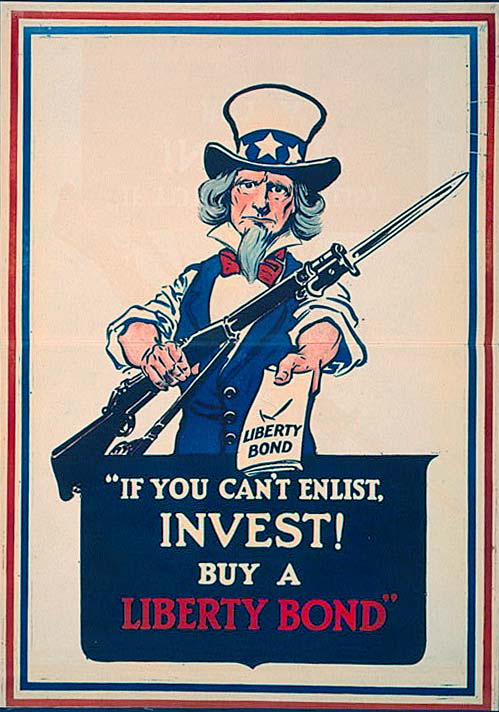 Now, we just expect to finance all this debt and external expenses with no cost to citizens?  Where is this money coming from?  The point is that the money is not even here and at a certain point, this Ponzi scheme of an economy is going to put Bernard Madoff to shame.  We have already seen glimmers of this unfortunately with the March market lows.  The bailouts are only a sign that we are willing to put our entire future at risk to keep the debt pushers up on the taxpayer's dime.  If we are going to argue that we need debt, then let us create a national Good Bank and lend money out directly.  People would argue that logistically this won't work but if we look at the current bailout funds, most of the money isn't making it to the hands of consumers anyway.  I think we can somehow manage to create a decent bank with $10 trillion.
Saving is a hard concept for many.  People are now conditioned to expect zero down mortgages, multiple credit card offers, and zero down car loans.  It was bound to end at some point.  Our economy needs to rely on financial responsibility and an economy built on producing goods and services that the world wants and needs.  The world has enough credit default swaps and derivatives.  The message right now is to spend.  Don't follow that siren call.  Start saving if you have not done so even if it means getting 1 or 2 percent in a savings account.  Wall Street would want you to believe that you should put your money into the casino so it can be gambled away.  Even with the recent bear market rally, many are still looking at portfolios that are down 40 percent only a few years before retirement.  These are going to be lean economic times for many years.
Did You Enjoy The Post? Subscribe to Dr. Housing Bubble's Blog to get updated housing commentary, analysis, and information.