Orange County still carries the most expensive price tag in Southern California housing.  Yet simply having a high price tag doesn't mean prices are justified.  Recent data shows that home sales in Orange County are now down over 10 percent on a year over year basis and the median price has collapsed from its peak.  I wanted to dig deep into the county data to see whether a housing bubble is still present in Orange County.  Using a variety of metrics including income, employment, and housing costs Orange County is still one of the most inflated areas in the country.  We have shown million dollar homes taking million dollar price cuts.  The correction no doubt is in full swing.  Yet Orange County is a large area and we can only understand it better by looking at each data point and compiling it all together into a holistic overview.  Let us examine 5 charts showing that Orange County overall has one of the most inflated real estate markets in the United States.
The amount people spend on housing in California is astronomical.  Let us first look at how much households that own homes in Orange County spend each month: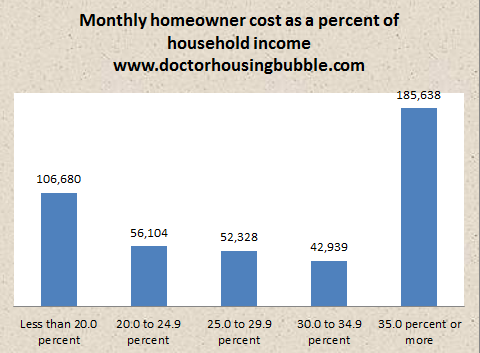 Source:  Census
41 percent of OC homeowners spend 35 percent or more of their household income on housing.  Keep in mind that 35 percent of income is the upper-range if we are looking at entering a home in a more fiscally disciplined environment.  The Census only goes up to 35 percent but it is likely you have many families spending 40, 50, or even 60 percent of their household income on making that mortgage payment.  Especially with the current economy, you might have a dual income household that is now down to one earner or with one earner with a depressed salary.  What this chart above shows is that even if a county can have a relatively high income distribution it does not justify high priced housing across the board.
Let us examine the income distribution of households in Orange County: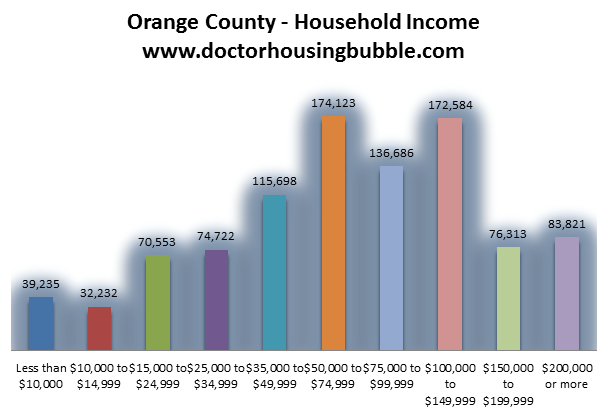 The vast majority of households in Orange County make between $50,000 and $149,999.  This is a very wide distribution.  The actual median household income for Orange County is $71,000.  The $100,000 to $149,999 range doesn't reflect the distribution all that well because you have the bulk of families hugging the $100,000 range (i.e., two income households).  For Southern California Orange County is a wealthy county overall.  Yet an interesting point to note is the massive number of two income households.  For example OC has 975,000 households yet 1,445,000 people are actually fully employed: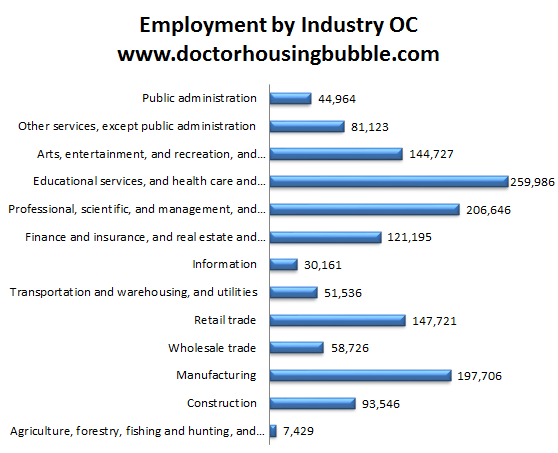 A large number of people are employed in education, health care, and manufacturing.  These are good paying professional jobs but certainly not enough to put you in the $200,000 range which is what is necessary for buying many homes in Orange County (the above income chart reflects this).  8 percent of households in Orange County actually make $200,000 or more a year.  Yet when we look at the cost of a median priced home we see why so many problems exist and will persist in the market: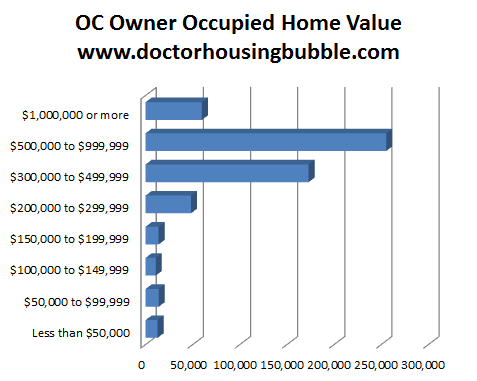 Keep in mind the above is for 2009 and is averaged out for the year by the Census.  According to the latest figures from Data Quick the median Orange County home price is $435,000 (for the last month of home sales).  This is nearly $100,000 lower than the Census figure for 2009.  The bulk of housing in 2009 in the OC was valued between $500,000 to $999,000 yet the median household income was only $71,000!  This is part of the SoCal housing bubble that is now bursting in a second round lower.
If we look at the actual household income one would need a household income of $150,000 or higher just to be in contention here.  Only 15 percent of households have this in Orange County it is likely many already own given the homeownership rate for OC is 60 percent.  53 percent of all owner occupied housing was valued at $500,000 or higher yet only 15 percent of actual households can actually afford this payment.  This disequilibrium is why with recent data we now see a county wide price decline of $100,000 in one year.
Many people bought during the housing bubble as well: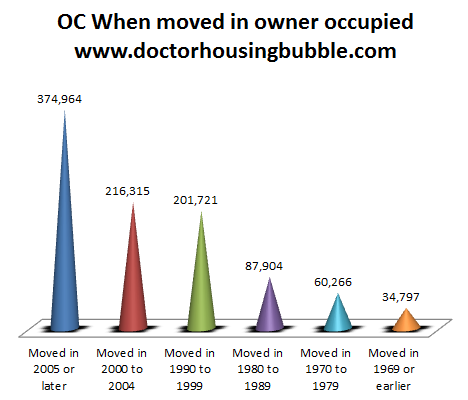 So what you have is many people living in homes spending a large amount of money on their mortgage yet were only able to buy in the go-go years of the housing bubble.  What the data reflects is that many of the current owners would not be able to afford their home in today's market where incomes now need to be documented more fully and standards have become more normal.  I don't like using the word stringent because standards are still flimsy with FHA insured loans and only needing 3.5 percent as a down payment.  Are things tougher than a few years ago when anyone could get an option ARM and jump into a $700,000 McMansion without documenting income?  Of course but that doesn't make the current environment stringent.  If anything, on a longer historical perspective it is a relatively easy market for money.  Mortgage rates are still near their historical lows and down payment requirements are a joke with FHA insured loans.  The problem of course is one of income and the Federal Reserve gimmicks are merely trying to wash over things with cheap debt and not addressing the weaker situation for middle class families.
It is abundantly clear why Orange County prices are falling and sales have collapsed.  The county like many in Southern California is still largely in a giant bubble.  If rates even go up by say 2 or 3 percent (still below historical norms) the market will take it directly on the chin.  Why?  Because people are already stretched thin at the moment even in a county with "high incomes."  I know some will say "well this area has great schools …" and I get these comments even for areas in Los Angeles.  The schools were good in 2000 as well.  It wasn't like they just realized schools were good there.  And we have hundreds of counties around the country with good schools that have moderate priced housing.  So this is just more emotional reasons to justify current prices.  Emotions do play a big role in buying a house, that is a fact.  Yet what we have now is an actual buffer (aka examining incomes) and this is showing that people just don't have the money to support current prices.  I'm sure everyone would like a $1 million home but that isn't how the world works.  Is there a premium for good schools and a good neighborhood?  Of course!  But this is like saying "since this is a BMW it needs to cost $70,000 more than a Chevy."  Well okay, but do you have the income to back it up and not "own" it by merely going into massive debt?
Yes, incomes are higher than other areas but that does not mean home prices reflect value in home prices.  Run the numbers with a ratio:
2010

$435,000 (median price) / $71,000 (household income)         =       6.1

2000

$250,000 (median price) / $58,820            =           4.3
This is just one way to measure cost relative to income and even after the $100,000 price drop and many more tens of thousands from the peak home values are still in a bubble in Orange County.  In other words, prices will drop or incomes need to go up.

Did You Enjoy The Post? Subscribe to Dr. Housing Bubble's Blog to get updated housing commentary, analysis, and information.