Housing in Southern California is still trying to find a bottom.  The market is flooded with distressed property, a tight credit market, and borrowers who are now more cautious than Bernie Madoff (that is, before he had his moment of catharsis forced by the imploding market).  The one thing being missed by policy makers is that psychology has been forever changed.  That is, we now have a generation that will never fully believe that real estate never goes down as many in the real estate industry were telling us.
As we are now well on our way with 2009, we need to keep a close eye on how the recasting of billions of dollars in option ARMs will impact the bottom line of the California housing market.  The first chart I want to show you is courtesy of Foreclosureradar: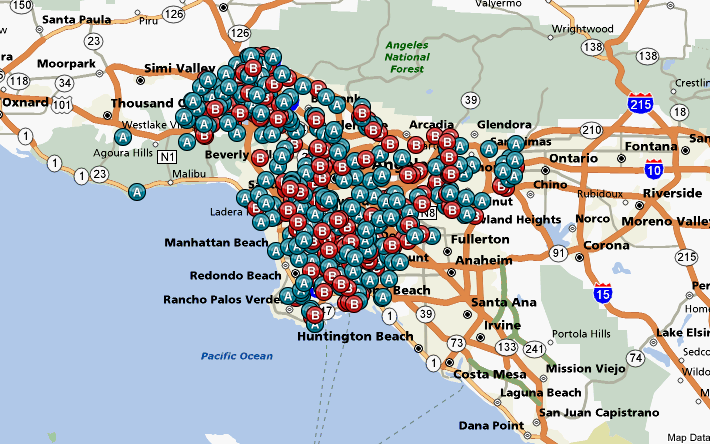 *Source:  ForeclosureRadar.com
You aren't looking at some sporting event seating chart.  What you are seeing is a market in full blown turmoil.  "A" are auctions and "B" are bank owned homes.  The entire region is flooded with these properties and you can rest assured 2009 will bring more of these online.  Now think for a second what this does to other homeowners in the region.  Say you live one block from a bank owned home.  You think your home is worth $500,000.  Well the bank owned home just sold for $300,000.  Guess what?  Your home just got a royal drubbing even if you weren't planning on selling.  What does this do to overall consumer psychology?  On the most primitive level, I am certain it keeps people from spending as much.  On a broader level, it depresses the economy and sentiment (this is being reflected in most economic data coming out).
Auto sales came out yesterday and they were pathetic.  Across the board from Toyota to Ford auto sales hit the brakes and came to a screeching halt.  In no other place is this more relevant than a car and housing obsessed Southern California.  Let us take a quick look at the California housing market, with a deeper focus on Southern California: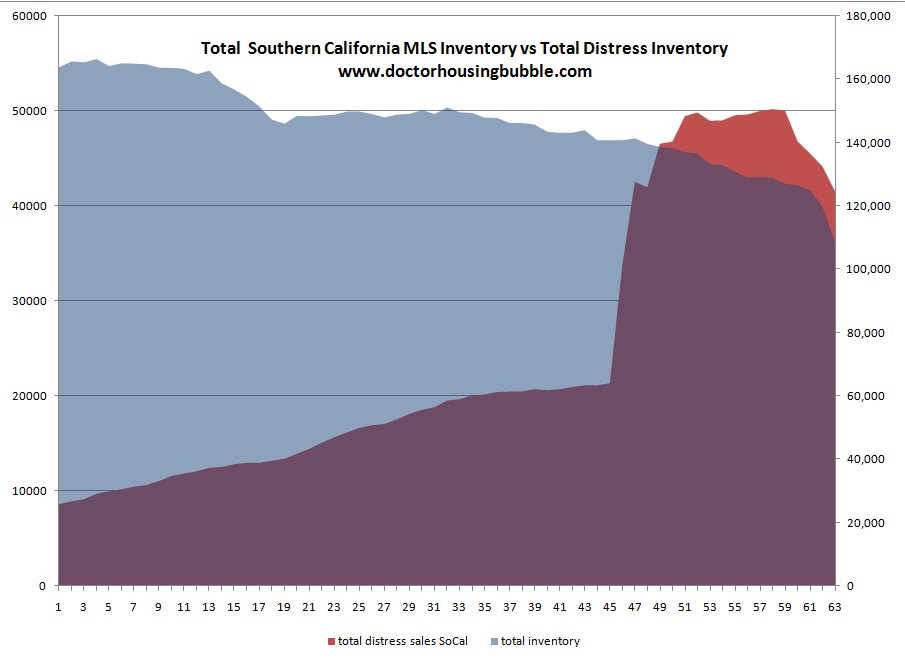 The chart above has market observations since September of 2007.  The intervals are spread out on a weekly basis (typically) and go to the present.  The point of the chart isn't the dates but the overall pattern for over a year.  That is, inventory is drastically falling while distress inventory is still very high.
What is also interesting about the chart is this includes the SB 1137 help which delays the foreclosure process but we should be seeing those effects drastically dissipate by the end of the first quarter.  Yet like the first chart shows, when you have that much distress inventory on the market and over 50 percent of sales are distress, you can expect prices to go even lower: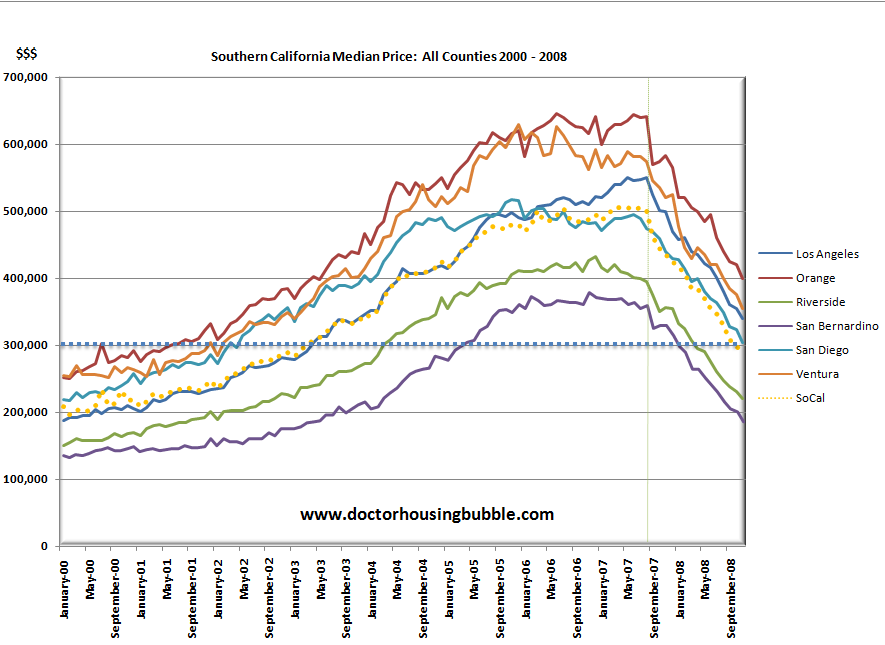 It is hard for me to amend my prediction that prices for California will not find a bottom until 2011.  I'll give you 5 main reasons why prices will continue to fall in California:
(1)  The pay option ARM recast tsunami.
(2)  The amount of distressed inventory on the market.
(3)  People moonwalking away from underwater homes.
(4)  The imploding California budget (read the 2009 forecast).
(5)  The worsening economic conditions in the state.
I could go on, but these are reason enough to keep real estate depressed for multiple years.  Even if we are to see real estate inflation eventually, we may see it in other states that try to catch up.  For example, many mid-west states have median home prices of approximately $100,000.  So even if the median price of California drops to $200,000, we are double that of many states even though incomes are not double.  Yes, I can hear the ever shrinking audience that whispers "but what about Newport Beach, La Jolla, or Beverly Hills?"  I hate to break it to you but the other 99 percent of the population live in other parts of the state.  Areas like the Inland Empire, Central Valley, many of the non-prime 88 cities of L.A., and rural parts of California.
The only thing I can think of more shocking than how quickly prices are falling is what happened to an unsuspecting soul in Poland:
"What are you doing here?": man asks wife at brothel
That is a fantastic headline!  This same kind of psychology of surprise is currently permeating the entire investing world.  I'm sure the man and the wife might have both been angry for obvious reasons.
There have been many sob stories going around regarding the Bernie Madoff ultimate uber Ponzi scheme.  I'm sorry, but investors didn't want to ask questions that pried too deep when things were running at an unreal pace.  Sort of like going to a brothel and seeing something you weren't expecting.  If you really want to be sickened, let us see those trillions of securities the Fed is now holding.  You think $50 billion is bad.  You have no idea.  Most people in Southern California at a gut level knew prices were out of line but they didn't want to believe.  What we had is one giant global bubble.
I see people jumping up and down about lifting conforming loan limit caps.  This was spurred because in the east coast, we have already seeing the conforming loan limit come down.  That is right, it actually dropped.  As it should.  The conforming loan limit was to keep pace with the median price of local area homes.  Now that we know there is a bubble, it is only right to lower caps as the prices fall.  Yet now we get more stupid ideas which will fall under the Super Ignorant Investment Vehicle (SIIV) about putting a bottom on conforming rates – that is, the cap can go up but never down because prices never go down right?  This makes no sense.  How is this relevant to Southern California?  There are a few reasons.
First, it will not help you if you are underwater.  Take a look at this: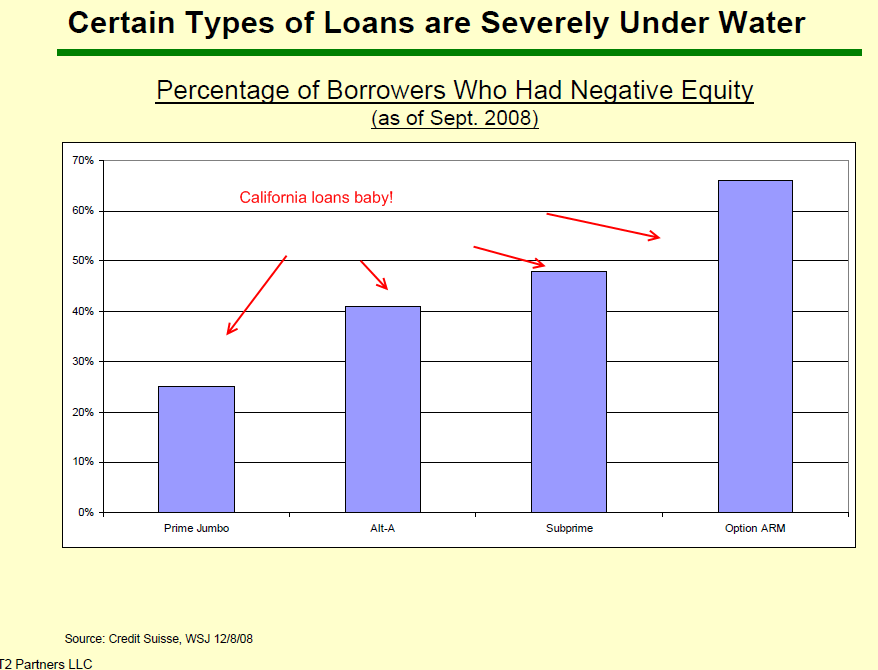 Over 60 percent of option ARM loans are underwater!  The vast majority of option ARMs are here in California.  Also, we have a lot of Alt-A, subprime, and prime jumbo.  Here is a big newsflash.  You cannot refi an underwater loan!  Get that through your head.  Let us assume that we lift caps.  Okay.  Yet we still need to document income.  Go back to the 5 points above and read about the California employment situation.  How many people are going to be able to afford $500,000+ homes with government guidelines?  Many can't.  In fact, the majority can't.
I have come to the painful realization that the vast majority of politicians simply do not get it.  Well, they do get it yet they are disingenuous in how they present arguments.  The fact that they want to raise caps while prices are collapsing is mind boggling.  This is like the initial writing of the $700 billion TARP to eat up all the toxic assets out there.  What they quickly realized is $700 billion does not go a long way and there is much more toxic assets than $700 billion out there.
People in L.A. and SoCal still don't get it.  It seems like mainstream media sources are now putting a number to their pessimism looking similar to my own analysis which I have been saying for years: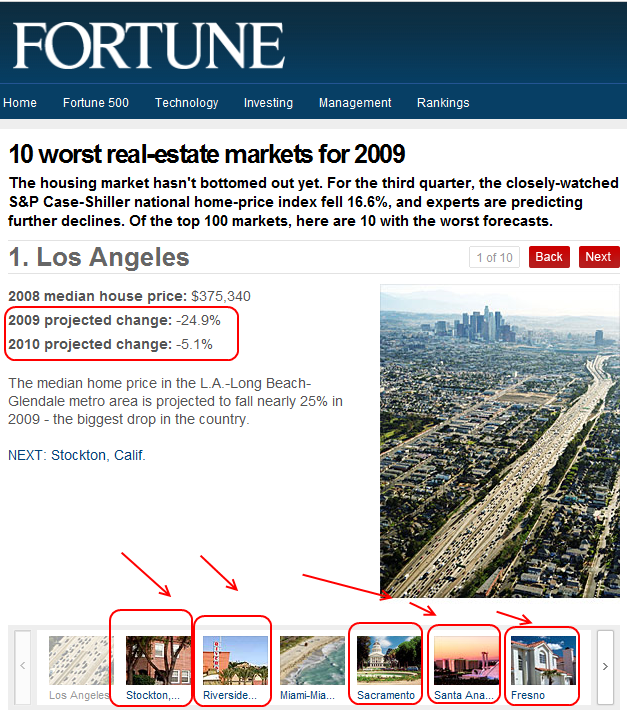 *Source:  Fortune.com
The worst real estate market for 2009?  How about Los Angeles which is expected to drop an additional 25 percent!  And you thought I was a doomer?!  Most of the top 10 markets are in California and Florida.  So this is the kind of mentality floating out there.
And even with the 25 percent drop, prices will still be too high unless incomes rise and the employment situation improves.  That is why Fortune is predicting an additional 5 percent drop in 2010.  I was early but my 10 Reasons Why California will not have a housing bottom until 2011 are now getting picked up by those writers/editors logical enough to understand basic math.  There is a new calculus to real estate.
We've already seen 50 percent drops.  The next stop is 60 percent.  Take L.A.  What are the scenarios?
$550,000 peak – 50% drop:    $275,000
$550,000 peak – 60% drop:    $220,000
$550,000 peak – 70% drop:    $165,000
The current L.A. median price is $340,000.  We will see $275,000.  It is too early to say whether we will see a 60 percent drop from peak to trough but that is possible.  You need to remember, the L.A. median price in 2000 was $187,000.  $220,000 seems feasible and would actually bring prices in line especially since we are dealing with Japanese style deflation right now.
Like I said, we may see inflationary pressure in real estate in other markets across the country but California is done for a very long time.
Did You Enjoy The Post? Subscribe to Dr. Housing Bubble's Blog to get updated housing commentary, analysis, and information.