Before reading this article, I would like you to take a deep breath.  Okay?  If you feel like candy bursting out of this broken economic piñata, you are not alone.  Things are dire and virtually every piece of news we read reinforces this premise.  On Wednesday, we had a nice technical rally and you should have seen the glimmer of hope in the eyes of those on the cable financial shows.  We all want a recovery but a recovery based on hard work and getting back to what is financially prudent.  Not the talking heads.  They could care less about the ADP employment report that showed 697,000 jobs lost in the month of February.  All they cared about was whether a handful of gluttonous financial stocks moved one or two points because the U.S. Treasury and Federal Reserve are intravenously pumping capital into the veins of these flailing institutions while allowing the American taxpayer to flounder like a carp yanked out of the stream.
The poorly planned Troubled Asset Relief Program (TARP) of 2008 has been a complete boondoggle.  How have things gone in the stock market since the TARP came about?  Well let us take a look: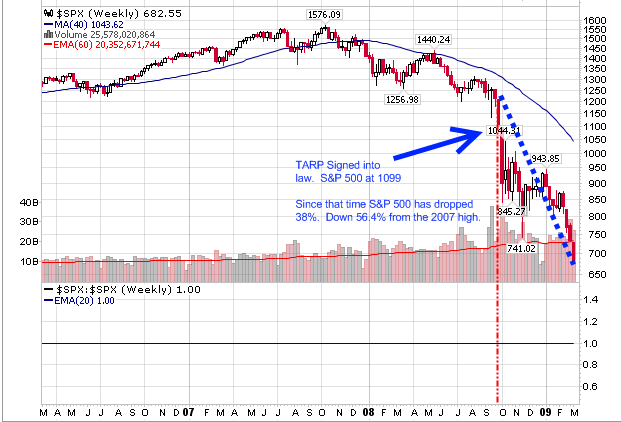 Since TARP version 1.0 was signed into law on October 3rd, 2008 the S&P 500 is down approximately 38%.  Think about this for a bit.  We are talking about 5 months ago and the market has shed nearly 40% of its value.  From the 2007 peak, we are now off by a mind boggling 56.4% putting us back to levels not seen since 1996.  Can you even remember what you were doing back in 1996?  In 1996 here in Santa Monica the civil tiral of O.J. Simpson was beginning.  We are now past the lost decade estimate at least in terms of equities and this puts us in the realm of witnessing our own lost decade similar to Japan.  The unfortunate thing is we followed many of the policies that Japan did with their failed banks yet expected a different result.  People are now claiming that stocks are a bargain.  These people were cheering the market on Wednesday only to get reamed on Thursday after Citigroup went into the penny stock territory and the survivability of GM is now in question.  If you haven't figured it out yet, the mainstream financial pundits really have very little knowledge regarding economics.  What they are good at is hyperventilating like a hypochrondiac entering a hospital when the market is up or down.
Our Banking System is a Broken Dam
The reason capital injections are failing is rather simple.  Imagine a dam.  A gigantic dam constructed with the best material and concrete found in America.  Initially engineers find out that there is a tiny crack starting to form but choose to ignore it.
"Don't worry!  This dam is so big a tiny crack will be no problem."
Yet as time goes by, the crack splits wide open.  The engineers ignore the water pouring out of the system because storm after storm has replenished the supply and the gaping hole is simply replenished by new water coming in.  That is, until the storms stop coming.
Suddenly, the big hole explodes and water is gushing out.  The engineers call upon locals and dip into their water reserves trying to replenish the dam but keep on ignoring the massive damage caused by that tiny crack.  Water is poured in but simply flows out just as quickly.  The hole is now too big to repair.  They never constructed any mechanism or safeguards because they believed no crack would ever occur and even if it did, rain would come.  At this point, all they can do is wait for the water to rush out and construct a better dam for the future.
This I believe is what is happening with our current banking system.  We can keep injecting capital but the gates of financial hell are now open and any money we throw into the system will be burned in a fiery end.  If you need any evidence of this just examine AIG and what a colossal mess that has become.
I've constructed a chart showing some of the biggest TARP recipients.  I've also included their stock price as of the day when the TARP was signed into law: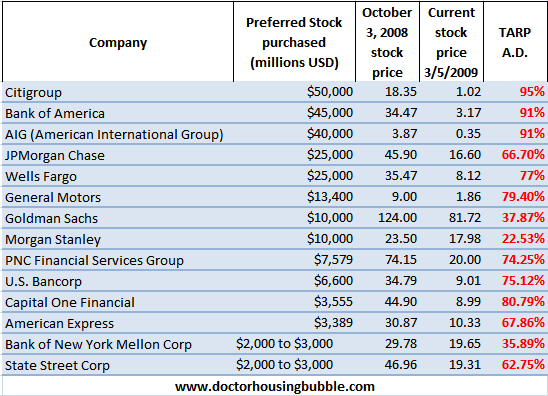 What a sigh of relief!  If it weren't for that wonderfully planned TARP, we might actually need 3 shiny quarters to buy one share of Citigroup but thanks to trillions of taxpayer bailouts, we can with a smile buy one share for one whole dollar!  Just take a look at the above chart carefully.  We have absolutely flushed money away into the broken dam known as our banking system and the plan isn't to reform the system and root out the corrupt crony capitalist; no, instead our plan is to give these same institutions more money and believe that they will do well.  What an absurdidty!  We are giving banks money so they can then, not give it back to us!
When in the world are we going to see major trials and putting some of these criminals away?  We are starting to see some seeds of this anger boil over with the inquiries into UBS and American tax evaders.  It is estimated that $18 billion is off the books.  These banks including foreign institutions are walking zombies and you can ask Japan how that worked out for them after 8 major stimulus plans and countless capital injections.  It is understandable that many people have forgotten about the Great Depression but there is no excuse for not paying attention to the lessons from Japan.  The hubris on Wall Street is incredible.
If you think things are bad, you'll know we are starting to reach a bottom when we can construct a book on all the horrible calls made during this bubble collapse.  Let us take a lesson from the Great Depression:
"The autumn of 1931 brought also an outburst of laughter.  When old certainties topple, when old prophets are discredited, one can at least enjoy their downfall.  By this time people had reached the point of laughing at Oh, Yeah, a small book in which were collected the glib prophecies made by bankers and statesmen at the onset of the Depression; of relishing the gossipy irreverence of Washington Merry-Go-Round, which deflated the reputations of dignified statesmen of Washington; of getting belly-laughs from a new magazine, Ballyhoo, whose circulation rocketed to more than a million as it ridiculed everything in business and politics, even the sacred cow of advertising; and of applauding wildly the new musical comedy, "Of Thee I Sing," which made a farce of the political scene, represented the vice-president of the United States, Alexander Throttlebottom, as getting lost in a sight-seeing party in the White House, represented a presidential candidate as campaigning with Love as his platform, and garbled the favorite business slogan of 1930 into a slogan for newly-weds: "Posterity is just around the corner."
We may actually be arriving at a point where we can laugh at the absurd hypocrisy of it all and this is highlighted buy the nightly take down of our business "leaders" and so-called expert financial channels: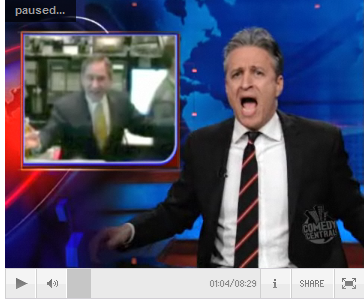 *Hat-tip Calculated Risk
I ran a quick calculation to see how long it would take the S&P 500 to reach its high of 1,576 from its current 682.55.  Assuming a nice rate of 8% each year (heck, this is close to the Bernard Madoff rate) it would take us 11 years before we see those 2007 highs again!  Do you really see 8% yearly gains for 11 straight years after the trillions we have dumped into bailing out failing banks and poorly managed institutions?  Forget about a lost decade, we are now getting close to having two lost decades.  Now tell me, what will you be doing in 2027?
Did You Enjoy The Post? Subscribe to Dr. Housing Bubble's Blog to get updated housing commentary, analysis, and information.