It is becoming commonplace to hear negative news regarding the housing market. Dollar signs get thrown around in conversations with no real practical sense for the public to grasp the magnitude of the problem. HSBC for example announced that they are pumping $35 billion into their ailing SIVs to avoid a fire sale of assets. You must ask yourself, why are large institutions so frightened about putting assets onto the market? The so called mark to market fear that many structure finance players are trying to avoid at all costs. These short term bailouts are only pausing the inevitable. At a certain point the curtain will be removed and most suspect that the wizard isn't so powerful after all. I've been contemplating this and think that we need to examine multiple areas of the economy to realize that this housing market is merely a symptom a larger epidemic. There have been many articles pointing out the fallacy in assuming that the current credit crunch was caused simply by subprime loans. In fact, after reading this article you'll realize that the majority of this nation is subprime; that is, there is no realistic way that we will ever pay off our debts.
This article is a culmination of years of looking at data and tying many things into the current economy. We will first look a the exponential growth of mortgage debt. Next we will examine the looming issue of trade deficits and how a falling dollar is something that the Fed is silently hoping for. Then we will look at the DOW and show that in real terms, it is now in a very negative territory. Finally we will look at the data and try to examine what path we are heading down.
The Growth of Mortgage Debt
As it stands, the current mortgage debt outstanding is $13.3 trillion. In 2000, mortgage debt was at $6.5 trillion. That means in 7 years we have doubled the national mortgage debt outstanding which is simply amazing. You can see from the above chart, grey areas showing recessions, that each slowdown in the economy had a net effect of flattening the curve down for a few years. Not this time. You'll notice that during the previous recession, mortgage debt suddenly sky rocketed into an exponential dimension. The amount of mortgage debt outstanding is incredible. Let us take a look at another chart: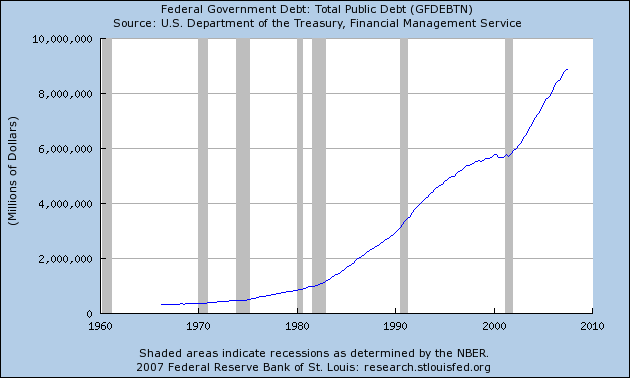 For comparison sake, this chart shows the total public debt outstanding. In 2000, total public debt outstanding stood at approximately $6 trillion, almost on par with the total mortgage debt of $6.5 trillion. Fast forward to 2007 and total public debt is at $9.1 trillion and mortgage debt is at $13.3 trillion. A difference of $4.2 trillion. You may get a better understanding of what I was talking about in July of this year about a severe housing crash slashing $5 trillion in wealth. Dean Baker, co-director of the Center for Economic and Policy Research estimates that a housing slump may lead to $8 trillion in wealth lost because of the impact of a negative wealth effect and our reliance on debt as money. What seemed far fetched during a feverish housing market is starting to seem more realistic. If we were to divide the total public debt to each woman, man, and child in America your piece of the debt pie would be $30,000+. If we ran these numbers back in 2000, the piece of the pie would be $20,900+ adjusted for population figures and debt figures at that time. Now imagine if we added mortgage debt into the equation and revolving credit as well. We as an entire society are spending more than we earn! So how is this possible?
Importing Goods and Exporting Debt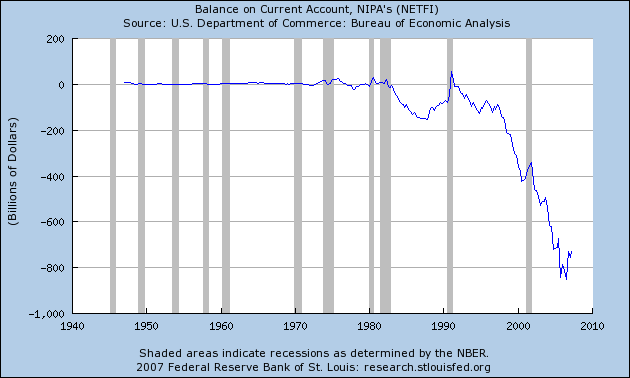 Don't be shocked by the chart above. Both Republicans and Democrats are guilty of running massive trade deficits. As you can see, during the Reagan 80s we started dabbling in the art of running serious trade deficits. Clinton continued this legacy during the 90s and now you can see with Bush that this seems to be the trend for the past 30 years. You may notice a short spike but don't get too excited. This is in large part not by us exporting more goods or services, it is largely impacted by our declining dollar. If you have any doubts about the massive imbalance just ask one of the millions of Black Friday shoppers to show you one of their multiple items that they purchased. Take the item and see where it is made. Do you want to take a wild guess where the product was manufactured? There is no question that we do export certain goods and services but nothing to the extent of what is brought in. Take a look at the port of Long Beach incoming and outgoing container trade numbers:
These are measured as TEUs or 20-foot equivalent units. Think of your common 18 wheeler and you'll get an idea of the magnitude of goods coming into one of the single busiest ports of our nation. You'll notice that for the past month, we brought in 323,131 while sending out 144,839. Once you realize how tilted the scale is you start to understand the extent of our growing trade deficits. Some have argued that this is the reason that the Fed is actually happy to see a declining dollar. The short-term spike would suggest that a falling dollar is doing something to our trade deficit but at the same time it is hitting you straight in your pockets. We have been exporting our dollars to foreign nations and they have been allowing not only Americans, but also Europeans and Australians to live beyond their means. No country can run deficits indefinitely. All these things are tied in the now global marketplace. Why do you think OPEC was jawboning about the drop in the dollar? Not sure if they can do much since they get paid a large portion in dollars so it benefits them to have a strong dollar but you understand that one winner equals another loser in a different part of the world. This has become a zero sum game because debt has become money. When the numbers are broken down we see that consumers are merely reflecting the lead of their nation; that is spending more than they earn. This unsustainable policy cannot go on forever and we will have tough decisions to make.
The U.S. Dollar Faces Major Challenges
As previously mentioned the US Dollar is facing a steady decline. It is now facing steep competition for the title of world's reserve currency. As you can see from the chart above, the Euro had a tough few years starting out. The Euro is the currency of the Eurozone which includes 13 states. These include Germany, France, and Austria to name a few. The dollar was held by 70.9 percent as the official exchange reserve in 1999 by nations while the Euro was held by 17.9 percent. As of 2007, the US dollar is now held by 65.7 percent while the Euro has steadily gone up to 25.2 percent. Clearly the dollar still dominates the world reserve markets but the lead is slowly dwindling. The attractiveness recently of the Euro is that countries have to meet strict requirements to enter the "zone" and a small percentage is actually backed by physical commodities. This love may be short lived since credit bubbles are also looming in Europe. The master of Irrational Exuberance, Alan Greenspan has talked about diversifying into foreign currencies in a recent 60 Minutes interview:
"Greenspan says it doesn't matter what currency he is paid in. "Key question, basically, is, in what currency do you wish to hold your assets," he explains."And what I've done is I diversify."
I wonder if consumers paid with Euros during the holiday rush? Do you think consumer spending was influenced by a psychological urge to unload dollars that are becoming worth less and less each day? Hard to believe the amount of money "aka debt" being spent out there. Now we realize why globally, other countries are starting to worry. Many are starting to realize that something has to give in this global Ponzi credit scheme.
Dow Jones, Meet Negative Returns
The week starts off on an interesting note. Not because we saw another triple digit loss but because we are now technically in a correction. If you look at the above chart, the DOW is up only 2.25 percent for the year. Given that the US Dollar index has fallen from 85 to the current 75, and inflation is running around 3 percent (so says the ministry of truth), you are actually in negative territory. I heard someone talking about it that it "isn't so bad with a 2.25 percent increase considering all the problems going on." Well, it is much worse than that if you are paid in dollars (which I'm guessing most of you are) and the under reported inflation numbers make it seem like nothing is really going on. It is a two hit combo; first you're currency is debased to make up for the massive deficits while the government skimps on inflation numbers to hold back on fixed payments. Take a look at the below oil chart:
Do you notice something? Given that energy is a large part of our consumption, it is hard to believe the data that is being dished out. And what of housing? Incredibly the government uses owners equivalent of rent to factor in housing prices. Well we all should know by now with the often quoted 70 percent of Americans own their home figure that we should examine mortgage payments as a true indicator of true cost of housing since the majority own. But of course these two things would show inflation running at a much higher rate so we don't want to do that. Inflation is a silent tax. For some reason politically people are happier being told that no taxes will be raised while the green dollars in their wallet (if they still carry any) are slowly shrinking in purchasing power. No wonder why monetary policy isn't taught in high schools. The public would understand the slight of hand the government is dishing out and they would demand restraint on spending. Given the spending binge this past weekend it is becoming more apparent that many Americans are using shopping as a sedative to facing the brutal facts. Like Social Security, the time is running out to right this ship before it is too late. Either way we will have some tough decisions ahead of us.
Where we are Going
Knowing a little bit of history can give you an idea of where we are heading. Human behavior has common patterns. With common patterns we can predict to a certain extent what will happen in the future. The complexities of the global market are large and I'm reminded of the adages that if a butterfly flaps its wings in Brazil there can be a chain reaction causing a thundering wave in another part of the world. Everything is interlinked in a symphony of cause and effect.
A good starting point is to look at the US consumer:
Where the consumer goes so goes the economy. Our trading partners are watching just as closely because a slow down here means a larger slow down in their respective regions (and less dollars). It'll be important to keep an eye on incoming cargo from various ports to monitor the flow of goods since this typically will react very quickly. We are already seeing a minor slow down but it is hard to say with us being in full holiday swing. We will have better numbers to work with in January and February of 2008. The above chart shows consumer sentiment. As you can see we are now reaching lows only seen in the last recession earlier in the decade. What is fascinating here is that employment numbers are still healthy, GDP is still humming along, and people are still spending. So why is this trending downward? It should be rather obvious that most previous downturns were led by falling industries. That is, the technology boom and bust (look at the 90s) led to increase in sentiment followed by a decrease with loss of jobs and sentiment. This bust will be led by credit which I believe gives the title "credit crunch" a new meaning. Even with the booming housing market consumer sentiment never reached the high that was reached in 2000.
Let us take a look at an ominous sign for predicting the future of housing. Housing starts are a very crucial leading indicator of the health of the future housing market. Home prices are lagging indicators, telling you how good it was; housing starts tell you how good or bad it is going to get:
Housing starts are now reaching lows not seen since the early 90s. A fascinating thing to note is that for each previous recession, housing starts trended downward and then increased as the economy improved. You'll notice that housing never skipped a beat in the previous recession. We went from a technology bubble to a credit bubble driven in large part by the housing industry. The stops in the chart make sense because who is thinking of buying a house in a downward economy? But the rather unusual thing of our current economy is a large part of our decade long prosperity was based on trading, financing, decorating, and flipping homes. Take a look at the construction numbers and again pay careful attention to the gray areas:
Never in the history of this country has so much relied on housing and credit. Just to demonstrate this even further consumers to compensate for stagnant wages are using a larger portion of their income to pay for the servicing of debt:
You notice that over 30 years the chart hovered around 11 to 12 percent. We are now solidly over 14 percent. This may not be a big difference but considering that the consumer powers 70 percent of the economy, this small increase can mean the difference between a growing economy and one on the brink of a recession.
I hope that we can now realize that this housing fiasco is more than a "subprime" issue. If we define subprime as giving loans to borrowers that are high risk and have a high likelihood of defaulting, we need to look in the mirror and ask some hard questions to our leaders. Amazingly none of the leading candidates are talking about this. Some see nothing wrong with this. Most seem to stick to multiple issues on a superficial level while never addressing a comprehensive solution. As I think about it, maybe it isn't politically wise to tell your prospective voters that they should reign in their spending and be more prudent with their finances. Clearly the majority of the public doesn't want to concern themselves with all this financial mumbo jumbo. The only time they will open their eyes is when calamity is too close to change course. I am hopeful that as a society we will come out better because of this challenge. It may encourage people to take a more active role in managing their own finances and questioning authority. It will also show how globally we can rise and fall because of the common ties of economics. There isn't anything wrong with being prudent and financially responsible. We are in an unsustainable course and our goal should be to find a sustainable long-term solution to the problem. If nothing is learned from this debt bubble, the greatest heist in American history will go unpunished.
Did You Enjoy The Post? Subscribe to Dr. Housing Bubble's Blog to get updated housing commentary, analysis, and information.