The housing boom and bust has created one of the most corrupt financial systems in history.  Now this in itself isn't the shocking news since throughout history countries have proved over and over that connected governments and toxic businesses will siphon off money from the productive classes for exercises in bubbles (i.e., South Sea, tulips, technology stocks, housing, etc).  Yet this is probably one of the first financial collapses where nothing was really done after the knocks were taken.  The vast majority of Americans are scratching their head ever more impatiently wondering when the real reform is going to come down the pipeline.  Wasn't it only in March of 2009 that the global financial system was melting down like the Wicked Witch in Oz?
Many are now referring to the optics of the current situation.  The fact that banks received $14 trillion in financial backstops, backed by the American taxpayer and government, has left many believing that our government is willing to backstop the most ill managed companies in the entire country.  If you look at a list of who received bailouts, it looks like a list of the primary culprits of this economic mess.  When people think about the bailout, they usually only think about the TARP list: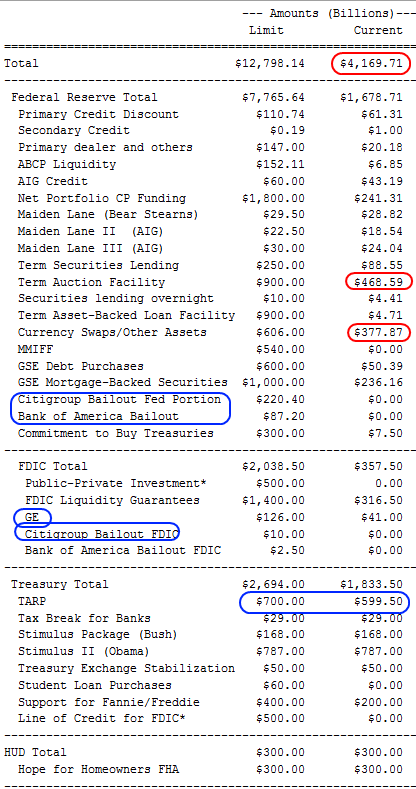 TARP is merely a tiny sliver of the entire financial bailout.  Keep in mind that banks indirectly benefit from the U.S. Treasury and Federal Reserve cooking up schemes to buy up mortgage backed securities and artificially lower interest rates.  In fact, anyone looking at current actions would assume that the U.S. government and Wall Street have a mission of keeping home prices unaffordable for most Americans.  The reason Americans went off and took on such enormous amounts of debt is because home prices were simply distorted and much of this came from the irresponsible banking sector.
In the past such excessive risk was punished by those perpetrating the bubble being annihilated.  The market in some sort of disjointed way would wipe this excess out.  However, in this case those responsible have actually gotten bigger and infiltrate the way policy is done.  This is like you crashing your Geo Metro and getting a Lexus as a replacement.  Crash that Lexus and who knows, you might get a Ferrari.  There is very little in the way of payment protection insurance in the current market.
I've been getting many e-mails from readers and what they share tells me a lot about the current housing situation.  People, like banks are looking for the easiest way out.  Not everyone is looking for this obviously but many that I have talked to in California are.  Some quotes that I have gotten go like:
"Unless the banks work with me, I'm not paying anymore on this mortgage."
"How dare we bail out banks and we get nothing back.  I'm going to stop paying on my mortgage and see if they still want to negotiate."
"I've been sitting in my house making no payments after 1 year and the bank hasn't contacted me.  I'm just saving up and when they come, I am out and getting a rental.  No way am I paying for this."
This or a variation of the above is usually what I see.  Rarely do you see someone say, "I take full responsibility and even though my payment is high, I'm going to stretch it out to pay as my rightful duty."  And why should homeowners do this?  Banks are the most irresponsible culprits in this mess and look at the amount of bailouts they are getting!  So any outsider looking at this system would find this gleaming rule:
Take as much risk as possible to the point that if you fail, the government has to bail you out.  If you succeed, all the profits are your own.
In other words socialize the losses and privatize the gains.  A perverted form of corporate welfare.  The Alt-A and option ARM products are only one example of what occurs when people believe in the above system.  Now think of someone that took out that option ARM.  Implicitly they were believing housing prices were going to go up (a bet).  Many went zero down so this was the equivalent of a call-option.  That is, if the home price went down your only loss was your credit (which at this point matters little since crony Wall Street with all their horrible bad bets seems to have access to more and more money).  On the other hand, if home prices went up which they were for decades you would make out handsomely with no money down.  A very hard bet to resist especially if you are not familiar with economic history (and many aren't).
If we look at the overall composition of loans in the U.S. we will find many toxic mortgages are still outstanding: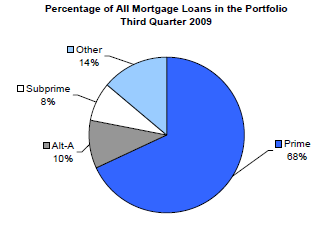 I find it to be the height of hypocrisy that banks are now "discussing" principal reductions as if they are doing some kind of favor.  These banks would have been nationalized long ago without taxpayer funds!  Their record profits have come from gambling in the recent Wall Street rally.  So now, after they placed all their money (taxpayer funded) on 7 red and won, they now want to give some money back to underwater homeowners as if they were doing the nation some kind of favor.  You really can't make this kind of thing up: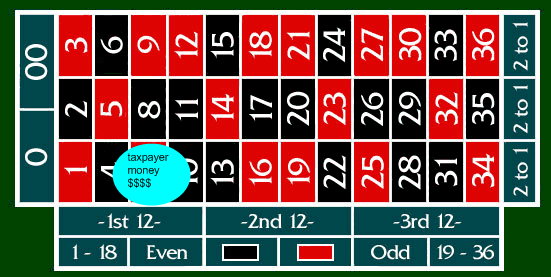 And guess what happened?  This mega bet paid off for the banks: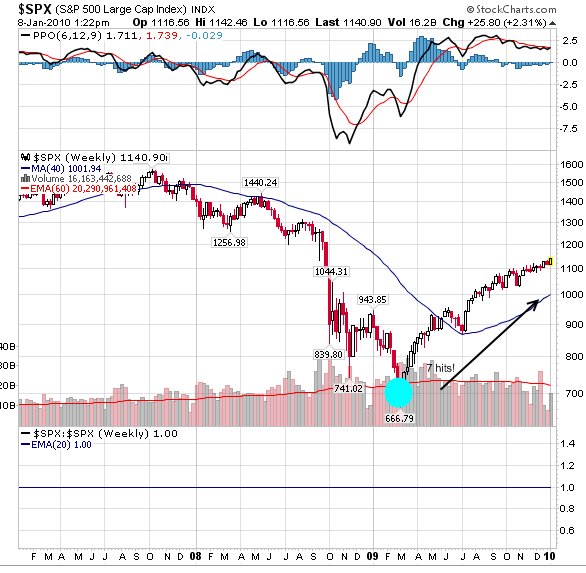 So now the issue of strategic default, that is not paying your mortgage even if you can, is becoming bigger and bigger:
"(NY Times) John Courson, president and C.E.O. of the Mortgage Bankers Association, recently told The Wall Street Journal that homeowners who default on their mortgages should think about the "message" they will send to "their family and their kids and their friends." Courson was implying that homeowners — record numbers of whom continue to default — have a responsibility to make good. He wasn't referring to the people who have no choice, who can't afford their payments. He was speaking about the rising number of folks who are voluntarily choosing not to pay.
Such voluntary defaults are a new phenomenon. Time was, Americans would do anything to pay their mortgage — forgo a new car or a vacation, even put a younger family member to work. But the housing collapse left 10.7 million families owing more than their homes are worth. So some of them are making a calculated decision to hang onto their money and let their homes go. Is this irresponsible?"
This perception is permeating throughout the country.  People ask, why should I be paying on my bad bet if the financial leaders in this country not only are ignoring their bad bets but getting handouts as well?  It is a good question to ask.  And thanks to the flow of information both manias and busts spread much faster.  I remember when Zillow was in its infancy during the bubble and people kept looking at "Zestimates" to confirm their bias that housing prices only go up.  Then they would e-mail that link to friends and families and say, "look, I made $100,000 in equity in one year!"  In California this was common yet never in the e-mail would they say, "and all this was due to the help of my Alt-A and option ARM."
What is more troubling is the inconsistent amateur hour at how banks are handling this mess.  One major issue is in some areas, banks are moving on foreclosures in eradicate patterns.  That is, they seem to take over homes in the normal fashion (NOD-NTS-Auction-REO) in timelines that make sense in some cases and in others they don't follow any pattern.  Here in California, we have some homes that go 18 months without payment and finally are taken over!  The timeline discrepancy is huge and probably encourages many to opt to do a strategic default.  I mean think about the actual numbers.  Let us assume a best case scenario where you bought a home with a 30 year fixed mortgage and your loan was $500,000 at 6.5 percent:
You bought at the peak in 2006 or 2007 and now that home is worth $250,000 to $300,000.  In other words, you are massively underwater.  But now knowing that you have 12 months to even an 18 months of a window before you are kicked out, what do you do?  If you are smart, you can play hardball with the bank and flat out stop making your payment.  Now, you are even in a better spot than a renter since most people that stop paying their rent face evictions rather quickly.  In this case, you have bought yourself some time.  How much can you save with a strategic default?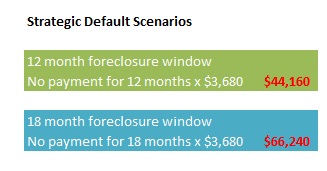 Now here is where it gets interesting.  Say that your current monthly payment consumes a large part of your net take home pay.  You were always planning on selling the home for a massive profit.  Now you are underwater like 30+ percent of California mortgage holders.  It is unlikely that you will see your peak price anytime soon.  Short of the bank dropping your home price to market value (aka principal reduction) it might make sense to stop paying.  Just look at the above chart and see how much money you can "save" before the bank kicks you out.  Many people never get a window of 1 to 2 years of no housing payment (rent or mortgage) once they enter their full adult life.  So you can understand why so many people are gearing up for strategic default.
And this psychology stems from one item that seems to be ignored.  Upping the down payment requirement. Assume we had a minimum 10 percent down payment someone walking away from the above mortgage is leaving $50,000 on the table.  That is a sizeable amount and would make someone think twice.  But with zero or little down, the numbers are very beneficial to those walking away and many in Alt-A and option ARMs are running the above scenarios (assuming they can even pay their mortgage).
And banks with shady one sided information hubs know this:
"(Bloomberg)  When principal reductions were granted for pay-option adjustable-rate mortgages — loans with high default rates because they enabled borrowers to pay less than the cost of interest as the principal increased — the re-default rate after 60 days fell to 6 percent, according to Mortgage Metrics.
"In terms of incentive, you have more skin in the game or less negative equity to deal with," said Fred Phillips-Patrick, director of credit policy for the Office of Thrift Supervision.
Many banks don't want word to get around that they reduce principal. They fear that homeowners who can afford their payments will demand better deals. John Lashley, a 44-year-old salesman in Huntersville, North Carolina, is making his payments. But he is thinking about walking away from his four- bedroom home unless his lender, Sun Trust Mortgage, agrees to cut the principal on his $345,000 loan.
The house next door recently sold for $260,000, and Lashley doesn't see the point of pouring money into his house when he may never recoup the investment he made in 2007. "Why should I stay in my house?" he says. "It's not a moral decision. It's a financial decision."
Well of course re-default rates fell.  You cut the loan!  Cut my monthly expenses by 30, 40, or even 50 percent and life would be much better.  Of course banks don't want this kind of idea to spread because they want to suck dry struggling/non-struggling home buyers as much as possible while leaching off the U.S. government which only gets its funding from the same exact source of people. Banks are screwing people on both sides of the fence.  And look at the above quote.  They are right, this isn't a moral decision but a financial one.  Those in the banking and housing industry that argue the morals of paying your mortgage are absolute hypocrites and really have a major source of cognitive dissonance.
If we want reform we first have to institute a minimum 10 percent down payment requirement.  Period.  No government tax breaks etc.  For most of the good healthy history of housing 20 percent down payments were required.  No wonder why we didn't have ridiculous bubbles.  This also moderated price inflation.  Plus, people will be walking away from a sizeable amount of money they saved if they decide to walk away.  That is why even in the previous bust in California we saw people walk away but it was more painful.  Now, psychologically people are walking away and sleeping like babies at night.  Nothing wrong with that.  Banks have been sleeping like babies in a gold crib for decades.
Yet the majority of prudent responsible owners are furious.  Let us run the numbers of who is really getting screwed: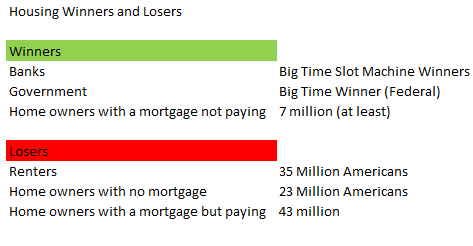 Should be pretty clear that our housing reward system is not functioning at all.  The vast majority are not happy with what is currently going on and the numbers above show that something will have to really change, the number of those being fleeced is too big to those who are gaining.
Did You Enjoy The Post? Subscribe to Dr. Housing Bubble's Blog to get updated housing commentary, analysis, and information.