The second half recovery argument took a significant blow last week when it was announced that 467,000 Americans were laid off in the month of June.  This number understates the problem because of BLS tinkering with the birth/death model and the headline number does not reflect the over 9 million Americans who are working part-time but want full-time work.  It also was little help that the state with the highest GDP in the nation is unable to manage its own finances and now finds itself in a $26.3 billion deficit and issuing IOUs.  This does not look like a green shoot recovery.  The problem of course stems from the initial premise dating back to the early part of this year that somehow, with the economic stimulus and bailouts that the economy would be back on its feet.  What did happen is the crony banking system is still intact but the real economy is deteriorating at the same pace.
In this article, I am going to layout 10 charts as to why there will be no second half recovery in 2009.  Before getting into the details, it is crucial to note that Americans have never lost so much of their net worth in any recession on record: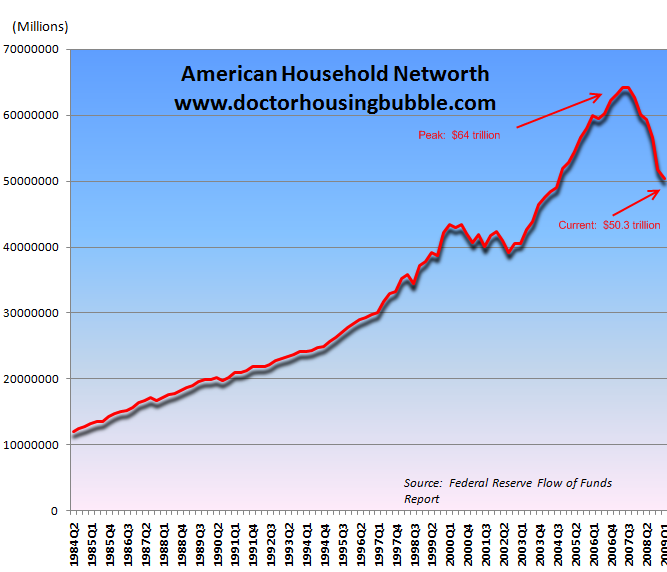 In no time in history have Americans faced such a destruction to their bottom line.  Since the recession started, some $13.87 trillion in household net worth has evaporated.  Much of this of course comes from the housing bubble imploding but also, the stock market following the same path.  Now given that housing in many areas is still overpriced, we can expect that the bottom line will drop further as housing contracts.  The above chart has data up to Q1 of 2009 and given housing prices fell in Q2 of 2009 we should see another drop in household net worth.  The bottom line is Americans feel poorer because they are and this will have a major psychological impact on how they spend.  The green shoot argument hinges on the stimulus package that was some $787 billion.  Given the amount of lost net worth, this stimulus is a drop in the bucket.  Also, $287 billion of the plan was based on temporary tax breaks which are now being negated by many states raising taxes.  Part of the tax credit gave new home buyers an $8,000 tax break (this has run out for California).  Yet here we are issuing IOUs like some Dumb and Dumber reenactment.
If we break down the stimulus further, it really isn't a stimulus plan as much as a "put a band-aid on the broken leg so things don't get worse" stop-gap measure.  Much of the money goes to schools, Medicaid, repairing infrastructure, and helping the growing number of unemployed so to view this as the engine for second half growth is absolutely wrong.  It is a tourniquet to stop the bleeding.  However during this same time we committed some $13 trillion to the crony banking bailout and that is why you see some folks like Goldman Sachs trading at $143 a share up from their $47 low reached in March.  So the banking system and Wall Street were taken care of but Main Street was kicked to the ditch.  Here are the 10 reasons why there will be no second half recovery in 2009.
Reason #1 – Collapsed Auto Sales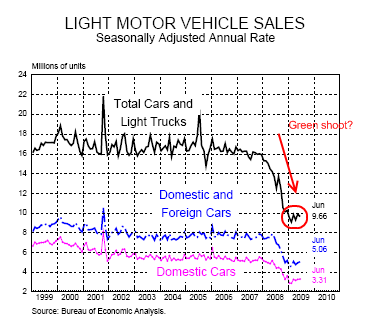 It shouldn't come as a surprise that the auto industry is in shambles here in America.  As you can see from the chart above auto sales are struggling even to get over the 10 million SAAR which doesn't bode well for the future of many car companies.  The problem isn't so much that cars that are being produced today are of low quality.  In fact, the opposite is true and cars today are being produced more efficiently and with better quality.  But like housing, they are too expensive once you take away the debt elixir.  Even the Governor of car happy California had this to say in a recent radio address:
"As a matter of fact I was just talking with a friend of mine who told me about an American company that is going to produce a car for $10,000 to $15,000.
Think about that. For $10,000 or $15,000 compared to the average car sold in America for close to $30,000."
Now you should think about that.  How does this bode for companies that make those cars selling for the average $30,000?  The only reasons Americans were able to buy cars like they did for the past decade was because of easy access to debt.  That is gone.  Even if it came back, who in the world are car companies going to make loans to?  Someone that is unemployed or seeing their hours cut back isn't in the mood to buy a $30,000 car.  So this big segment of the U.S. will be slow for the rest of the year.
Reason #2 – Housing Starts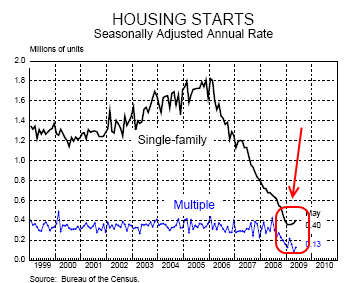 The last time housing starts collapsed this quickly was in the Great Depression.  For a country with an economy built on real estate this chart tells you a lot as to why we are in this mess.  We over built with easy financing both at the commercial and retail level and here we are working through the excess that is left in the system.  The problem is, we have years of excess.  Nationwide foreclosures are at record levels thus ensuring us continued cheap inventory throughout the year.  Why would any builder want to start building right now to compete with that economic forecast?  Plus, new homes are more expensive than existing home sales and if you haven't noticed, we're in the middle of a deep recession.  The second half recovery crew apparently didn't get the memo on this one.
Reason #3 – Single Family Home Sales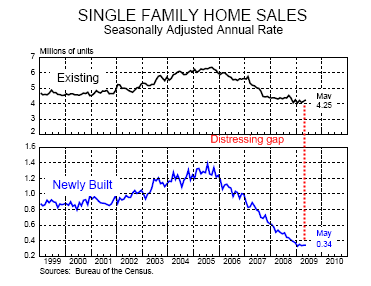 This above chart shows this divergence even clearer.  Calculated Risk calls the gap between new home sales and existing home sale the distressing gap.  In more normal times, the pattern for both of these usually trend together.  That trend has been broken.  Existing home sales are outpacing new home sales in large part because of foreclosure re-sales.  How are new homes going to compete with this?  They can't and that is why they are losing.  Since foreclosures are sky high we can rest assured this pattern will continue for some time, definitely for the rest of 2009.
Keep in mind that we haven't even seen the Alt-A and option ARM tsunami which will flood more inventory onto the market later this year and into 2010.  People ask, "how are you so sure the Alt-A problems will come to fruition?"  It is a simple problem and if you think about it, there is just no way around it.  Let us assume for the sake of the crony banking system, that the government does a massively boneheaded move and buys up all the toxic Alt-A paper in the market (which would be some $2+ trillion but we are being hypothetical here).  Okay.  Banks and Wall Street are saved again.  But one small problem.  The borrower still has the crappy loan!  So the default will still happen unless the government writes down the loan (and I don't mean these pathetic loan mods which are basically turning loans into option ARMs).  If that happens, our deficit will explode even further which is not a good sign given how enormous it is now.  Deflation seems to be here in many sectors yet the fear of inflation and hyperinflation are ever present.
Bottom line is that there is no way around it and we will see more foreclosures and lower home prices.  Not a recipe for a second half recovery.
Reason #4 – Personal Savings Rate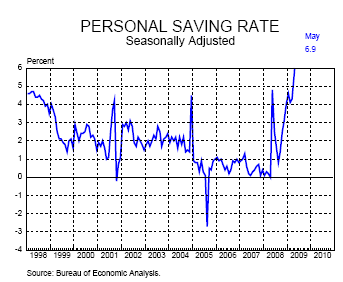 You notice how financial networks don't spend more than two seconds on this fact?  Want to know why?  It is because these financial networks view the average American as their pet consumption hamster.  They speak about unemployment as if it were some science project yet scream in climatic passion to help their banking overlords.  The fact that the savings rate is going up is good.  Yet this brings up the paradox of thrift.  Our society today massively relies on consumption with 70 percent of our GDP coming from this.  So it would logically follow that if Americans are saving more, they are spending less.  And the above chart shows the savings rate literally off the charts.  This is important since Americans have lived beyond their means for the past two decades and now that debt is collapsing, many are realizing that they were only living on borrowed financial time.
You don't need to read hundreds of personal finance books to realize that to be financially secure, you need to save.  But how many times have we heard the so-called financial media highlight this?  Sure, they have their token frugal segments but 90 percent of their time is spent on pumping stocks and skimming on any deeper analysis.  The fact that they missed the deepest recession since the Great Depression puts their credibility (what is left of it) on the line.  I heard one of the networks say that we need to have "faith and hope" in the recovery.  Come on now!  This was coming from a network that ridiculed many bearish commentators about the housing bubble as "having the wrong faith."  Unfortunately finances aren't about faith.  We do have animal spirits but no animal spirit is going to save you if you lose your job or have a major mortgage recast in your future.  Americans realize this and are upping their savings rate.
One troubling anecdote which is also contributing to this is many employers have cut back their 401k contributions.  Given the market has gone down by 40% since its high, many are debating whether they should even contribute to their retirement account.  So instead, many are just putting their money in a cheap saving account.  Well at least we aren't like Sweden offering a negative 0.25 percent rate.  As much as the government is trying to get people to spend, many are doing the opposite which is the right thing to do.  After all, I doubt the financial networks will be there to make up for your lost hours or employment should those green shoots not show up.  Speaking of lost hours…
Reason #5 – Hours Worked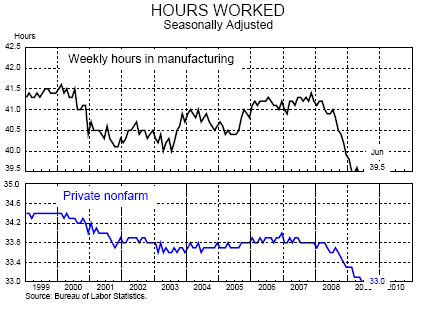 What was even more troubling than the 467,000 jobs lost last month was the fact that hours worked keeps declining with no foreseeable stop.  This is probably a better indicator of the overall economy since as we noted, over 9 million people are working part-time so that doesn't show up in the mainstream unemployment number but would show up here.  When the economy does start turning around, there will already be people working that will simply go from part-time to full-time.  This is good for those that jump into the new role but this will keep a lid on any new employment growth for a very long time.  And keep in mind the trend is still heading lower.
As many of you know, unemployment peaks well after the recession is over.  This recession is far from over.  Many were expecting the second half to usher in massive rallies and easy money.  From where?  What sectors?  As we noted, the stimulus was more of a tourniquet.  In fact, in Q1 of 2009 the loss in American household wealth almost doubled the amount of the initial stimulus bill.
The hours worked component is important to keep our eye on.  This is a good indicator for early signs of recovery.  So far, there is no green shoot here.
Reason #6 – Unemployment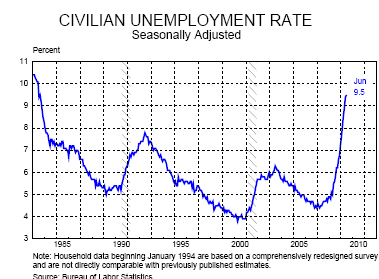 The unemployment rate keeps moving up and most early estimates from analyst this year are blown out of the water.  States like California now have unemployment rates of 11.5 percent that have never been seen by a large part of the population.  It is amazing how little focus has been given to job creation.  If we spent half the amount of time as we did in bailing out the crony banks on job growth we'd be in much better shape.  But as many of you now know the U.S. Treasury and Federal Reserve when push comes to shove, answer to their banking oligarchs first and then to whatever they have time for.  It is amazing that the Federal Reserve which in its mission talks about maintaining stability has presided over:
The Great Depression
Multiple Recessions
1987 Panic
Technology Stock Crash
Housing Bubble
By this simple definition they have failed miserably.  They operate as a cartel and when things are going well, it goes better for those connected here.  When things hit the fan, they take care of their banking partners and take the average taxpayer out to dry.  That is why the unemployment situation is quickly falling apart.  In fact, that is why we have seen no employment plan come out from either the last or current administration.  No matter what tax break you give for buying a home, without a job it really doesn't matter.  That is something that really amazes me in this current economic crisis.  Where are the jobs going to come from?  If anything, I can stand behind a job plan more than I can stand behind a crony banking bailout.  Yet all this time is devoted to saving Wall Street and banks.  Now you know who the Fed serves and it isn't the American citizen.
Reason #7 – Renting Doesn't Sound so Bad Anymore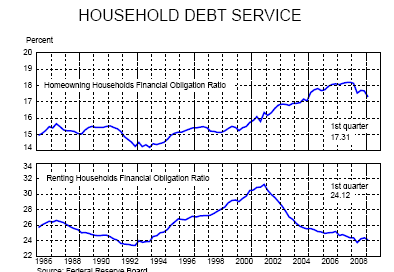 I remember these debates I would get into with colleagues during the housing bubble.  They would jokingly say, "it's the first of the month, isn't the rent due today?"  I would get a laugh out of it but in my mind, I knew they had a mammoth mortgage payment due on the same day, which to them was somehow different.  A few had neg-amortization loans like option ARMs which were building up no equity!  It was worse than renting.  Most of these colleagues now either rent or lost their home in the California housing implosion.  Yet the conversation has now shifted to the utility of a home and not so much the equity machine that many thought it was.
The above chart is important.  As you can see, over this decade the debt service for homeowners is still at a high while the debt service for renters has steadily decreased.  Part of this of course is many are now electing to rent instead of buying a home.  The rental market is now facing some challenges because of a flood of inventory.  As many of you know I own rental property and I have seen this first hand.  Yet the rental market is nothing like the housing market.  That is, you can drop your rents and the market will respond at some level.  Right now, you have some areas in Nevada and Arizona where you almost have to give away homes.  And for selling a home, you are restricted to the balance due otherwise you have to give someone money to sell your home or get your lender to agree to a short-sale.  Not many of these get approved.  Hence, many just walk away and that is why we are now seeing more rental inventory hitting the market.
The major shock is that housing prices do fall and can fall hard.  We have never seen a nationwide housing decline since the Great Depression.  What do you think those that lose their home in foreclosure will think later on?  Many will vow never to buy again once they get the stain of foreclosure off their credit history.  And many watching this will be extremely cautious in over paying.  The housing bubble machine has stopped.  There is no dues ex machina for the second half.
Reason #8 – S&P 500 Priced too High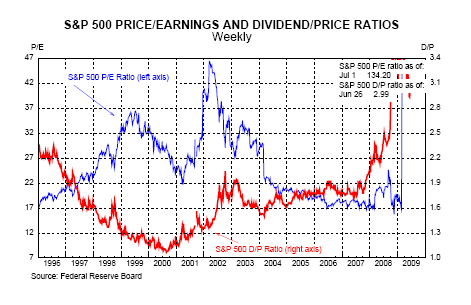 Sometimes in life you get what you pay for.  Many people rushed into the stock market after the crash thinking it was the bottom.  Much of the recent buying is program trading resulting in low volume days and also, highlighting what a casino the market really is.  In fact, a former Goldman Sachs employee is now in trouble for trying to take away software from the ever powerful company.  The fact that they are trying to create programs that you can set on autopilot and make billions on tiny trends is absurd and show how nutty the market is; this is like having a robot sit at a Texas Hold'em table that will win 90 percent of the time and expecting people to play against it.  Yet when they make a horrible bet with say, AIG then the government (aka taxpayer) steps in to bail them out.  This is something that needs to be addressed now by the current administration.  People are starting to lack much confidence in the system and really don't enjoy losing money to robots and computers.
If we look at the S&P 500 as we enter earnings season, we need to realize that prices may be cheap because they deserve to be cheap.  As we've noted, Americans are saving more thus cutting into consumption.  Household wealth has taken a major hit which will be reflected in a negative wealth effect.  So to expect that earnings will explode in the second half has no premise in reality.  Until we see stabilization in the employment figures and housing stops dropping like a ton of bricks, jumping into the stock market casino is at your own peril. 
Reason #9 – Deflation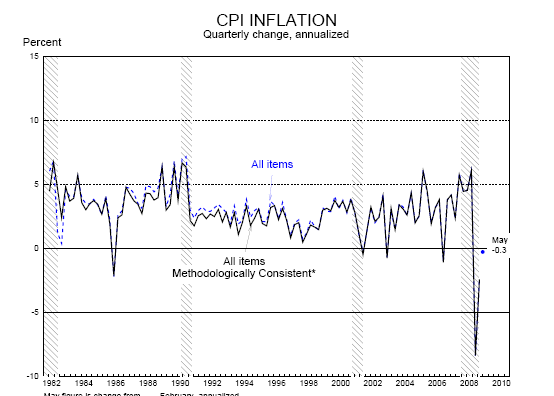 In a recent article I gave 5 clear sectors where deflation is hitting the American family.  Inflation is not the immediate threat.  Wages are falling.  Home prices are crashing.  Auto prices are lower.  Demand destruction is causing price deflation.  That is clear and the CPI reflects this.  The trends that set this in motion are still present.  Wages will be falling further and home prices still have a way to go.  Having deflation in the second half is almost a guarantee and deflation does not bring good things to the stock market.  Have we even talked about commercial real estate?  There are many reasons why there will be no second half recovery.  There are few arguments to show us why we will see green shoots in the coming six months.
Reason #10 – Personal Consumption Expenditures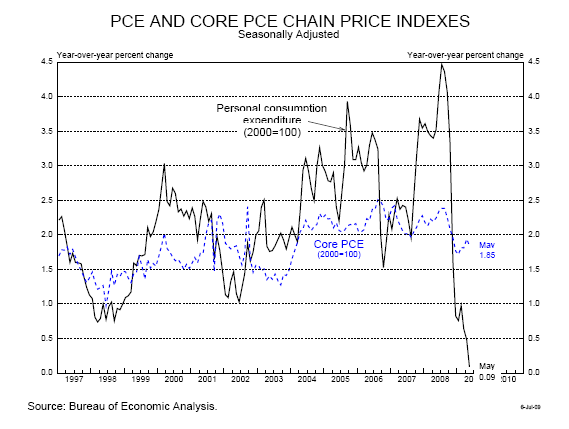 It should come as no surprise then, putting all of the above together that consumers are spending less and less.  As you can see from the chart above personal consumption expenditures have fallen off a cliff.  The trend is still lower.  Until this reverses there is little reason to believe in the second half recovery.
Keep in mind that if we reach this December in recession, it will be 24 months of being in an official recession.  This is the deepest cut to our national economy since the Great Depression.  If you are looking for green shoots we can start having that conversation once we see some semblance of stability in the employment numbers.  Keep in mind that housing is falling in spite of every imaginable bailout possible.  Loan modifications, tax breaks, and other propaganda have done nothing in stopping the inevitable reversion to the mean.  What it has done is wasted trillions in taxpayer money.
The second half recovery will not happen.  These 10 charts above represent an extremely large part of our society and where Americans hold their wealth.  The financial networks may have paid puppets to cheerlead for a second half recovery to keep their Wall Street masters happy but the vast majority of Americans see through their propaganda.  Even if they don't see through it, they are feeling it through the horrible employment conditions, declining home values, and shrinking stock portfolios.
Did You Enjoy The Post? Subscribe to Dr. Housing Bubble's Blog to get updated housing commentary, analysis, and information.