The Federal Reserve may be nearing an end to its manic cutting of the Federal Funds Rate which started in August of 2007. The rate in August stood at 5.25% and is now back at 2% bringing warmth to our heart as we reminisce our long gone friend and maestro, Alan Greenspan. The Fed in its infinite professorial wisdom felt that all the market needed was a bit of rate cutting and all would be well. Well guess what? The only thing that this irresponsible rate slashing has brought is a negative real Fed Funds Rate which if left unchecked is bound to cause stronger pressure on inflation. If we are to look at the real rate, which is the fed funds rate minus the inflation rate we are now negative by about 1.25%. Keep in mind the historical average has been positive 1.75% since 1975. So given that the Fed is on a mission to inject liquidity like a botox party, where are we now 9 months later? The Fed futures probability is at approximately 80 percent that there will be no rate cut in the next meeting in late June: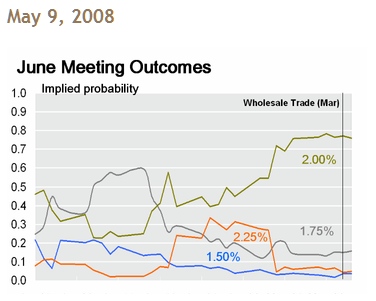 During this same timeframe, let us look at a few different key statistics to see how things have turned out since August of 2007. I think it is best to do a graphical post to highlight what has gone on in the past few months since everyone thinks the Fed has somehow fixed the current economy:
Dow Jones Industrial Average:

S&P 500:

Oil: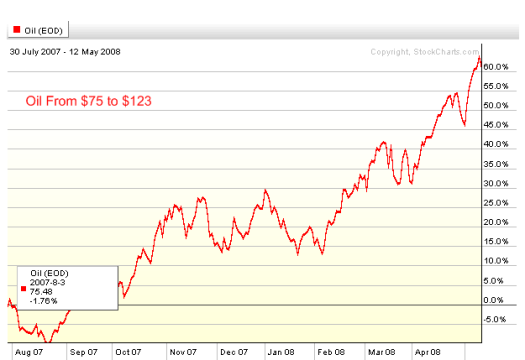 U.S. Dollar Index: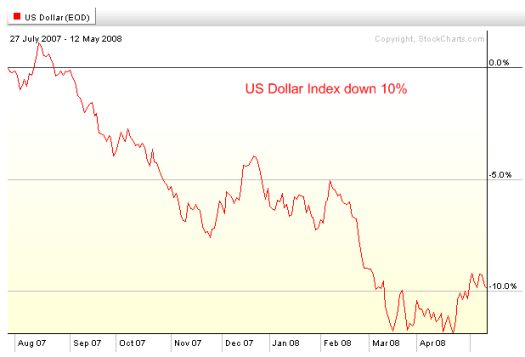 Fed Funds: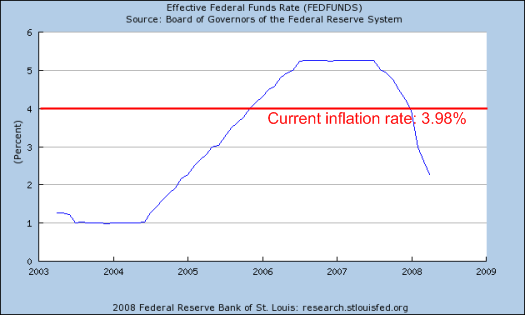 Case-Shiller 20 City Composite: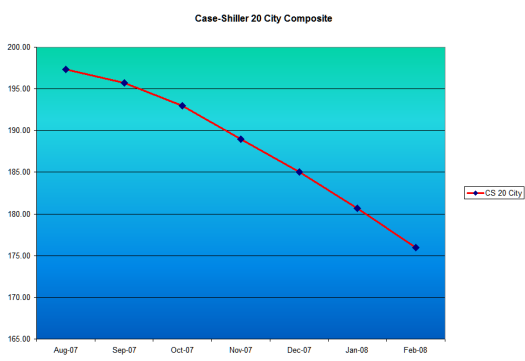 Now what exactly was the cutting of rates suppose to help with aside from the credit market Armageddon which is still unfolding? Clearly the dollar got hammered by 10 percent in this short timeframe. Housing is still continuing to correct. Oil has been on a record 60% tear during this same timeframe. Rice shortages anyone? And the DOW and S&P 500 are still below their levels in August. All that wasted ammunition and for what? To bailout the Wall Street firms and their irresponsible Ponzi Scheme of Collateralized Debt Obligations? Clearly the average American family from looking at the above charts is seriously worse off given the events of the last 9 months! Yet they keep resurrecting the boogie man saying that if they didn't step in, things would be a lot worse. Well by looking above, if this is their idea of helping out I'd rather they get out of the way pronto.
Whenever I hear the Fed saying they are trying to help us I can't help but to think of Wimpy from Popeye and him saying, "I'd gladly pay you Tuesday for a Hamburger today."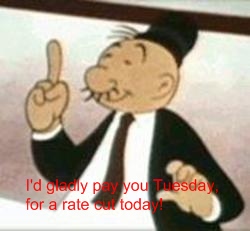 We haven't even looked at all the Fed TAF, TSLF and PDCF "tools" which is just a cover for crap credit swapmeet or CCS. Take a look at this reconstructed chart by Now and Futures: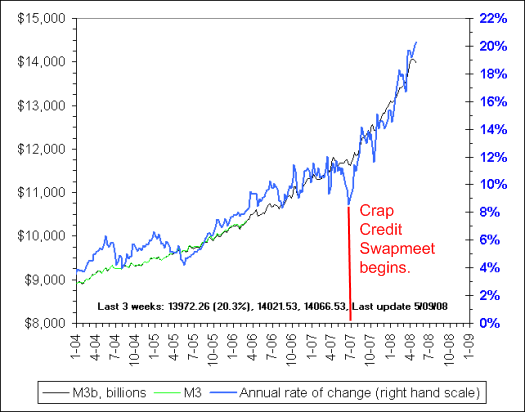 I've added a line to draw your attention to the credit crisis birth moment. So even though the Fed is about to stop with its pointless rate cutting which has done very little in terms of helping the average American, it has been dolling out Treasuries in exchange for banana republic notes. Even though we keep hearing that we are now approaching the end of this crisis, the Fed is shaking in its boots because it has essentially used all its capabilities and things are actually worse today. So much ammunition lost and not much has changed; unless you have crap CDOs and worthless mortgages you'd like to exchange. In that case, you are much better off. And I say worthless with every sense of the word because some mortgages in places like Detroit, Cleveland, or even Atlanta are flat out not even selling. Some areas will actually need rebuilding. There is zero market in some areas.
Welcome to the last 9 months; your consolation prize is the Fed will now stop cutting rates. Now seeing how well the Fed has done for the American people these last 9 months, do you really trust the government to bail us out from the housing and credit mess? Unfortunately the Fed is willing to sacrifice the dollar for the stability of Wall Street. The only problem is Wall Street does not reflect main street USA and the disconnect grows wider and wider. Think of the $729,500 raise in caps which by the time it hit the market in California, values were already down by 30% statewide!
I don't think people object to frivolous spending. After all, this is a free country right? Yet the problem with this entire mess is the ultimate get out of jail card that many Wall Street firms and lenders were operating under. This "too big to fail" idea needs to, well fail. If a bank was forced to keep mortgages on their books, I assure you they would not have made the loans that they did over this past decade. This is the equivalent of you eating twenty In-n-Out burgers, and then getting frustrated that you feel bloated and sick. Then you proceed to ask for help from your neighbor who only ate one burger. The government is trying to lead folks to believe that there is a "green pill" that'll somehow miraculously cure your indigestion, make you thin while you eat those burgers, all the while your neighbor gets the bill. There is no animal style for the housing market and there is no pill to take away the credit gluttony. People hate hearing the solution. It will take time and a lot of hard work and a radically new lifestyle. There is no credit market liposuction.
Of course all that is going on is not the Fed's fault. Yet you have to ask yourself, is the only thing we've gotten out of this last 9 months is Wall Street putting the fear of a Wile E. Coyote moment in the heart of the public? Well guess what, we're already flying off the cliff but we've just given some nice golden parachutes to a lucky few. We are now running faster and harder to stay in the same place like the Red Queen's race from Alice in Wonderland:
"Well, in our country," said Alice, still panting a little, "you'd generally get to somewhere else — if you run very fast for a long time, as we've been doing."
"A slow sort of country!" said the Queen. "Now, here, you see, it takes all the running you can do, to keep in the same place. If you want to get somewhere else, you must run at least twice as fast as that!"
Contact your representatives and let them know that you will not stand for anymore golden parachutes!
Did You Enjoy The Post? Subscribe to Dr. Housing Bubble's Blog to get updated housing commentary, analysis, and information