On Friday, state unemployment figures highlighted a weak job market.  The California numbers moved up again reaching a high for the recession registering an 11.6 percent unemployment rate.  This comes at a time when the state is in a $26.3 billion budget deficit.  Even though some are getting excited that a budget deal may be in reach, they forget that we still have a revenue problem.  What does that mean?  We'll be back in this same spot a few months down the road.  Much of these structural problems have to do with how California collects revenues from personal income taxes and other volatile sources of income.  Another reason why this will be a prolonged recession for the state is our heavy reliance on real estate.
I happened to catch one of those house-flipping shows this weekend and what I saw simply reaffirms that California still has pockets of denial.  A home was bought in a better area of Southern California and the buyers added every tiny detail including a Jacuzzi, stainless steal appliances, hardwood floors, and of course the granite countertops.  The home needed work but was in a so-called prime area.  The home sat on the market as you would suspect but eventually, someone paid a price that simply did not justify the home and location.  From purchase, rehab, to sale it took nearly one year.  The realtors gave out price ranges from $500,000 to $910,000.  The asking price was over $1 million.  It sold for that price.
This simply reaffirms what I have been observing and what the data is telling us.  The middle to upper range of the market is finding fewer and fewer suckers.  The Alt-A and option ARM tsunami will hit these areas like a ton of bricks come late 2009 and into 2010.  Some of these areas include Culver City, Palms, and Pasadena.  But I know the main question many want answered is "when will we really see a true bottom for the California housing market?"  For that answer, I decided to compile an intricate graph looking at tiered housing prices for the Los Angeles area and statewide unemployment: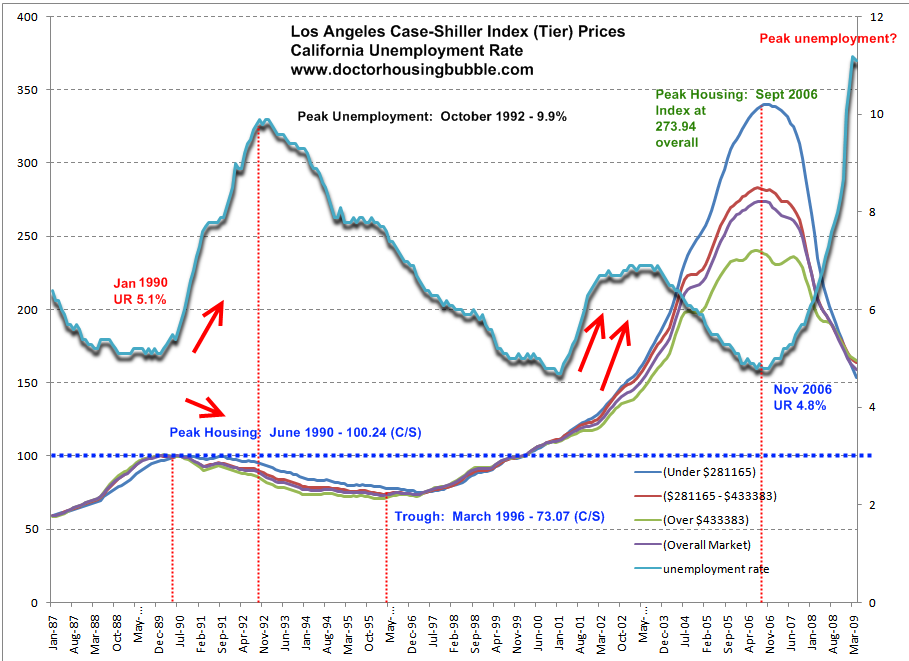 *Click for sharper image
We should spend some time looking at this chart carefully since it may hold the future of where we are heading.  First, in the late 1980s to early 1990s Southern California had a housing bubble.  Shocking, I know.  The peak was reached in June of 1990 looking at the Case-Shiller data.  The unemployment rate hit a trough in January of 1990 at 5.1 percent.  This is one of your more typical patterns of housing declines.  First, you see unemployment creeping up which burst the housing bubble.  Housing prices did not reach a trough until March of 1996 nearly six years later.  Unemployment peaked in October of 1992 at 9.9 percent.  Even as the employment situation improved, housing prices still continued their downward movement.
That in many respects was a normal boom and bust cycle.  It is easy to understand.  Yet there is no semblance of logic for what occurred after the 1996 trough.  Southern California housing prices increased non-stop until reaching a peak in September of 2006.  A decade of massive appreciation.  Even the sharp spike in unemployment during the 2001 recession and tech bust did very little to stop the Southern California housing bubble.  If you take the 73.07 trough figure reached in 1996 and look at the 273.94 peak figure from September of 2006 housing prices for the region nearly quadrupled!  This is pure insanity.  This is seeing a $100,000 home selling for $400,000 ten years later.  Or a $200,000 home selling for $800,000 a decade later.
California was home to some of the most toxic mortgage producers including IndyMac and Countrywide Financial.  These lending institutions not only employed Californians but also allowed them to play into the housing bubble.  California turned itself into a snake eating its own tail.  When housing was booming, so was the state and those working in the real estate industry.  Now that housing is imploding so is the state.  The two now share a similar fate.
If we glance at the chart again, you'll notice that from peak unemployment in 1992 to the trough in housing prices in 1996 there was nearly a 4 year lag.  Assuming this pattern, we still do not have the peak unemployment figure since we keep moving up.  So assume we hit peak unemployment in 2009 (best-case scenario) then is the housing bottom really in 2013?  Most estimates show us reaching peak unemployment in 2010.  I would argue that this bubble is much larger than the late 1980s bubble so we will probably have a much deeper impact.  And make no mistake, every tier of the market will be hit.  It is also the case that we did not have a significant number of Alt-A and option ARM loans back then.  It is an interesting note that the highest tier includes homes over $433,383 while the average Alt-A loan is $420,000+.  Want to take a wild guess what is going to happen to that highest tier?
It may be hard to detect what was exactly happening to our current market but the action is unmistakable.  First, let us zoom into the trough of the 1990s to see what occurred in various tiers: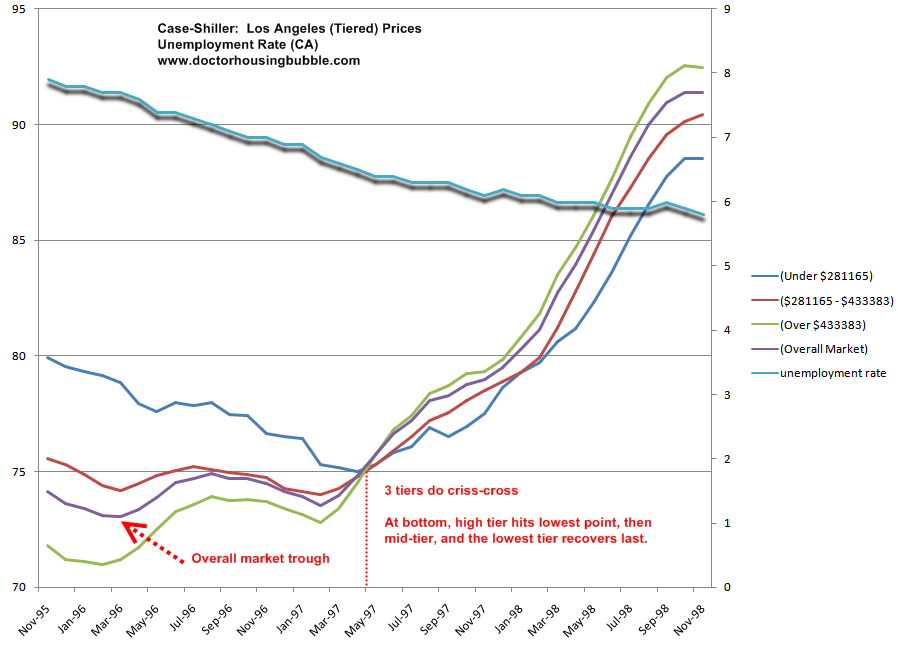 This is where you see the real action taking place.  What you'll notice is this.  The overall market hit a trough in 1996.  At this overall bottom, the high end of the market had the strongest percent fall according to the Case-Shiller data.  This would of course make logical sense since the high range of the market has a tiny number of buyers and in a tough economy, sellers will have to lower prices to move inventory.  Keep in mind this is market behavior at a true bottom.  When the recovery starts, you can see that the high range led the way, followed by the mid tier, and finally the low range.  At a certain inflexion point, all three ranges cross.  With the Alt-A and option ARM tsunami around the corner you can practically see this pattern playing out again.
There is very little doubt that this will happen.  Let us now zoom in and view our current situation: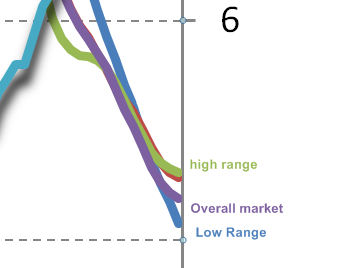 The current situation is inverted.  That is, the low range is at the bottom, the overall market is next followed by the mid to high range which still have to catch up.  And the more troubling fact is the trend for all is still lower.  We haven't reached the bottom yet and unemployment is still spiking.
When you look at this data and look at history, we are still very far away from a bottom here in Southern California.  Combine this with the Alt-A and option ARM loans that were made in mass during the boom and you have a recipe for a second phase of this housing bubble.  Maybe I was too optimistic saying 2011 was going to be the year we reached a housing bottom.
Did You Enjoy The Post? Subscribe to Dr. Housing Bubble's Blog to get updated housing commentary, analysis, and information.