I recall talking with someone about purchasing a home near the peak of the bubble.  The funny thing about bubbles is that like a game of musical chairs, you rarely believe you will be the last one standing with no chair.  Professionals in the housing industry understand how important emotions are in purchasing a property.  This person eventually bought even after having a solid and thorough analysis of the market at what would be close to a peak.  Underlying it all was this sense of urgency to purchase because of a fear of missing out on lost appreciation.  This year I've noticed this same psychology playing out in Southern California.  Even in say 2006 when prices were looking frothy, if you bought you had a window in 2007 to exit with a nutty price.  Today appreciation is going to be capped for a few reasons and we are entering another pool of uncharted waters.
Go ahead and buy but don't call it an investment
As Robert Shiller carefully highlighted in his research housing typically tracks the overall rate of inflation.  Not exactly a stellar investment but so what if you only plan on using it as a place to live.  Even back in 2006 I would have people try to rationalize their purchase and they would ultimately ask, "should I buy?"  Buying a home is a very personal decision and likely the biggest purchase you will ever make.  But if you do not plan on being a landlord, you should not examine your primary home as some sort of investment.  The market today has some new interesting factors in play.
First, these low rates are an anomaly and the drop is astounding even if we only go back five years: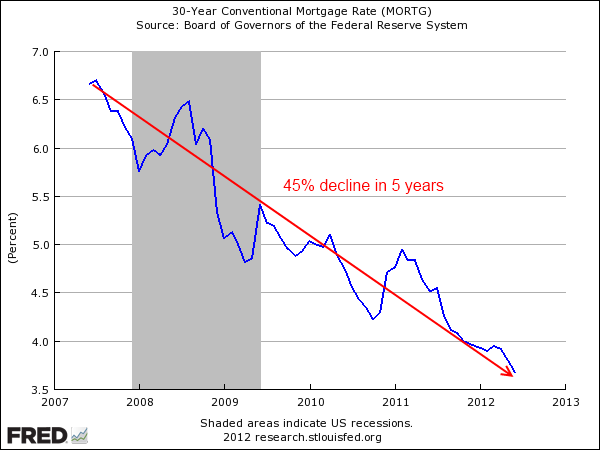 The typical 30-year fixed rate mortgage has fallen into the 3.6 percent range.  Compare that to 6.7 percent only five years ago.  How big of a difference does this make?  Take a look at a scenario for a $500,000 mortgage: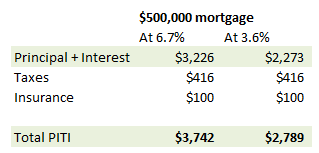 The difference is a payment of $3,700 and $2,700.  That is a massive difference.  To put this into a more direct perspective, a $500,000 mortgage at 3.68 percent would have a similar PI as a $350,000 mortgage at 6.7 percent.  These low rates in other words have pushed purchasing power so high, that the increase in a place like Southern California has caused leverage to jump by $150,000.  That is enormous.  This is nearly the median price of a US home.
More importantly however is that this low rate environment is being caused by weak economics and declining household income.  That is actually the bigger economic story.  It would be one thing if overall household incomes were increasing and the economy was actually becoming healthier organically.  Yet that is not the case.  Here in California we have many years of major budget deficits and a big tax vote coming up this November.  Underemployment is near 20 percent so these items will add pressure to housing prices rising.
Yet the big cap on appreciation is the low interest rate.  As noted above, the 3.6 percent mortgage rate has given an underlying boost of $150,000 when looking at a $500,000 mortgage.  Since many are apt at pointing out lease equivalents, are you willing to pay $150,000 more in face value just so you can have a comparable place that you would rent?  This is fine actually.  Yet many should be aware that they are going to be locked in for well over a decade if a scenario like Japan plays out.  I believe a Japan like scenario is the best case given our current economic situation.  Look at Europe to see what happens when interest rates suddenly spike.  At this juncture, the current housing market wouldn't even handle the rates last seen five years ago.
Nationwide a bottom is being found but we are talking about a median home price of $180,000.  So run the numbers for someone buying an $180,000 home with 10 percent down:
$162,000 mortgage
@6.7% PI             =             $1,045
@3.6% PI             =             $736
This is a big boost for your typical US household pulling in $50,000 a year so it should be no surprise that nationwide prices are going up.  In essence, the PI portion of the housing payment has fallen by 30 percent in conjunction with the actual face value falling over 30 percent since the peak.
I was noticing bidding wars picking up again this year in Southern California.  Banks leaking out shadow inventory have created an artificially low supply of inventory in which low interest rates have created a boost in leverage.  Let us examine what is going on in the market right now by looking at three pending sales in Pasadena in various price categories: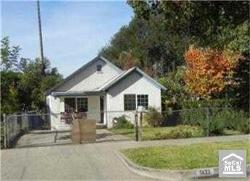 Pending sale number 1
1433 El Sereno Ave Pasadena, CA 91103
3 bedroom, 1 bathroom, 1 partial bath, 1,034 square feet, Single Family 
List price:                             $230,000
Sold for $435,000 in 2006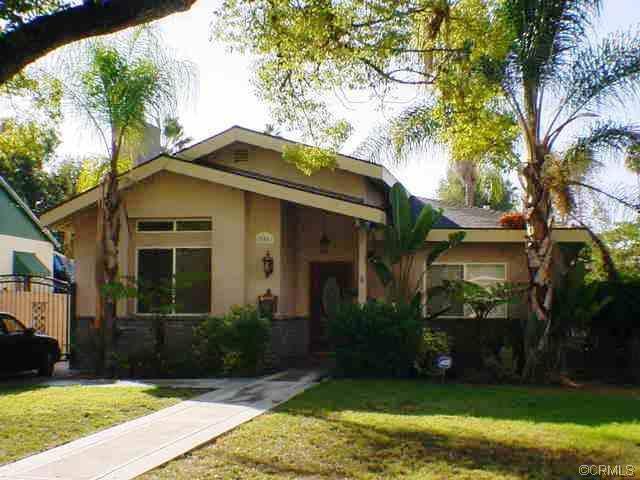 Pending sale number 2
550 East Elizabeth Street Pasadena, CA 91104
3 bedroom, 2 bathroom, 1,643 square feet, Single Family 
List price:                      $435,000
Sold for $803,000 in 2006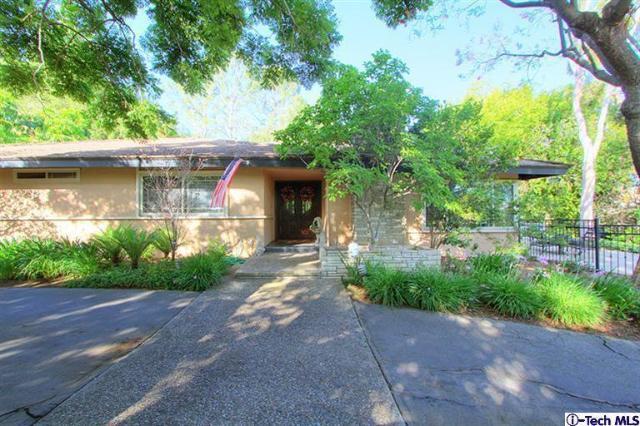 Pending sale number 3
1646 Sierra Madre Villa Pasadena, CA 91107
3 bedroom, 2 bathroom, 1 partial bath, 2,951 square feet, Single Family 
List price:                                             $999,000
Sold for $1,190,000 in 2005
Good deals?
When you do your analysis do not forget opportunity cost.  If you put down $200,000 as a down payment that is money that could be invested elsewhere.  Presumably if you are buying a million dollar home you understand a little bit regarding opportunity cost.  It should be clear that low interest rates are likely to keep a lid on any sustainable appreciation moving forward short of household incomes actually improving (this would be very positive).  And any investor is not going to treat a home like number two or three as a lease equivalent option.  Why?  First, you have vacancies and even one month of it being empty to transition renters will eat $5,000 to $6,000 of carrying costs.  In addition, California is not a landlord friendly state.  Say you get a tenant you need to kick out because they stop paying.  You still have to pay the bills.  There are many other items we can discuss and property investors understand this very well.  You do not treat your primary residence as an investment.

Did You Enjoy The Post? Subscribe to Dr. Housing Bubble's Blog to get updated housing commentary, analysis, and information.