America has built a large part of its economy on homeownership.  Owning a home is part of the ever more elusive American Dream.  Yet over time, owning a home became a larger and larger burden as new buyers were required to take on bigger debt loads merely to buy a basic home.  Incomes weren't rising so debt was the new subsidy.  The apex of the bubble was reached in 2005 although prices didn't start falling in drastic fashion for a couple years later.  The U.S. Treasury and Federal Reserve are largely to blame for inciting the biggest housing bubble the world has come to know.  Wall Street is equally to blame for creating the structure that allowed this to happen as they championed de-regulation and completely neglected any fiscal responsibility.
In today's article, I will dissect the housing market from every angle.  It is easy to get caught up in the day to day data but the bigger picture is usually missed.  Let us first look at the total number of housing units in the U.S.:
129,000,000 Housing Units in U.S.
Owner-occupied, rented, and vacant units
In the United States we have approximately 129,000,000 housing units.  These are made up of owner-occupied, rented, and vacant units.  The largest of these three categories is the owner-occupied category and most of the media focuses on this number.  Yet the other categories carry as much weight in determining a housing recovery.  Let us look at the vacant housing units:

The vacancy rate for both owner-occupied and rental properties is still near all time highs.  With so many sales, how can it be that this number is so high?  I'll get into this later in the article.  But part of this has to do with demographics, the makeup of current housing inventory, and years of over building.  It is also the case that we are shifting a large number of would be renters into homes and causing the rental vacancy rate to spike.  Many of these apartment projects are financed with commercial real estate loans and the Federal Reserve is essentially shifting defaults from residential loans to commercial loans.  That is why we are seeing rents fall as owners compete to fill vacant units.
So now we have the universe of housing units including vacant units.  Let us drill down and examine the number of owner-occupied homes and renter-occupied units:

75 million Americans own their home.  The homeownership rate is derived from only looking at occupied units.  That is why it is important to also keep in mind the vacant units sitting on the market.
You'll notice that the ownership rate does not factor in the vacant units.  The vacancy rate is at historical highs and this is another factor that will drag on the housing market for years to come.  37 million Americans rent their housing.  This can be apartments or actual detached homes.  The number of renters has recently increased as homeownership has fallen: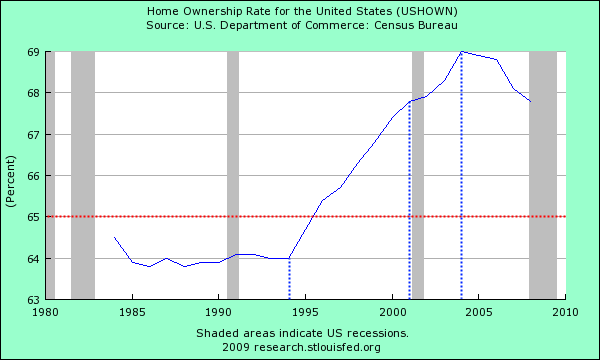 The chart has a few patterns worth noting.  From 1985 to 1995 the homeownership rate in the U.S. hovered around 64 percent.  The only recession during this time was in the early 1990s yet the rate remained steady.  The first spike started after 1995.  This trend went from 1995 to 2000 and pushed the homeownership rate from 64 to above 67 percent.  Part of this had to do with the technology bubble and the growth in the economy.  But then we hit the early 2000s recession largely brought on by the burst of the technology bubble.  Instead of homeownership declining which is typical in recessions, the homeownership rate expanded upward.  Much of this was due to Federal Reserve Chairman Alan Greenspan dropping the Fed funds rate to record lows.  Wall Street looking for the new-new thing, went from tech IPOs to mortgage backed securities and the toxic mortgage party started.
This easy access to credit and excessive risk pushed the homeownership rate to nearly 70 percent in 2005.  But that was it.  The bubble burst and the homeownership rate is now on a steady decline.  While the above chart is moving lower, one chart is moving higher.  The U.S. home vacancy rate: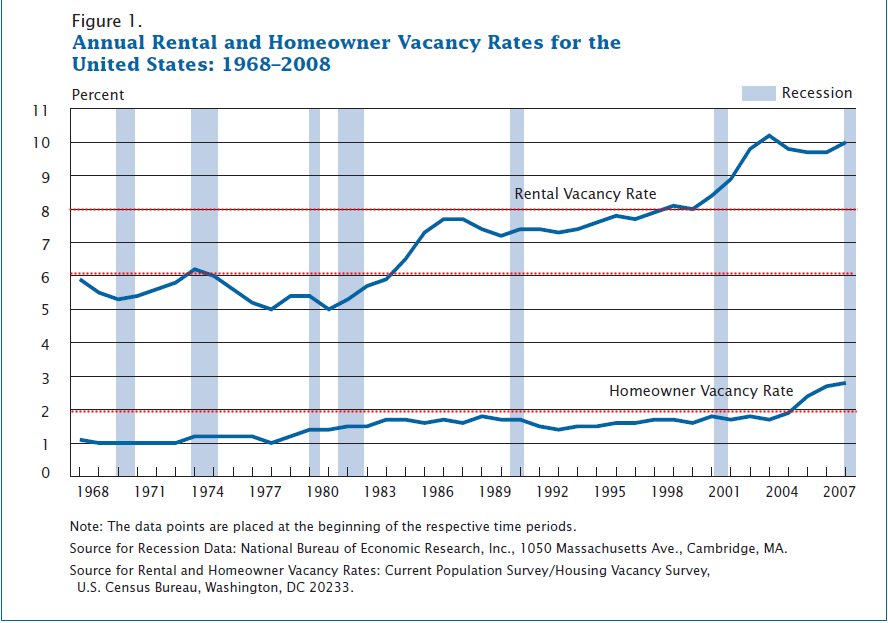 Rental properties always have higher vacancy rates merely by the nature of their use.  Someone renting a home is more likely to move than say someone who buys a home and plans to stay in their home for many years.  Yet the above chart shows an unmistakable pattern.  The rental vacancy rate from 1968 to 1984 hovered between 5 and 6 percent.  From 1985 to 1999, it was in a range of 6 to 8 percent.  And finally, from 2000 to our present situation it went from 8 percent to 10 percent.  This is historically as high as it has gone.  You will notice that the rental vacancy rate dipped after the peak in 2005 since many people opted for rental units instead of buying a home.  Yet the pattern is still holding steady.
Now looking at the homeowner vacancy rate shows another story.  Too much building.  From 1968 to 2004, the rate never crossed the 2 percent mark.  Now, we are closing in on 3 percent.  That rate may not be reached now that the market is shifting gears.  But if we do have another foreclosure wave, 3 percent is possible.  What happened here?  Too much building and ignoring demographic trends: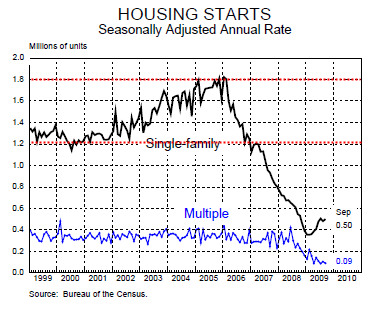 From 2001 to 2006 home building was off the charts.  Single-family housing starts were up to a seasonally adjusted rate of 1.8 million a year even though population growth did not warrant this amount of new inventory.  From 1999 to 2001 the rate was hovering around 1.2 million.  So 600,000 properties were being added each year above the normal trend and this lasted for 6 years.  Of course, this number has collapsed at a pace not seen since the Great Depression but why did it occur?  People ignored the trend and demographics: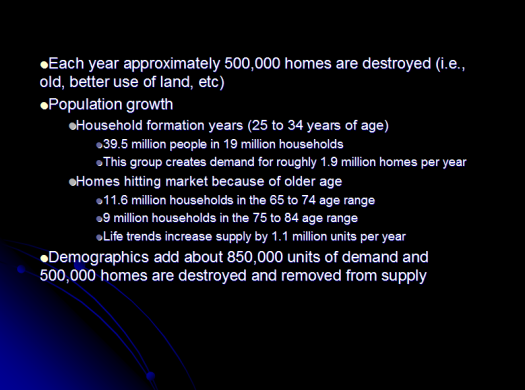 The above data exemplifies the housing bubble.  Each year roughly 500,000 homes are destroyed for a variety of reasons.  This of course isn't discussed in the mainstream media but it helps to figure out a more accurate figure of what is going on.  Most households will buy their first home in the 25 to 34 years age group creating a demand of 1.9 million homes.  We also have homes hitting the market because of the other side of the age equation.  We have 11.6 million households in the 65 to 74 age range and 9 million in the 75 to 84 age range.  Life trend dynamics (i.e,. death and downsizing) add 1.1 million units per year to the market.  In other words, here is the breakdown:

Now this data is using trends up to the end of 2008.  We were burning through 350,000 excess units per year at the end of 2008.  Of course, housing starts have now collapsed and are adding new units at an annual rate of 500,000 homes.  So a significant indicator of returning to a healthy market is more linked to the actual vacancy rate.  In fact, adding up the units we have about 3 million too many units on the market over historical trends.  Depending on our current burn rate, we have:
3 million / 350,000 = 8.5 years
3 million / 850,000 = 3.5 years
And this is the time it will take at current rates to get to a more normal market if there is such a thing.  Yet the 850,000 figure is too optimistic because we now have a new factor in the mix in the sales data.  Foreclosures: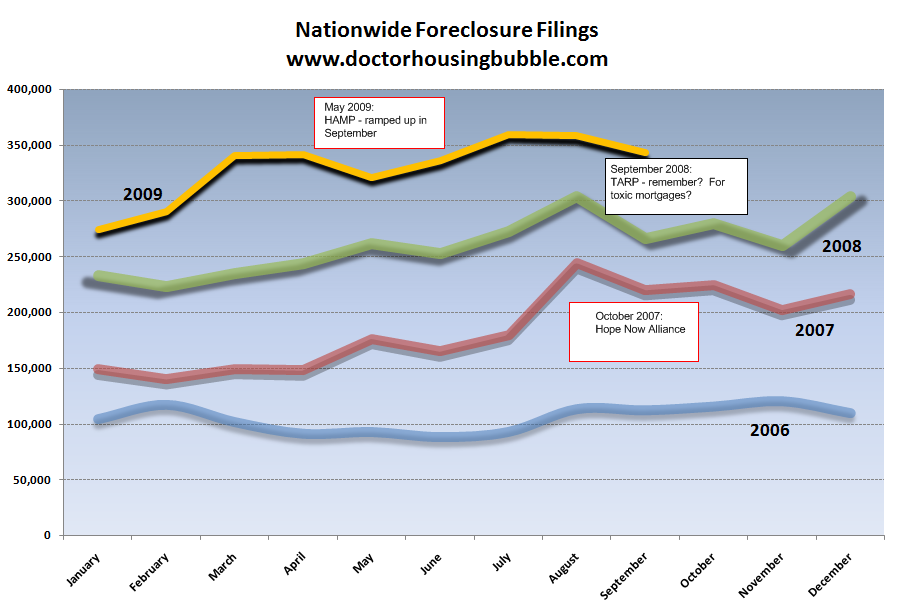 For the past year, each month over 300,000 homes enter some stage of foreclosure.  This is either a notice of default, a scheduled auction, or a home going back to the bank as an REO.  This number actually increases the length of time before we reach a stable housing market.  As you can see from the chart above, the rate is still at a record.  Now why is this the case?  Think of the dynamics of a healthy market.  Those in the household formation age, sell a home and in many cases will buy a move up home.  This can be a new home or an existing home.  Either way, they are clearing some of the vacant inventory off the market with typically two transactions taking place (buy and sell).  With foreclosures, it is normally a one and done deal.  Someone loses their home, and the person buying that home is merely taking over inventory that has already been accounted for.  This is why looking at foreclosure figures is so important.  Even in 2006 foreclosures were elevated.  If you consider that year as normal, foreclosure starts should range around 100,000 per month.  We are solidly over 300,000.
We still have many more foreclosures coming down the pipeline with Alt-A and option ARMs hitting significant recast dates.  This will only make it harder for us to clear that massive amount of excess inventory just sitting on the market.  With nearly one-third of homes sold nationwide as foreclosure re-sales, the excess inventory is sure to linger for a very long time.  Take a look at existing home sale data: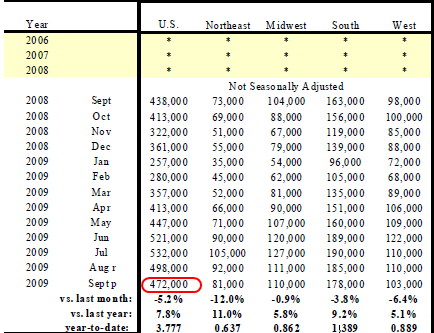 I'm taking the non-seasonally adjusted rate because with historical foreclosure rates, looking at typical data really does little in answering the real question of where we are going.  In September 472,000 existing homes sold.  Add in about 40,000 new homes sold and you are looking at 512,000 total home sales.  However, in the same month 343,000 homes entered into some stage of foreclosure.  Forget the data on HAMP for the moment since the 650,000 or so pre-trial loan mods means very little, the actual cure rates are extremely low: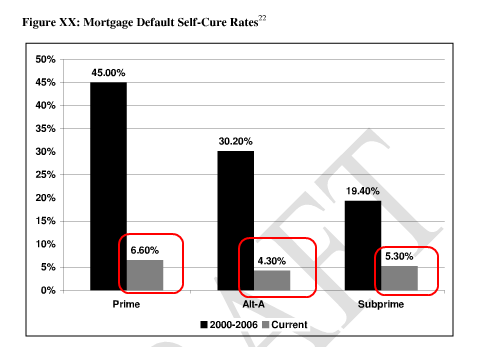 We'll be optimistic and use the 6.6% figure.  That means, of those 343,000 foreclosure starts 321,000 units are going to be additional inventory.  So even with 512,000 homes minus the 321,000 added units, we are not burning off excess inventory in any significant number.  And that is why the vacancy rate is still jumping and homeownership rates are falling.
It also doesn't help that mortgages are delinquent at a rate never before seen (aside from the Great Depression):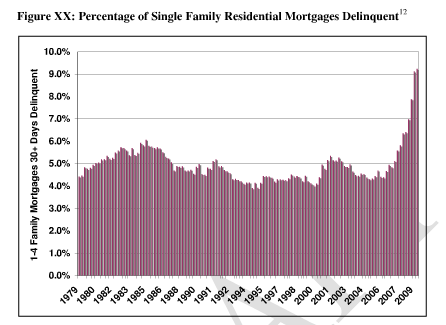 Over 9 percent of all mortgage holders are now delinquent on their mortgages.  Of the 75 million homeowners 51 million have mortgages.  So that means as things stand today, close to 5 million mortgage holders are delinquent on their loans.  Since we are not seeing this in the REO data, this must mean the following:
(a)  30+ days late and no notice of default
(b)  90+ days late and a notice of default (reflects in monthly foreclosure data) – or 90+ days late and no action at all
(c)  Auction scheduled
(d)  HAMP – 650,000 in pre-trial
Yet the cure rate is at 6 percent and this is for prime loans.  We know that we have Alt-A and option ARMs coming due in the next few months and none of these qualify for HAMP.  Wells Fargo announced that they are converting over $100 billion in Pick-A-Pay option ARMs to interest only loans but who really knows if this will even help.  Already for the option ARM universe, some 45% of option ARM borrowers are 30+ days late.
Conclusion
What can we gather from the above data?  Home prices are falling even though data in the short-term might state otherwise.  This is due to artificial inventory figures because of mortgage moratoriums and banks not moving on distressed homes in a typical fashion.  There is an enormous amount of overhang in the market.  Using typical measures the data doesn't show up but does show up in shadow inventory data.  The reason home sales have increased recently is because prices have collapsed: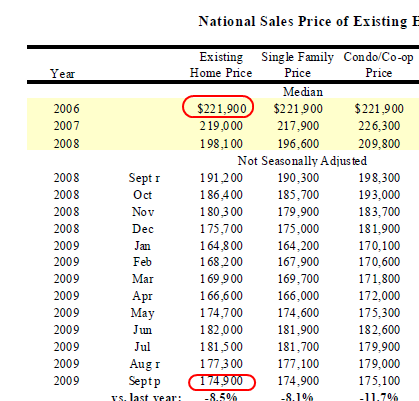 Why are we to assume that if prices go up, people will keep on buying?  The driving force right now is affordability brought on by:
-Large number of foreclosure re-sales (nationwide about one-third of all sales, in California it was up to 50 percent of all sales)
-Government programs including the $8,000 tax credit
-Federal Reserve buying GSE MBS – no one else is buying them
-Artificially lowering mortgage rates (hovering around 5% while 40 year average is closer to 9%)
With all the above, we are merely treading water.  What we can gather from the above is we have years to work through this.  Also, the growing number of baby boomers shifting into retirement will also add to the additional housing units at a higher pace since those in the 25 to 34 years of age group are no longer having families in large size.  Many may opt to rent for much longer since some are delaying having kids until later in life.  In other words, the trend is not conducive to the McMansion world.
There are many factors to consider in the current housing market and it is my hope that this article helps to show the bigger picture of what is going on.  This is how I learned to stop worrying and love the housing bubble.
Did You Enjoy The Post? Subscribe to Dr. Housing Bubble's Blog to get updated housing commentary, analysis, and information.