People in California bubble cities have a hard time imagining a sizeable correction in their market.  Maybe it is due to our nanosecond culture where if something doesn't happen in one year (or one hour) then it is likely to never happen.  Yet when we look at current market fundamentals in cities like Pasadena or Culver City it is undeniable that some sort of correction will occur over the next few years.  The math simply cannot support the current price structure.  This isn't just us saying it but is being reflected by the number of distressed properties that rest in these areas.  In other words, people are unable to make their current payments in a large number of cases even in select prime markets.  There seems to be a large cohort of people in California that simply see no correction in these markets.  Keep in mind that the state median price is off by over 40 percent yet somehow, nothing will happen in these areas.  Let us examine the details of Pasadena with a magnifying glass.
The incredible increase in prices is dramatic when looked at over 10 years: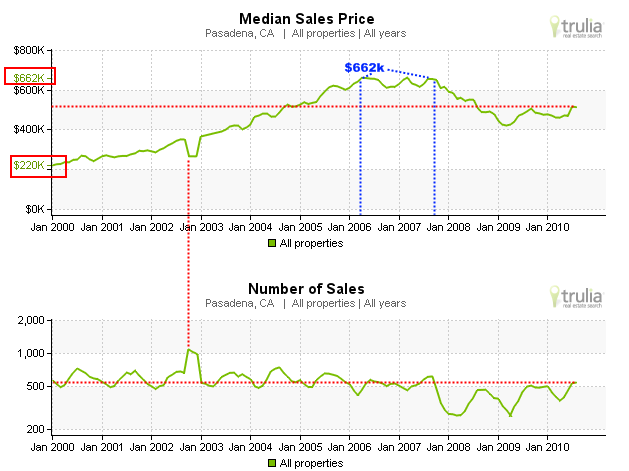 Pasadena is a large city in Los Angeles County with 56,000 housing units.  In 2000 the median home price was $220,000.  The peak price was reached in 2006 and dragged out to 2007 at a stunningly high $662,000.  Prices have corrected and pushed the median lower but this is based on lower priced zip codes bringing prices lower:

Yet focus on the two top selling zip codes.  In these areas we have a median price range of $545,000 all the way to $660,000.  In other words, some markets never even corrected and are only masked by their lower end areas pulling median prices a bit lower.  This in itself does not exempt the market from being in a bubble.  In fact, all zip codes in Pasadena are in bubbles and we will show this why later in the article.
It is obvious that a large reason for the surge in home buying in this market came from exotic mortgages that were born and bred in California.  This allowed prospective buyers maximum leverage to purchase homes.  In fact, with no-doc and no-income loans it was theoretically possible to have infinite leverage if one didn't even have a job to back up the home purchase.  But today we operate in a world dominated by government backed loans like FHA insured loans that only require 3.5 percent down payments.  Let us see how prices were able to triple in this 10 year timeframe.
30 year fixed mortgage rate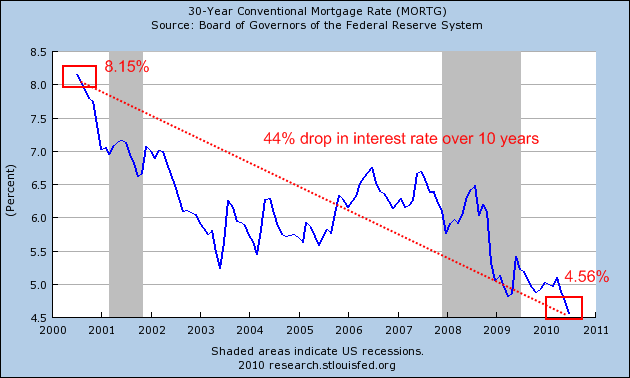 The most obvious push was the lowering of interest rates by the Federal Reserve.  Over this time, the 30 year fixed rate dropped from 8.15% in 2000 to 4.56% in 2010 where it currently stands.  Aside from creating the nationwide housing bubble, this allowed people to buy more home than they could afford.  Let us just run the numbers on a current home in Pasadena to give this some teeth: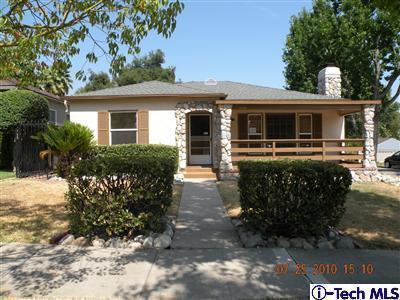 Status:  Bank owned
1468 NORTH GRAND OAKS AVENUE, Pasadena, CA 91104

Beds:                     2

Baths:                   2

Built:                      1939

Square feet:       1,633

List Price:                             $669,900

Previous sales data:

March 2006:                       $650,000

September 1997: $259,000
The interesting thing about this foreclosure is that it is selling for a higher price than the last sale price four years ago and is a bank owned home.  It is selling in the 91104 zip code with a median price of $545,000 so this home is overpriced for the area.  So let us assume someone is buying the place with current interest rates versus those back in 2000:
@8.15%
Down payment:                               $66,990

Mortgage amount:          $602,910

PITI:                                       $5,184

Household income required to purchase:             $200,970
@4.56
Down payment:                               $66,990

Mortgage amount:          $602,910

PITI:                                       $3,773

Household income required to purchase:             $200,970
For income and the upper-bound mortgage amount, it is smart to stick with the 3 times annual household income rule.  Ignore points and other closing costs for the moment.  For now, we just want to see how big of a difference 8.15 is to 4.56 percent.  Overall the monthly payment drops by 27 percent.  This is a significant amount of money.  Yet current rates are an anomaly.  Over 40 years of data (most of it without the Federal Reserve meddling to this extreme level) the average 30 year fixed rate has hovered closer to 8.5 and 9 percent.  The current rate is artificial and the market clearly doesn't want to buy current securities up at these rates (that is why the Fed is stepping in and being the ultimate buyer).  What happens when you want to sell this home later in the future and rates are back up to their historical average?
Household income
You would think that in a market where the median price is close to $600,000 that income would be flying off the charts.  It is not: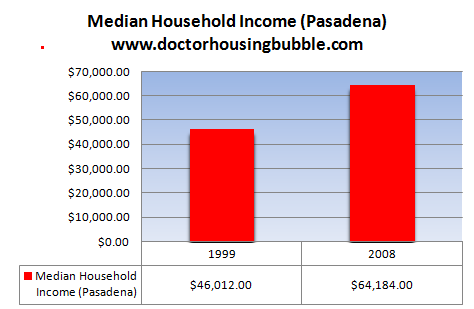 Keep in mind over the same time frame home prices tripled.  If the same pattern held with household income current households in Pasadena would have a median income of $138,000.  Instead, it is $64,000.  So the current ratio of household income and home price is completely skewed to levels seen during the bubble:
$600,000 (median price) / $64,000 (median household income) =9.375
There is simply no other way to put it but to say that the city of Pasadena remains in an extreme housing bubble.  Take this example with a trend in lower priced areas like Riverside County.  The median price in Riverside reached a stunning $432,000 back in December of 2006.  At this time household income was at $58,000 (a ratio of 7.44).  Today the median home price is back down to $210,000 bringing the ratio closer to 3.5 to 4 (depending on the lower income figures that come out in September).
Current sales trends
Markets always correct especially when fundamentals are so skewed.  Inventory is growing in Southern California: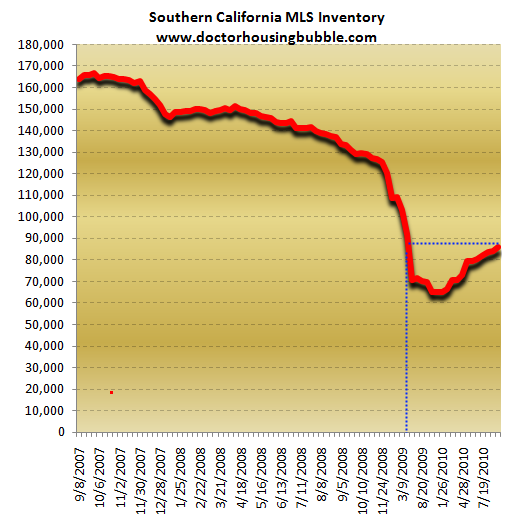 Much of the above has to do with a growing number of short sales on the MLS but also bank owned properties.  But even in an area like Pasadena or even the Westside of L.A. shadow inventory remains high: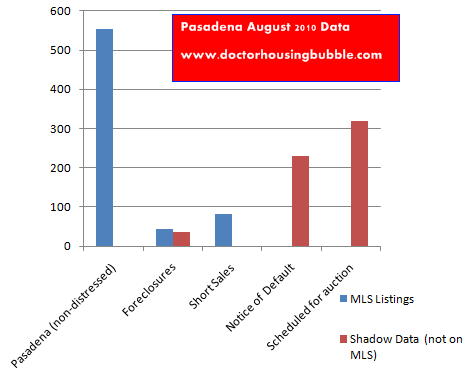 The above is a telling chart.  Only 45 foreclosures show up on the MLS (in total there are officially 80 REOs in the area).  But more telling, there are 318 homes scheduled for auction in Pasadena appearing nowhere but in distressed inventory figures.  Another 231 homeowners have a notice of default filed against them (meaning at least 3 missed mortgage payments).  Does that sound like a healthy market when you have the same number of distressed homes as you do with non-distressed homes for sale?
Bought during the bubble
I have heard a few people say "well most people in Pasadena bought before the bubble took off."  The data shows otherwise:

It is unfortunate that the data doesn't break down owner occupied and renter occupied data further.  However, most households in Pasadena moved in during the peak bubble years of 2000 onwards.  And we know thousands of transactions occurred over this time as well.  The data tells us hundreds of people are holding onto over valued real estate in this area.
So what happens now?  Good question.  Markets can stay irrational longer than people think.  The housing bubble wasn't built over night and we are still dealing with the problems today.  Even low interest rates can't help unless incomes support current prices.  If you haven't noticed, the economy isn't so hot in California right now.  It'll be interesting to see how the housing market in Pasadena plays out over the next two years with Alt-A and option ARM loans peaking from 2010 to 2012.  Many banks have put these into other mortgage structures but you wonder how many people bought with speculation in mind and are gearing up to walk away.  Bottom line is home prices in Pasadena will correct unless incomes can triple in the next few years.

Did You Enjoy The Post? Subscribe to Dr. Housing Bubble's Blog to get updated housing commentary, analysis, and information.