At this point in the housing fiasco you would think that you have seen it all.  But leave it to an 11 member Simi Valley Southern California family to make me want to drop kick my television out my window.  I'll get to that story later on.  As things go forward it is clear that we are suffering from this skewed financial reward system.  On the one side we have irresponsible bankers who have conducted the biggest wealth transfer in American history and were able to do this by stealing money from taxpayers.  They made bad bets and created toxic mortgages and were bailed out by everyone else.  And then on the other end, you have dead beat debtors who game the system.  I'm not talking about a family in the Mid-west who bought a $100,000 home and through the bad economy lost a job and no longer is able to pay the mortgage.  That is completely understandable.  What I'm talking about is California homeowners who used their homes like ATMs and lived high on the hog leasing European luxury cars and taking lavish vacations all financed via debt.  Now they expect a free lunch as well?  The middle class that tries to play by the rules, which by the way is the majority, is paying for this circus on both ends.
Let us first get the pulse of the current foreclosure crisis nationwide: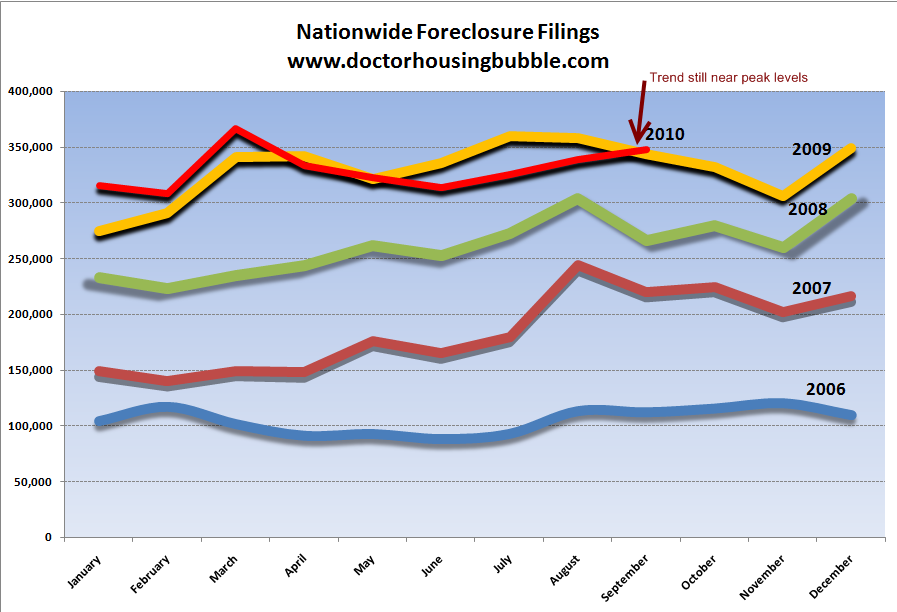 If the foreclosure process is coming to a halt it doesn't show up here.  I'm sure given the current fraudclosure problems we'll see this tick lower in the next few months.  But this is likely to be like HAMP where we will see a respite for a few months and then a sudden boost once things clear up.  Let us get to the story that I saw on the tube yesterday:
"(Ventura County Star) An 11-member Simi Valley family who claimed they were wrongfully evicted after a foreclosure forced their way back into the house over the weekend in a move meant to block the new buyer from moving in.

Jim and Danielle Earl and their nine children used a locksmith to help retake possession Saturday, despite an investor who spent $697,000 to purchase the house at a foreclosure sale in January and remodeled and sold it to people ready to move in Tuesday. The two-story house in the 5800 block of Mustang Drive has nearly 4,000 square feet, six bedrooms and 4.5 baths."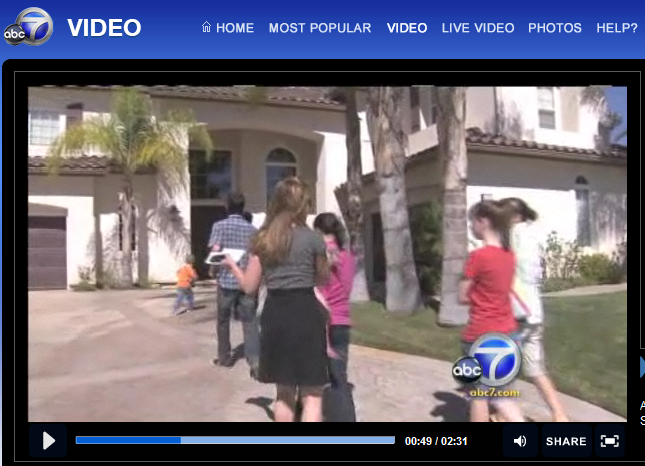 This is not a poor or working class area by the way: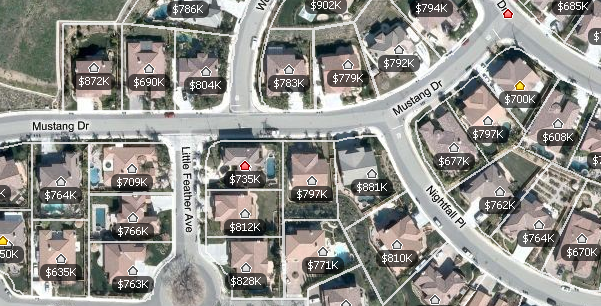 Home prices in this area range from $700,000 to the high $800,000s.  The media broke this story but as we dig deeper into the actual paperwork, we find out a very interesting financial story:
"Pines argued his clients have a constitutional right to a jury trial.

The Earl family bought the Simi Valley house in 2001 for $539,000. In 2005 they refinanced with an $880,000 loan. In February, the trustee's deed upon sale indicated unpaid debt with costs on the property just over $1 million."

Why in the world would they refinance?  By my calculation they increased the debt on this place by $341,000.  The median U.S. home price is $179,000!  Is this your typical family?  Not even close.  Oh but it gets even better:

"That was what (they) claimed we owed at that time," Danielle Earl said. "I don't believe I owe anything at this point."
Pines said that while the debt hadn't been paid off, the family's claims for damages from their fraud allegations exceed the $1 million debt, meaning the Earls are now owed money."
That is right, this person who took up his debt load to nearly $1 million in a prime Southern California area in Ventura County now believes he owes nothing.  Notice how these maximum leverage debtors have the same mentality as the banks?  The system is completely muddled up.  Not only do these people not owe anything anymore, they expect bailed out banks to pay them for damages!  Since the banking system is now subsidized by you, the prudent taxpayer, you'll also be bailing out this family.  How does that make you feel?
This family clearly knows how to manage their finances:
"The couple has had financial troubles in the past, filing for Chapter 7 bankruptcy in 1994. This year they initiated two back-to-back voluntary Chapter 13 bankruptcy proceedings beginning in February, a few weeks after their house was sold. At trial, the judge said the bankruptcies appeared to be delaying tactics.

The Earls' bankruptcy filings show they have assets of $500,000 to $1 million, and liabilities exceeding $1 million. Their listed creditors include the state tax board and the Internal Revenue Service."
Is this what we are now rewarding in our country?  So while you pay your mortgage on time and live modestly or pay your rent, we have people trying to get out of hundreds of thousands of dollars in obligations on a McMansion.  No wonder why it feels like the responsible middle class is being flushed out of the system.

Did You Enjoy The Post? Subscribe to Dr. Housing Bubble's Blog to get updated housing commentary, analysis, and information.