The Southern California housing market is still in deep trouble.  Southern California is home to over 22,000,000 Americans and if SoCal were to become a state all by itself, it would be the second largest state behind Texas.  In other words, this is one people filled region.  The housing figures for July came out on Monday and show an abysmal market in spite of the Federal Reserve artificially slamming mortgage rates to the historical limbo floor.  July is typically one of the hottest months for home sales yet the figures are bad in light of every piece of financial spaghetti being thrown at banks and housing.  The shadow inventory is still epic in Southern California as banks try to control the market but there is little that can be done because one main ingredient is missing.  The recipe is failing because household incomes are in the dumps!  Why do you think most of the demand and sales are occurring with lower priced homes?  You still have your poser crew in Southern California looking for zip code and area code pride yet their incomes are built for a beer budget yet their tastes are looking for wine.  Only a few years ago, the bartender was serving up option ARMs without checking IDs.  That is no longer the case.  Let us look at the data for the region.
Southern California has poorest performing July in four years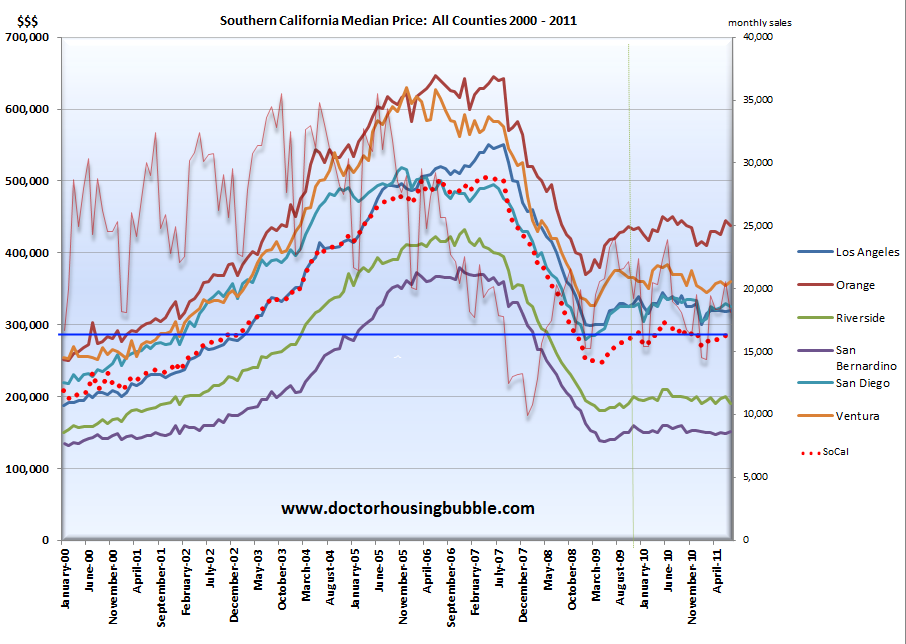 Every county in Southern California is now negative year over year when it comes to drops in the median home price.  Even more disturbing is the reality that every single county is down year over year with sales as well.  Part of this has to do with banks hoarding up shadow inventory and not releasing what the market is demanding.  The market right now is demanding lower priced homes to go with crushed household incomes.  Of course the mission of the Federal Reserve is to keep this charade going for as long as possible and pretend that somehow banks are solvent with 6 million homes lingering in the shadow inventory.  This has been the problem with our "solutions" thus far.  The entire focus has been on the housing bubble and banking when the focus should have been on jobs and household incomes.  Let us not even pretend that the last decade was some kind of economic miracle instead of a drunken credit spending orgy.  To make up for lost incomes exotic poser financing like option ARMs and Alt-A products were designed to allow people to live way beyond their means.  Now, on a weekly basis I see folks driving around in leased BMWs or Jaguars going to recycle massive bags of aluminum and plastic.  I'm not talking about folks doing their part for the environment (if they cared about the environment they would opt for a different car, but I digress) yet are looking for an additional stream of income.
Half of sales in Southern California distressed
There is nothing normal about the current Southern California housing market.  Look at the makeup of current sales: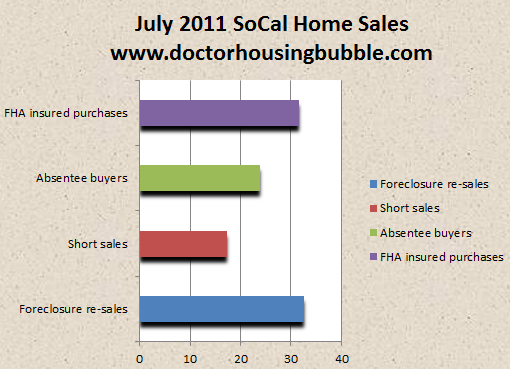 This is a not a normal market!  You have nearly 50 percent of home sales coming from the distressed category.  Over 32 percent of the sales were foreclosure re-sales (aka cheaper homes) and over 17 percent were from the short sale pile (aka cheaper homes).  Then, you have over 23 percent of the sales coming from absentee buyers (aka potential investors) and these folks are not buying your massive bubble properties in bubble cities.  Many of the absentee buyers come from the all cash pile and they are paying a median price of $212,000 for their purchases.  And finally, you have FHA insured loans dominating the financing game.  31 percent of all homes purchased last month were financed with FHA insured loans which only requires a minimum of 3.5 percent as a down payment and this is what the vast majority are putting down (or all they can afford).  Where is the big money here?  There isn't any large deep pocket cohort and this is why banks are hoping (praying) that somehow inflation starts to pick-up so they can off load the giants of the shadow inventory.  Many of these are in areas like Culver City, Pasadena, Cerritos, Santa Monica, and other areas you might not associate with collapsing housing markets.  Folks are still delusional at this point.
What is the problem?  The current policy is actually keeping home prices inflated and that is why the backlog is so massive.  The banks have an enormous amount of shadow inventory and we are finishing up year four of this crisis.  What did all those bailouts accomplish?  The only thing they did was keep the connected banks from going under at the expense of the entire nation.  What service are banks doing aside from artificially keeping the market altered for their own benefit?  Isn't this some kind of command control economy that many on Wall Street investment banks despise?  If the market is demanding lower prices so be it.  It makes complete sense.  Why should folks be forced to go into debt servitude even with FHA insured loans just to keep bank balance sheets "healthy" so they can doll out massive bonuses to a system that has failed the country?  We do live in an odd sort of world.  Unlike the rhetoric from politicians or those from the financial industry, let us run some numbers to highlight this point:
Total SoCal MLS non-distressed inventory:                         121,356

Total SoCal distressed inventory:                                             114,343

Total SoCal distressed inventory for sale:                            36,488
This is the problem here.  First, you have nearly the same amount of troubled inventory as you do with the natural inventory pipeline.  The sales figures are showing that people are opting to go with the distressed properties because these typically sell for lower prices.  Yet look at the amount of distressed inventory making it to the public eye.  Of the 114,343 distressed properties in SoCal (this is from what we can gather and places that have NODS, there are many more that simply do not fall here) only 36,488 make it to the MLS.  In other words the public is only seeing about 30 percent of the homes in the foreclosure process.  There is also another pool of distressed inventory where people have stopped making payments yet no foreclosure process has started (and this pool is rather large as well).
We have two ways to go and the one we are taking is similar to Japan.  The banks would love nothing more than to drag this thing out for years.  Why?  They keep getting a paycheck along the way!  Yet this is horrible for the economy because resources are being displaced into a sinkhole here.  So what if home prices go down if this is all that households can sensibly afford?  In regions where home prices have collapsed sales are picking up solid steam.  It is important to get to a normal level quickly and liquidate inventory fast so we can get on to the bigger task at hand which is fixing the overall economy and putting Americans back to work.  Yet the Wall Street obsessed politicians have focused way too much on housing.  Ironically these policies have kept prices inflated and even with those trillions of dollars wasted, SoCal home prices are back to 2002 levels!  So what was really solved aside from keeping failed institutions floating and more banks able to pay themselves at the taxpayers' expense?  Horrible financial policy and bad politics now seem to dominate the economy.  The SoCal housing market is anything but normal.  You'll know it is a normal market when non-distressed sales dominate and FHA insured loans are a tiny piece of the financing.

Did You Enjoy The Post? Subscribe to Dr. Housing Bubble's Blog to get updated housing commentary, analysis, and information.