You might think that the Bay Area is home to the most inflated real estate in the US but being "over priced" is also relative to local area incomes.  The army of tech professionals in the Bay Area earning healthy household incomes is expansive.  Sure, having a household earning $150,000 a year might make it tight to purchase a $1 million crap shack but that is the situation.  So it should come as no surprise that in the land of "All Hat and no Cattle" that we have the most overpriced real estate.  According to a report by Trulia the most overpriced areas come in as Austin (Texas), Orange County, and Los Angeles.  Why?  Incomes are detached from the rise of home prices.  Of course in some areas foreign money and investors with deep pockets have pushed prices to stratospheric levels.  In many parts of the US home prices are within reasonable ranges thanks to the Fed's ridiculously low interest rate fury road policy.  Yet Millennials are not buying in mass because many are deep in debt and incomes are just not keeping up with home prices.  If home prices are overvalued, how much are they overvalued by?  If everyone thought home prices were within reason there really wouldn't be all this interest and analysis on the subject.
The bubbliest market of them all
The LA/OC market also has the most inflated rents across the country and that is why we are seeing a massive trend of people taking on roommates or grown adults living with their parents.  The rent is too damn high in SoCal.  Apparently some think that the trend to living like human sardines is fantastic and needing to eat Top Ramen every other night to pay the mortgage makes sense.
Trulia has a bubble watch report and as you would expect, many California areas make the list: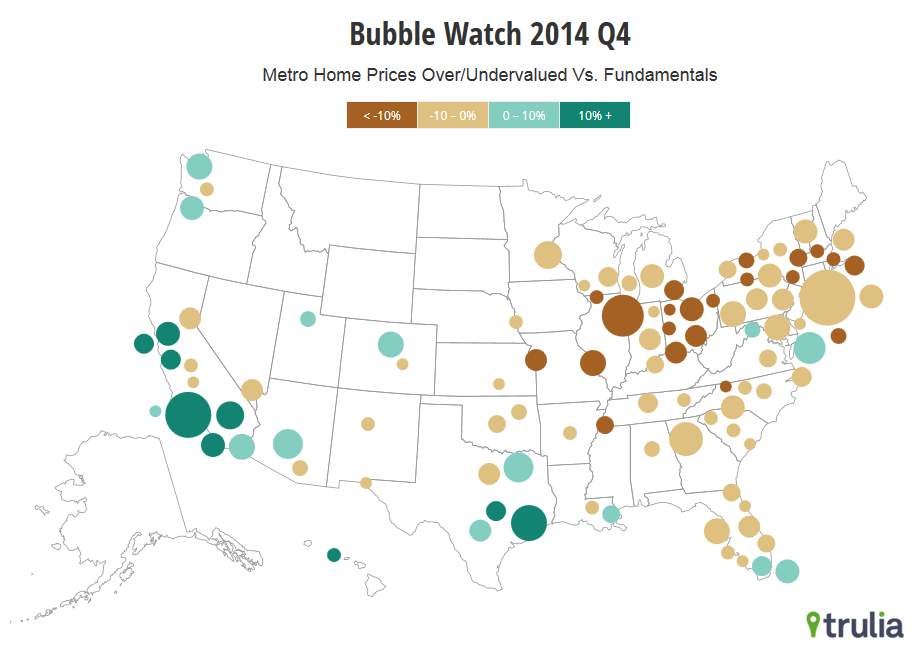 First note is that according to the report nationwide home values are undervalued by 2 percent.  Now this data is up to Q4 2014 so things might have changed since then (values are probably close to being within fundamentals on a nationwide basis).  But just look at the most overvalued market on the map above.  Our drought ridden and beautiful Southern California tops the list!  However, the most overvalued city according to the list is Austin Texas: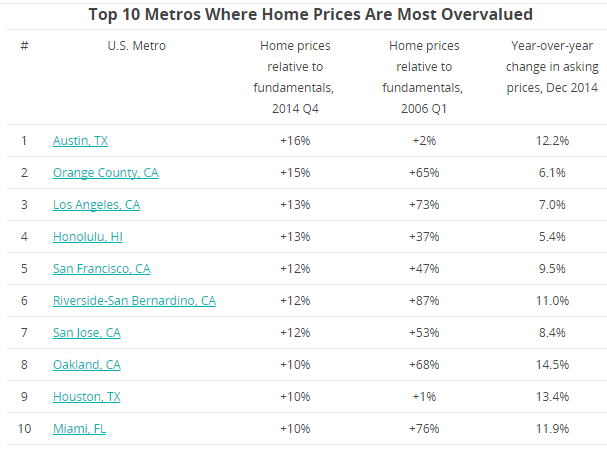 What methodology is used here?
"To answer that question, we assess whether home prices are overvalued or undervalued relative to their fundamental value by comparing prices today with historical prices, incomes, and rents. Incomes determine how much people can pay for housing, and price increases aren't sustainable if they push prices too high relative to incomes. Rents reflect how much people value housing even if they won't benefit from price appreciation (as renters don't, but owners do); the price-to-rent ratio is like the price-earnings (P/E) ratio for stocks. Using data from multiple sources (see footnote), we create several measures of fundamental value and combine them in order to calculate how overvalued or undervalued home prices are relative to fundamentals."
Seems like a reasonable method but of course you are going to get the meme that incomes don't matter but everyone that wants to buy is going to pay their mortgage/rent via earned income.  Need we remind you that a mortgage is for 30 years?  And taking on a $700,000 crap shack mortgage is no tiny commitment.
Is Southern California in a real estate bubble?  Well if you define a bubble as prices going beyond economic fundamentals then yes, prices seem to be frothy today.  However it is good to know that we are not the only area going down the real estate fury road of bubbles.

Did You Enjoy The Post? Subscribe to Dr. Housing Bubble's Blog to get updated housing commentary, analysis, and information.