The Southern California housing market still shows significant signs of distress.  It is rather obvious that the Federal Reserve is going to do everything it can to weaken the dollar and try to strong-arm interest rates until they scream uncle.  During this same historic week that we are now in zero interest rate policy Ben Bernanke helicopter (ZIRP) world, another milestone occurred in Southern California.  The median price for an area with more than 20 million people has now breached the $300,000 mark.  This is significant because the peak of $505,000 was reached only last summer.
The market has deteriorated so quickly and with such devastation, it gives me pause to think what is going to happen when the $300 billion in pay option ARMS (POA) recast in 2009 through 2012.  For many long time readers you know that my "crash scenario" meant prices falling 40 percent from their peak.  The median price for the region is now off by 43.6 percent.  Keep in mind that last month 55 percent of buyers exercised their bargain shopping right to purchase repossessed homes.  You have to take that into context when looking at the median price.  However, let us go through our monthly analysis of one of the most expensive and diverse housing regions in the country: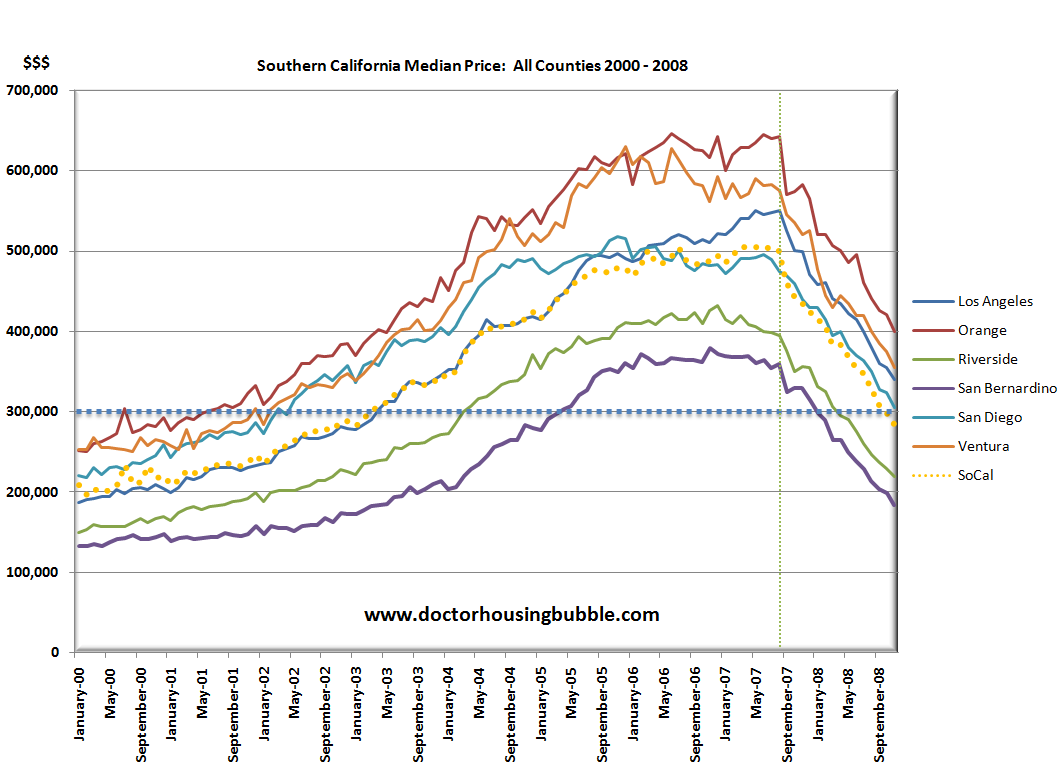 *Click for sharper image
This chart gives a very clear picture of what has occurred in Southern California.  You'll notice that most counties reached their peak in the summer of 2007 only to fall precipitously over the next year.  Southern California is a micro view of what has occurred in many metro areas across the country.  You have your prime locations in Laguna Beach, Santa Monica, and La Jolla that will remain resistant simply because of their locations.  Yet you have areas like the Inland Empire that have seen unrelenting price drops similar to those in Florida or Arizona.  Aside from the Southern California median price dropping below $300,000 we have our first county dropping below $200,000 since 2003.  The median price for a home in San Bernardino is now $185,250.  San Bernardino hit a peak of $380,000 in November of 2006.  Guess what?  We've just had our first county drop by 50 percent from the peak.
Now there are many things pushing prices lower.  Market confidence is shattered and it doesn't help the public to hear that a Ponzi scheme run by Bernard Madoff has been going on for probably a decade and has put at risk nearly $50 billion.  That isn't the boost in the arm we need right now.  First, to simply think that the housing market collapsed out of nowhere is a mistake.  Let us look at the sales pattern in conjunction with median price for Southern California over this decade: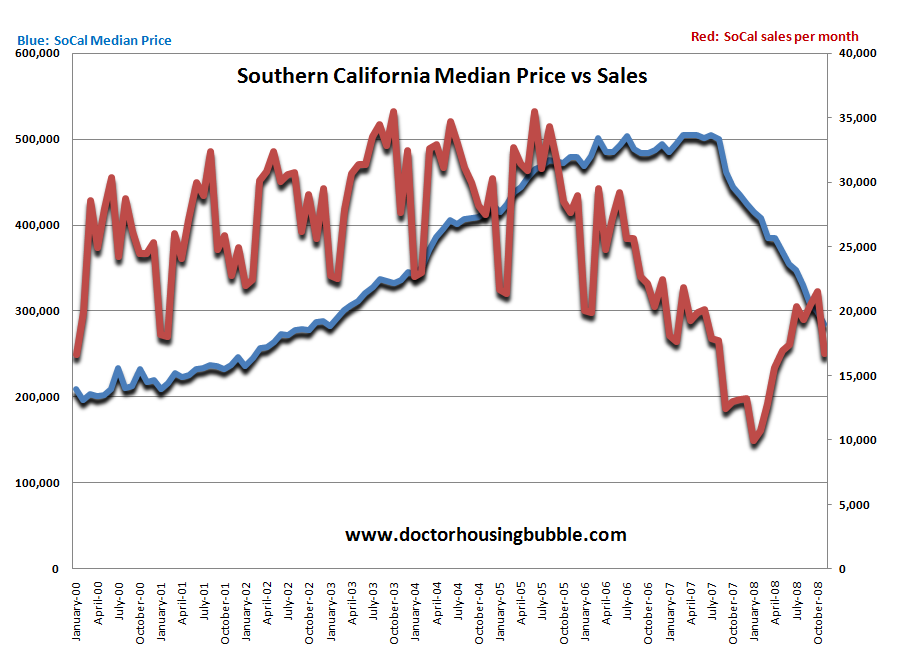 The first warning sign we had came with the major pattern dislocation in the summer of 2006.  The normally robust bounce in sales did not occur.  Yet prices kept going up for another year.  This is where the bubble stepped it up to another level.  This graph from a technical perspective gives you a better understanding why looking at price alone is not a good predictor of future trends.  What you'll also notice is the steady sales increase from January of 2008.  Normally, winter is the weak selling season and you'll notice the seasonal dips in the chart followed by the healthier summer selling seasons.  Keep in mind that our recent ascent upwards was fueled by these strong price drops.
The recent sales increases should be taken in context.  If you look at the decade, we are still well under even the weakest winter trough from 2000 to summer of 2007.  You'll also notice that last months sales are now reflecting the typical fall and winter weakness.
Some argue that the median price is a poor indicator.  Yet this is what the average family on the street is most likely in tune to.  It is also the average family that will be buying homes so yes, it is important.  It is fascinating that during the boom, those in the real estate industry kept championing robust median price numbers and now that the numbers don't suit their purpose, they choose to knock them down.  Okay, let us look at the Case-Shiller Index for the Los Angeles and Orange County area: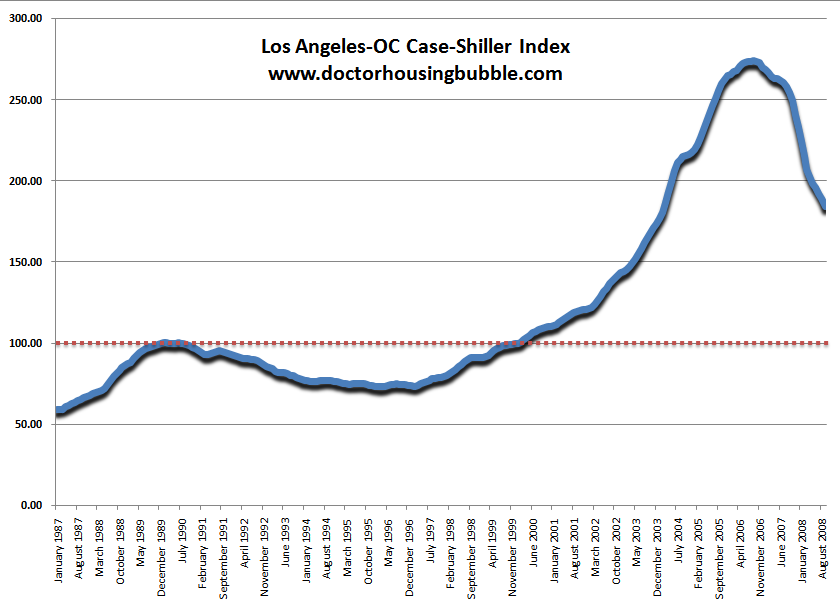 The Case-Shiller Index measures repeat sales on the same home.  So this is arguably a more accurate reflection.  The index doesn't give us a price per se but gives us an overall measure of price increase from a baseline point.  For example, the baseline year is 2000 and has a number of 100.  At the peak, the LA/OC measure jumped to 273.94.  That is nearly a tripling of price in less than a decade.  This measure is now converging with the median price.  How so?  Let us look at the median price of a home in L.A.
December 1999 median price:            $192,000
August 2007 median peak price:        $550,000
550,000 / 192,000 = 2.86 times
Nuts.  The median price of Los Angeles is now $340,000.  Let us run the numbers again:
December 1999 median price:            $192,000
November 2008 median price:            $340,000
340,000 / 192,000 = 1.77 times
What is the current Case-Shiller number?  184.54.  Keep in mind that the Case-Shiller Index looks at L.A. and Orange County.  The 184.54 number takes us back to where we were in February of 2004.  The median price in Los Angeles county in August of 2003 was $338,000.  The index and the median price are converging with a trend and are only separated by 6 months in Los Angeles.  Bottom line?  You can choose to look at the Case-Shiller Index or the median price and the story remains the same.
Yet California is facing challenges beyond just the housing market.  Some people forget that you actually need good employment to buy a home.  They have become so laser focused on interest rates or monetary policy that they forgot one thing.  A large number of Californians were employed in the real estate industry!  I talked in great detail about the rise and the fall of the Southern California housing empire in a previous article.  We benefited the most from the housing bubble and are paying the price during the bust.
Have you noticed that the bailouts have gone into the black hole of crony capitalistic banking wonderland?  Wasn't the main purpose of the bailout to keep the market from collapsing as it currently is?  The truth of the matter is the bailout was never for you.  The bailout was to keep the world of the bankers and those on Wall Street from collapsing.  Even floor brokers now realize that they aren't part of the private club as we have seen the many pictures of entry level workers walking out with their boxes from Lehman Brothers.  It is the Titanic and only a few lifeboats are available.  Who will get a piece of the bailout lifesaver?
California is also in a budgetary mess.  While our politicians get paid to literally do nothing, our employment base is getting shattered to pieces: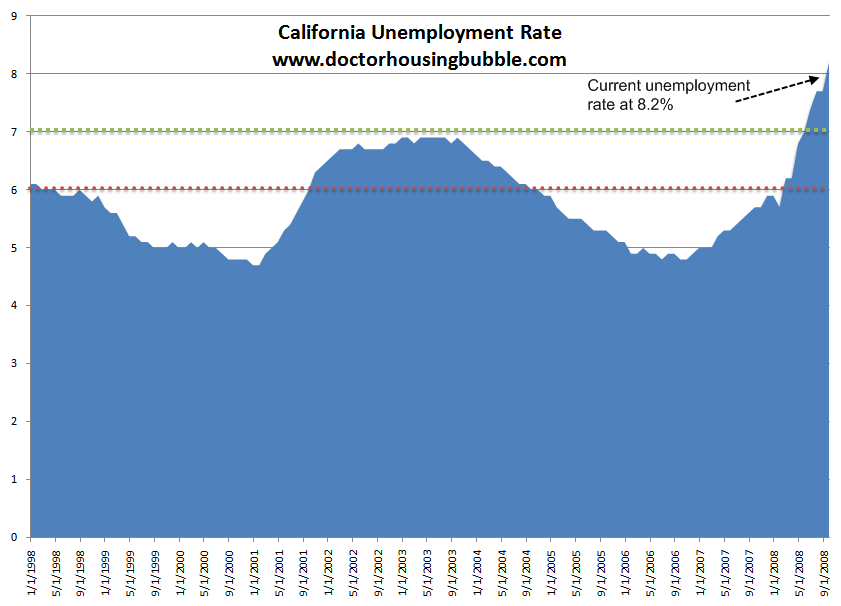 It is stunning how little focus has gone into sustainable job growth.  Here we are, nearing the end of 2008 and having committed over $2.2 trillion and what can we say we have accomplished with all this?  My main question is how can we as a public simply not care where this $2.2 trillion went?  Think if we only dedicated half the time from the bread and circus theater of the auto industry to asking the Fed to open up their books.  $15 billion for the auto industry.  $2.2 trillion for the banking industry.  Hmmmm.  You know how many jobs that $2.2 trillion could have created?  I'm not for government meddling as long time readers know but I would rather have that $2.2 trillion go to rebuilding roads, schools, focusing on healthcare, and maybe getting our budget in order.  If it is a choice between banks, hedge funds, and our buddy Madoff I'd rather see the money go to the average American taxpayer who is already being taken to task while watching the Fed and U.S. Treasury destroy their currency.
I still stand by my prediction that the bottom for California housing will not be reached until 2011.  I know in our nano-second driven world, it is hard to imagine 2 or 3 more years of this.  But we only have 2 roads we will follow.  One road takes us down our current path.  Price destruction and massive market corrections to fix the misallocation of a bubble decade.  Otherwise known as deflation.  Or if the Fed and U.S. Treasury have their way hyper-inflation.  Their actions hope for a 1970s style inflation were they can prime things up and then get it under control.  Anyone that looks at data from that time realizes that bringing down high inflation is no easy task.
The Southern California housing market operates with all these multiple forces pulling at it.  Before you start looking at a bottom ask yourself the following questions:
(a)  Is the employment situation good for the state?
(b)  Are wages increasing?
(c)  Is there a lack of inventory on the market?
(d)  Are prices going back up?
I would answer no to all the above and if someone asked me whether Southern California has hit a bottom, my answer would be no.
Did You Enjoy The Post? Subscribe to Dr. Housing Bubble's Blog to get updated housing commentary, analysis, and information.