Sales volume continues to be exceptionally weak in Southern California.  The Taco Tuesday debt lovers are finding that HGTV upgrades on crap shacks are luring in fewer lemmings.  People are probably coming to the stark realization that 30 years on a mortgage is a very long-time especially for buying a stucco box with outdated features.  There is this blind forgetfulness that has fundamentally erased what happened in 2008.  Well we just got a nice reminder with the sales volume figures from last month.  The latest data shows that January of 2015 was the slowest January since 2008 which is the record keeping low since 1988.  In 2008 the market was in full implosion mode and the end result is that 1,000,000+ Californians lost their homes to foreclosure.  And the bulk of these people were in traditional mortgages and not your toxic waste junk that made headlines everywhere.  Sales are down 6 percent year-over-year in SoCal from an already slow January 2014 with Orange County and San Bernardino County both seeing 10 percent annual drops.  It is also worth noting that the median price in Orange County fell $28,500 in one month.  The current median price of $562,500 is already below the $600,000 median price we saw in June of 2014.  If it weren't for the 25 percent of investors in the market, the figures would look even dimmer.
Real estate markets turn at the speed of cruise ships
Real estate markets turn at glacial speeds.  What we can say about California housing is that for the last two decades it has followed a consistent pattern with booms and busts.  Sales volume has always declined first before price adjustments.  What does it tell you that we just had one of the worst January months in terms of sales volume?  Keep in mind the worst January was in 2008 when the market was in full on melt down mode.
Let us look at the median price for LA and OC over the last year since these are ranked among the most inflated counties across the United States: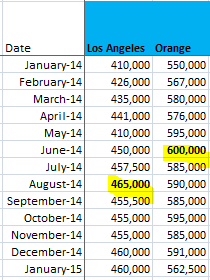 Orange County is down $37,500 from June 2014 and L.A. County is off $5,000 from the August 2014 median price.  We are inching closer to year-over-year price declines in what was supposed to be the new permanent plateau.  What we are seeing is nothing new.  This merely fits into the boom and bust nature of the market.  And in California, it is more about psychology and speculation.
Someone made a reference to all this new affluence justifying current prices.  If you look at data of a block very carefully, you will find that there are many golden handcuff baby boomers simply sitting in their stucco box sarcophagus shopping at the 99 Cents Store and relying on Prop 13 to keep taxes low on their property because any slight adjustment will suddenly force them to a Ramen diet.  The perception is that since one crap shack is selling for $700,000 that everyone in the neighborhood has the affluence to live this way.  In reality, the current price would flush out half (if not more) of the current neighborhood which is not the case across the country.  Plus some people think that having one Trader Joe's is suddenly justification for a $700,000 crap shack.  People are deep into debt and swiping credit cards for feta cheese and two buck chuck.  Nothing wrong with that but don't confuse this for suddenly having a fleet of wealthy individuals.
And of course, we have tons of "young" adults living with their parents: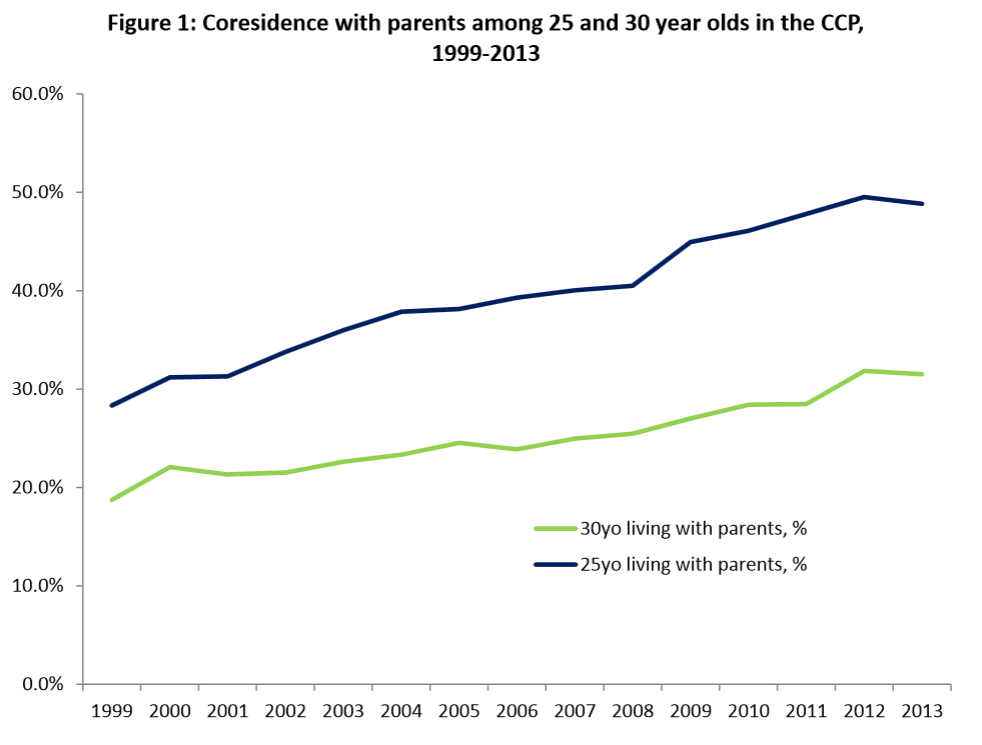 In California, 2.3 million young adults live at home because they can't afford market rents, let alone buying a home.  So many camp out with mom and dad.  And yes, some of these people are shopping at Whole Foods.  Does this suddenly mean we have a massive number of high income households?  No.  It just means that we have markets that suck out more money from your wallet (they don't call it Whole Paycheck for nothing).  Plus, many higher income households already own property (and many are welcoming their adult kids back home).  Just look at how weak mortgage volume is across the nation: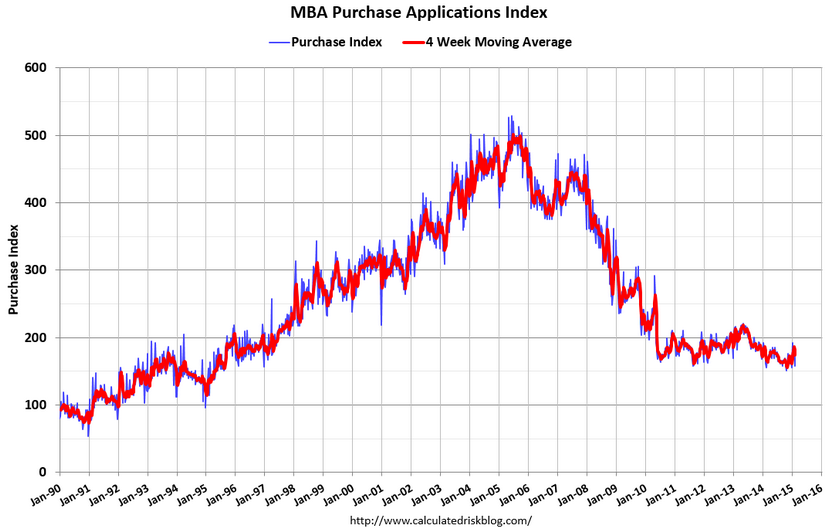 Low mortgage rates have not translated to bigger household incomes.  The media tends to go with year-over-year numbers.  Haven't seen much on the short-term drop in prices but I have seen talks about the drop in sales.  But you see from the above figures that a year-over-year drop in median prices is very likely if low sales volume continues.  Plus with the data on that Torrance block, you realize that many current owners have massive room to wiggle if they wish to sell.  But as we all know, better to eat Friskies on Monday and Tacos on Tuesday and live in a crap shack on Wednesday versus cashing in on that juicy California housing equity.

Did You Enjoy The Post? Subscribe to Dr. Housing Bubble's Blog to get updated housing commentary, analysis, and information.