Many of you that search or browse housing listings know what the MLS is.  This is the Multiple Listing Service provided to realtors and those affiliated with real estate branches.  In the past, the MLS might have been an excellent snapshot of market inventory.  Many sites like Redfin and ZipRealty provide consumers excellent data for browsing inventory but they do not cover every city in the country.  For the most part, home buyers and sellers have never been so educated on market dynamics.  Then how in the world did this housing bubble happen with so much information?  How was it possible to inflate the California market with Alt-A and option ARM products when so much data was available?
It is important to note that MLS data comes from listings that are represented by brokers who are both members of the MLS system and NAR.  The list also expands to Canada.  But with the massive amount of foreclosures many banks are dealing with bulk buyers directly.  In Southern California last month 20 percent of all buyers went with all cash.  Each MLS is geared to local markets but again many argue that the MLS forces membership into the real estate circles.  To that I would agree.  That is why companies like Zillow had to fight hard to break into this game.  The Department of Justice did break some of this up in 2008 and many online brokerages now have better access to data.  But how can you track something that isn't reported?
I would argue that during the bubble access to information actually fueled the mania.  For every one article talking about housing being over priced, you had 10 articles telling you how cheap homes were and how home prices never went down.  And for a decade checking your estimated home price would have justified your own belief.  In today's market there is an underworld of information that isn't easily accessible.  Part of this is the shadow inventory.  And this is a real issue as banks have admitted to holding homes off the market.  The one argument against this data point is a narrow focus on REO data.  Yet to get to REO (bank owned) you must go through various other steps.  More on that later but let us first look at Southern California as our case study: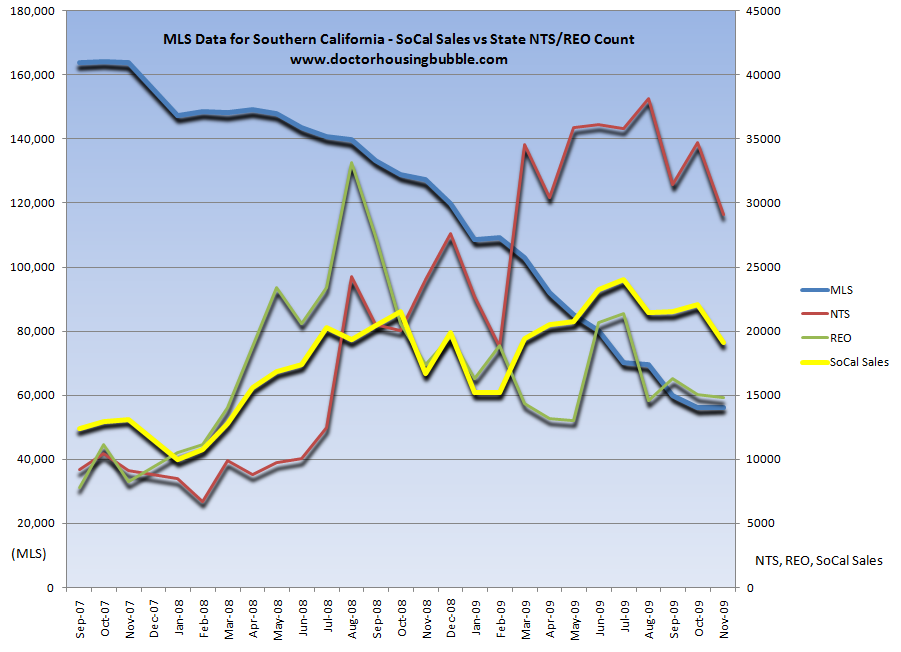 Now I want to spend a bit of time on the above chart.  I pulled data from a variety of sources including the MLS, foreclosure records, and Southern California home sales data.  What you'll notice with the blue line is that MLS inventory for SoCal has fallen from over 160,000 homes to below 60,000.  This you would think would be because of massive amounts of sales.  If you look at home sales it is the case that this has increased but not anywhere close to the bubble heyday where we were seeing 35,000+ homes sold in a month.  The big drop has more to do with sales occurring in the foreclosure market.
This is interesting because I was looking at homes that weren't listed on the MLS and was dealing with a bank directly only a few months ago.  This is happening many times over.  You can see on the chart above REOs with the green line.  It might look like this number has fallen drastically but this has more to do with programs like HAMP that are already proving to be inefficient.  What these programs do is simply shift housing inventory into the shadows and hope that prices somehow go up in the next few months or year.  Yet that isn't working out.
Let us run a case study on a new area.  Let us look at home of toxic mortgage superstar Countrywide Financial, Calabasas: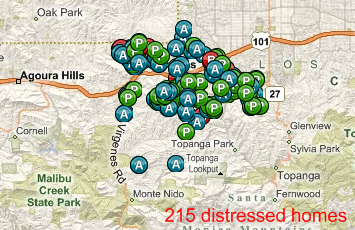 We find that 215 homes are listed in distress.  The MLS has 228 listings and only shows 30 of these.  In other words 185 properties out of a sample size of 413 are hidden to the public.  This is nearly as big as the actual MLS data.  We see this two world scenario occurring in many places.  In some areas it is even worse.  Let us look at Agoura Hills for example.
The MLS has 140 listings and the shadow data is at: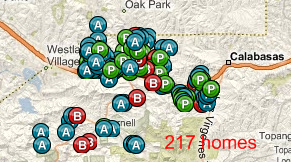 The neighbor of Calabasas and the same trend is spotted.  In this case, the shadow inventory is larger than the MLS data.  In some cities in Southern California the shadow data is enormous and doesn't resemble anything that is shown on the MLS.  Let us look at Cerritos for example: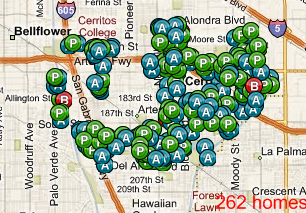 Cerritos has 262 homes listed in distress.  The MLS has 70 homes listed.  Last month Cerritos had 23 home sales.  So you either have:
Public perception:  3 months of inventory
Real data:            14 months of inventory (big difference)
It is hard to quantify shadow inventory because many in the industry are too optimistic regarding bailouts.  Unfortunately the industry was so corrupt and polluted for years in the state that Alt-A and option ARM products are going to be trickling out into the market for years.  The only reason we are not seeing defaults hitting the MLS in mass is because of programs like HAMP and suspension of mark to market.  This doesn't mean there isn't any problems of course.  It just means that the issues will take longer and be more painful.
This is something we need to wrestle with.  Do we pull the Band-Aid off quickly and deal with it once and for all or do we allow this to become a massive decade long disaster like Japan experienced? It seems like the bankers and real estate industry would rather prolong the misery for as long as possible.  Because what is the worst case scenario?  The market is flooded and homes sell for market prices.  Banks fail as they should.  But instead, banks become zombies and little by little their toxic balance sheet eats away at the productive sector of the economy.  Just look at how well banks are doing: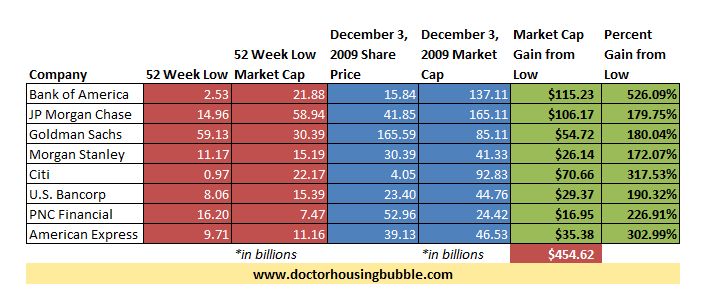 Some are going to argue that notice of defaults should not be included in the above.  In most normal markets I would agree.  Yet with only 3 to 4 percent of notice of defaults curing this means much of the inventory will reach market.  Could be in six months or as long as 24 months.  But it will hit because home prices are massively underwater and prices haven't gone up even close to bubble peaks: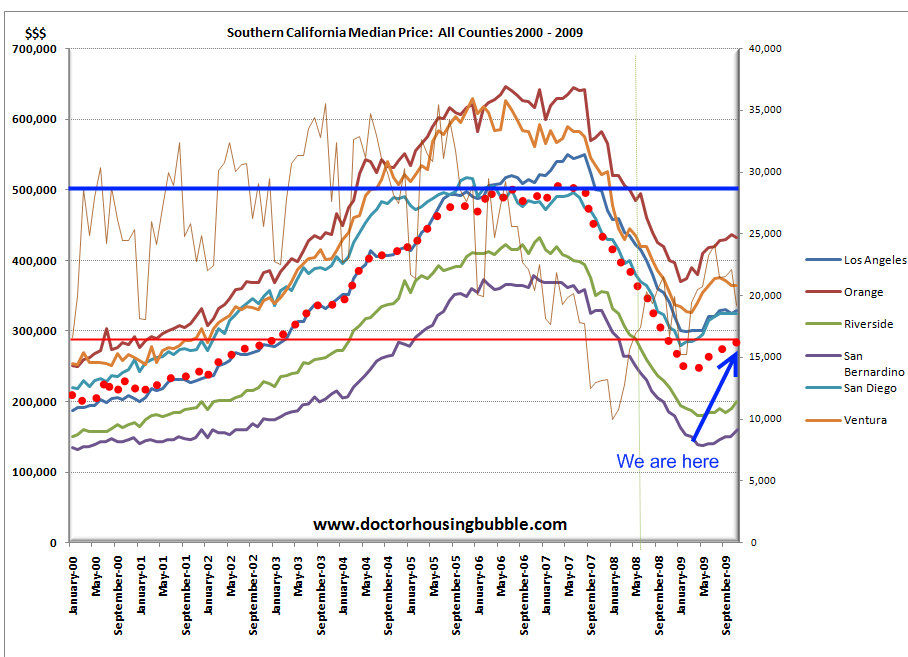 And that boost comes at the cost of:
-FHA insured loans requiring only a 3.5% down payment
-Fed buying mortgage backed securities holding rates artificially low
-Moratorium programs like HAMP
-Banks holding inventory off the public view
Yet at a certain point people realize that the MLS is not a reflection of reality.  It is the ideal dream world scenario.  The fact of the matter is each day hundreds of people are unable to make their housing payments.  You don't need a crystal ball to make that prediction.  You'll know things are recovering when the shadow data starts thinning out.  Until then don't believe everything the MLS is telling you.
Did You Enjoy The Post? Subscribe to Dr. Housing Bubble's Blog to get updated housing commentary, analysis, and information.