The latest sales figures for Southern California show a market with very little action contrary to all the positive news regarding real estate prices.  The latest data for February sales shows the weakest February on record only second to February 2008 when the market was fully imploding.  To put this into context, we had 22,484 sales in February of 2002 and 23,004 sales in February of 2004.  Last month we had 14,027 sales (a drop of 38 percent from the peak reached in 2004).  This also helps to explain why some in the industry, including real estate agents are not all too pleased with this high priced market but with very little churn. Of course the higher prices are coming because of the low amount of inventory and banking manipulation.  Capitulation is high and some have jumped in head first into the shark tank and ignoring financial shenanigans by saying "hey, if you can't beat them, join them!"  Initially there were some that were forecasting a flood of homes on the market thanks to baby boomers selling to downsize.  As we have mentioned, there is no indication of mass downsizing and many would rather lock down in their zip code instead of cashing in on their golden sarcophagus lottery ticket.  90210 and Purina Puppy Chow?  Dog food is easier to digest when living in a prime zip code.  Those that proclaim that somehow everything is fine fail to account for the fact that sales volume is abysmally low.  Affordability is horrific.  Even when we look at mortgage figures we find that many are simply stretching to buy.
The market overview of Southern California
The sales figures for February do not reflect the jump in housing prices that occurred in 2013.  Rising prices and sales volume usually indicates a more liquid market.  Instead, we have rising prices occurring as investors continue to dominate the market while many potential buyers simply bite the bullet and decide to jump into this crowded play.  Investors are still the big X-factor here.
After the housing crash housing sales volume has found a different range in Southern California: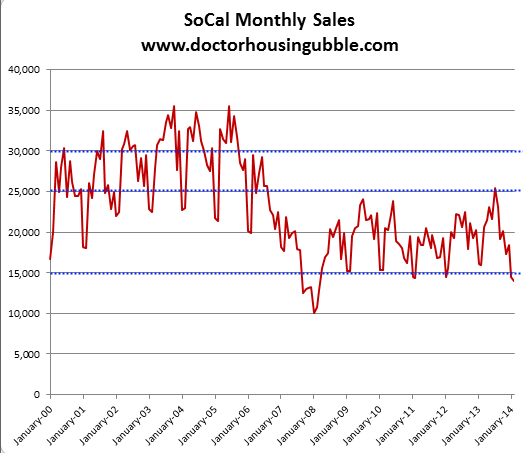 From 2000 to 2007 monthly sales of 30,000 to even 35,000 seemed to happen often.  We have yet to have a 30,000 sales month since 2005.  In fact, we've only had one 25,000 sales month since 2006.  Removing easy financing that glossed over weak income growth has created a "new" market and you see what this has done to sales even though California has grown since 2000.  Once banks started looking at W-2s and some basic due diligence, low and behold people had very little ability to pay California housing prices.  Thankfully, 30 percent of all sales since 2008 have gone to the all cash crowd (a first in history where we have had a 5+ year history of all cash buying outside of traditional mortgages).  California had 33 million people in 2000 versus 38 million in the 2013 according to US Census data.  Yet look at SoCal home sales above.  Let us look at February monthly data going back to 2000: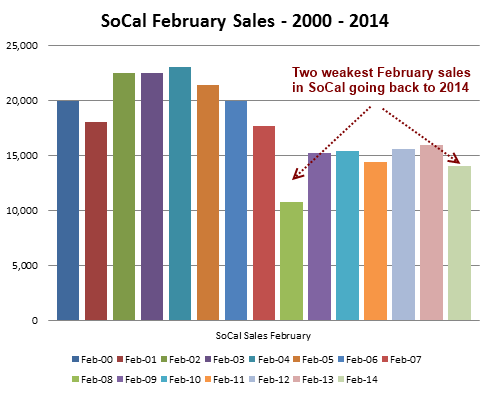 February tends to be a slower month as the year starts off.  Spring and summer tend to be better months for real estate based on seasonal patterns.  The chart above highlights how weak this latest month was.  This was the weakest month on record beside the epic implosion months of 2008.  The days of 20,000+ sales in February were last seen in 2005, nearly a decade ago.  Investors continue to buy the currently inflated property hitting the market making up 30 percent of all sales.  You also have a good number getting big down payment assistance from family and those with decent incomes scrimping by to put down that 20 percent.  Yet this group is small and you can see the impact on sales figures.  Inventory is only picking up slightly in the last few months because we are now seeing full on psychosis delusional asking prices from some sellers and homes are simply sitting like an unpopular teenager at prom.
Those going in with mortgages, still need an income to pay the monthly nut: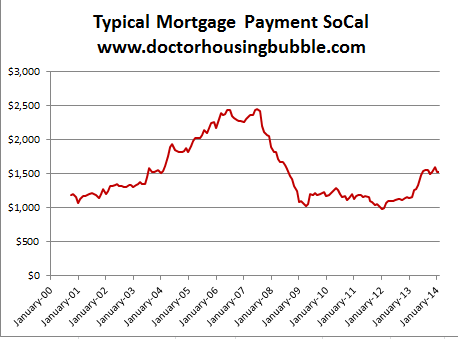 What is interesting is that in SoCal, the typical monthly mortgage payment for those buying in February landed at $1,528.  This is 48 percent below the peak reached in the summer of 2007.  What isn't exactly clear in the data here from DataQuick is how this figure is calculated.  Does this include the 30 percent of all cash buyers or only those that committed to buying with a mortgage?  What we do know is that Californians simply do not have the monthly income to keep up with current prices and need to stretch their budgets to buy at current price levels.  I've noticed a few mentioning that the new model for households is the three income model "husband, wife, and X additional source).  Some will have this met with their kids boomeranging back (by choice or not) but good luck splitting the mortgage bill with them or convincing your kid to move up the property ladder with you.
Some seem to think that this is the new normal model for SoCal.  Low inventory with locked in baby boomers and banks chasing investment properties will only keep prices inflated.  Before, it was stretch by taking on whatever crazy mortgage was out there.  Today, it is stretch by any means necessary (i.e., parent down payment, additional incomes under one roof, etc) but get into that house before you are priced out.  In some areas new price peaks are being reached however the very weak sales volume tells you something else is also going on overall.  Will the large pool of investors maintain this appetite once prices stall out or possibly turn negative year-over-year?  For now the drum keeps beating and the memories of the last housing market are simply a fleeting memory.  Forget about the 7,000,000 foreclosures in the graveyard or the record low sales volume.  It is perfectly normal to pay $700,000 for a World War II shack from a flipper or someone that thinks adding granite countertops, hardwood floors, and stainless steel appliances somehow makes you the next creator of Buckingham Palace.  The reason many well paid professionals in their late 20s and 30s aren't diving in is because they know something is in the housing Kool-Aid.

Did You Enjoy The Post? Subscribe to Dr. Housing Bubble's Blog to get updated housing commentary, analysis, and information.